Yes, it seems that being a metals bull has become the en vogue thing to do again. Everywhere I look, all the former bullish analysts have gotten all "bulled-up" once again, and I have even seen some new analysts move into this arena declaring the end to the bear market in the metals.
One analyst, who seems to be a relative newcomer to the metals world on Seeking Alpha, is even calling for up to a 20% rise in the upcoming week in gold, which tells me sentiment is clearly getting way ahead of itself. Even on Stocktwits, bullish sentiment has risen over 80%. But, I think they may all be a bit premature in declaring the new bull is upon us.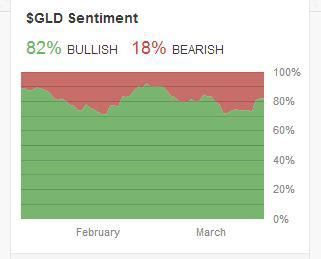 Before the equity markets began heading down this week - which is what our pattern work called for, I noted in my Trading Room at Elliottwavetrader.net to expect the old perspective about metals to be dusted off and marched out to market participants. Yes, the old "metals are a safe haven" perspective is back and better than ever. This is simply because the metals have gone up while the market went down. But, was this not expected to happen based upon their separate sentiment patterns and not due to some correlation?
I know many of you are so certain that metals are a safe haven and have based your metals purchases on this perspective. But, if you have maintained this perspective, then you have not done your homework and are clearly not burdened by the actual facts. I have addressed this perspective numerous times in my writings over the last three years, so let me refresh your recollection with an excerpt from my last article (February 9th) discussing this:
The next "reasonable argument" I see is that the metals will rally due to the rise in volatility within the equity markets. Again, this is the "safe haven" argument I have heard so often. And, of course, it sounds so good, and everyone wants to believe that gold is the "safe haven" asset to which everyone runs when things are falling apart in the equity markets. But, unfortunately, if you actually take the time to review what gold has done during various periods of market volatility, the "safe haven" argument completely falls apart as it has both risen and fallen during periods of market volatility. You may as well go to Vegas with your money if you are "betting" on gold being the "safe haven" purely based upon equity market volatility.
But, with everyone now bullish the metals as they rise, should you really be? If everyone is so sure that the metals have bottomed, do you think they are all right? And, how many bottom calls for the metals have you heard for the last 3 years?
The more people that are certain of something in the market, the more likely the market is about to turn in the opposite direction. As a recent example, if you remember not too long ago, when we were taking profits on our shorts at 115GLD from the 138GLD level, and looking for the market to turn up, most pundits were declaring the death to the metals and an imminent collapse to $1000 gold or lower.
In fact, as we turned into 2014 and the metals were at their lows, I laid out my expectations for 2014, and I still stand by it, as the market has not provided me any evidence yet to the contrary:
Currently, I am still tracking the set ups which can take us to the 136-140 region in GLD before we target the 100 region, which I have been warning about for weeks now. But, remember, even if we do get that break out towards the 136 region, it is just a set up for a bigger short trade to the 100 region. And, yes, that is why I think this will be the YEAR THE BULLS DIE. This set up will likely put hope back into the metal bugs and bulls (and even the CNBC pundits, who will likely become bullish near the top) only to have them wiped out, and potentially capitulate in 2014. And, that will finally set us up for the real rally we all want to see.
I know some of you may consider me a perma-bear in the metals world because I have been looking down for some time, but I simply try to be a realist. I will trade the metals whichever way they are headed. Furthermore, I am also a long term investor in the metals, and, by that, I mean the physical metals. But, even though I am a long term investor, it does not mean I cannot seek the best prices for the metals that I can possibly obtain. So, even though I view the upcoming short trade as a trading opportunity, I also view it as a huge buying opportunity later this year for those long term investors in the physical metals. And, isn't this what every investor should strive for: buying low and selling high?
As for the trading of these wild beasts we call the precious metals, allow me to recap what we saw in the prior week, and explain how we reacted in our Trading Room.
Last week, I noted:
Assuming support is maintained, my immediate target for GLD is 131.50, and then 133.50. In silver, assuming we can move through the 21.65 level (which is the trigger level to see higher levels), then it should take us back to the old initial target of 22.50-23.
Well, what made this past week's trading much more complex was that the metals did not trade in tandem. While GLD in fact hit 131.50, consolidated and then rallied to 133.50 as expected, silver did not rally in kind. Rather, silver was quite dormant most of the week. And, due to the comments in last week's article, it was clear that this market differential caused confusion about what to do in the long trade I suggested from last weekend.
On Thursday, silver looked set up to break through our 21.65 "trigger" that I posted last week, which caused me to go long for that potential break through. However, due to the manner in which silver moved into Friday morning, I suggested that traders exit those trades at the open, as the pattern was not looking as it was going to immediately follow through to the 23 target region, especially since GLD hit the cited target. So, even though we saw the "trigger" over 21.65, the pattern that developed over the week in silver was not set up for immediate follow through on Friday, and GLD had already hit its target for the week. It was for these reasons that I suggested in my trading room to take profits on Friday morning on all short term long trades right at the open.
At this time, I can still see the metals trying to attain higher targets yet. But, playing for further upside in short term trading has become even more risky than last week. But, as long as silver can maintain over 20.75, it may still attempt to target the 23 region.
As far as GLD, it has enough of a completed pattern to consider the top as being in. However, it has come up significantly short of the ideal 136-140 region we had set at the end of last year. That being said, support now resides at 130 and 128 for GLD. And, until we see the 128 level taken out strongly, GLD may yet attempt to target the next higher Fibonacci extension targets in the 134.75 and 136.75 regions. But, as I said, playing further upside in metals at this time is getting more and more dangerous, as the start to the expected downside moves to new lows should not be too far into the future.
Disclosure: I am long SLV. I wrote this article myself, and it expresses my own opinions. I am not receiving compensation for it (other than from Seeking Alpha). I have no business relationship with any company whose stock is mentioned in this article.
Additional disclosure: I have layered into intermediate term puts on metals.