Positive Economic Outlook:
Retail business seemed to pick up during the second half of February and the economic outlook looks positive for 2014. The Economic Report issued by the White House of Economic Advisors (found here) on March 10, 2014 reported favorable economic data indicating the economy is likely to improve over the next few years. Leading indicators to determine a positive economic outlook include unemployment rates which are the lowest rates in over 5 years, fiscal deficits are down 50%, exports are rising and new manufacturing jobs are increasing for the first time since the 1990s.
The Economic Report indicated real GDP will grow at about 3.3% through 2017 and expects unemployment to drop to 5.5%, 18% lower than the current unemployment rate of 6.7%. Along with positive outlook from the Bureau of Labor Statistics, consumer spending is expected to grow at much faster rates in 2014 than in prior years due to lower debts and larger cash positions. Read more from The Bureau of Labor Statistics here.
The Economic Report is good news for the future outlook of retailers in general. During 2013 the retail industry performed well for the most part but had its ups and downs over the winter as holiday discounts continued to be seen throughout much of February and even into March. A brutal winter kept consumers indoors and prices low, negatively affecting margins for most retailers. However, with the spring upon us many of these consumers are expected to hit the stores with tremendous buying power.
The National Retail Federation's (NRF) latest economic review projected retail industry sales to grow at over 4%, higher than previously thought. The expectation for online business growth is even higher at about 11%, higher than the 10.3% growth rate in 2013. Read more from the NRF here.
Consumers today require a customized shopping experience available through different channels. Shoppers are smarter than ever before and require a shopping experience customized to their personal needs. Customers also require the retailer of their choice to have several shopping mediums available through either online, brick and mortar, over the phone or on a smartphone app. Some retailers like Macy's are ready for the future shopper compared to others and could create a good opportunity for investors.
Macy's:
Macy's (NYSE:M) has been a strong retailer over the past five years, growing steady and locking nice gains during that time. After a disappointing winter, Macy's posted a positive 4Q2013 earnings report sending the stock higher in the last week of February.
Retail is competitive in nature but Macy's has a future forward outlook and platforms to provide customers their needs. Total sales grew less than 1% to $27.93 billion in 2013. The financial position remains strong even though inventory turnover ratios fell slightly to 5.03 using sales and 2.76 using COGS. Main reasons for slow growth is due to a tough winter season putting pressure on keeping discounts high and margins low. Despite a rough fourth quarter, M grew EPS for the year by 16% to $3.86. Stronger sales in non peak quarters and stock repurchases contributed to the solid earnings number.
Based on the positive outlook provided by The Economic Report, Bureau of Labor Statistics and the NRF, it is reasonable to expect a positive performance from Macy's going forward into 2017. Throughout the past 5 years, Macy's historically reports fourth quarter sales growth between 5%-7% for an annual growth of 3%-5%. In 2013 Macy's reported negative sales growth during the fourth quarter and only .88% for the year. Using the outlook provided by The Economic Report, Macy's should expect annual sales growth of 4%-6%. This model also assumes margins will be slightly higher going forward as consumer purchasing power increases and the need for prolonged discounts is reduced. Using these metrics and accounting for share repurchases, Macy's sales and earnings are expected to grow as seen below:
Note: Amounts in Millions except EPS and PE
| | | | | | |
| --- | --- | --- | --- | --- | --- |
| Macy's | 2013 | 2014 | 2015 | 2016 | 2017 |
| Total Sales | $27,931 | $29,328 | $30,794 | $32,334 | $33,950 |
| EBITDA | $2,678 | $2,786 | $2,925 | $3,097 | $3,248 |
| EPS (Using EBITDA) | $7.08 | $7.91 | $8.91 | $10.12 | $11.39 |
| Future PE (Using EBITDA) | 7.06 | 6.27 | 5.52 | 4.90 | 4.35 |
Using this model, EPS will continue to grow at high rates through 2017 making the stock a buy at current levels. Using current PE ratios to predict the future stock price for future EPS, the following is a chart showing how Macy's could be a long-term winner. Growing at an average of 13% per year, not including the ~2% dividends it pays, Macy's will continue to make money for investors. It may not have expectations for huge gains seen in prior years, but averaging 13% annual for the next few years is a solid gain and a safe way to invest in retail.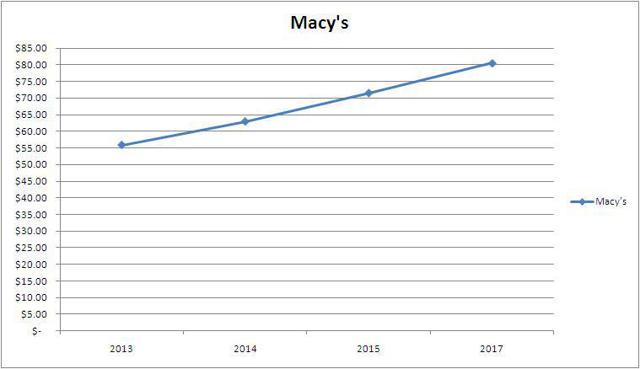 Click to enlarge
(Source: AlphaTraderx)
Short term, the stock is set up to break out even higher and make larger gains than the expected average over the next couple years. As new information projects a stronger economy resulting in growth in retail, Q2 and Q3 results could be better than expected boosting the stock higher. Macy's technicals also indicate the stock could break out.
Technicals: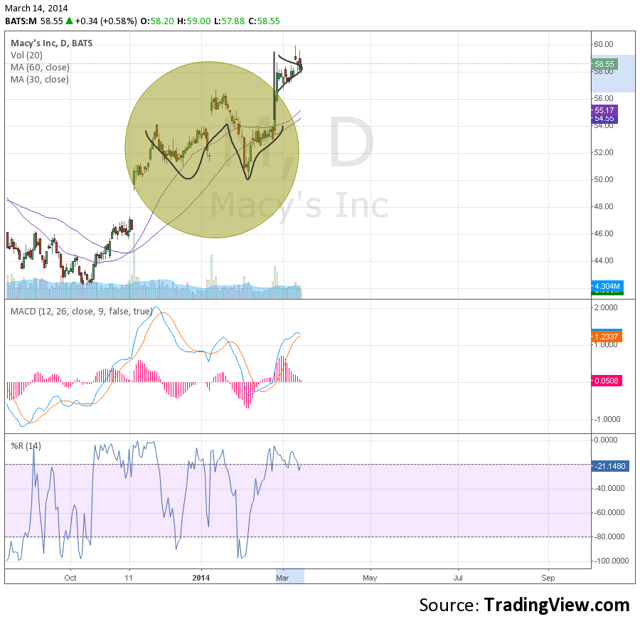 Click to enlarge
Notice the W formation followed by a bull flag. This is a great indication that the stock could break out, making higher gains in the short term. Also, the MACD and Williams %R show consolidation at current levels which could also point to higher short-term gains in the stock.
Conclusion:
With winter behind us and spring at our front door, consumers will be ready to buy with more spending power than this industry has seen in over 5 years. As Macy's continues to mold their business into a future forward company, allowing consumers different methods of shopping, they will benefit in growing profits. As an investor, Macy's is a great company to invest in and a great way to benefit from a growing retail industry.
Stay tuned for the analysis of 2 more retail companies and see which one fits best in your portfolio customized to your investing goals.
As always, happy investing.
Disclosure: I have no positions in any stocks mentioned, but may initiate a long position in M over the next 72 hours. I wrote this article myself, and it expresses my own opinions. I am not receiving compensation for it (other than from Seeking Alpha). I have no business relationship with any company whose stock is mentioned in this article.