As we head toward the end of the first quarter, and the fiscal year end for Arena's (NASDAQ:ARNA) marketing partner Eisai (OTCPK:ESALY), it is appropriate to assess where we are for both companies in terms of the sales for the anti-obesity drug Belviq. As it happens, this week's numbers also represent the 9 month mark for the drug which launched last June.
One key element that investors need to understand when tracking sales is the desire to use the information to get to a reasonable estimation of the revenue that Arena will derive. By looking at past and current sales figures, we as investors can try to estimate future revenue and understand how sales stand versus the expectations of the street.
At this juncture it is still appropriate to track sales for the Eisai year end, the Arena Q1. What we want to begin to assess now is how things look for 2014 as well. While the slow start in sales is obvious to anyone, what may not be so obvious is the pace at which Belviq is selling relative to this entire year. In point of fact, current sales are on a pace for a minimum of $100 million, and can potentially break $150 million if traction is gained in insurance, doctors willing to prescribe, and patient awareness. I offered up some annual projections to my readers earlier this week, and will share some of that information with Seeking Alpha readers at the end of this article.
This week, according to industry tracker IMS Health, Belviq sales were essentially flat when compared to last week. On an adjusted basis, I have the sales for the week at just over 7,300. While not yet available, Symphony Health should come in at a bit over 8,300 for the week. Flatness at this juncture was not really expected, so the equity has been taking a hit on this news. However, it is my opinion that sales are pacing above $100 million for the year, and that is a small victory for the drug.
What we have here is the closing out of the early projections on sales for March 31st, which have a certain modest working against a backdrop of overall 2014 sales which are showing decent potential. I have estimated sales (to consumers) since the beginning of the year at about $12.3 million while sales since the launch nine months ago stand at a bit over $39 million. The green line in the chart below represents about $58 million in sales since launch. The subsequent chart tracks simply the adjusted sales data since launch. As stated in my estimates, sales to date are at just above $39 million currently. In my opinion the street has been looking for a number between $50 million and $60 million by March 31st. With 4 more weeks of sales pending, the current project is that sales will come in somewhere between $45 million and $47 million from launch to March 31st. This puts the sales a bit below the low end of what was expected, but above a pace that would deliver $100 million this year. In fact, current pacing is actually closer to $150 million in gross sales for 2014.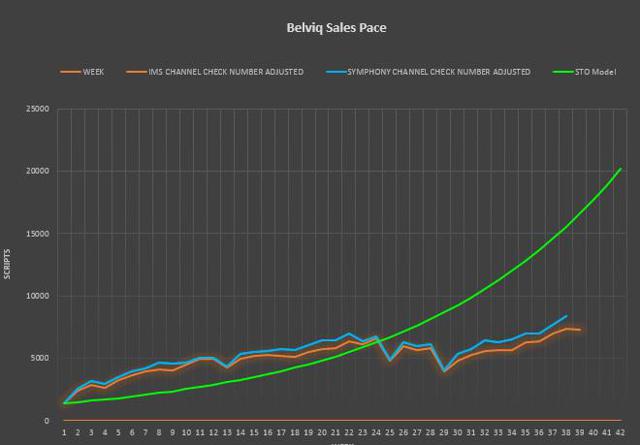 Chart Source - Spencer Osborne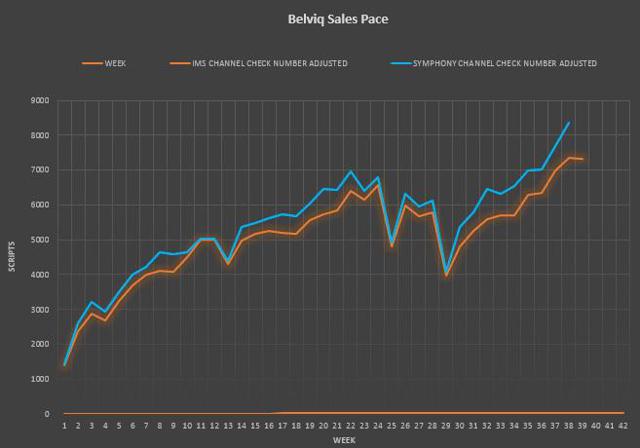 Chart Source - Spencer Osborne
Cumulative sales to consumers stand at a bit above $39 million by my estimation. The trajectory is still pacing positive with the most recent week adding about $1.4 million to the gross revenue coffers. Investors should bear in mind that Arena is paid a percentage of net sales, but blockbuster status is determined off of gross sales.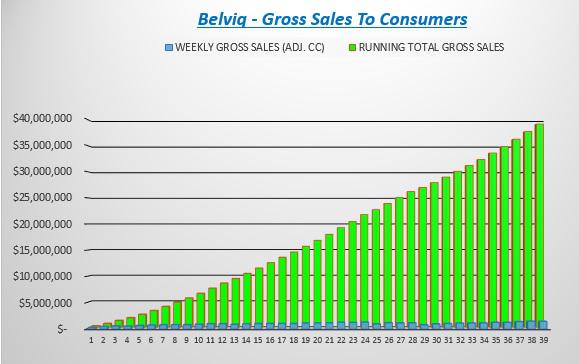 Chart Source - Spencer Osborne
On a quarter over quarter basis, sales are tracking at about 21% higher than last quarter. The benefit of added sales representatives and better insurance coverage seems to be in the early stages of generating a positive impact. Quarter over quarter results should look even more impressive in the next four weeks as it will track against the 2013 holiday season.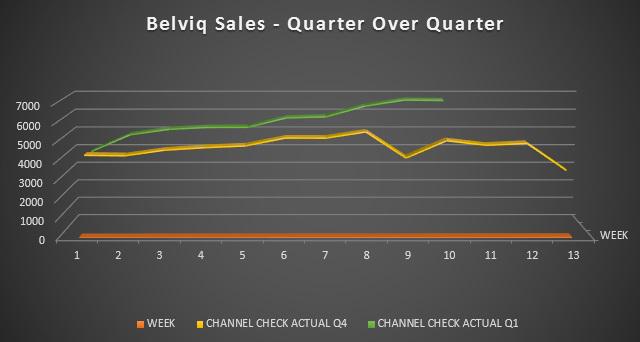 Chart Source - Spencer Osborne
Now, looking ahead to the balance of 2014. I outlined some basic projections earlier this week for readers. As of last week Belviq was selling at a pace above that which could potentially deliver between $100 million and $150 million in gross sales this year. Gross sales will reach $100 million if 500,000 bottles of Belviq sell, and $150 million if about 777,000 bottles sell. You can see the projected outline vs. weekly sales numbers below. Investors should bear in mind that these are estimates. Arena outlined some guidance at the Q1 call that points to gross sales, at a minimum, of about $100 million this year. As it appears right now, these types of numbers are attainable with the U.S. market alone. If other countries approve Belviq, the sales targets become easier to obtain. Belviq is under application in Switzerland, Mexico, Canada, Taiwan, and Brazil.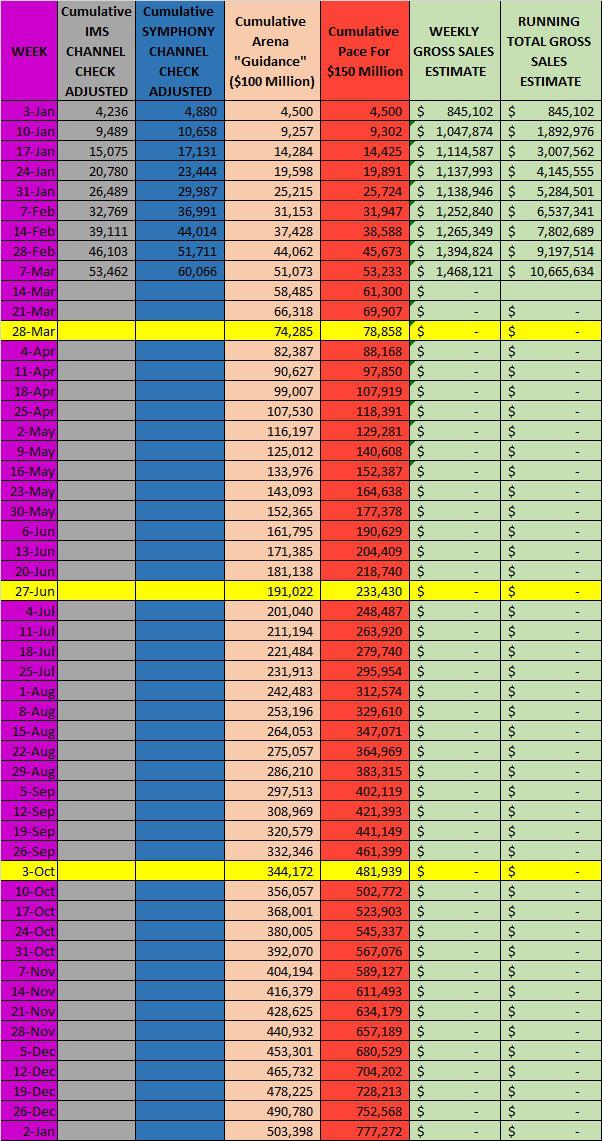 Chart Source Spencer Osborne
The bottom line here is that the faster Arena can shift the focus beyond Q1 the better. The numbers are still slightly modest in the near term, but point to good potential in the longer term. If this drug can hit $100 million in sales in its second year, it will have attained a number that cannot be ignored and brushed aside. One factor we do need to look at is that competitor Vivus (NASDAQ:VVUS) seems to have stalled at the 11,000 mark in weekly sales. It does not mean that Belviq will stall, but it is a small factor that we should be aware of. Weekly growth is important to driving this equity. Stay Tuned
Disclosure: I am long ARNA. I wrote this article myself, and it expresses my own opinions. I am not receiving compensation for it (other than from Seeking Alpha). I have no business relationship with any company whose stock is mentioned in this article.
Additional disclosure: I have no position in Vivus or Eisai