Opening:
Boeing (NYSE:BA) is a very complex company, leading the path in aerospace and defense. In recent time, questions have been raised regarding the company's 777 and 787 jets that could have the potential to harm shareholders if these various problems are deemed substantial or persist. The recent disappearance of Malaysia Airlines flight MH370 has put Boeing into focus as selling a potentially defunct aircraft - but recent news demonstrates that the plane was deliberately flown off course.
On Friday March 14, 2014 Mad Money host Jim Cramer offered up the advice to purchase shares of Boeing. As a fellow contributor states quite impressively, Jim Cramer is an excellent contrarian indicator. Achilles Research's article contains his very eloquent explanation against Jim Cramer's opinion:
In our modern society, we value short-term thinking, noise, attention hooks and instant gratification. And we clearly don't value long-term thinking, thoughtfulness and a solid long-term plan for building wealth. Reflection and inaction take a backseat to being busy -- after all, the investor ego requires constant affirmation. The Jim Cramers of the world are louder and more appealing to the investment community. The Warren Buffetts of our time, however, are clearly in short supply.

Jim Cramer, in my opinion, represents everything that is wrong with today's investment culture; trying to make a quick buck, trading around and Twittering stock tips has become a way of satisfying investors' needs for permanent stimulation. Warren Buffett's famous quote that "there is nothing wrong with growing rich slowly" has become irrelevant.

Jim Cramer certainly does his part to promote ultra-short holding periods and constant trading.
Boeing is an impressive company with a bright future, but to state that they are at some form of an inflection point and it is all up from here hides many considerations that investors should be aware of. This article is meant to inform on the other side of the trade, so investors can make the best decision possible.
After a huge run up over the past year, shares of Boeing saw a high two months ago that they are now descending from. The uptrend seems to have changed as shares are paring gains after an impressive run up. With an RSI of 31.69, the relative strength for shares are bearish. This is coupled with a 50-day moving average that is decreasing that is bearish, and a 200 DMA that is increasing that is bullish.
(click to enlarge)(Source)

On another trading note, Boeing's MACD indicates a bearish trend. Boeing's moving average convergence/divergence has been under pressure after reaching highs back in November, along with PPS highs, and has since come down.
Boeing 777: Cracks and Cabin Pressure:
Recently, U.S. regulators warned of cracking and corrosion problems with the Boeing 777 that could lead to a mid air breakup and a drastic loss in cabin pressure. This warning came months before the recent disappearance of Malaysia Airlines flight MH370. The loss of cabin pressure can result in decreased oxygen aboard the airplane - leading to members of the plane to become unconscious. This can result in a plane flying uncontrolled for hours, unless cabin pressure and oxygen levels return. Although the reasons for the disappearance are still a mystery, if Boeing is at fault for the plane's problems it could spell troubles for Boeing. This would be due not only to recalls on all of the affected planes along with research and repairs that could be extremely costly - but also on the negative press that could affect Boeing.
One operator of the jet reported a 16 inch crack in the skin of the fuselage on an airplane that was 14 years old with 14,000 flight cycles. The missing Malaysia Airlines Jet was 12 years old and completed 7525 cycles. The operator that first reported the 16 inch crack inspected 42 other airplanes between 6 and 16 years old and found some corrosion, but no cracking.
As news continues to pour in on the missing Malaysia Airlines flight, Boeing is likely not at fault. Recent news has surfaced that the flight was deliberately flown off course - not a result of a plane malfunction, cracking or damage.
Malaysia's investigation was given a new degree of focus this weekend after experts determined that the plane had been deliberately flown off course, its various communications systems severed. After dropping off civilian radar, the plane tacked to the west, then remained in the air for as many as seven additional hours. Experts have suggested that the plane could have only been guided by a skilled aviator - either willingly or under duress.
Boeing 787:
Boeing is having some reported problems with its 787 Dreamliner as well. A Japan Airlines operated 787 made an emergency landing after oil pressure in its right engine dropped. Reports of another 787 emitted smoke after its battery melted at Boston's Logan Airport in January last year. After another 787's battery overheated a few days later, owned by ANA holdings, the entire fleet of global composite 787 Dreamliners were grounded for more than three months. The Japan airline ended up fixing the battery, although Boeing was the target for the press in that there could be potential problems with its new airplane.

The Orders and Deliveries schedule for Boeing's 787 show only 8 delivered in 2014 so far. Boeing has stated that it plans to deliver 110 787s this year, although results so far are lacking on this front and could impact revenue. Any delays from having to fix planes could be extremely expensive on a repair basis, and in the delay in delivering the Dreamliners to customers.
Fundamentals:
(click to enlarge) (Source)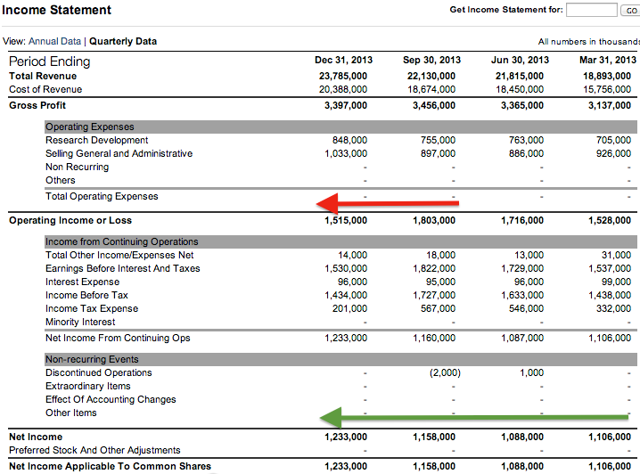 Boeing has been successfully able to increase net income over the past four quarters, even as operating income has declined over the past quarter. NI is up 13.32% from the quarter ending June 30 2013, and up 6.3% from last quarter. Keep in mind that shares are up over 20% since June 30, so shares may be getting ahead of themselves.
Fundamentally, Boeing can be affected by any cuts in U.S. defense budget pressures as well, any military contract losses and any costs involved with fixing defect aircrafts or ramping up production of their Jets. Budget cuts can be viewed easily as the U.S. Army's budget is now the smallest since before World War Two.
Considerations:
Is there a news event about every single car that has a battery problem? Well no, unless you are Tesla (NASDAQ:TSLA) - pun intended. Battery problems related to fires struck the company over recent time.
The point is that whether you are Boeing or Tesla, you are at the cusp of innovation and market leading products that are subject to news if anything goes wrong. Keep in mind that Boeing's Dreamliner and 777 Jets are quite revolutionary, along with the impressive technology and design inside every Tesla. The problems with Boeing's jets are real and noted, but it is worth keeping in mind that news entities expose and hit on any and all problems with the latest and greatest - with or without merit.
Conclusion:
Boeing is an impressive company at the forefront of design and innovation in the aerospace and defense industry. With a 2.30% dividend and business with growing demand in the aerospace sector, the company is an attractive target for investors. My only quarrel is with Cramer's call that Boeing has reached some inflection point and is all up from here. Shares very well could increase over the coming months and years, although investors should be aware of the considerations before basing their investments off of Cramer. My experience with Cramer is that most stocks crater, so always do your own due diligence.
Boeing's future is very bright, but there is no reason not to wait a little while to buy share for the long term at a cheaper price.
Disclosure: I have no positions in any stocks mentioned, and no plans to initiate any positions within the next 72 hours. I wrote this article myself, and it expresses my own opinions. I am not receiving compensation for it (other than from Seeking Alpha). I have no business relationship with any company whose stock is mentioned in this article.
Additional disclosure: This article is informational and in my own personal opinion. Always do your own research and contact a financial professional before executing any trades.