Additive manufacturing, a.k.a. 3D printing, as of today
3D Printing has enjoyed a tremendous run over the last two years. Well known players of the industry, like 3D Systems (NYSE:DDD) and Stratasys (NASDAQ:SSYS), greatly outperformed both the Nasdaq composite and S&P 500: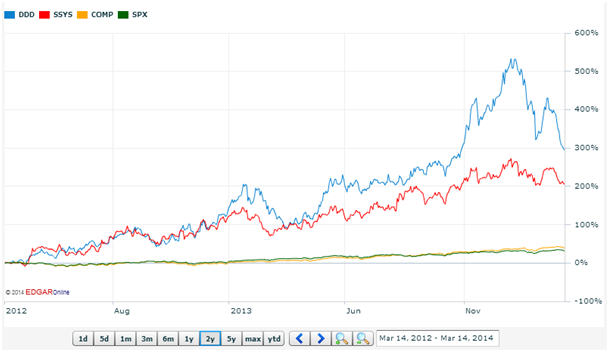 A substantial part of this outperformance, however, can be attributed to media hype. Media coverage, (measured by the number of articles) for example, has increased 10 fold from 1,600 in 2011 to 16,000 in 2012. Due to this reason several myths and misconceptions about 3D printing are circulating around the world and are being repeated by journalists, private investors and analysts alike. Detailed information on the most common myths can be found in this article by Terry Wohlers.
The opinion that the 3D Printing industry still has a lot of challenges to overcome, is also shared by IDA STPI (Institute for Defense Analyses, Science and Technology Policy Institute).
The Science and Technology Policy Institute (STPI) provides objective analysis of science and technology (S&T) policy issues to the White House Office of Science and Technology Policy and other federal agencies, offices, and councils. (Source: ida.org)
And here is what this organization had to say about additive manufacturing in its report:
While the momentum of the past few years may suggest to some that AM has "arrived," the recent AM roadmap effort has shown that substantial challenges must still be overcome before the technology can become mainstream. These challenges include bringing down costs, developing new materials, achieving more consistency and standardization, developing new computer-aided design tools, educating engineers, increasing process speeds, and advancing biological AM. (Source: "The Role of the National Science Foundation in the Origin and Evolution of Additive Manufacturing in the United States," November 2013, Page vi)
Since 2014 there has been a correction among 3D printing stocks, which in my opinion is a healthy sign for the 3D printing industry as a whole. This correction removes "the media hype attributed outperformance" from the stocks involved and may last throughout 2014, depending not only on the 3D printing industry but on broad market conditions as a whole.
Meanwhile there are other ways for investors to have AM exposure without touching pure 3D printing stocks. Let me introduce you Micron Technology and (NASDAQ:MU) and Groupe Gorgé (OTCPK:GGRGF).
Micron Technology
While studying the report by IDA STPI I have found interesting information on additive manufacturing patents and their assignees.
Micron Technology is one of the market leaders in the semiconductor industry, specializing in memory components, like DRAM, SSD, flash etc. while at the same time assuming the role as one of the top additive manufacturing patent assignees, according to the report mentioned.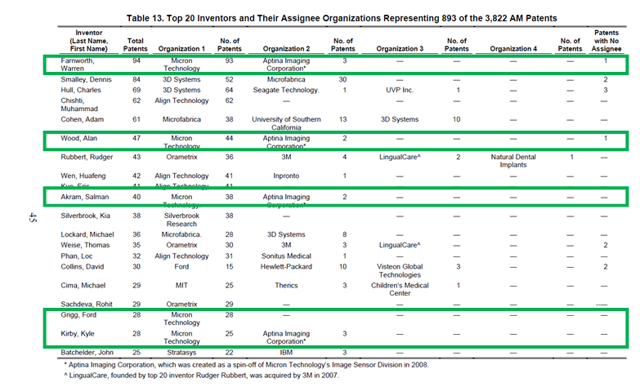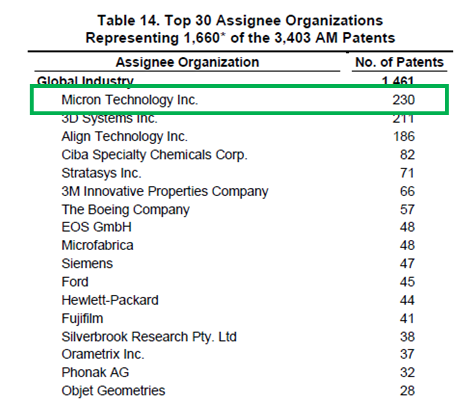 (Source: "The Role of the National Science Foundation in the Origin and Evolution of Additive Manufacturing in the United States," November 2013, Pages 45-46.)
Apparently, their patent portfolio is highly focused on semiconductors, this in fact makes this company anything but less attractive, since the semiconductor industry is huge especially juxtaposed with the AM Industry (roughly $300 billion vs. $3 billion).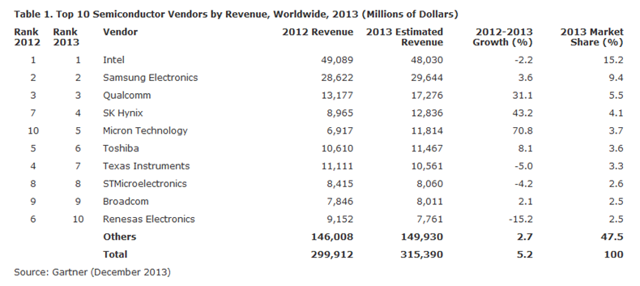 (Source: Gartner)
The stock has been showing positive dynamic for a while now without any help from the 3D printing media hype machine.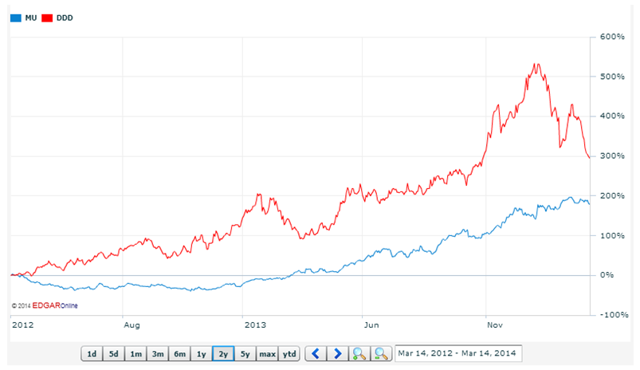 The company currently trades at a P/E ratio of 13.69, way below mainstream 3D printing companies like 3D Systems with P/E ratio of 136.52 and below the average of the semiconductors industry as well.
Groupe Gorgé
Groupe Gorgé is a French engineering company that specializes in Smart Safety Systems, Protection in Nuclear Environments, Industrial Project Services and has recently entered the 3D printing environment by means of acquiring Phidias Technologies (now called Prodways).
For detailed information on the business model and products of the company, please take a look this article by a fellow contributor.
With their technology, Prodways addresses some of the challenges to be overcome mentioned by IDA STPI, such as bringing down costs and increasing process speeds.
Up to 10 times faster than market standards,

Technology allowing for unequalled production volumes,

Superior surface quality requiring minimum finishing,

Minimum operating costs due to lack of expensive wear and tear on parts,

Replacement of LED light source cheaper than laser.

(Source: Prodways)
They also have a team of industry specialists:
André-Luc Allanic, Co-founder of Prodways a former 3D Systems scientist and a holder of several additive manufacturing related patents.
Philippe Laude is the Managing Director of Prodways: Former Managing Director of several Business Units of XEROX.
Philippe Barcet, Service and Applications Development Director. Worked for 3D Systems, EOS and Alphaform.
Arnaud Guédou, Marketing and Sales Director. A former sales manager at 3D Systems and DSM.
Carole Chapelat, Head of Materials Development. A former stereolithography and rapid manufacturing specialist at Huntsman Advanced Materials.
From my point of view, Groupe Gorgé can profit from Prodways, not only in terms of selling advanced high quality printers, but also by applying additive manufacturing technology in other areas of their business.
They also have backing by the French government, which is interested in having French additive manufacturing technology.
Finally, the company has recently announced plans to increase the pace of acquisitions.
The strong organic growth of the subsidiaries has been reinforced throughout by a dynamic external growth policy (nearly 20 acquisitions in ten years), which has allowed the group to successfully reposition itself on promising markets (robotics, drones, 3D printing, and more).

This momentum of acquisitions seems likely to pick up speed in 2014 with several projects across all the group's activities, including 3D printing.
Apart from that, Group's non-3D printing subsidiaries have recently won new contracts:
CLF-Satrem was awarded by € 4 million contract to renovate an entire fire protection system of a Parisian public institution. While Van Dam was awarded by a two-year contract of more than € 6 million to provide an oil platform with fire-fighting and explosion prevention equipment. (Source: Group Gorge)
The stock has pulled back a bit after initial jump to around $34.50 and currently trades at $27.
Conclusion
For those who would like to maintain or gain additive manufacturing exposure in their portfolio but prefer not to go with falling overhyped stocks like 3D Systems, then Micron Technology and Group Gorge might be worth considering.
Note: Each of these stocks is very different and poses its own risks and uncertainties.
In the case of Micron Technology, investors unfamiliar with the memory semiconductors industry are advised not to consider buying this stock based solely on material provided in this article.
Groupe Gorgé has a market cap of below $500 million. Please inform yourself about the risks involved when investing in stocks of this size.
Disclosure: I am long GGRGF. I might initiate a long position in MU before earnings are released. I wrote this article myself, and it expresses my own opinions. I am not receiving compensation for it (other than from Seeking Alpha). I have no business relationship with any company whose stock is mentioned in this article.
Editor's Note: This article covers one or more stocks trading at less than $1 per share and/or with less than a $100 million market cap. Please be aware of the risks associated with these stocks.