"The weak can never forgive. Forgiveness is the attribute of the strong." - Mahatma Gandhi
BP plc. (NYSE:BP) has been a core holding in my income portfolio since the shares dipped below $30 a share on the back of the Gulf Oil disaster of 2010. In addition to the dividends, I have also benefited from capital appreciation as the shares currently go for just under $48 a share as the major energy concern continues to come back from a near death experience.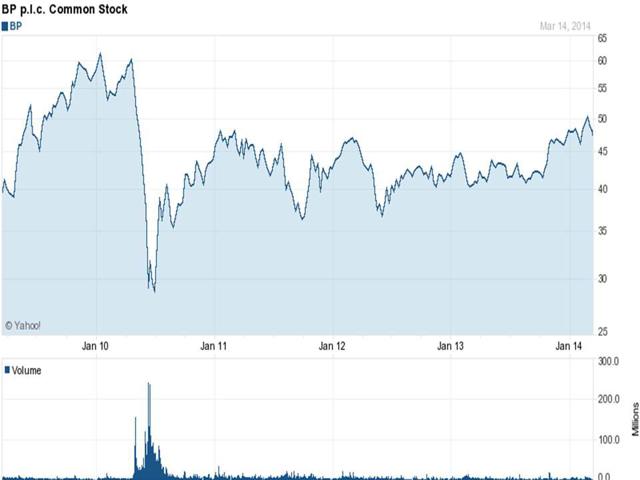 Click to enlarge
The company took another step towards "normalcy" last week. The EPA announced it is lifting its ban that prohibited the company from bidding on new federal contracts. One can look at recent figures to see this is a nice "dig" for BP.
BP was the Pentagon's biggest fuel supplier prior to the Macondo disaster. A combination of no big contracts awarded and promised military work withdrawn left BP with a net loss of $654M in federal contracts in the fiscal year that ended Sept. 30, 2013 compared with $2.5B in awards in FY 2012. This decision should start to reverse these losses.
Although the company has received some recent setbacks in court - which it will appeal - it is largely through its over three years of going through a litigation gauntlet.
One of main reasons an investor wants to own BP here is the dividend. The shares yield almost five percent (4.8%) and the company has raised its payout some ~40% since 2011 as it has sold off assets to settle claims and fines. BP had to cut its dividend in half as a result of the impact of the spill in 2010, and still has a way to go to achieve previous dividend payout levels.
Given its yield, the shares are not expensive at under 10x this year's expected earnings which should come in ~15% higher than FY2013. In addition, after shrinking for years; revenue growth should return in FY2015.
BP offers a slightly lower valuation and significantly higher dividend yield than American oil majors Chevron (NYSE:CVX) and Exxon Mobil (NYSE:XOM). I believe as the company continues to slowly put the 2010 disaster behind it, this discount will continue to narrow.
The stock has sold off some 5% due to the recent troubles between Russia and Ukraine. I don't think this incident will affect the company's relationship with Rosneft as I think any substantial Western sanctions on Russia are just not in the cards. This is due partly to Germany's large trade relationship with Russia, Europe's dependence on Russian natural gas and the lack of fortitude among Western leadership including here at home. The recent pullback is a good opportunity to pick up shares at slightly lower levels. ACCUMULATE.
Disclosure: I am long BP. I wrote this article myself, and it expresses my own opinions. I am not receiving compensation for it (other than from Seeking Alpha). I have no business relationship with any company whose stock is mentioned in this article.