Prior to the launch of the PowerShares S&P 500 Downside Hedged Portfolio ETF (NYSEARCA:PHDG), the Barclay S&P VEQTOR ETN (NYSEARCA:VQT) was the only exchange traded product that provided exposure to the S&P 500® Dynamic VEQTOR Index strategy.
The S&P 500® Dynamic VEQTOR Index has developed a rules-based strategy for dynamically allocating capital between exposure to stocks (represented by the S&P 500 Index), VIX (S&P 500 VIX Short-Term Futures Index) and cash (money market funds or short-term interest bearing cash). Those interested in understanding the methodology of the index in more detail are encouraged to visit the S&P Dow Jones Indices website for more information. A considerable amount of detail on the strategy is publicly available.
In this article, we are going to compare the performance of PHDG and VQT to see how closely PHDG is tracking VQT. Since inception, the index has delivered a return of 52.79% and VQT 47.78% through March 6th, 2014 per the Barclays website. We will also gauge whether these products offer effective downside hedges against SPY. Finally, we will look at these products as a potential replacement to AGG in a growth portfolio.
We start by listing some very important differences between PHDG and VQT. Definitions are provided at the end of the article.
Exp. Ratio

Ave. Daily Volume

Ave. Daily $ Volume

Net Assets

Spread %

Structure

Inception Date

PHDG

0.39%

102,100

$2.8 M

$175 M

0.13%

ETF

12/6/2012

VQT

0.95%

33,600

$4.8 M

$602 M

0.04%

ETN

8/31/2010

Data from ETF.com, Marketsmith
VQT is the more liquid product with over 3x the asset size and over 2x the daily trading volume but PHDG has grown quickly over the last year. VQT also offers more efficient trading but the spread on PHDG appears manageable and may narrow over time. The expense ratio of PHDG is less than half of VQT. It is important to note VQT is an exchange traded note. As an unsecured credit obligation one of the risks with VQT is the credit worthiness of the issuer. If you want to understand what happens when an exchange traded note sponsor's solvency comes into question, research Lehman Brothers Opta ETNs. One of the risks with PHDG is the ability of PowerShares to implement the indexes strategy. There are many other risks with both products. They are very different from a pure index equity exchange product; you should conduct your own research before investing in either product.
As shown below, PHDG has lagged VQT's performance since its launch but has narrowed the gap over the last 6 months. After talking with representatives at PowerShares I have learned they have made some changes to the way they are trading the underlying securities which has delivered additional efficiency in recent months.
The grid below shows performance data for both products since PHDG's launch.
Total Return

CAGR

Volatility

PHDG

14.50%

11.60%

8.40%

VQT

15.10%

12.00%

7.50%

SPY

36.20%

28.30%

11.40%

AGG

-0.80%

-0.60%

3.40%

Data from ETFreplay.com

As of December 6th, 2012 through March 6th, 2014
Both products delivered lower total returns and volatility than SPY during the period. However, volatility for both products was more than double that of AGG.
Regarding the claim PHDG has been able to narrow the performance gap with VQT in recent months, here is a look at both products since changes were implemented.
Total Return

CAGR

Volatility

PHDG

6.10%

14.90%

9.70%

VQT

6.00%

14.50%

7.80%

SPY

12.60%

31.90%

11.40%

Data from ETFreplay.com

As of September 30th, 2013 through March 6th, 2014
It does appear as though PHDG has been able to narrow the return gap during this short period but remains more volatile than VQT.
Analyzing the data from a different set of metrics we get the following:
Max Drawdown

VQT Corr.

Sharpe Ratio

PHDG

-5.20%

0.84

1.30

VQT

-4.70%

1.00

1.49

SPY

-5.70%

0.80

2.21

AGG

-5.14%

-0.06

neg

Data provided by ETFreplay.com

As of December 6th, 2012 through March 6th, 2014
It is not surprising both products experienced similar max drawdown results compared to SPY in the short term because the index rules use downside losses to trigger hedging activities.
Below is a visual representation of the performance of both products since PHDG inception.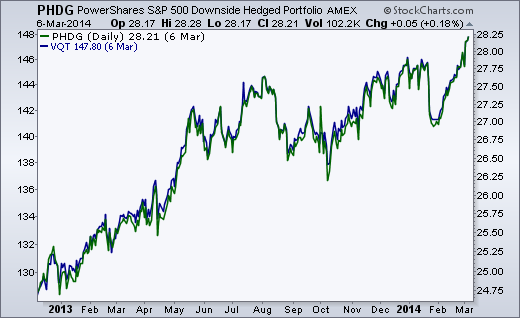 It looks like PHDG has more daily volatility but tracks VQT closely. VQT and PHDG did not deliver the same return during the period despite what you see in the graphic. The scaling for each (VQT left side, PHDG right side) differs slightly. This is an example where the graphical representation needs to be examined with numerical representations to get the real results.
Overall it appears PHDG is a viable alternative to VQT. With recently improved performance PHDG may continue to more closely track the underlying index going forward.
In terms of VQT's effectiveness of hedging SPY's performance, below is a look at VQT's max drawdown since inception, a period where SPY was down over 18%.
Max Drawdown

SPY Corr.

Sharpe Ratio

VQT

-8.40%

0.56

1.15

SPY

-18.61%

1.00

1.15

AGG

-5.14%

-0.30

0.72

Data provided by ETFreplay.com

As of September 1st, 2010 through March 6th, 2014
In the data above, we can see VQT has a significantly lower max drawdown compared to SPY. It is interesting the Sharpe Ratio for both VQT & SPY is the same over this time period. This is telling us VQT is delivering an equally proportional return for the given level of risk compared to SPY. We would also expect a low correlation from a product that shift exposure to volatility futures and cash which we get at 0.56. The next set of data explains why they share the same Sharpe Ratio.
Total Return

CAGR

Volatility

VQT

45.30%

11.30%

9.00%

SPY

86.70%

19.50%

15.90%

AGG

10.10%

2.80%

3.50%

Data from ETFreplay.com

As of September 1st, 2010 through March 6th, 2014
VQT essentially delivers half the return and volatility of SPY. When volatility is taken into consideration the reward per unit of risk has been calculated as the same for SPY and VQT.
For a better idea of how the hedging works in VQT, the chart below provides a visual look at the price action of SPY and VQT since inception.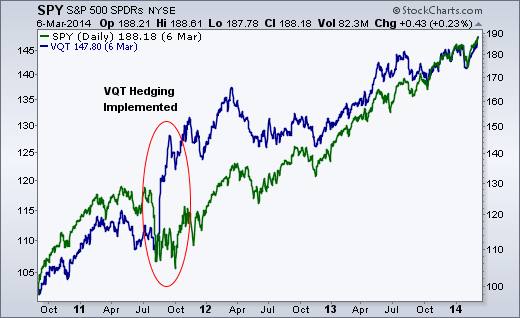 So far we have determined PHDG is a reasonable alternative to VQT and that they both appear to deliver hedging value relative to the S&P 500 although PHDG has yet to come under conditions like those experienced in 2011.
Next we will look at results when we replace AGG in a growth portfolio with VQT. We will only use VQT in this test because it has a longer history to compare. We are also going to limit this example to AGG although there are many other bond ETFs to consider.
Growth portfolios come in many different allocation percentages between stocks and bonds. In the first example, each portfolio will have 75% allocated to SPY. The first portfolio has 25% allocated to AGG. In the other portfolio example, we will allocate 12.5% to AGG and 12.5% to VQT. Here are the results.
Total Return

CAGR

Volatility

Sharpe Ratio

Max Drawdown

SPY75/AGG25

67.50%

15.90%

12.20%

1.20%

-13.65%

SPY75/AGG12.5/VQT12.5

71.90%

16.70%

12.80%

1.21%

-13.87%

SPY

86.70%

19.50%

15.90%

1.15%

-18.61%

Data from ETFreplay.com

September 1st, 2010 through March 6th, 2014
Incorporating VQT into a portfolio holding SPY and AGG improved the risk reward slightly during the period. Total return is increased by 4.4%, compound annual growth rate improved 80 basis points, volatility increased by only 60 basis points and max drawdown only increased by 22 basis points. Relatively small tradeoffs for the improved return performance.
Here is what happens when you remove AGG completely and increase the allocation to VQT.
Total Return

CAGR

Volatility

Sharpe Ratio

Max Drawdown

SPY65/VQT35

72.20%

16.80%

12.40%

1.24%

-13.56%

Data from ETFreplay.com

September 1st, 2010 through March 6th, 2014
Compared to both portfolios in the first example, the numbers above look pretty attractive and suggest VQT/PHDG could be considered as a bond replacement in a growth portfolio for the purpose of moderating the downside volatility of SPY. When the current state of interest rates is considered VQT/PHDG may offer additional value relative to AGG.
Overall, PHDG is a welcome addition to VQT; both products appear to deliver risk reduction characteristics against SPY and incorporating VQT/PHDG in a growth portfolio appears to offer value.
Hat Tip to ETFreplay for the quick addition of PHDG to their database for this article.
Total return is described by ETFreplay as calculations, which accounts for the receipt and reinvestment of dividends and distributions.
Spread % data comes from ETF.com and is described as the difference between the highest price paid at which a market participant is willing to pay and buy an ETF and the lowest price at which a market participant is willing to sell an ETF, averaged over the past 60 days, as a percent.
Sharpe Ratio is described by ETFreplay as: Measures the reward per unit of risk. It is calculated as the annualized avg. Excess Return/Std Deviation of Excess Return.
Excess Returns are calculated using the cash ETF Specified (SHY default)
A negative Sharpe Ratio indicates that the mean return of the strategy was less than the mean cash return.
Volatility is described by ETFreplay.com as the annualized standard deviation of daily returns.
Expense Ratio is described by ETF.com as the net annual fee a fund holder pays to the issuer.
Disclosure: I am long PHDG. I wrote this article myself, and it expresses my own opinions. I am not receiving compensation for it. I have no business relationship with any company whose stock is mentioned in this article.
Additional disclosure: No investment recommendations have been made in this article. Investing involves risk including the loss of capital. Conduct your own research before making an investment decision.