JPMorgan Chase (NYSE:JPM) is a banking corporation that represents one of the largest U.S banks in operation. However, in the last year JPMorgan would likely seem a bit more synonymous with the battered and bloody look of Robert De Niro in Raging Bull, beat up but not flinching and ready to keep on fighting. The banking company has taken a horrible beating in the last few years. Some of the issues have been the bank's own doing, and other hits have been due at the direction of federal government lawyers and prosecutors. The level of challenges would decimate or bankrupt smaller companies, but the durability of JPMorgan only credits the size and resources of the company as well as its resilience.
Financials
In terms of basic accounting, JPMorgan is clearly positioning for an aggressive march. Annual revenues for 2013 hit $23 billion, and the company wants to realize $27 billion annually by 2018, a growth of 17.4 percent. On the net income side, the bank has gone downward from $21.3 billion to $17.9 billion, but a good portion of this drop in 2013 has been due to its legal costs and settlements with the federal government. That took out a hefty chunk of $11.1 billion in 2013, up from a similar cost in 2012 of $5 billion. With the legalities hopefully out of the way, one can quickly see it's actually fairly easy for JPMorgan to boost its revenues after the painful one-time settlement costs are out of the way.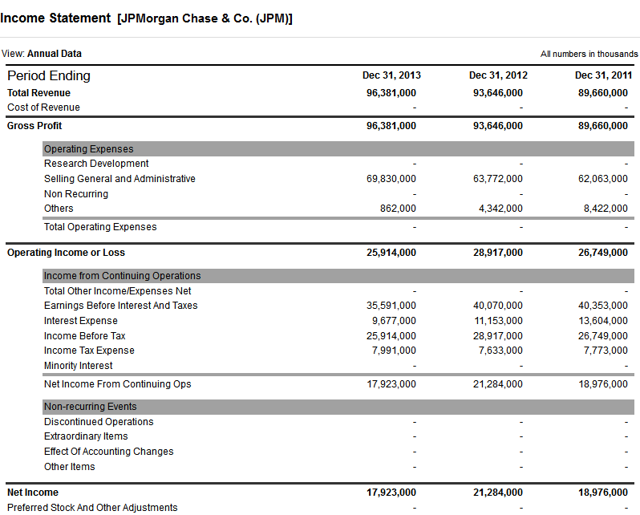 Click to enlarge
Source: yahoo.finance
Going forward, JPMorgan stands in a position of significant strength if it can keep from betting and losing its own corporate assets on risky market gambles as it did with $2 billion in 2012 that eventually turned into almost 6 billion ($5.8 billion, to be exact) from high-risk derivatives trading. The company has survived the 2008 mortgage real estate crisis debacle and has a portfolio that now has a chance to rise and gain again versus being a gigantic loss figure on the books. When this area begins steaming forward with rising loan rates and the addition of new home loans in an improving market, JPMorgan is going to gain considerable revenue strength. The mortgage side represents a hefty 44 percent of its asset portfolio.
Potential Pits
The big "what if" for the banking company is whether the federal government is finally done pounding on JPMorgan for legal settlements. The company lost billions in penalties associated with the bad deeds of Bear Stearns and Washington Mutual during the real estate mess. Even though JPMorgan was essentially directed to take over these institutions by federal banking regulators, which how things work with failing banks, JPMorgan then got stock with the legalities of old bad deeds inherited later on. Tap on the matter participation in the Libor rate scandal of interest rate collaboration with other banks, and bad choices in hedge trading, and JPMorgan's leadership can't be blamed for wanting some quiet time for a change. The last settlement was associated with Chase's involvement in the Bernie Madoff scandal and was finalized for $1.7 billion, and it seems the banking company is done for now, but time will tell if the Feds want to raise yet another issue.
In Summary
From a strategic perspective, JPMorgan is now in a position to gain and gain some more. If it is truly done with its problems and has put them behind, then the bank company can definitely begin marching to a stronger position over 2014.
The economy seems to be working in Chase's favor, with a strong boost in homebuying, low interest rates for conventional mortgages, and a stabilization of foreclosures across the country. JPMorgan's mortgage side couldn't ask for better news except a rise in home prices. And that's happening as well.
Disclosure: I have no positions in any stocks mentioned, and no plans to initiate any positions within the next 72 hours. I wrote this article myself, and it expresses my own opinions. I am not receiving compensation for it (other than from Seeking Alpha). I have no business relationship with any company whose stock is mentioned in this article.