By Jeff Bailey
Few companies have been so closely associated with the personality of their CEOs as Abercrombie & Fitch (NYSE:ANF) and Mike Jeffries in recent years. The pretty-young-people advertising, the controversial hiring practices and the string of strong sales increases were all credited to Jeffries.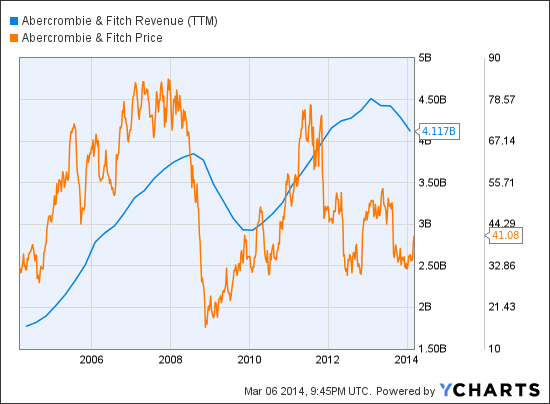 ANF Revenue (TTM) data by YCharts
Jeffries, who relinquished the chairman's title recently but remains CEO, could very well be around for years and also wind up being credited with a fabulous turnaround from Abercrombie's current doldrums. But at age 69, and facing some criticism from investors, it seems more likely that Jeffries mightn't be around all that much longer.
The question for shareholders is, how does a company transition from being so completely the product of a single person, for better or worse? The situation calls to mind the exit of Mickey Drexler as CEO of Gap (NYSE:GPS) in 2002. They're very different people. But like Jeffries at Abercrombie, Drexler was famously involved in all elements of Gap's business and was personally credited with its long run of success.
The decade after Drexler left, however, wasn't a good one for Gap shares.
More recently, the company has found ways to be more profitable without rapid sales growth and has become a model of financial management, lifting its shares.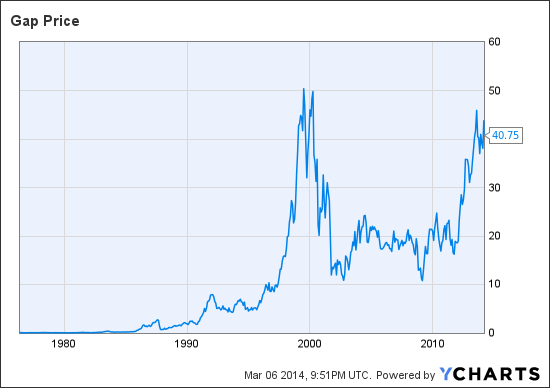 GPS data by YCharts
To appreciate Jeffries' grip on Abercrombie, one needs to read this revealing New York magazine article on him and the company. He's odd. He's in charge. What would they do without him?
Disclosure: None.