It seems that value investing is having its moment these days. Sure, hunting for things priced at less than "intrinsic value" goes back to our earliest human impulses, yet the popularity of the Ben Graham-inspired approach to public equities (modified through a range of disciples) is notable and perhaps expected: investors are looking for simpler ways to navigate unpredictable markets and escape information overload. The commercialization of the movement has accelerated through conferences and manuals giving it a irresistible gloss and spawning a community of followers proudly wearing the identity, proclaiming its code of conduct, and studying teachings from master practitioners. To quote John Heins and Whitney Tilson's latest book The Art of Value Investing, there is a growing belief that "all sensible investing is value investing."
So what are some common approaches to the discipline?
Buy stocks for the businesses they represent, not the pieces of paper, predictions by the financial press or macroeconomic forecasts.
Demand a wide moat and high "margin of safety."
Judge companies on long-term operating metrics and quality of management, not short-term price movements. Once stronger companies are found, confirm cheapness based on valuation multiples. The classic approach looks for a low, or at least fair, multiple on book value.
Think like an owner by favoring Free Cash Flow and EBIT(DA). Use Enterprise Value where appropriate to compare across companies and industries.
Be contrarian. Identify and seize only those rare opportunities created by the herd's reactive and blunt movements. Look in less-traveled areas left for dead or temporarily impaired.
Be long term knowing it can take months and years for intrinsic value to emerge.
Follow the best "capital allocators." These managers have mastered the art of share buybacks/issuances, dividend increases, capital expenditures, M&A, and managing taxes.
Stay in your circle of competency. Don't buy businesses that you do not understand or can't define implied value. On the flip side, peeling the onion for complex or challenged businesses presents an opportunity -- otherwise, one would buy mainly consumer companies and we're not all Buffet.
Consider the entire capital structure. Be sensitive to the advantages and disadvantages of debt.
Consider what a private buyer would pay for the business. Research private market transactions for comparables.
Put all of this together into "second-level" thinking that transcends conventional wisdom about a stock.
Is it possible to stretch this even further to "third-level" thinking? Can we start with a value core but enhance it by embracing some of the noise, externalities and techniques shunned by the tradition. Seeking Alpha, a clearing house of divergent views, might be one source. The following are some others ways:
Master freely available or moderately-priced websites, tools and blogs. There are many out there, so don't stop at one. Learn what each does and cannot do. Put together a mosaic of opinion around a potential position -- it's ok to embrace, marinate in, but not necessarily follow the sentiment.
Build proxies for value screens across these sites to generate and confirm ideas. The more favorable something looks across a variety of filters and outfits, the better. Here, you get a multiplier effect, creating your own virtual analyst department. Trust, but verify your own assumptions.
Pay homage to the broad guidance of charts and technicals -- blasphemy to many value investors! Share prices are ultimately the end product of all information and perception in the market. Since stocks often do trade like chits of paper, not the underlying businesses, use volume indicators, relative strength and money flows among others. These help identify when the supply and demand has overwhelmed intrinsic value.
See where historical price, performance and business fundamental "spreads" stand between the reference investment and related companies and sectors. These differences highlight the degree and direction of where those spreads may go in the future assuming some level of reversion or momentum. Ask yourself how future prospects and positive/negative shocks could adjust the spread.
Be agnostic to product type and embrace forms with the safest upside opportunities. Consider for example the stock itself, options, convertible securities, as well as narrow ETFs containing the stock and similarly-situated companies. Purists might disdain this flexible approach.
Consider specifics of the company's bonds. Are these trading above or below par? What is the coupon and duration of different financing rounds both in isolation and against peers? The amount of absolute debt is often considered by amateurs, but the nature and history of those bonds tell stories.
Be willing to explore international markets beyond the US and ADRs. The challenge here is availability of information and identifying safer trades not needing to be monitored constantly during overnight hours. Hint: for reasonable execution costs you'll need Interactive Brokers or other deep discount broker.
Most importantly, correspond with someone whose opinion you respect. People like to hear the sound

of their own voice and to share insights.
Some of my favorite tools to get in a "third-level" mindset include:
Below is an enhanced analysis for Oil States International (NYSE:OIS) touching on its merits. As always, I look forward to conversations with other "third-levelers" on stocks of interest:
Oil States International, Inc. is a diversified oilfield services company. It has three divisions: Offshore Products, Wellsite Services and Accommodations, operating in the United States, Canada, Australia, Brazil, the Middle East, Europe and parts of Asia.
OIS manufactures products for deepwater production facilities and subsea pipelines and provides "completion services" and land drilling services to the oil and gas industry. Its accommodations segment provides modular site housing, food services, facility management, water treatment and personnel logistics, primarily in the Canada oil sands, Australia and the shale play regions of the US.
OIS has been firing on all cylinders to re-shape the company and have the stock price converge to the "sum of all parts." In addition to a late-2013 sale of its tubulars business and announced stock buyback program, OIS plans a complete spinoff of its Accommodations segment in the second quarter of 2014. The goal is to optimize respective capital structures and growth opportunities. The new company could potentially be organized as a REIT targeting yield seeking investors.
The company outlined its strategy in a recent investor presentation (March 4, 2014, Raymond James investor conference).
Key Statistics
OIS has strong valuation and operating metrics when compared to peers and stocks in the broader market. The peer group here is Haliburton (NYSE:HAL), Weatherford International (WTF) and Dril-Quip (NYSE:DRQ). OIS looks cheap against this group, with the second lowest price-to-book and price-to-sales ratios, lowest PE and operating PE ratios, and lowest EV to EBIT (DA) ratios. It looks to be the most effective operator with the highest operating earnings yield, ROE and ROIC, and the second highest asset utilization, profitability margins, ROA and Net Income Per Employee of the group.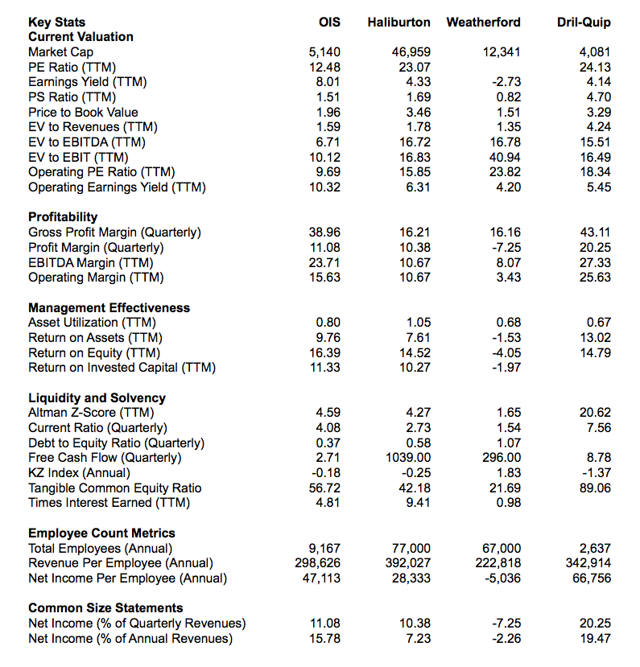 Source: Ycharts.com
Corporate Debt -Yields and Ratios
OIS has a strong Coverage Ratio from operational cash (.71), a Current Ratio of over 4 and a relatively low Debt/Equity ratio. Its bonds trade at a premium, with current yields to maturity between 3.5% (for the 2023 bonds, <1% higher than 10-year treasuries) and 5.33% for the 2019 bonds (still low for a middle-rated credit).
Source: Morningstar.com
OIS Corporate Debt - Recent 3 Years
For 2013, the company reduced its total debt by over $300M from the prior year and $200M from two years before. Part of the reduction was to long-term debt, but much was repayment of higher interest term loans using cash from the sale of the tubulars business.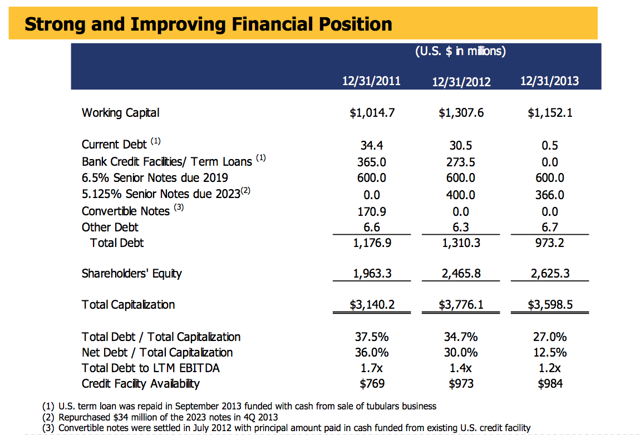 Source: company presentation
Capital Allocator's Chart (Part 1)
While visually busy, this chart shows the levers of good capital allocation at work: book value and operating income per share are moving higher, net common shares outstanding are flat to slightly down from the recent buyback, and Capex is falling indicating less capital intensity to the business. Price is moving higher to confirm the management's approach.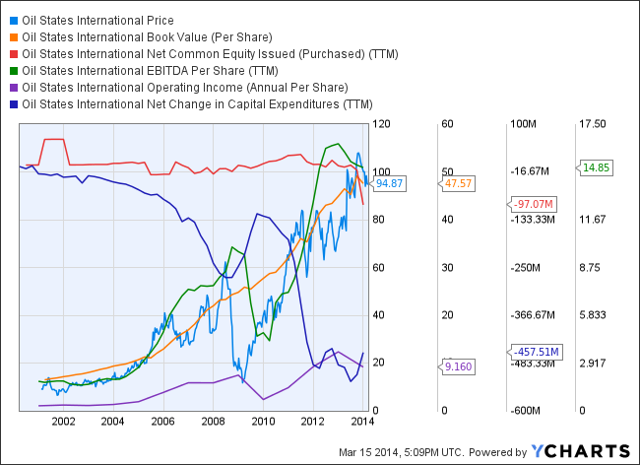 Capital Allocator's Chart (Part 2)
We see a pattern of the prudent use of debt and excess cash to fund acquisitions, and less commonly (as in 2013) a divestiture that reduced net debt to its lowest level. The planned spin-off is expected to unlock value and align OIS's core brands. Again, the price moves higher to confirm management's approach.
OIS Largest Holders By Market Value (13-F Filings)
The holders of OIS include some top hedge funds and proprietary trading shops (Greenlight Capital, RenTech, Susquehanna International). Especially notable is that OIS is a Top-10 to Top-100 holding for many of these firms. The company is also owned by a variety of the largest and/or best-known mid-cap and small-cap value fund managers (Vanguard, Fidelity, Royce, Blackrock). Given their low turnover approaches, they should be a solid base.
Total Return Price % (OIS vs. SPY and Selected Peers)
Over a 10 plus year period, OIS has handily outperformed the S&P 500 as well as DRQ, HAL and WFT.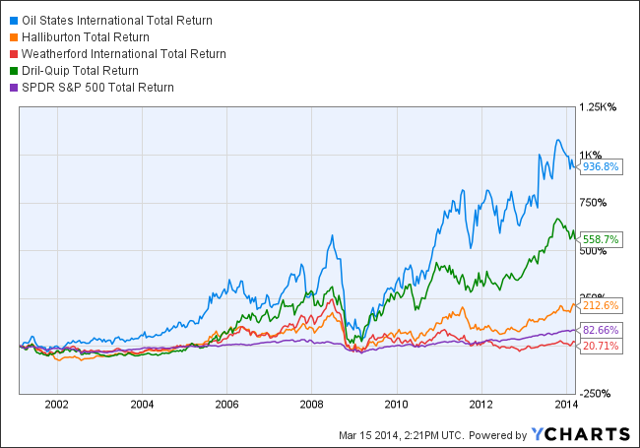 Total Return Price % (OIS vs. Spot Energy Prices)
OIS seems to have a modest correlation to spot prices for West Texas Intermediate Crude and Brent Crude, and less so to Natural Gas. That said, in periods when energy commodities spike in price, OIS stands to benefit as capital investment in production picks up.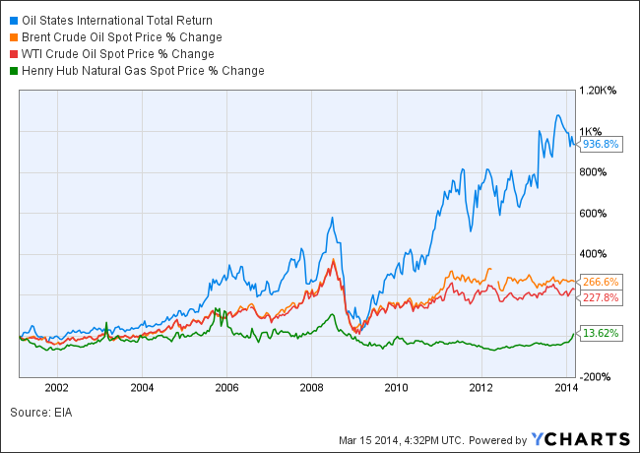 Technical Chart (Weekly Prices)
Bollinger Bands are a technical tool that show a simple moving average in the middle band, with the upper and lower bands representing one standard deviation above and below the SMA. In ten years, the weekly OIS price has never broken through the bottom band. The current price looks set to bounce off the bottom band, and each time it has resulted in a strong rally. Additionally, other indicators (low Momentum, Chaikin Money Flow, and Relative Strength) show potentially oversold conditions that could revert to historical norms. Technicals, of course, are observed statistics rather than causal; yet, I gain better comfort knowing that despite strong performance over the past decade sentiment and price action in OIS does not appear frothy at the moment.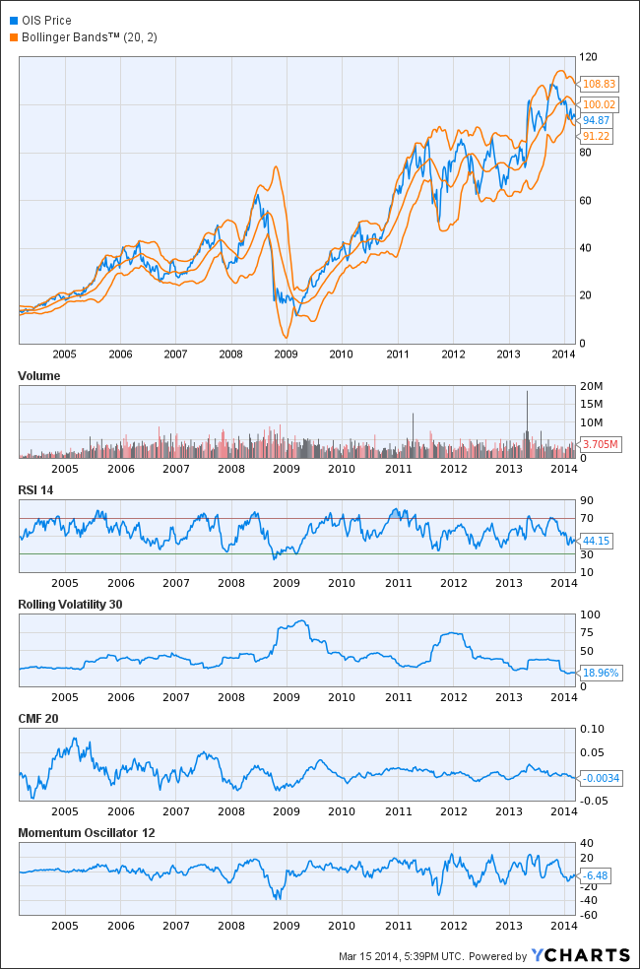 An Option Trade (Bull Put Spread)?
For most, buying the equity will give them the flexibility and comfort to hold until the trade works and for long-term capital gains.
For a more advanced trade, if you believe that the stock should be flat to higher in price along the way to late-September (currently $94.87 as of 3/14), then a "bull put option spread" might be profitable. Using a simplified example for illustration, you could sell the September 95 put for $7.70 a contract, and buy the September 80 put for $2.55. You would receive a net premium of $515 which is your maximum gain ($7.70 - $2.55 x 100 = $515) and have a max potential loss of $1,500 ($95 - $80 x 100 = $1,500), per contract on this spread. That max loss would occur only if the shares fell to $80 or below and held as such through Sept. 20, which represents a 16% drop. Your breakeven point is around $90/share, and if the shares end between $90-95, you keep some but not all of the premium. At $95 or above you keep the full premium. If you wrote 20 spreads here and the stock ended at 95 in September, you would pocket around $10,300 while using a limited amount of capital. You could also close before expiration.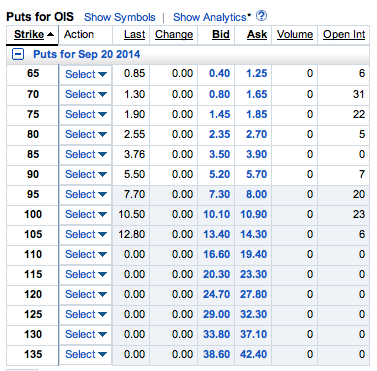 Source: Fidelity.com
"Variant View"
The biggest risk to OIS is a general market decline since it is a higher beta stock more sensitive to market movements. Secondarily, lower growth and further emerging market slowing could affect their offshore products segment particularly. An environmental problem involving a drilling site anywhere in the globe (especially where their products are used) could freeze demand. Additionally, execution of the pending accommodations spinoff is critical.
Disclosure: I am long OIS. I wrote this article myself, and it expresses my own opinions. I am not receiving compensation for it. I have no business relationship with any company whose stock is mentioned in this article.