Cepheid (NASDAQ:CPHD) recently announced that it received approval from the US Food & Drug Administration (FDA) to market its Xpert SA Nasal Complete, a molecular test, which can simultaneously detect and differentiate staphylococcus aureus (SA) and methicillin-resistant staphylococcus aureus (MRSA) colonization within an hour. It will be compatible with Cepheid's GeneXpert System.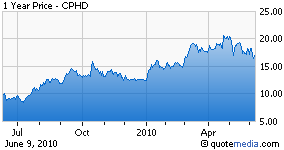 SA nasal carriers are almost nine times more likely than non-carriers to develop surgical site infections (SSI). Nasal carriage of SA can also lead to self-infection in the case of dialysis patients, patients in intensive-care unit, and burn patients.

The management of hospital acquired infections (HAI) is a growing burden for US hospitals, and related costs are estimated at $9.5 billion for SA and $20 billion for MRSA. The New England Journal of Medicine recently published results from a study showing that rapid molecular detection of SA colonization, followed by targeted decolonization, yielded a 60% decline in SSIs. It is expected that Cepheid's SA/MRSA test will enable clinicians to better manage the burden of HAI.

Cepheid said that the Xpert SA Nasal Complete will be available for shipment this month. This test is the company's tenth to receive FDA clearance and sixth in its growing line of HAI products. Cepheid's GeneXpert system is a self-contained, integrated and automated platform enabling molecular analysis.

Cepheid is an on-demand, molecular diagnostics company engaged in the development, manufacture and marketing of integrated systems and tests for genetic analysis. The company is focusing on applications where molecular testing has relevance such as the identification of infectious diseases and cancer.