Immersion Corporation (NASDAQ:IMMR) is trading very close to its 52 week low of $ 9.63.
In a relatively short period of time (March 4th to March 14th, or just 9 trading days), Dialectic Capital Management sold about 446,000 shares in the open market, representing roughly 18% of the total transactions in the period.
Dialectic has been unloading most of its position in the last 52 weeks, as shown by this chart resuming its selling activity:

Chart from Google Finance, quantities rounded
At the beginning of 2013 Dialectic hold about 2,326,000 shares, while its position as of last Friday is down to 857,000 shares.
Immersion's institutional ownership is estimated to be in the 75% range - while its stock trading volume is relatively low, i.e. just 200,000 shares per day.
Dialectic Capital Management is a key company's shareholder, and was instrumental in Immersion's turnaround
Back in December 2010, two activist funds, Ramius and Dialectic Capital, proposed different candidates for the company's Board of Director.
In March 2011, Immersion announced that it has signed an agreement with Dialectic Capital Management, whereby Dialectic was withdrawing its proposed board candidates and the company itself was nominating Carl Schlachte and John Fichthorn for election to the Immersion Board of Directors at the company's 2011 annual meeting.
Mr. Fichthorn, co-founder of Dialectic Capital Management, LLC, was meant to strengthen the BoD investor focus, while Mr. Schlachte, chairman of Mosaid Technologies Inc., one of the world's leading intellectual property companies, represented an ideal addition to the Board because of his IP licensing experience .
John Fichthorn and Carl Schlachte joined Immersion's board of directors in June 2011, and were instrumental in developing the strategy that later led to the focus on basic haptic licensing and the Google/Motorola settlement, that opened the door for the recent revenue increase in mobility.
What is Dialectic's most recent view of the market?
Immersion Corporation represented for quite a while Dialectic's largest position - and probably still is, in spite of the recent selling (data in this chart are at December 31th, 2013):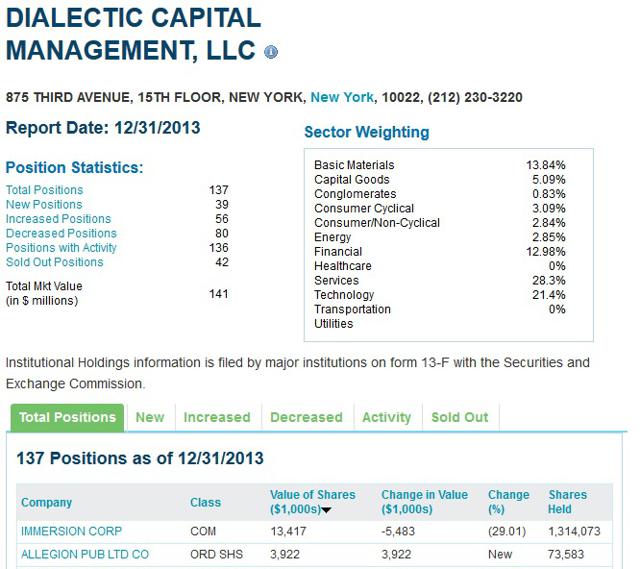 Dialectic has done very well with its investment in Immersion so far, and we wouldn't be surprised if it had already made a profit, even considering its remaining shares valued at zero.
In 2013, however, the fund's performance hasn't really been stellar, as reported by Valuewalk:
2013 was a tough year to be a short seller of equities, as Dialectic Capital Management returns indicate. With the hedge fund's 2013 annual performance reported in a 4th quarter investor letter down -6.24%, and the S&P 500 near record highs driven by nearly a +30% 2013 rise, could a break in equity returns in 2014 lead to the year the fund's defensive strategy pays off?
John Fichthorn believes that there is a "once-in-a-lifetime opportunity to make money" on what Dialectic now sees as an epic equity bubble:
"This is it. It's the bottom of the ninth and we're about to hit a home run," said John Fichthorn, co-founder of Dialectic Capital Management and an expert on shorting stocks. "I believe this is the best opportunity I will see in my life as a short seller."
On CNBC's "Halftime Report," Mr. Fichthorn also recently discussed his best three ideas as a short seller.
Given Dialectic's market view right now, we are not completely surprised to see the fund exiting its Immersion position, without this action necessarily representing a red flag for the company or its prospects going forward.
Buyback support?
In January 2014, Immersion restarted its buyback program, believing that the shares were attractively priced (we speculate at around $10/$11):
In early 2014, we recommenced our stock repurchase program ending approximately $4.4 million during the month of January to buyback Immersion shares and leaving us with $15 million remaining under our authorized stock repurchase program.

Management and the board remain confident in our business fundamentals and future prospects continue to believe that our stock is attractively priced and expect to continue to execute opportunistically to buy back shares under our authorized stock repurchase program.
While what happened at the beginning of the year doesn't necessarily mean that there will be buyback support in the $10 range, we wouldn't be surprised to experience an interesting repeated pattern at this price level.
Risks taking a position right now
We believe that Immersion is very well positioned to take advantage of the secular trend toward touchscreen use, both in mobility (smartphones and tablets) and several other verticals (automotive, consumer, industrial, etc.). The company's IP is now implemented (as basic haptic) at the core of the most successful OS in the market, Google's (NASDAQ:GOOG) Android. This alone may represent a strong growth driver for Immersion, with advanced, high definition haptics and other verticals (media, etc.) that may be seen as an added upside.
If we had to resume our thesis in a few words, we use a quote from Ben Bajarin to describe the company's addressable market in mobility alone, and underline that Immersion is uniquely positioned to take a small toll potentially on each smartphone shipped with Android, a platform which is now exceeding an 80% market share (Q3 data), and extending its leading position:
I forecast that by the end of 2018 the annual sales of smartphones will be approximately 1.8 billion. Every time I think about this single number it astonishes me. Every year, almost 2 billion smartphones are sold. Astounding. There may not be a single product with this kind of total addressable market.
In the short term, however, a market crash certainly could cause a price drop - as we noticed, the stock has a relatively low volume, and a strong institutional ownership that might turn into a problem if they all look for the exit door at the same time.
Absent any unpredictable market shock, however, we believe that the current weakness may represent a good entry point for shareholders with a long term horizon. We recently added a few shares in the $ 11 range. Time will tell if we may thank Dialectic for the opportunity, or if their overall market vision will make us look like the bag holder.
Disclosure: I am long IMMR. I wrote this article myself, and it expresses my own opinions. I am not receiving compensation for it (other than from Seeking Alpha). I have no business relationship with any company whose stock is mentioned in this article.