At the annual shareholders' meeting of the Bank of Greece (Greece's central bank), George A. Provopoulos, the Bank's governor, shared his assessment of the country's accomplishments and its unfinished business. His overarching message: The Greek economy has made considerable progress over the past five years, especially in 2013, but there is still much more to do.
Economy. According to preliminary estimates, real GDP declined 3.9% in 2013, better than the 7.0% decline registered in 2012. The fourth quarter drop in real GDP was 2.3% year-on-year, also an improvement over last year's 4.9% decline. GDP fell at progressively slower rates during the course of 2013, which is a strong sign that the economy is bottoming out and an upturn is at hand.
GDP for 2013 came in better than originally forecast, due to a strong tourist season. The boost from the tourist season may also have figured in the slower-than-anticipated declines in personal consumption expenditures and business investment.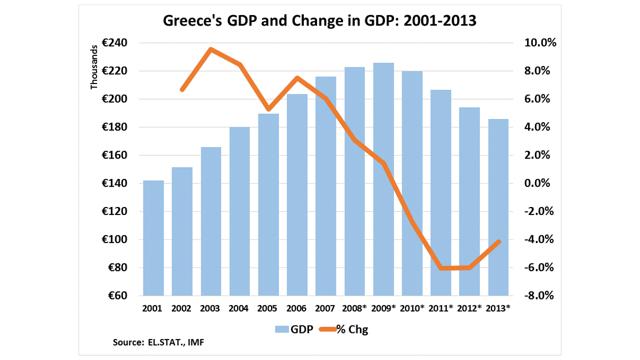 The 2013 decline in nominal GDP was 5.8%, which suggests that the GDP price deflator was just under -2%. Said another way, deflation in the Greek economy averaged nearly 2% in 2013. Declining income and excess capacity have exerted downward pressure on prices.
Consensus forecasts anticipate that the Greek economy will return to growth in 2014. The average estimate anticipates growth of 0.6%. Rising industrial production and improvement in sentiment are good signs for the long-awaited rebound. If growth is sustained beyond 2013, deflation should gradually subside.
Even with the return to growth, it will take time for the Greek economy to return to normalcy (by the standards of most Western economies). Unemployment remains shockingly high. It hit a new high of 27.5% in the 2013 fourth quarter. Youth unemployment is 57%.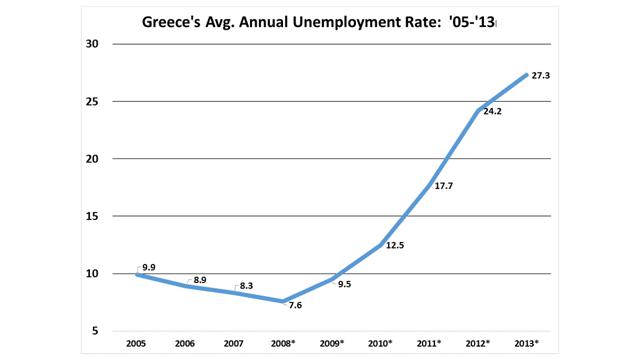 Some economists anticipate that unemployment will begin to ease later in 2014, but it will probably be many years before employment returns to pre-depression levels (around 8%-10%).
Wage cuts have made the Greek economy more competitive. According to Eurobank, unit labor costs have declined 10% over the past three years. But many jobs in uncompetitive or nonproductive sectors, particularly within government, have been eliminated and will not come back anytime soon.
New Business Initiatives. In response to the crisis, Greece has undertaken a number of initiatives to plug the hole in its economy. It is looking to emphasize some of its natural and traditional competitive advantages to attract businesses.
The port of Piraeus, Europe's 11th largest, is a natural gateway from the Mediterranean Sea and the Suez Canal into Eastern Europe. Hong Kong-based Cosco, a container terminal operator, is making a significant investment there. Some major companies, such as Hewlett-Packard and Huawei Technologies, have committed to establish their logistics hubs in Greece. Through the port of Piraeus, they will ship products made in Asia into eastern and central Europe.
The Greek government has set its sights on making Piraeus one of the top five ports in Europe. To that end, it has completed a 17-kilometer rail extension from Piraeus to connect to its national railway network (from which shippers can gain access into other parts of Europe). It plans to sell a 67% stake in the Piraeus Port Authority and privatize Trainose SA, the rail operator. (The formal bidding process for the PPA stake got underway on March 5. Fearing layoffs, dockworkers protested the move with a 24-hour strike.) If successful, these efforts should raise the contribution of the transportation and logistics to Greece's economy beyond the current level of 10%-12% of GDP.
Philip Morris International, through its subsidiary, Papastratos AVES, opened a new factory in Aspropyrgos, a suburb of Athens, in May 2009. In February 2013, it signed a 3-year agreement with the Greek government to boost its purchases of high quality Greek oriental tobacco by 20%. In August 2013, PMI and Papastratos announced that its leaf warehouse in Agrinio (in western Greece, just north of the Peloponnese peninsula) would become PMI's only oriental tobacco logistics hub for Europe, shipping regionally grown tobacco to PMI's cigarette factories in the EU, Russia and Ukraine.
Greece will benefit from the construction of the Trans Adriatic Pipeline, which will carry natural gas from the Shah Deniz II field in Azerbaijan through Turkey, Greece and Albania into Italy and other parts of Western Europe. It will be built by a consortium that includes BP (NYSE:BP), E.On (OTCPK:ENAKF), Fluxys, Statoil (NYSE:STO), Total SA (NYSE:TOT) and the State Oil Company of the Azerbaijan Republic (SOCAR). Current plans anticipate a pipeline 867 kilometers (539 million) in length, including 547 km (340 miles) in Greece and with an initial annual capacity of 10 billion cubic meters (350 billion cubic feet). Construction should begin next year and with completion in 2017 or 2018 at a total cost of €1.5 billion ($2.08 billion). TAP will diversify Europe's sources of supply for natural gas.
Privatization Program. Greece's privatization program is an important part of the bailout program. Its benefits are twofold: Proceeds from asset sales can help meet budget shortfalls and reduce debt. Privatization can also help to improve the country's competitiveness (because private businesses usually operate more efficiently than state-owned enterprises). Yet, the leftist opposition party, Syriza has pledged to roll the program back, if it comes to power.
The program is off to a slow start. The Hellenic Republic Asset Development Fund (HRADF), which is also known as Taiped, has been plagued by turnover in its leadership, some of which has been due to alleged improprieties. The government originally hoped to raise €45-€50 billion ($62-69 billion) from the privatization program by 2015. So far, however, it has completed only €3.8 billion ($5.3 billion) of asset sales, including €2.6 billion ($3.6 billion) in 2013. The program's goal has therefore been reduced to €11 billion ($15 billion) by 2016. The target for 2014 is €3.6 billion ($5 billion).
One of the most prominent (and controversial) sales involved OPAP, the Greek gambling monopoly. The government's 33% stake in OPAP was sold for €650 million ($900 million) last August to Czech, Greek, Russian and Slovak investors.
The sale of DEPA, the country's main natural gas supplier, fell through when Russia's Gazprom (OTCQX:GZPFY), the only bidder, backed out because it could not get assurances against a material deterioration in the business before the sale closed. DEPA is believed to be going back on to the market, but some question the wisdom of doing so, given the experience in the first go-round and the low probability of attracting other bidders besides Gazprom.
In December, the Greek government agreed to sell a 66% in DESFA, the state's natural gas distribution utility (and a subsidiary of DEFA) for €400 million ($554 million). The sale, which requires the approval of the European Commission, is expected to be completed in the second half of 2014.
Besides the expected sales of Trainose SA and the 67% stake in PAA (both discussed above), there are some high profile real estate properties currently up for sale, including Astir Palace, the resort property owned partially by National Bank of Greece, and Hellinikon, the former airport site and venue for the Olympic games.
Hellinikon, which spans 620 hectares (1,532 acres), is one of the largest unused tracts of urban land in Europe. By some estimates, development of the property could generate 40,000 jobs and add 0.3% to Greece's GDP. The only bidder now for the property is a consortium led Lambda Development (LAMDA.AT), a publicly-traded Greek real estate developer. Lambda's group includes China's Fosun and Abu Dhabi's Al Maabar. Three other potential bidders have previously pulled out.
Several other state-owned enterprises will be sold over the next few years, including the Public Power Authority, the Athens Water Supply and Sewerage Company and the Montes Parnes Casino. Beyond that, numerous smaller assets, including real estate properties, regional airports, small seaports and marinas are up for sale. A recent increase in property listings by the HRADF has raised questions in some quarters about whether the government is acting in haste (and therefore not in Greece's long-term interest).
It should not be surprising that the privatization program has been slow out of the gate, given the sharp contraction in Greece's GDP over the past few years. Private investors may be better operators, but they are not magicians. It may be impossible to turn a profit in a severe economic downturn, even from investments bought at bargain prices. Greater interest in these businesses and properties should surface as the economic upturn comes more clearly in sight.
Primary Surplus and Financing Shortfalls. A notable accomplishment in 2013 was the Greek government's achievement of a primary budget surplus (before debt service costs), one year ahead of schedule. This primary surplus was achieved through selective tax increases, cuts in wages, pension costs and other expenditures and a stepped up effort to catch tax evaders.
Preliminary estimates put the surplus above €1.5 billion ($2.08 billion) or 0.8% of GDP. Some of the surplus came about because of one-time only factors, including the return to the government of profits made by bailout lenders on their holdings of Greek debt. Even so, the €1.5 billion surplus could be reduced modestly, if the recent court challenges against wage cuts for police, fire fighters and military personnel are not overturned on appeal.
Under the terms of its bailout plan, the government can spend up to 70% of the excess amount over its initial budget target. Officials want use its share of the surplus to restore some cuts made to low income pensioners.
Before any spending can take place, however, the primary surplus must be certified by Eurostat, Europe's statistical agency, which will be done by late April.
Greece's bailout plan anticipates that the primary surplus will improve to 1.5% in 2014 and then steadily to 4% in 2016 and beyond, a level judged to be sustainable.
After debt service costs, Greece's total budget deficit was about 4.0% of GDP in 2013. With steady anticipated improvements, the budget is expected to swing to surplus by 2016.
Yet, even with a sustainable surplus, there are concerns that Greece's debt, currently at 175% of GDP, is too high. Greece may be able to reach a total budget surplus eventually with below market interest rates; but might not reach a sustainable surplus at market interest rates.
A Third Bailout Program? Greece's bailout plan set a target debt-to-GDP ratio of 110% by 2022. Getting from 175% of GDP today to 110% in 2022 looks like a tall order. The economic framework upon which the bailout plan is based assumes average annual GDP growth of 4% from 2016 forward. That may not be impossible, but it certainly looks improbable in the current environment. Many economists believe that Greece needs more debt relief - some say a third bailout program - in order to sustain the recovery. In its fourth review (July 16, 2013), the IMF acknowledged that Greece's current high public debt levels could hinder demand and economic growth.
Although debt levels are high - probably too high - there is no clear consensus about the timing and magnitude of any potential debt reduction. Officials of both the troika and the Greek government have spoken against a third bailout plan. This makes sense because it could reduce the confidence of stakeholders, including the people of Greece. Greek government officials may also object to further debt haircuts because they will likely require additional concessions, including more austerity. At this point, they are worried that more austerity will reduce personal income further and therefore hinder or delay Greece's economic recovery. It might tip the political balance more in favor of those who oppose the bailout program and want to dismantle it.
Some economists have called for debt reduction in the form of extensions of maturities (from 30 years to 50 years) and a 50 basis point reduction in interest rates. While this would not reduce the total amount of outstanding debt, it would reduce the debt's market value and therefore the burden of the debt on Greece's economy and financial system.
Even so, an extension of maturities and lowering of interest rates would almost certainly be treated as a selective default by the major credit rating agencies. This would lead to a debt downgrade, reversing the recent upgrade, and almost certainly lead to higher bond yields at least temporarily. Here again, this move would likely inhibit the momentum of Greece's economic recovery.
Troika officials are also reluctant to agree to another bailout program. Even if it could get all of the necessary support from EU members, a big reduction of debt might reduce the pressure on Greek government officials to comply with austerity measures. The Greek government is well behind in its commitments on key aspects of the bailout program, including the restructuring of the civil service (with an additional reduction in work force) and reforms of professions to remove barriers to competition. Reducing the debt burden might provide an incentive for Greece to further delay implementation of reforms.
For these reasons, it makes sense for both the troika and the Greek government to continue with the current bailout program, step by step, making adjustments as needed. Projected financing shortfalls might be met with a combination of debt maturity rollovers, new funding commitments, budget cuts and revenue enhancements. The troika should also consider providing funds for specific programs that would enhance Greece's competitiveness, such as upgrading its national highway system, for example. Over time, as long as its economic recovery continues, Greece should be able to reduce its dependence upon the troika by gaining increasing access to the capital markets to meet its financing needs.
Current Negotiations. The Greek government faces an estimated net financing shortfall of €4-€5 billion ($5.5-$6.9 billion) in 2014 and €6-€7 billion ($8.3-$9.7 billion) in 2015. €9 billion ($12.5 billion) of debt comes due in May. The country is negotiating with the Troika to reach agreement on a number of aspects of its current bailout program to obtain the release of a €9 billion installment that has been delayed. Government officials were hoping to reach agreement by Sunday, March 16 so that the agreement could be presented to EU finance ministers on Monday, March 17.
Greece is seeking to return to the public debt markets later this year. Finance Minister Yannis Stournaras said in January that Greece could "test the markets" with a €1.5-€2.0 billion five-year bond issue in the second half of 2014.
Testing the markets may be fine; but Ralph Atkins of the FT argued in January that Greece should resist an early return to the capital markets for debt financing: A rush by the capital markets to welcome Greece back might make Greece more complacent and less committed to press forward with the necessary reforms.
Politics. Greece's governing coalition, led by the New Democracy Party, holds a slim, three-seat majority. New Democracy lost a key coalition partner, Democratic Left, in the uproar over the sudden (but temporary) closure of state television broadcaster, ERT, last June. The Democratic Left said that it would remain out of the coalition, but still work with it on a case-by-case basis.
New Democracy's major challenge is from the leftist party, Syriza, which has gained support over the past two years from those opposed to the austerity program. New Democracy and Syriza have been running neck-and-neck, each with 15.5% of the vote in a recent poll; but the largest bloc of voters - around 40% according to one poll - is undecided.
Another challenge looms from the far right Golden Dawn party, which has been gaining support from those disillusioned with the government who blame the country's plight in part on its failure to curb immigration. The party currently has 5% support among voters, which has prompted the government to address the immigration issue. However, Golden Dawn's momentum was set back after one of its members was charged with the murder of a socialist hip-hop singer last fall. The prime minister subsequently asked the courts to declare Golden Dawn a criminal organization and some of its leaders have been jailed. Even so, Golden Dawn will win seats in the upcoming elections.
A new party, To Potami (The River), headed by television journalist Stavros Theodorakis, has come from nowhere to capture 7.5% of the vote, according to one poll. Mr. Theodorakis refuses to be branded as either left- or right-wing. However, his base of support appears to be center-left.
Greece will hold local and EU parliamentary elections in May. The first round will be on May 18, and the second on May 25 for those candidates who do not win sufficient majorities. The second round also coincides with EU parliamentary elections.
The May elections will not tip the balance of power within Greece's parliament, but they will be seen as a referendum on the policies and achievements of the current ruling coalition. If opposition parties make a strong showing, they could force a new parliamentary election in March 2015, a year or so ahead of schedule, if parliament is unable to elect a successor to current President Karolos Papoulias.
The even split between New Democracy and Syriza in the polls (albeit with the influence of To Potami) and the large block of undecideds signals positive progress in voter sentiment. Had the poll been taken last summer, it would almost certainly have shown stronger support for the opposition. The risk of voter disaffection remains, but with further improvement in the economy and perhaps a little pat on the back from the troika, New Democracy might strengthen its coalition.
The European Union will also hold parliamentary elections from May 22 to May 25. This may be a potential referendum on the European project. Given the significant progress made so far in working through the problems of the periphery - Ireland's exit from the bailout program, Portugal's imminent exit, Greece's progress in 2013 and the sharp decline in bond yields in Italy and Spain - it would be surprising if voter sentiment is sufficiently negative to tip the balance against the Europe project.
Housing. By most measures, the housing market has collapsed in Greece. With the rise in unemployment and decline in disposable income, most households have not made their mortgage payments in well over a year. The government placed a moratorium on foreclosures in 2011. That moratorium has recently been extended by parliament until the end of 2014.
During the course of 2013, there was talk of lifting the moratorium on those households who are able to make their mortgage payments but have chosen not to do so. However, we do not believe that the government has taken any action taken on this matter. The lifting of the moratorium on financially able households would be a prelude to lifting the moratorium more broadly to begin the process of working through what is bound to be a large foreclosure backlog.
In a December 2013 Monetary Policy Report update (which has not yet been released in English), the Bank of Greece said that house prices have fallen by 37.6% in real terms since the start of the financial crisis in 2008. Real estate agencies put the drop at an even higher level.
In response to the crisis in the residential housing sector, the Greek government has offered residence to foreign investors who purchase or rent property valued at more than €250,000 ($346,500). The program expires after five years, but may be subject to renewal. This is similar to programs adopted in Hungary, Spain and Portugal.
Recapitalization of the Banking Sector. One of the major accomplishments of the Greek government in 2012 and 2013 was the recapitalization of the banking sector. In early 2013, the Hellenic Financial Stability Fund (HFSF), an arm of the Bank of Greece, received €50 billion in the form of bonds issued by the European Financial Stability Fund (EFSF). The HFSF contributed (i.e. lent) those EFSF bonds to Greece's largest banks. This gave each bank collateral to support their borrowings to meet their funding and liquidity needs.
In June 2013, three of the four large systemic banks - Alpha Bank (OTCPK:ALBKY), National Bank of Greece (NBG) and Piraeus Bank (OTCPK:BPIRY) - issued common stock and warrants in the public equity market in amounts equal to 10% of total HFSF contributions. The HFSF subsequently converted its bank loans into equity, giving it a large majority equity stake in each of the banks. The 10% equity capital raise was the minimum amount required by HFSF to allow each bank to remain independent. Eurobank Ergasias, which apparently did not have sufficient financial strength to remain independent, was effectively nationalized.
In total, the HFSF used roughly €41 billion ($56.8 billion) of its €50 billion ($69 billion) allocation to recapitalize the large banks. The remaining €9 billion ($12.5 billion) is available to meet future banking recapitalization needs. However, if the €9 billion is not needed by the banking system, there has been talk about transferring it to the government to meet other financing requirements.
The initial €50 billion of capital allocation was based (at least in part) upon an analysis of loan portfolios of the major Greek banks completed in 2012 by Blackrock Solutions. That analysis utilized the banks' financial data available as of June 30, 2011. The Bank of Greece supplied the macroeconomic inputs for both the base case and adverse scenarios.
By the time that the banks came to market in June 2013, the data from the initial analysis was nearly two years old and a lot had changed. Many of the macroeconomic assumptions used to calculate capital needs proved to be optimistic.
After completing the initial recapitalization, the Bank of Greece hired Blackrock to update its analysis, with June 30, 2013 as the new reference date. The Bank of Greece released Blackrock's analysis (together with the underlying methodology) in early March 2014.
The analysis showed that under the base case scenario, with a target tier 1 ratio of 8%, Greece's banks - the four systemic banks plus Attica and Panellina - required another €6.38 billion ($8.8 billion) in capital. Blackrock's assessment of each bank's capital requirement is given in the table below: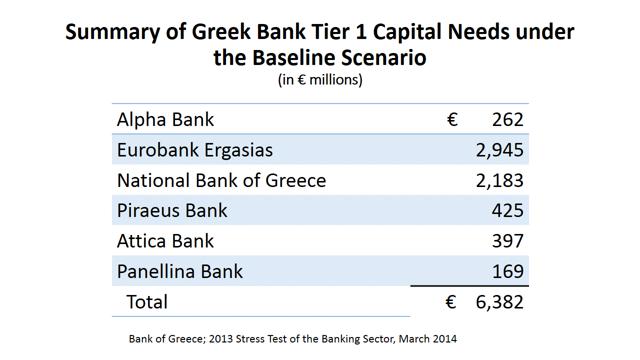 The Bank of Greece has asked each bank to submit its plans for raising capital by April 15.
Eurobank, which is now 95%-owned by the HFSF, has the largest capital requirement of €2.9 billion. The bank had already initiated a process to raise €2 billion ($2.8 billion) in capital in November and is being assisted in that regard by Barclays, Deutsche Bank and J.P. Morgan. It is in the process of lining up investments from institutional investors. On Friday, Dow Jones reported that the bank planned to move forward with a €3.0 billion ($4.2 billion) share offering.
The National Bank of Greece requires €2.18 billion ($3.0 billion) under the base case scenario, an amount equal to nearly 50% of its existing tier 1 capital. It plans to meet this capital need without issuing new shares. Some capital will come from its ongoing program to sell non-core assets. Some could come from a previously announced plan to sell an equity stake in Finansbank, its Turkish banking subsidiary. NBG may also seek to have regulators recognize more of its deferred tax asset as capital. Management will presumably provide more detail about its capital raising plans, when the bank reports fiscal 2013 fourth quarter results on March 20.
Both Alpha and Piraeus require less capital under the stress tests. Both will launch new capital offering this week (March 17-21). Alpha will issue €1.2 billion ($1.7 billion) in a new equity offering underwritten by Citigroup and J.P. Morgan. Piraeus plans to raise €1.75 billion ($2.4 billion) in equity and €0.5 billion ($0.7 billion) in senior unsecured notes.
Press reports around the time of the release of the stress test suggested that the troika wanted the Greek banks to raise more than €6.4 billion ($8.9 billion) of additional capital. The EC initially specified a range of €8.0-€8.5 billion ($11.1-$11.8 billion), but that was reportedly based on a minimum tier 1 capital ratio of 9%. Recent reports have suggested that the EC lowered its tier 1 requirement to 8%, bringing it more in line with Blackrock's figures. The EC is probably also happy that the banks plan to raise capital in the public markets (which would potentially make the HFSF's remaining €9 billion of funds available for other needs, reducing the troika's potential future exposure).
However, it is still not clear whether the IMF is satisfied with the stress test results. Initial reports suggested that the IMF wanted the Greek banks to raise €20 billion ($27.7 billion) in capital. After heated discussions with Greek officials, it reportedly reduced its assessment to €8-€9 billion ($11.1-$12.5 billion). But the IMF has not directly confirmed any of this. At a recent regular press briefing, an IMF spokesman would not acknowledge the original €20 billion estimate, but did hint that the IMF is still in negotiations with Greek officials over the amount of capital required by the banks.
The Push for a Final Agreement with the Troika. As of Sunday (March 16), officials from the Greek government and the troika were racing to reach a deal in time for a Monday meeting of European finance ministers. If completed, the agreement would release to Greece an already delayed €9.0 billion installment from the bailout program.
Market Returns. Greek stocks and government bonds have had a pretty good two year run. Yields on Greece's 10-year bonds have fallen from about 30% in June 2012 to about 7.2% currently, according to the Financial Times. The spread between Greece's 10-year yields and comparable maturity German bunds has fallen from about 2900 basis points to about 570 basis points, as shown in the chart below: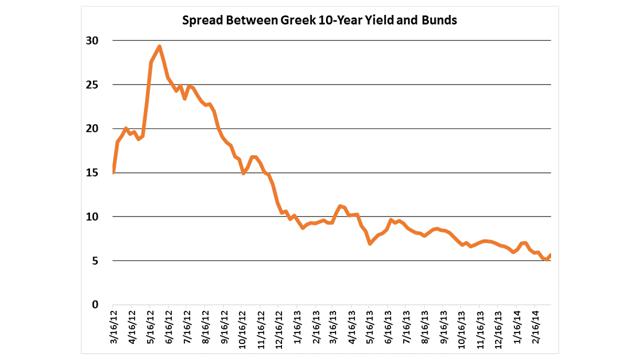 With continued progress on its reforms and the long-awaited start to the economic recovery, Greece's bonds have further upside potential. Greek spreads vs. bunds should fall to around 300 basis points, which is equivalent to the current spread on Portugal's 10-year bonds vs. bunds, as confidence about Greece's future prospects returns.
Greece's stock market has likewise posted impressive gains since the June 5, 2012 lows. As shown in the chart below, the Athens stock exchange has rebounded from a low of 471.25 in June 2012 to 1318.94 recently. That represents a 180% gain and an average annualized return of 78.7%. By comparison, the Dow Jones Europe Index is up 55.7% over that same time period, good for an annualized return of 28.4%.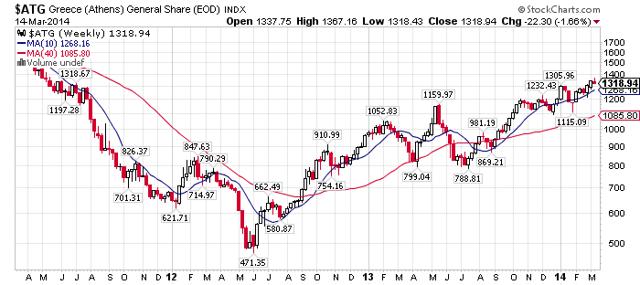 If history is a guide, then the Greek market still has superior upside potential. The Athens stock index fell 91% from its November 2007 peak to its June 2012 low. It has since rebounded (as noted above) by 180%, but is still 75% below the November 2007 peak.
Greece's stock market also looks quite cheap on valuation. According to the FT, Greece is the cheapest of all of the country equity markets on a P/E basis. The average P/E for Greece is only 3.0, whereas the average for all countries covered by the FT is 16.0. We have not conducted an analysis to determine whether any one-time or unusual circumstances account for Greece's exceptionally low P/E. One factor is undoubtedly the low 0.5% dividend yield on Greek stocks, well below the global average of 3.0%. Eurobank Research also noted in a December 2013 outlook report that low valuations on bank stocks have been a major drag on the overall stock market. As long as Greece's economic recovery remains on course, its stock market should have more rebound potential.
From a technical perspective, after such significant gains, the Athens stock index is due for a correction. From the longer-term charts, it looks like the Athex could run into resistance from 1400 to 1600, which was its trading range from June 2010 to April 2011. The low end of that range is just 6% above Friday's (3/14) closing level. Concerns about negotiations with the troika and potentially a shift in political power toward the left might be catalysts for a correction.
The Global X FTSE Greece ETF (NYSEARCA:GREK) is one of the few ways for U.S. investors to invest directly in Greece. GREK has roughly matched the performance of the Athens stock index, with a gain of 181.6% off of the June 2012 low and an annualized return of 79.4% over that period.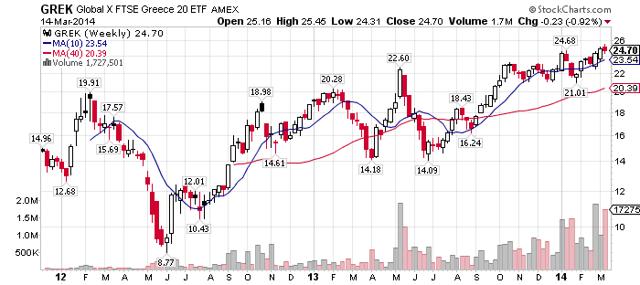 Summary. Greece has made good progress since entering its bailout program, but it lags behind on many import reforms and now faces the more difficult task of trying to make its economy grow. As noted by Mr. Provopoulos, the government's agenda is full. Greece must reorganize its civil service operations to root out waste and inefficiency. It must modernize key ministries, like education, health care and justice. It must take further steps to improve the competitiveness of key business sectors, including rolling back rules that unfairly protect certain professions. It must also overhaul the tax system and strengthen enforcement mechanisms.
This will not be easy. But it looks like Greece has made it through the worst part of its economic downturn, so its citizens should be able to get a second wind and ward off austerity fatigue. While there undoubtedly will and should be give-and-take in the ongoing negotiations with the troika, Greece must remain steadfast in following through on its reform initiatives, because doing so will provide the best foundation for a sustainable economic recovery.
Disclosure: I am long NBG. I wrote this article myself, and it expresses my own opinions. I am not receiving compensation for it (other than from Seeking Alpha). I have no business relationship with any company whose stock is mentioned in this article. GREK and NBG are also long positions in the model portfolio of the Income Builder newsletter.
Editor's Note: This article covers one or more stocks trading at less than $1 per share and/or with less than a $100 million market cap. Please be aware of the risks associated with these stocks.