The TJX Companies Inc. (NYSE:TJX), the leading off-price retailer of apparel and home fashions in the U.S. and beyond, came up with robust sales for the four-week period ended May 29, 2010. Comparable-store sales (comps) for May rose 4% compared with an increase of 5% in the same month last year. The retailer had been registering a positive comps growth each month in 2010, which it hopes to continue in the near future.
Year to date, comps climbed 8% compared with a growth of 3% in the same period last year.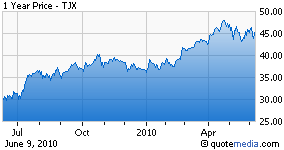 Continuing the top-line growth momentum, May sales surged 8% to $1.6 billion from $1.5 billion registered in the prior comparable period. Year-to-date, sales climbed 13% to $6.6 billion from $5.8 billion in the corresponding period last year. The results for the month under review surpassed management's expectation due to warmer weather favorably impacting the sales. Geographically, the northeast region remained strong.
However, rival
Ross Stores Inc.
(NASDAQ:
ROST
) May sales jumped 9% year over year and comparable store sales grew 5%.
With a wide demographic reach, renovation of stores, innovative products and increased marketing campaigns, TJX continues to attract and retain more new customers, thereby improving customer traffic. Moreover, with lean inventories and cost reduction initiatives, the company will outperform the broader market.
Framingham, Massachusetts based TJX guided comps growth of 2%−4% and 2%−3% in the second quarter 2011 and fiscal 2011, respectively.
TJX, which operates more than 2700 stores in the US, Canada and Europe, projects earnings of 67−72 cents a share for the second quarter of fiscal 2011, reflecting a 10% – 18% annual growth. For fiscal 2011, the company forecasts earnings of $3.21–$3.32 a share, representing 13%–17% year-over-year growth. The company's second quarter guidance remains in line with the current Zacks Consensus Estimate, but the fiscal 2011 guidance falls short of the current Zacks Consensus Estimate of $3.34 a share.