By Jake King
Emergent BioSolutions' (NYSE:EBS) core business is developing and commercializing biodefense vaccines and drugs. The company is seated in an enviable position as a preferred supplier to the U.S. government (mainly the Dept. of Health and Human Services and the CDC) under multi-year sales contracts. It's most valuable asset, BioThrax, is the only FDA approved vaccine for pre-exposure prophylaxis of anthrax disease. The U.S. government procures BioThrax under a $1.25bn CDC contract that supplies BioThrax for the Strategic National Stockpile (SNS), used to protect the public in case of a health emergency or terrorist attack, in addition to routine vaccination for military personnel and government officials serving abroad.
Emergent was a pure R&D company until 2012 when management set forth a strategic plan to build a suite of biodefense products, almost double sales, and grow EPS >15% annually through 2015. The company is diversifying into related verticals through development programs and M&A. In 2014 Emergent acquired Cangene Corp. ($127m FY13 revenues), a Canadian biotechnology company that brings four revenue generating products, three U.S. government-procured drugs and contract manufacturing services to the table.
Emergent's relevant pipeline assets include an expanded BioThrax label indicated for post-exposure prophylaxis (PEP) of anthrax disease, Nuthrax, which offers an improved immunogenicity profile compared to BioThrax, and otlertuzumab, an antibody indicated for chronic lymphocytic leukemia (CLL).
Asset Portfolio Centered On BioThrax
BioThrax operations are essentially a government-blessed monopoly that resulted from the 2001 anthrax letter attacks. Emergent has signed a total of six multi-year contracts since 2004 for $2.6bn worth of BioThrax. The standing contract was signed in September of 2011 and extends through September of 2016 for a total of $1.25bn and up to 44.8 million doses of the drug.
Based on a long-standing, preferred relationship status, a lack of viable alternatives, and a government led investment to build up Emergent's capacity, we believe the company's contract will be renewed in 2016 at increased dosing levels. This is the holy grail of catalysts for long-term Emergent investors.
BioThrax production is currently capacity-constrained at roughly 9 million doses annually with the government continually knocking on the door for increased production to fulfill its goal of 70m doses inventoried in the SNS (estimated to be at 40 million doses currently). Appropriately, Emergent began construction of a second facility (Facility 55) in 2010 that can increase production to as much as 25 million doses annually (50 million with facility add-on). The government has a vested interest in BioThrax's future and made a strategic investment by funding the construction of Facility 55 with a $107 million contract through the Biomedical Advanced Research and Development Authority (BARDA). Facility 55 is complete and is undergoing pre-approval facility comparability and non-clinical work to enable submission of an sBLA for FDA's blessing. The company plans to file in 1H15 with approval for large-scale manufacturing potentially occurring as early as 2H15. After closing above annual highs after its 4Q13 earnings report released on March 6th, anticipation of Facility 55's sBLA filing could keep shares on their current trajectory.
With lucrative, multi-year anthrax vaccine contracts and a mandate to both increase supplies and develop 2nd generation vaccines, it is no surprise that competitors are actively engaged in advancing clinical stage assets, of which most are funded by BARDA through Project BioShield. Even so, the development landscape for anthrax vaccines is relatively immature, including Emergent's 2nd generation vaccine, Thravixa, which is in phase 1 trials. PharmAthene Inc. (NYSEMKT:PIP) is developing a novel vaccine called SparVax, although phase 2 studies have been put on hold by the FDA for a second time. Pharmathene is also developing a 2nd generation vaccine called Valortim in phase 1 trials, and GlaxoSmithKline (NYSE:GSK) has an FDA-approved therapy as a second line treatment. BARDA funding has been renewed through FY18 to advance development of anthrax countermeasures, but full licensure of pipeline candidates would extend beyond BioThrax's contract expiration, and the government can't afford a lapse in vaccine procurement. These points suggest the impetus will be placed back on BioThrax as a sole source supplier in 2016.
Worth noting, an exception is available to procure biodefense countermeasures without FDA approval. The potential loss of share through this exception would be minimal until long-term safety data is available.
Emergent is also expanding BioThrax's label for a PEP indication funded under a government development contract. The company completed a pivotal phase 3 PEP trial (n=200) in healthy adult volunteers in July 2013 which met both primary and secondary endpoints. Emergent is also seeking approval for an extended shelf life of 5 years as BioThrax is currently labeled for 4 years.
While we can't be certain of the government's intent to renew a BioThrax contract in 2016, the probability of doing so is high. With contract renewal, Emergent's revenue trajectory will be steep into 2016 and 2017. We estimate Emergent will sell its full capacity of approximately 24 million doses annually, with BioThrax sales increasing by 153% to $624 million in 2017. Sweetening the pot is the fact that Emergent has received approval for commercialization in Germany and is seeking mutual agreement across other EU countries to expand its customer base.
Acquisition Puts Growth Plan Ahead of Target
The Cangene acquisition looks to be a smart play on management's behalf. The economics of this deal were well suited to Emergent, who conservatively paid 1.7x FY13 sales for a portfolio of biodefense related and other revenue generating products that will be accretive to EPS in 2014. Our only point of contention is that Emergent snatched up some low margin (<10% net profit) businesses, of which reduced R&D spending on otlertuzumab will hopefully offset.
Cangene's upside will ultimately be a function of its botulism antitoxin (BAT) indicated for strains A-G. BAT received U.S. approval in March of 2013, and the vaccine is the only FDA approved botulism treatment, for which it has orphan exclusivity through 2020. BAT is contracted with BARDA through 2018, after the agency exercised its option to extend the contract for a total value of $427M. This implies annual BAT revenues could surpass $71M. Given that Cangene's three therapeutic products (including BAT) generated $50M in sales for FY13, there is significant upside to this asset.
Beyond BAT, Emergent acquired six other revenue generating products and contract fill/finish services. Such operations are meaningful contributors to Emergent's growth plan, which is on track to reach its original 2015 EPS target by 2014 (implied $0.98 EPS at 15% CAGR). Our pro forma estimates suggest EPS of $1.00 in 2014. Emergent is growing EPS at a 24% CAGR since 2012 and future prospects point toward sustained EPS growth. We believe management will ultimately raise guidance in 2015. Management initially laid out its three year growth plan based upon historical trends, which underestimated the company's earnings power. The CEO alluded to raising guidance on its 4Q13 conference call (transcript here) after an analyst questioned management on why they haven't done so thus far. See CEO commentary below:
"When we put out the three year plan, the grounding for that trajectory was really built around our historic growth, both on revenue and net income over the last 10 years. We are now working on an updated plan going beyond that '15 period. So I think as we develop that plan and we identify what we believe are reasonable targets for the organization going forward, we'll be in a position to update it. But I wouldn't expect anything in 2014."
Reasonable targets? Well, we believe targeting a high-teens to low-20's EPS growth rate is a good starting point that becomes more feasible as the company reduces R&D spending to transition beyond a pure R&D company. Upping guidance is a meaningful catalyst for shares, albeit somewhat far out on the horizon. This could provide additional fuel to power Emergent's momentum in 2015, when the approval process for facility 55 will take center stage.
Other Assets - One We Like, One Not as Much
Nuthrax and otlertuzumab are Emergent's most relevant development stage assets, although otlertuzumab seems to have minimal commercial prospects at this point.
Nuthrax is an interesting asset that puts another arrow in Emergent's anthrax quiver. Nuthrax is being funded through a $28M BARDA contract and is a combination of BioThrax and adjuvant CG 7909 ('7909). In phase 1a trials in healthy volunteers (n=69), Nuthrax exhibited a superior immunogenicity profile compared to BioThrax alone. Results showed that patients in the BioThrax plus 1mg of '7909 arm generated a peak antibody response that was 6x greater than the BioThrax arm (1465 g/ml with BioThrax plus '7909; 232 g/ml with BioThrax). Further, BioThrax plus '7909 accelerated the time to reach peak immune response by three weeks compared to BioThrax. Both endpoints reached statistical significance (p<0.0001). Additional efficacy data could become available mid-2014, after a phase 2 trial (protocol) was completed in February.
Changing gears, otlertuzumab's progression beyond phase 2 trials is uncertain, which tempers our expectations for its prospects. Otlertuzumab, an anti-CD47 monoclonal antibody, was studied in combination with the chemotherapeutic bendamustine (Treanda) in a phase 2 trial; interim trial results show some signs of efficacy. For patients in the otlertuzumab and benda arm (n=20), the overall response rate was 80% with a complete response rate of 20%, whereas for the benda-only arm (n=32), the overall response rate was 42% with a complete response rate of 4%. While efficacy was improved in the combination arm, progression free survival and overall survival rates remain unknown. Emergent is conducting an 18-month extension study, but management is not entering phase 3 trials without a partner. Reading deeper into this strategy, it seems: 1) otlertuzumab's place in the rapidly changing competitive landscape for CLL is unclear, and the drug may not have the long-term efficacy to warrant further development; or 2) Emergent will focus on core assets rather than on developing otlertuzumab in expensive phase 3 trials. Shelving otlertuzumab may actually be the best plan of action and could save $27 million annually, Emergent's R&D spend for otlertuzumab in 2013. Scrapping otlertuzumab altogether could add an incremental $0.51 in EPS, a significant amount for a company that notched EPS of $0.86 in 2013.
Catalysts Weighted Toward 2015 and Later
Catalysts will be a mix of execution and regulatory events, though relatively sparse in 2014. Of importance:
Mid-year and late 2014 - Emergent could file plans to file for an expanded BioThrax label in PEP after its pivotal trial was completed in July of 2013. BARDA and the FDA are currently reviewing the final clinical report; Nuthrax phase 2 data after February trial completion.
1H15 - sBLA filing for production approval at facility 55; Upping guidance and growth plan beyond 2015; Assuming a mid-2014 PEP sBLA filing, potential FDA approval as early as 1H15.
2H15 - Management is aiming for a 2H15 FDA decision on approval of Facility 55; Otlertuzumab phase 2 extension trial data on PFS and OS rates.
Mid-2016 - BioThrax contract renewal.
Unknown - Potential partnership for otlertuzumab for subsequent phase 3 trials.
Valuation
Using an equal weighted p/e, p/s and p/b valuation, we believe shares have more than 100% upside into 2017 with a price target of $62. Add in a partnership for otlertuzumab or approval of Nuthrax, and a higher price is feasible. Our scenario analysis is as follows:
-$62 target with BioThrax procured at 24m doses annually; Cangene operations growing at 8% CAGR; Current multiples.
-$30 target with BioThrax procured at 9m doses annually; Cangene operations growing at 8% CAGR; Current multiples discounted by 20%.
-$18 target with no BioThrax procurement; Current multiples discounted by 25%. We view this as an aggressive worst-case scenario.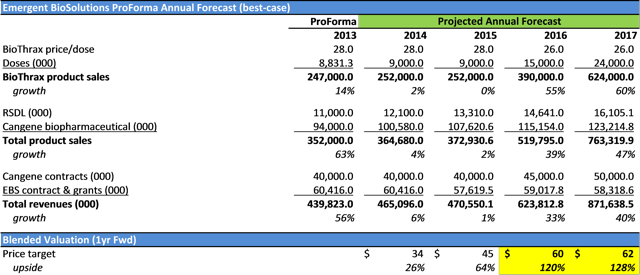 Shares offer a risk/reward of 3.8x using our best and worst case scenarios. Shares do trade richly around 30x EPS currently, but this doesn't tell the complete story. Rather we view the stock as being quite cheap. Emergent's bottom line will more than double into 2014 from 2011, yet shares trade at a similar valuation ($1bn currently versus $885m in 2011). We like the prospects of investing in a company that has doubled its profit yet trades at the same valuation it did when half the size.
Risks
An underlying theme when reviewing the risks inherent to an Emergent investment is "time." With minimal near-term catalysts and many moving parts farther out on the horizon, there remains significant grey area in between for company specific and/or industry trends to change. We view the following as key risks:
-A BioThrax contract renewal is not a shoe-in nor is a contract with increased dosing levels. BioThrax's journey has been a roller coaster to this point. Notably, in 2004, a lawsuit ended mandatory military vaccinations due to concerns over BioThrax's safety profile after personnel were court marshalled for refusing to take the vaccine. Come 2006, the vaccine was reapproved by the FDA with its mandatory status returning. This article further details important aspects of BioThrax's history.
-Lack of approval for facility 55 would be detrimental to our thesis and a 1H15 estimated sBLA filing may be delayed.
-FDA emergency approval of BioThrax competitors or faster than anticipated commercialization of non-Emergent 2nd generation vaccines.
-Negative otlertuzumab or Nuthrax trial data would weigh on shares, although this knee-jerk reaction would be short lived as Emergent's long-term valuation is not closely tied to these clinical outcomes.
Disclosure: I am long EBS. I wrote this article myself, and it expresses my own opinions. I am not receiving compensation for it. I have no business relationship with any company whose stock is mentioned in this article.
Additional disclosure: PropThink is a team of editors, analysts, and writers. This article was written by Jake King. We did not receive compensation for this article, and we have no business relationship with any company whose stock is mentioned in this article. Use of PropThink's research is at your own risk. You should do your own research and due diligence before making any investment decision with respect to securities covered herein. You should assume that as of the publication date of any report or letter, PropThink, LLC and persons or entities with whom it has relationships (collectively referred to as "PropThink") has a position in all stocks (and/or options of the stock) covered herein that is consistent with the position set forth in our research report. Following publication of any report or letter, PropThink intends to continue transacting in the securities covered herein, and we may be long, short, or neutral at any time hereafter regardless of our initial recommendation. To the best of our knowledge and belief, all information contained herein is accurate and reliable, and has been obtained from public sources we believe to be accurate and reliable, and not from company insiders or persons who have a relationship with company insiders. Our full disclaimer is available at www.propthink.com/disclaimer.