Company Overview:
Meridian Biosciences (NASDAQ:VIVO) is a fully integrated life science company with business in the development, manufacture, sale, and distribution of diagnostic test kits, primarily for certain gastrointestinal, viral, respiratory, and parasitic infectious diseases. The company was incorporated in Ohio in 1976.
Meridian Biosciences has two segments that constitute the business, which are Diagnostics and Life Sciences.
Diagnostics:
Diagnostics consist of the sale and distribution of diagnostic kits in the US, Canada, Europe, Middle East, and Africa. Diagnostic kits are simply a medical device to enable early diagnostics, detect infectious diseases, and treatment of common and acute medical conditions. Meridian Biosciences has over 140 different diagnostic kits in its product portfolio, but they are grouped mainly under three different segments; C. difficile (antibiotic-associated diarrhea from a hospital-acquired infection), foodborne (Enterohemorrhagic E. coli (EHEC) and Campylobacter jejuni (Campy)), and H. pylori (stomach ulcers).
C. difficile: Diagnostics' largest product, consisting of $39,000 in global sales for 2013. $39,000 is an 8% increase from 2012 global sales. C. difficile has been experiencing significant competition lately. (all dollar figures in thousands)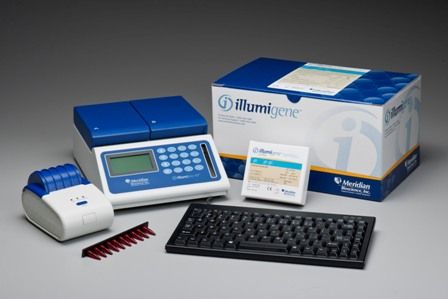 Foodborne: In 2013, there was $24,000 in global sales, which was a 15% growth from 2012. 95% of foodborne diagnostic kits were sold in the US. (all dollar figures in thousands)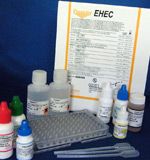 H. pylori: $26,000 in global sales in 2013, which was an 11% growth from 2012. 70% of sales in the US for H. pylori diagnostic kits. Estimated to have 5% of market share. (all dollar figures in thousands)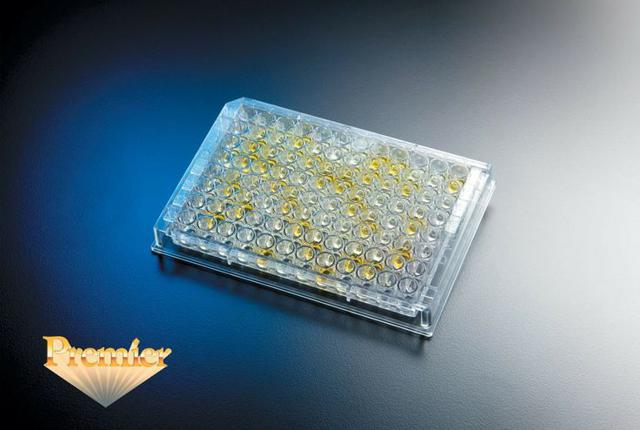 The primary source of revenue comes from the diagnostics products, with the diagnostics segment providing 77% of consolidated net sales for 2013. Third-party sales from diagnostics have increased by 8% in the past 3 years, using CAGR formula (results depicted below).
| | | | |
| --- | --- | --- | --- |
| Year | 2013 | 2012 | 2011 |
| Revenue | $145,000 | $130,000 | $120,000 |
(all dollar figures in thousands)
(Third-party sales from Diagnostic Testing)
Meridian Biosciences expects to come out with 3 new diagnostic tests to be available for sale in 2014. Right now, Meridian Biosciences sells 4 commercialized diagnostic tests on the market, with three tests to be expected for sale in 2014. The three new diagnostic tests are as follows.
Herpes Simplex Virus 1 and 2.
Herpes Simplex Virus 1: 90% of American adults have been exposed to this virus. By the time an individual reaches his or her early 60s, 85% will have been infected with the virus.
Herpes Simplex Virus 2: One in four women have this virus, and 1 in 8 men have it. This equates out to 20%-30% of Americans being infected.
Enteric Parasites: are parasites that infect the bowels, such as Giardia. The most at risk for getting enteric parasites are travelers who drink contaminated water. Enteric parasites are found mostly where sanitation is poor. 1 in 5 children have enteric parasites in developing countries.
Foodborne pathogens such as E. coli: Around 48 million in the US, or 1 in 6 people get affected with contaminated food each year.
Bloodborne pathogens: Malaria is a common bloodborne pathogen that affects 300 to 500 million people in developing countries each year.
These four diagnostic tests will bring in a huge amount of revenue for Meridian Biosciences when it finally gets them complete and ready to sell to the public. In the past 3 years, the sales in the diagnostic kits have increased at an 8% compounded annual rate. With these four new products coming out, revenue should increase. International sales should increase more rapidly for malaria and enteric parasites as a whole.
Life Sciences:
The Life Science business portion of Meridian Biosciences derives itself of manufacturing operations in various countries, and the sale and distribution of bulk antigens, antibodies, PCR/qPCR reagents, nucleotides, competent cells, and bioresearch reagents domestically and abroad. The Life Science segment also includes the contract development and manufacture of cGMP clinical-grade proteins and other biologicals for use by biopharmaceutical and biotechnology companies engaged in research for new drugs and vaccines. The Life Science portion of the company has approximately 190 employees in five different countries.
60% of the Life Science revenue comes from the industrial market, defined as diagnostic manufacturers and the agriculture industry. The remaining 40% of revenue derives itself from the Bioline Molecular component business, which is focused on the academic/research market.
Antibodies, antigens, and reagents are sold to diagnostic manufacturing customers for a source of raw materials for their immunoassay products. Meridian (Life Sciences) supplies proteins to major diagnostic manufacturers, who then use those products to detect Hepatitis A and Rubella. When Meridian Biosciences sells these proteins and other products, they are sold in bulk quantities.
Finally, PCR/qPCR reagents, nucleotides, and competent cells, which are molecular biology products, are sold to academic/research and industrial customers. These academic/research and industrial customers use these products to measure DNA and RNA in clinical and agricultural applications. These reagent products improve the pureness, yield, and rapidity of PCR reactions.
| | | | |
| --- | --- | --- | --- |
| Year | 2013 | 2012 | 2011 |
| Revenue | $49,000 | $43,000 | $38,000 |
(all dollar figures in thousands)
(Third-party sales from Life Sciences)
Market Trends:
Over the past 20 years, at least 30 new diseases have emerged in the developed and developing worlds combined. As new diseases are introduced the market, Meridian Bioscience will expand. With thousands of diseases available for hominids to contract, Meridian Bioscience will have no problem achieving customers for its diagnostic products. Worldwide healthcare has been improving for individuals faster than ever before. As more third world and developing countries obtain hospitals and improved healthcare systems, then Meridian Biosciences will profit from the upsurge in healthcare. Finally, there has been a continuing shift from conventional testing, which necessitates highly-proficient specialists and drawn-out turnover times for test results, to more technologically advanced testing, which requires less highly-trained professionals and test results can be acquired in a matter of minutes. This change in the way diagnostic tests are handled is good for Meridian Biosciences, and will clearly show up on the bottom line.
International Markets:
International markets have been a very important source of revenue for Meridian Biosciences. Investing internationally makes sense for any company that can acquire international customers. There are many reasons why companies should invest internationally, but the reasons that stand out to me are as follows.
Potential for higher returns abroad
Potential to lower overall risk by diversifying in foreign countries
Faster growth abroad, with future growth opportunities
There are also many risks with associated in investing abroad. Some, but not all of the risks are as follows.
Fluctuating foreign currency rates
Regulations in international markets
Political and economic instability
One example of political and economic instability that has occurred with Meridian Biosciences has been with an Italian hospital. The Italian government funds hospitals in Italy, and if the government does not give those hospitals proper funding, then there may be late payments, and there were late payments. There is a $3,500 accounts receivable due from September 30, 2013 due to Meridian. This is just one example of what can happen with investing internationally.
| | | | |
| --- | --- | --- | --- |
| Year | 2013 | 2012 | 2011 |
| Revenue | $54,000 | $53,000 | $53,000 |
| Percentage of overall sales | 29% | 31% | 33% |
(all dollar figures in thousands)
With the above graph, you can see that International sales have been bringing in around 31% of all revenue for Meridian Biosciences as a whole. Meridian Biosciences brings in around a third of revenues from international countries. As Meridian Biosciences completes its two new diagnostic tests on enteric parasites and malaria, sales should dramatically increase abroad.
Overall, the benefits of doing business abroad outweigh the cost. As long as the marginal benefit is greater than the marginal cost, then Meridian Biosciences should continue doing business overseas.
Competition:
There are 4 main competitors that Meridian discusses in its 10-K that I believe are worth noting about. The four competitors are, Cepheid (NASDAQ:CPHD), Becton, Dickinson and Company (NYSE:BDX), Quidel Corp. (NASDAQ:QDEL), and finally, Alere Inc. (NYSE:ALR).
The major competition concerning the molecular diagnostics would be CPHD and BDX. These two competitors have multiple-assay menus, and they do not compete strictly on price. The market capitalization for CPHD is $3.76 billion and BDX has a market capitalization of $22.3 billion. Meridian Biosciences is a lot smaller in market capitalization, with one of only $906 million.
There is a less degree of competition in the molecular diagnostics from QDEL. QDEL has a limited commercial menu, and it tends to compete strictly on price.
The competitive features that Meridian Biosciences offers are as follows:
Molecular assay sensitivity that is comparable to higher-costing PCR
Low capital investment with no instrument service cost
Small footprint that is portable and does not consume much laboratory space
Product menu that fits with initiatives to improve clinical and economic outcomes
Meridian Biosciences also has major competitors in rapid immunoassay diagnostics. The major competitors for that sector are ALR and QDEL. These two companies compete with Meridian and themselves strictly on price. Meridian Biosciences believes that the breadth and depth of its product portfolio provides it with a competitive advantage.
C. difficile is Meridian Biosciences' largest product family, bringing in $39,000 in global sales for 2013 (an 8% increase from 2012). This product family, though the biggest in sales, also has the most competition associated with it. Meridian Biosciences believes that it is the only company who offers a full line of FDA-approved immunoassay and molecular products, allowing customers to choose the solution that best fits their needs.
| | | | | | | | | | |
| --- | --- | --- | --- | --- | --- | --- | --- | --- | --- |
| Ticker | Price ($) | Market Cap ($) | EPS ($) | Yield | P/E | P/B | Profit Margin | ROE | Total Debt ($) |
| VIVO | 21.37 | 906M | 0.91 | 3.60% | 24.52 | 5.68 | 19.66% | 25.02% | 0 |
| CPHD | 53.72 | 3.76B | (0.27) | N/A | N/A | 13.13 | (4.48%) | (6.64%) | 1.67M |
| BDX | 115.19 | 22.3B | 4.73 | 1.90% | 24.42 | 4.39 | 11.55% | 19.48% | 3.97B |
| QDEL | 28.25 | 989M | 0.21 | N/A | 137.58 | 4.48 | 4.26% | 3.49% | 5.57M |
| ALR | 36.05 | 3.06B | (1.14) | N/A | N/A | 2.05 | (2.35) | (3.30) | 3.84B |
Comparing Financial Strength:
As illustrated in the table above, you can observe a vast array of differences in all five of these companies.
Averages:
Earnings per share: $0.88 < Meridian Biosciences: $0.89
Yield: 1.90% < Meridian Biosciences: 3.60%
P/E: 40.5 > Meridian Biosciences: 24.52
P/B: 6.01 > Meridian Biosciences: 5.68
Profit Margin: 2.25% < Meridian Biosciences: 19.66%
Return on Equity: 3.25% < Meridian Biosciences: 25.02%
There are many outliers when comparing the average ratios of these five companies together, such as QDEL's high P/E, so you may want to use the median when comparing all of these companies.
Median:
Earnings per share: $0.21 < Meridian Biosciences: $0.89
Yield: N/A
P/E: 24.52 = Meridian Biosciences
P/B: 4.48 < Meridian Biosciences: 5.68
Profit Margin: 4.26% < Meridian Biosciences: 19.66%
Return on Equity: 3.49% < Meridian Biosciences: 25.02%
There are a few things that catch my eye when looking at all of these statistics. First, Meridian Biosciences has zero debt. With no debt at all, Meridian Biosciences does not have to worry about increasing interest rates, which could potentially eat away at the cash it produces. Meridian Biosciences also sports the highest dividend out of its competitors. The payout ratio is a high 84%, but with no debt, the dividend is payable. Meridian Biosciences' board of directors has agreed to pay out dividends to shareholders at a rate of 75%-85% for each fiscal year's expected net earnings. Meridian Biosciences has also been paying dividends for the past 21 years, increasing its dividend every year. The profit margin and return on equity are also higher than all of its competitors, meaning that it is managing its cash and shareholders' cash better than its competitors.
Recent Downturn in Share Price: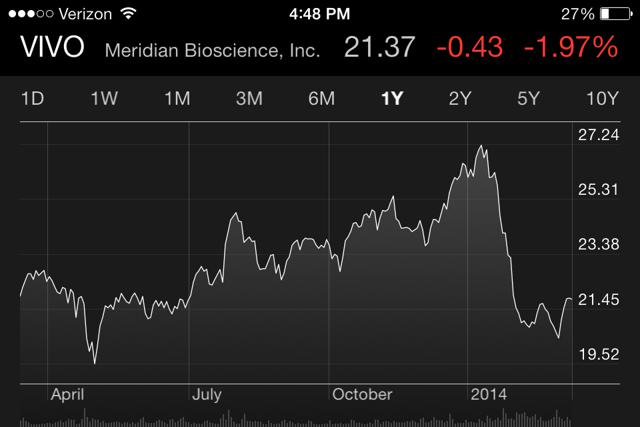 The recent downturn in Meridian Biosciences' share price may pose a buying opportunity for investors. Shares started falling around mid-January, and bottomed out at $20.43 on March 3, just 4.66% from its 52-week low. The last insider trade occurred when the CEO, John Kraeutler bought 5000 shares on May 1st, 2013, for a price of $19.63. The price where Meridian Biosciences is trading at right now is very close to the price the CEO paid for around 10 months ago. The CEO has sold those shares by now, for a nice 30% gain.
Conclusion:
The recent downfall in Meridian Biosciences poses a good buying opportunity for investors. The CEO bought shares of his own company 10 months ago, when the stock reached similar lows. Net earnings year-over-year has increased 14%, from $0.80 EPS (2012) to $0.90 EPS (2013). Sales have increased at an astounding rate as well year-over-year. Buying close to the 52-week low (close to where the CEO has bought) with earnings and sales increasing may be a judicious decision. Meridian Biosciences is a solid dividend-paying/growth company, who is not as well-known to the investing public. The price of Meridian Biosciences shares may fall more, but as the price falls more, the risk will decrease, thus creating a higher margin of safety for investors.
Disclosure: I have no positions in any stocks mentioned, but may initiate a long position in VIVO over the next 72 hours. I wrote this article myself, and it expresses my own opinions. I am not receiving compensation for it (other than from Seeking Alpha). I have no business relationship with any company whose stock is mentioned in this article.