By Steven Carroll, Independent Commentator
In 1637, during the Dutch speculative frenzy called tulipmania, it took 10 years of income from a skilled craftsman to purchase a single tulip bulb. In every era the madness of crowds has been evident - whether you want to point at the roaring '20s at the beginning of the 20th century or the property bubble at the start of the 21st. One key strategy: find overlooked investments that may be unjustly excluded from the rally. We explore oil driller Transocean Ltd. (NYSE:RIG).
First, let's look at the currently overbought level of the S&P 500, as a proxy for U.S. stocks.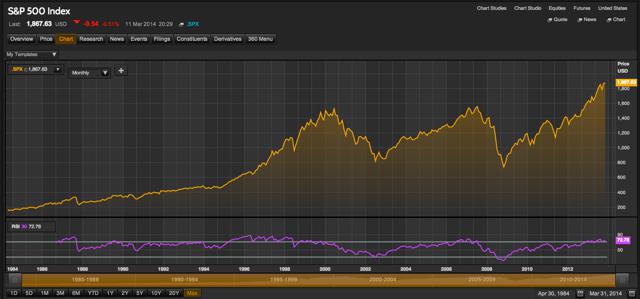 Click to enlarge
The crowd mentality
In every bull market, there will be sage, judicious voices explaining why the market is still undervalued and represents an opportunity. On further advances, the explanations become more sophisticated and turn on the fantastic benefits that some new technology will convey - the message is as old as the investment industry - and can either be genuine euphoria, delusion, self-interest or some combination.
It is incredibly difficult not to be swept up in such excitement and, as the market continues to advance, the challenge is to find stocks that remain compelling from a valuation standpoint, with real revenues and cash flow, that are unloved or neglected.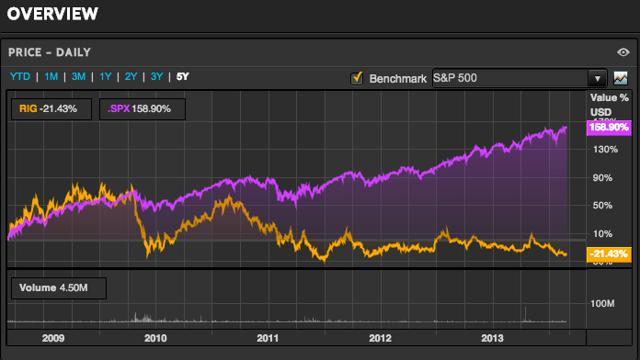 Click to enlarge
Changes at Transocean
One stock that ticks many of these boxes - (and therefore becomes of interest to me) is Transocean. Due to the tragedy of the 2010 Deepwater Horizon oil rig explosion and spill in the Gulf of Mexico, which killed 11 men, lingering legal uncertainty has depressed its share price.
The other significant change was the company's relocation to Switzerland and subsequent removal from the S&P 500. With the enormous passive flows that come from entry or exit to a major index, RIG's departure from the S&P 500 obviously has had a significant impact on price performance and valuation. This is where opportunity rears its head - as the current share price reflects the short term realities for the company rather than any kind of cool assessment of its medium to long-term earnings power.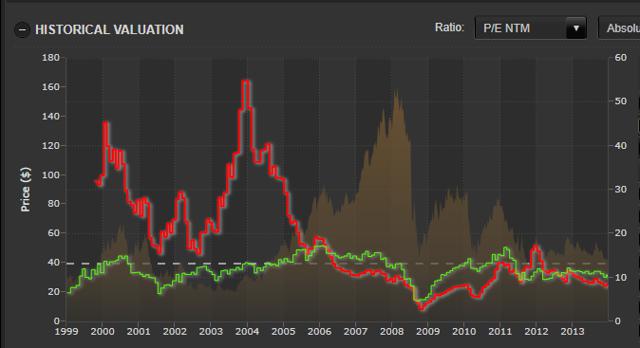 Click to enlarge
Trading at a discount
The above chart shows RIG's current P/E. It's easy to see how subdued P/E has been since the crisis. You can also see how RIG (in red) used to trade at a significant premium to the industry (in green), but now it actually trades at a noticeable discount.
Was Deepwater Horizon transformative for the industry? Of course. However the current valuation more than fully discounts the changes (and fines) the company has endured. One simple metric that helps understand the current market expectation is the market implied growth rate. StarMine takes their valuation model and instead of using the forecast earnings to value the company, it takes the current share price and calculates the earnings required to support the current valuation.
At current levels, over the next 10 years, RIG's implied earnings growth is negative 0.5% per annum. In other words, the market is assuming current earnings to continue to decline over the entire next market cycle. Or, in P/E terms, RIG is trading at a forward 12 month valuation of 8.8 times - single digits for one of the world's largest deep water drillers. Unless you're expecting the globe's thirst for fossil fuels to really moderate sometime soon - that seems like an interesting opportunity for a longer term investor.
Equally, from a relative valuation standpoint, RIG seems to trade at a discount to its peer group - however that valuation has now also moved out to an extreme not seen since the words "oil spill," "Louisiana" and "BP" were a lot more prevalent in the headlines.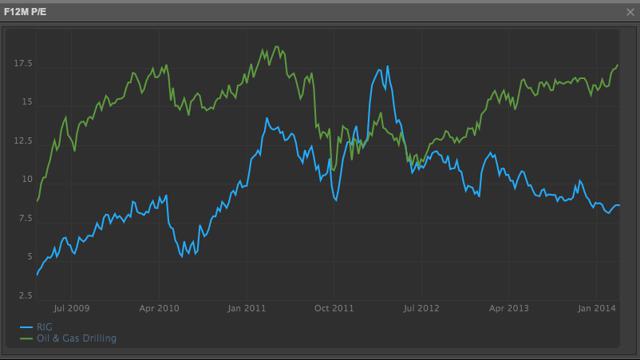 Click to enlarge
Watch the assumptions
Behavioral finance teaches us that investors tend to overweight the recent past - assume recent winners will continue to do so and the losers are not of interest as they'll continue to decline. In the short term this type of momentum does tend to be true - but over time mean reversion takes hold - and yesterday's losers start to regain their luster. We feel most confident as the market peaks and most despondent as it bottoms. It's hard not to feel that the market's despondency on RIG is an opportunity. A contrarian portfolio would have to drill very deeply to find another large cap stock with a single digit P/E.
Disclosure: I have no positions in any stocks mentioned, and no plans to initiate any positions within the next 72 hours. I wrote this article myself, and it expresses my own opinions. I am not receiving compensation for it. I have no business relationship with any company whose stock is mentioned in this article.