Markets work in funny ways and right now many commodities are being impacted by the fear that the US and its allies will hit Russia with harsh economic sanctions. This, coupled with other macroeconomic fears from other parts of the world, has led to prices in certain markets being out of whack in our view. The palladium and copper markets are perfect examples of this and for experienced traders could offer an appealing pair trade.
Our view is that serious sanctions are not imposed on Russia as it could have very serious repercussions. Instead, it is our opinion that cooler heads will prevail and that both Putin and the US will arrive at a suitable solution for the current problem. Free and fair elections later this year will go a long way in settling tensions, but it would seem that the world's superpowers would solve their issues before this.
Chart of the Day:
We have serious doubts about the palladium rally that took place after the Russian incursion into Crimea. We had always speculated that if palladium could break through the $750/ounce level that it would move strongly higher, but looking back at the move it would seem logical to us that a thawing in tensions between the US and Russia over Ukraine and Crimea would lead to a larger move lower as some may have set up pair trades in palladium which called for prices to remain steady. We would still not be long the ETFS Physical Palladium Shares (NYSEARCA:PALL) at this time and would not consider being long until the price of palladium is at least below $750/ounce.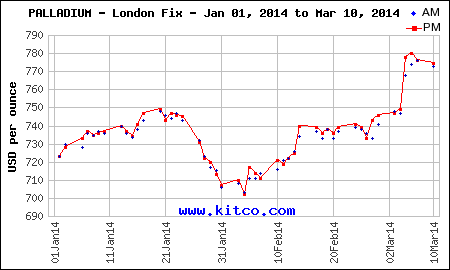 Source: Kitco
Commodity prices this morning are as follows:
Gold: $1,372.20/ounce, down by $6.80/ounce
Silver: $21.295/ounce, down by $0.118/ounce
Oil: $97.49/barrel, down by $1.40/barrel
RBOB Gas: $2.9012/gallon, down by $0.0585/gallon
Natural Gas: $4.554/MMbtu, up by $0.129/MMbtu
Copper: $2.9575/pound, up by $0.007/pound
Platinum: $1,470.10/ounce, up by $0.50/ounce
Copper
After looking over positions this weekend we believe that one of our trades that is essentially breakeven should still be a long-term holding. Having recommended different entry points to Freeport-McMoRan (NYSE:FCX) we know have the odd situation where half of the trade is up and the other half is down; in offsetting amounts as well. The company does have some issues that are of concern, but we continue to look at the oil and natural gas segment as a driver of growth and believe that weakness in the company's metals business is to be bought rather than sold.
We think the bottom has been put in on Freeport-McMoRan shares and that there should be a move towards $34-35/share in the near future.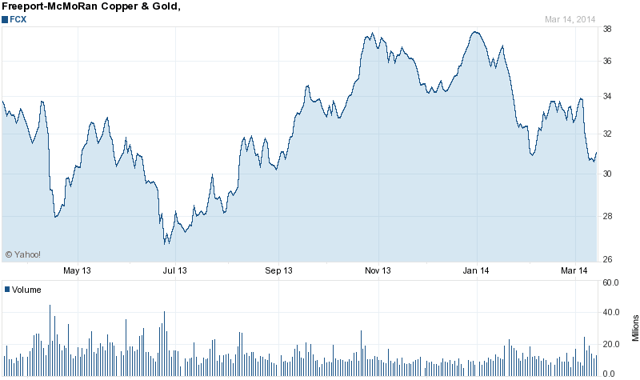 Source: Yahoo Finance
This seems especially true when looking at the recent drop in copper and the reasons behind that move. The recent data out of China has been lacking, but that has been a long-term trend. The credit markets are a concern, but once again, one has to believe that China will be there to backstop their markets should they begin to deteriorate. Although it has not happened yet, it will someday, but right now the situation is not large enough that the leadership cannot contain it with their massive reserves. We are seeing a nice long-term entry point at these levels, and for traders we think that there is 10% upside in the stock just on bad news not materializing.
Tainted By Russia
One of our favorite names in the 'Big Oil' category has been BP (NYSE:BP) due to its rich dividend yield and the restructuring that the company has undergone since the spill in the Gulf of Mexico. BP has a big reliance on Russia now for growth and moving forward this will be one of the pillars for the company. The tensions between Russia and Ukraine over Crimea have been worrying the markets, but also shareholders in BP who fear what economic sanctions could mean for the overall business.
With business returning to normal in the US and the company focusing on its onshore and offshore North American assets, we think that the tide is turning and a buying opportunity exists for those who do not already own shares in the company. US sanctions, if they come into play, will be minimal against Russia and will not affect BP's business moving forward. Thus the recent sell-off is probably overdone assuming there are no further events to increase tensions.
North American Oil Deal
The news out over this weekend is that Carlyle Group, LP and NGP Energy Capital Management, LLC are in talks to purchase natural gas assets in Wyoming from Encana (NYSE:ECA). The private equity firms are closely held as Carlyle owns half of NGP, so the odds of a deal getting done on the Jonah field appear likely and the $2 billion price tag should not be a problem when looking at the buyers.
Until recently there has not been a lot to cheer about for Encana shareholders. We like the transition the company is undergoing, but think there is still time before one needs to go long.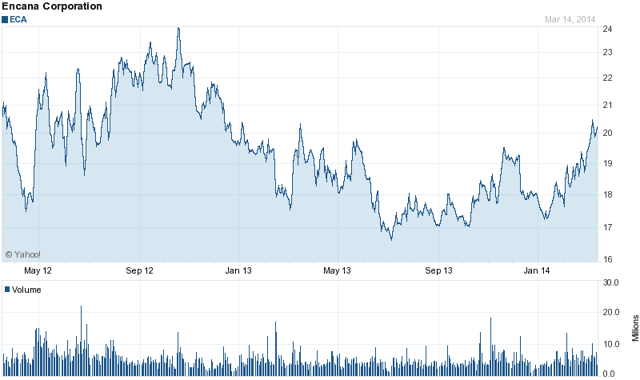 Source: Yahoo Finance
This is good news for Encana shareholders, which have not had a lot to cheer as of late as the company, along with Chesapeake Energy (NYSE:CHK) have run into legal issues for allegedly colluding in the bidding process for leases in Michigan. The $2 billion deal will free up capital to enable Encana to continue their move to higher margin production areas and lessen their dependence on dry natural gas. As the company continues to shed dry natural gas exposure we like it more and more, but right now we think there are much better plays out there that are further ahead in their higher margin production shifts than Encana.
Disclosure: I have no positions in any stocks mentioned, and no plans to initiate any positions within the next 72 hours. I wrote this article myself, and it expresses my own opinions. I am not receiving compensation for it (other than from Seeking Alpha). I have no business relationship with any company whose stock is mentioned in this article. BP, FCX and PALL are previous recommendations