The price of copper, long termed "Dr. Copper" by Wall Street professionals, has historically been a leading indicator of the trajectory of the global economy. This is because of the metal's prevalence in industrial use. For example, houses require copper wiring to provide electricity to each room, factories require it for the same reason, the metal is extensively used in electronics and machinery, among other uses. Typically, when the economy has been expanding, demand for the metal will increase due to the fact that items that it is used in become more heavily demanded. The reverse is also true; when the economy is contracting then there is less demand for copper because there is less demand for the things that copper is used in. The price of copper increases when demand for the metal increases and falls when demand for the metal decreases. In this way, "Dr. Copper" evaluates the health of the global economy in the same way that a real doctor evaluates a person's health.
On Tuesday, March 11, Zero Hedge reported that copper prices fell to their lowest levels since July 2009 in market trading in Shanghai. The downward move was dramatic, plunging at a pace that has only been matched twice in recent history. The other two occurrences were directly following the bankruptcy filing of Lehman Brothers and immediately following the downgrade of United States debt by Standard & Poor's. The first of these, as most of you are no doubt aware, was followed up by a recession from which the economy has still not fully recovered.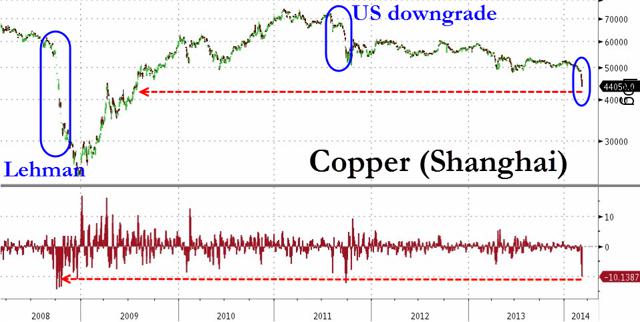 Click to enlarge
Source: Zero Hedge
Copper did bounce back up on the following day, March 12, but it still remains depressed even from March 10 levels.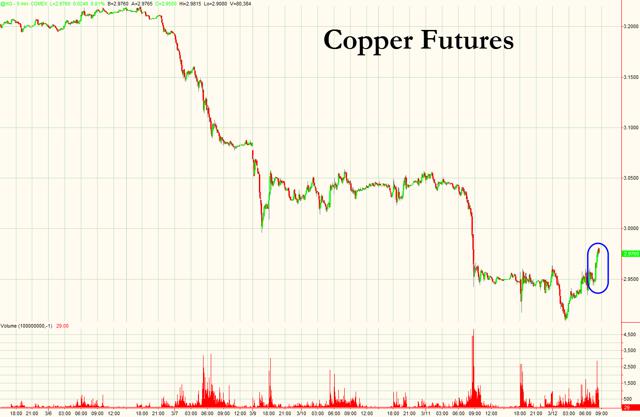 Click to enlarge
Source: Zero Hedge
The recent plunge in copper prices was due primarily to the market's increasing concerns regarding the much publicized debt concerns in China. China has long been considered one of the growth engines of the world so problems in the world's second largest economy and largest exporter of manufactured goods are likely to ripple throughout the world and lead to much lower growth expectations worldwide.
However, with that said, I urge all readers to take a second look at the first chart above. As can be seen, copper prices were steadily declining throughout 2013. Therefore, what we are seeing here is that Dr. Copper is not only telling us that the world's economy not only never recovered from the Great Recession but in fact was getting weaker throughout 2013. However, the stock market says differently as it continued to rise throughout 2013. In fact, it seemed like every week the stock market hit new highs. That is an exaggeration but it does not change the fact that the stock market had its best year ever. Here is a chart showing the returns delivered by the S&P 500 (NYSEARCA:SPY) over the past year.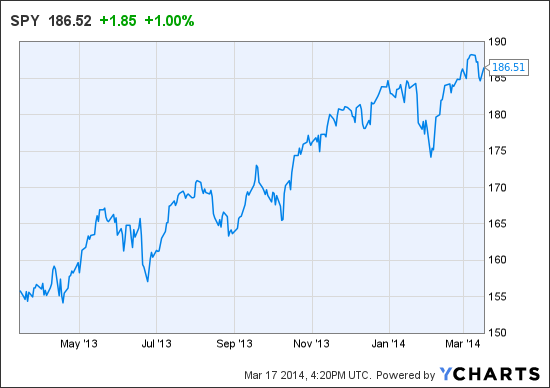 SPY data by YCharts
I have written about the disconnect between the stock market and the real economy before as well as how the upward momentum was not driven by confident retail investors buying stocks with their own hard-earned money. Instead, much of the gains were driven by quantitative easing and corporate buybacks. There were some stocks whose gains were even more disconnected from the real economy and made parabolic moves upward. One example of this is Plug Power (NASDAQ:PLUG), which has gone from $0.15 per share to a high of $11.72 over the past year (it trades at $6.55 at the time of writing). This upward move was not driven by earnings growth. Plug Power never once turned a profit in the last year. Instead, the upward movement was driven by the hope that it will see growth in the future due to the news that it received orders from several large industrial customers.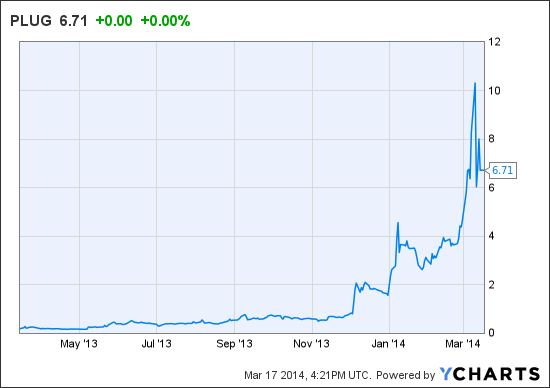 PLUG data by YCharts
Another company which has seen a huge increase in its share price over the past year despite unprofitable operations is Tesla (NASDAQ:TSLA). I realize that I will likely be flamed in the pcomments for pointing this out. I would like to address this now by saying that I have not researched the company's fundamentals and I do not follow the stock. I am simply pointing out that the stock went from $34.92 to $265 per share over the past year despite unprofitable operations (it did turn a profit in the first quarter but lost money over the year) but hopes of strong growth. Take from that what you will.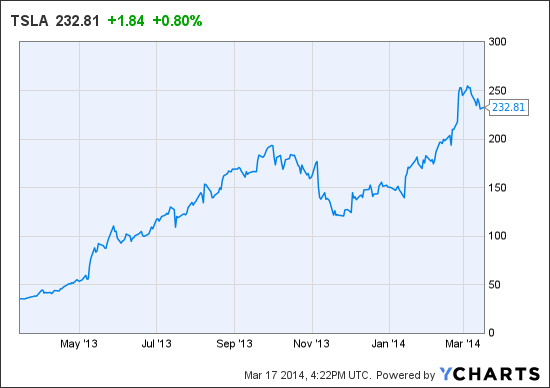 TSLA data by YCharts
On Wednesday, March 12, Jim Cramer discussed how moves such as these are often indicative of a market that is either at or is nearing a top. Certainly, these stocks and others like them have not delivered several hundred percent returns in a year because of macroeconomic improvements. By all indications, the economy as a whole stayed stagnant to weakened over the past year. So, what is causing stocks to continue to rise? One factor is growing amounts of debt, particularly margin debt.
The stock market's massive growth over the past few years has led many investors to believe that the stock market will continue to go up. Therefore, to capitalize on this, they have borrowed money from their stockbrokers in order to buy more stocks. This is known as buying on margin. The entrance of this borrowed money into the market creates additional demand for stocks, thus driving the markets up further. In fact, the amount of money that has been borrowed on margin and then pumped into the markets now stands at levels higher than those set in 2000 at the height of the tech bubble, when it was also quite fashionable to buy stocks on margin.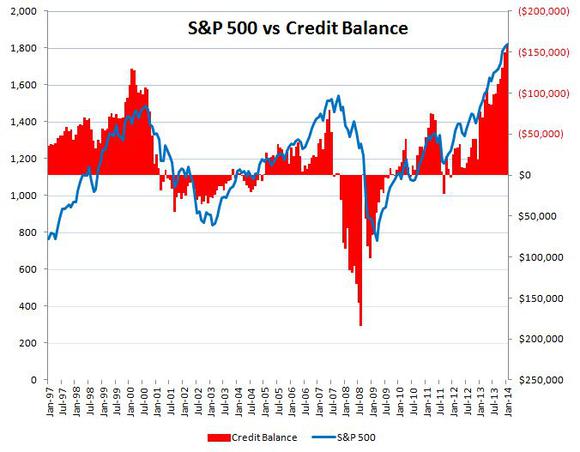 Source: Motley Fool, NYSE, FINRA, St. Louis Fed
Of course, in 2000, the overall macroeconomic picture in the United States was quite strong, much stronger than today. That is not the case today. At this point, some of you reading this article may be thinking that I am calling a top in the market. I am not. However, the things that I am pointing out in this article are classic signs of a market top. With that said, we certainly may see the disconnection between the stock market and the real economy continue for a while longer.
Disclosure: I have no positions in any stocks mentioned, and no plans to initiate any positions within the next 72 hours. I wrote this article myself, and it expresses my own opinions. I am not receiving compensation for it (other than from Seeking Alpha). I have no business relationship with any company whose stock is mentioned in this article.