I'm betting big on Las Vegas Sands (NYSE:LVS) to deliver continued growth and earnings that will reward shareholders. Las Vegas Sands owns many iconic luxury resorts on the Las Vegas Strip: The Venetian and The Palazzo Las Vegas, the future growth is all about Asia.
In Asia, Las Vegas Sands owns the iconic Marina Bay Sands in Singapore and a collection of leading properties in Macau, including The Venetian Macau, The Sands Macau, The Four Seasons Macau, The Plaza Macau, and the newest Sands Cotai Central that's also being expanded.
Location, Location, Location
More than 1 billion people are estimated to live within a three-hour flight from Macau and more than 3 billion people are estimated to live within a five-hour flight from Macau. LVS is the largest casino operator in Macau, which is now the world's most profitable gaming market. As you can see below, LVS has some of the best real estate in the market.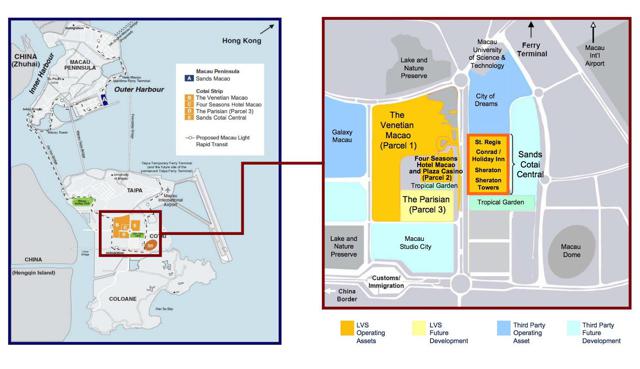 Source: LVS Company Presentation
Macau accounted for 61 percent of Las Vegas Sands' earnings, about 30 percent from its one casino in Singapore and the remaining from the U.S, operations.
The growth numbers for Las Vegas Sands coming from Macau in the last quarter are outstanding. EBITDA increased 34.3% to a record $835.9 million driven by strong growth in all segments:
Mass table win increased 58.3% to record $1.22 billion (growing 46.9% faster than the

Macau market)

Slot and ETG win increased 7.2% to record $173.8 million (growing in-line with the

Macau market)

Rolling volume increased 26.0% to record $49.54 billion (growing faster than the

Macau market)
Although other casinos are in Macau - Wynn (WYNN), MGM (MGM), and Melco Crown Entertainment (MPEL) - the chart below clearly demonstrates that Las Vegas Sands is the market leader. I invest in the best-of-breed companies within a sector.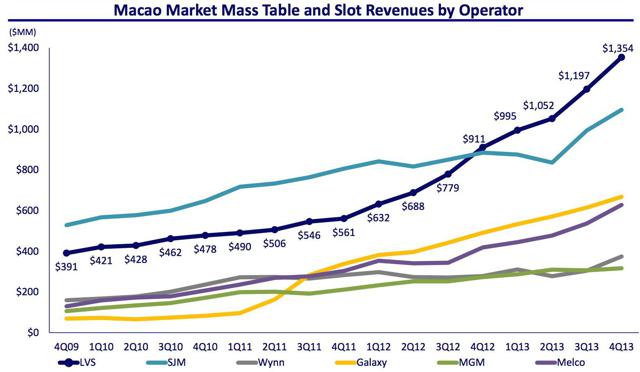 Source: LVS Company Presentation
The growth number and market share demonstrate by Las Vegas Sands makes them the top Macau pick. I also believe several factors will lead to continued growth in the Macau gaming market.
China's middle class is predicted to triple between now and 2023, driving increased disposable income and consumption.
Over 160 million Chinese are anticipated to travel outside of China by 2018.
Transportation connectivity throughout China, especially in the Pearl River Delta region, will be meaningfully expanded (see images below reflecting growth opportunities).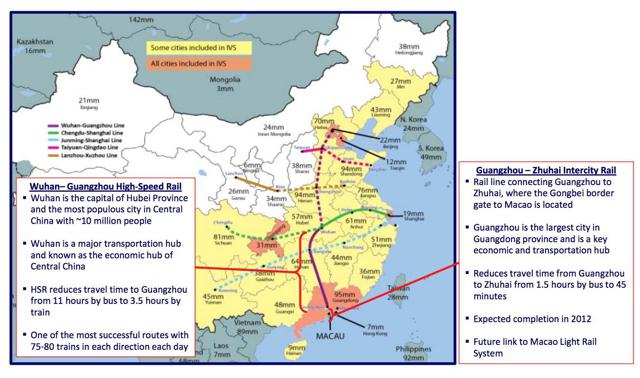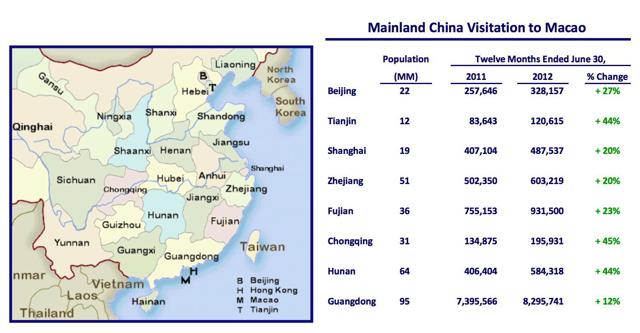 Source: LVS Company Presentation
Land of the Rising Casino
Casinos are currently illegal in Japan but they will soon be rising in Japan. Analysts say that Japanese casinos could bring in as much as $40 billion a year, which would make Japan the world's second most lucrative gambling market, behind only Macau.
Japanese Prime Minister Shinzo Abe is in favor of legalizing casinos. His Liberal Democratic Party controls the Diet, the Japanese parliament that's now considering new legislation to open up Japan to casino development. Their objective is new tax revenue for operational casinos running before Tokyo hosts the 2020 Summer Olympic Games. It's my prediction that Las Vegas Sands will be the first, or among the first two, to get the casino licenses in Japan.
Las Vegas Sands CEO Sheldon Adelson was recently in Tokyo at a media briefing and said: "We will spend whatever it takes," and "We could pay all cash" to set up a casino project in Japan. I believe him 100% and Las Vegas Sands has already opened offices in Japan and is seeking local strategic partners.
Growth From Asia will Drive Future Earning
EPS in 2014 will reach $3.50 $3.75. Historically, Las Vegas Sands was traded with a multiple in the mid-20s. With EPS in 2015 that should reach $4.50 I see LVS trading north of $110 by early next year.
With future growth opportunities in Japan and other Asian countries, Las Vegas Sands is a stock to hold for many more years. I'm long and think the recent pullback based on overblown fears about China's economy represents a great buying opportunity. There is strong technical support around the 50-day moving average and I'm adding more near $80 that I will hold for the foreseeable future.
Good luck - but you don't need luck when you're on the same team as the world's best casino.
Disclosure: I am long LVS. I wrote this article myself, and it expresses my own opinions. I am not receiving compensation for it (other than from Seeking Alpha). I have no business relationship with any company whose stock is mentioned in this article.
Disclaimer: This article is intended to provide information to interested individuals. As I have no knowledge of individual investor circumstances, goals, and/or portfolio concentration or diversification, readers are expected to complete their own due diligence before purchasing any stocks mentioned or recommended.