I have written about Two Harbors Investment Corp (NYSE:TWO) a couple of times in the last few years (here, here and here) and during the course of the last two years, the one thing that has to be noticed is the innovation that this mREIT shows. A few examples:
Focusing on credit related (non-agency) mortgages, recognizing the value inherent in these securities.
Seeing the value in own to rent housing and executing on its thesis.
Adapting to the changes in the marketplace and exiting the own to rent market through a spin out of Silver Bay Realty Trust (NYSE:SBY).
Then 2013 came and the company continued its innovative ways entering the mortgage servicing rights ("MSR") arena and securing liquidity through becoming a member of the Federal Home Loan Bank ("FHLB") system. These developments warrant discussion and why I believe they will add value to the company and, therefore, the investor.
First, information on the firm.
Two Harbors Investment Corp. is a mortgage REIT ("mREIT") focused on investing, financing and managing residential mortgage-backed securities ("RMBS") and related investments. Target assets include:
Agency RMBS whose principal and interest payments are guaranteed by the Government National Mortgage Association (or Ginnie Mae), the Federal National Mortgage Association (or Fannie Mae), or the Federal Home Loan Mortgage Corporation (or Freddie Mac).
Non-Agency RMBS, meaning RMBS that are not issued or guaranteed by Ginnie Mae, Fannie Mae or Freddie Mac.
Prime nonconforming residential mortgage loans, credit sensitive mortgage loans and mortgage servicing rights. and
Other financial assets comprising approximately 5% to 10% of the portfolio
Its portfolio as of December 31, 2013, had the following investments (from the investor day presentation):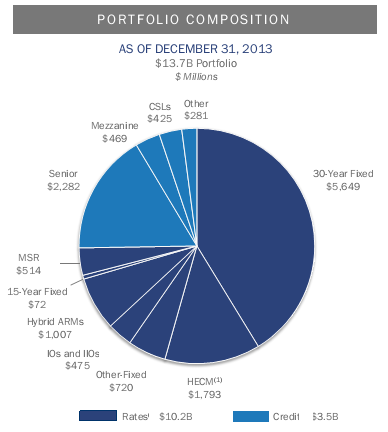 Rates (57%) are agency related securities / MSRs and credit (43%) is credit related (non-agency, prime jumbo interest in trusts and credit sensitive loans) securities.
As you would expect, given the higher margin (and potential risk) of the credit related portfolio, leverage employed in this portfolio is lower. The leverage utilized in the "credit" portfolio is 1.1x (12/31/13) versus 3.6x in the "rates" portfolio.
During the course of 2013, net interest rate spread (the spread between asset yield and the cost of financing) began to rise as the curve steepened - mortgage rates rose while financing rates stayed low - which should accrue to the benefit of the investor.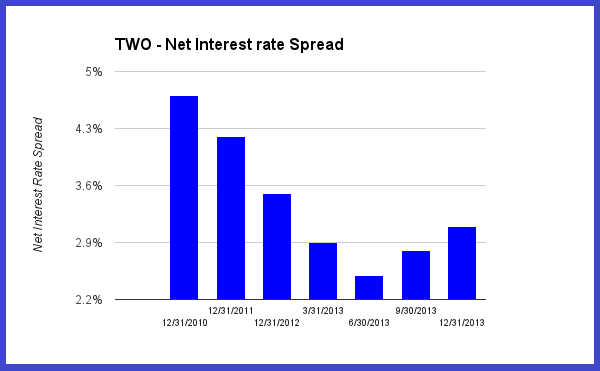 As many investors in mortgage REITs found out again last year, book value is very susceptible to changes in interest rates. As the following graph shows, TWO had a negative return on book value last year, but compared favorable to peers Annaly Capital (NYSE:NLY), American Capital Agency (NASDAQ:AGNC), Apollo Residential (NYSE:AMTG), Javelin Mortgage (NYSE:JMI) and Dynex Capital (NYSE:DX):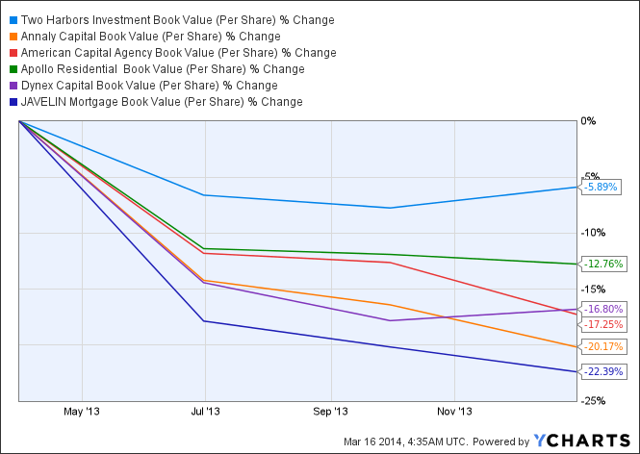 TWO Book Value (Per Share) data by YCharts
Recently, TWO put forth a sensitivity analysis for book value given a +100 basis point change in rates, given its assumptions (and with the realization that this is static at a point in time and has - most likely - since changed):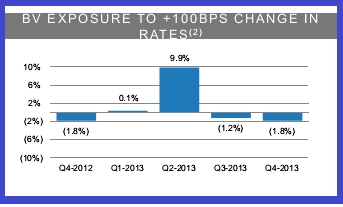 Should this estimate be even close, TWO holds in pretty well in a rising rate environment.
Let's take a look at the "newer" value added developments, MSRs and its FHLB membership.
Mortgage Servicing Rights:
On April 30, 2013, one of Two Harbors' wholly owned subsidiaries acquired a company that has the requisite approvals from Fannie Mae, Freddie Mac and Ginnie Mae to hold and manage MSR. The MSR acquired in conjunction with the acquisition of this entity and those subsequently purchased represent a contractual right to service a mortgage loan and collect a fee for performing servicing activities, such as collecting principal and interest from a borrower and distributing those payments to the owner of the loan. TWO does not directly service the mortgage loans underlying the MSR acquired, but subcontracts with fully licensed third-party subservicers to handle all servicing functions.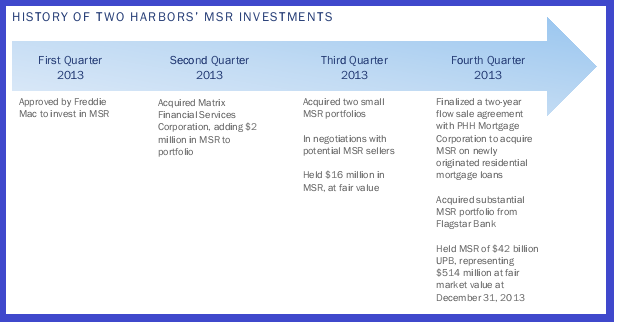 TWO's MSR strategy leverages its core competencies in prepayment and credit risk analytics and the MSR assets are a natural hedge to Agency RMBS, hedging both interest rate as well as mortgage spread risk. This is the beauty of the MSRs. Think of them in the same way you would an interest only ("IO") security: the faster it prepays the lower the value, the longer it is outstanding, the higher the value. This is the "traditional" opposite of the MBS market and therefore acts as a hedge for the portfolio. Further, if the right analysis is done (something TWO has shown it has a firm grasp on), these assets can be purchased "cheap" to IO securities and create a hedge plus a value proposition.
Federal Home Loan Bank Membership:
In December 2013, its wholly owned subsidiary, TH Insurance Holdings Company LLC, was accepted for membership in the FHLB. As a member of the FHLB, TH Insurance Holdings has access to a variety of products and services offered by the FHLB, including secured advances. Eligible collateral may include conventional 1-4 family residential loans, Agency RMBS and non-Agency RMBS with an A rating and above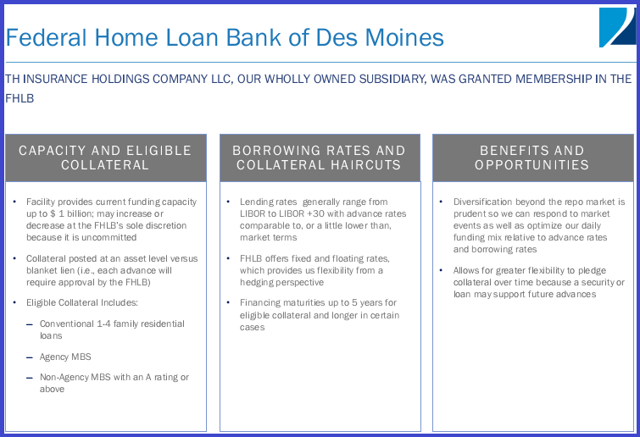 Why do I see this membership as value added? The answer is twofold:
As we learned in the financial crisis, liquidity cannot be underemphasized. A $1 billion line with the FHLB could be priceless in the event of a repo market "lock-up." The mantra during the crisis was "liquidity, liquidity, liquidity." I expect that other mortgage REITs will attempt to follow them down this pat, but there is a clear advantage to "being there."
Minimizing funding costs is one of the keys to the game. As the company showed in its recent analyst day presentation (sorry about the size, but any smaller and even my glasses couldn't get a handle on it):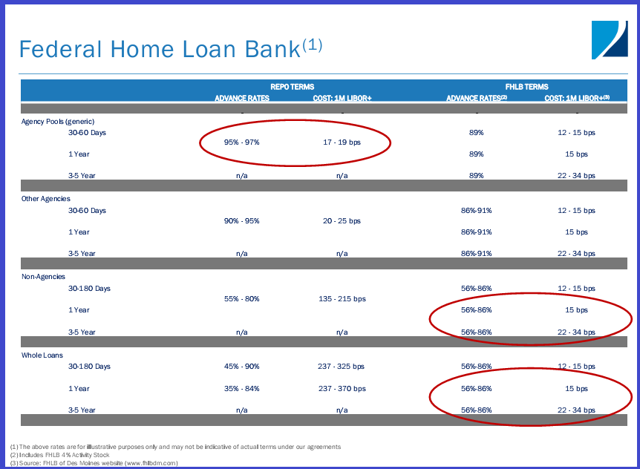 So has its innovation and mortgage acumen yielded results for the investor? Let's take a look at the longer term using the peer group defined earlier: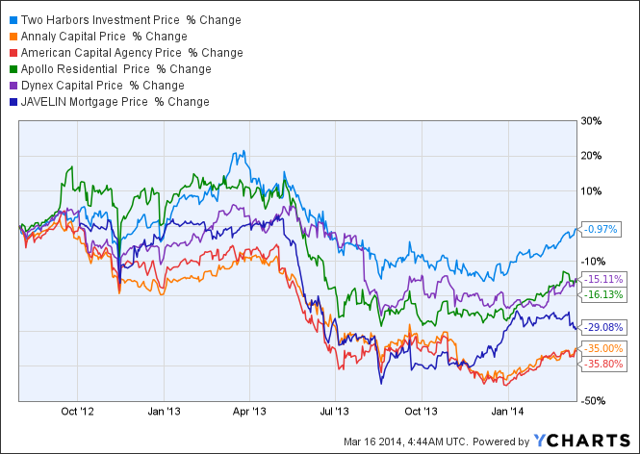 Since mid 2012, TWO has seriously outperformed peers (on a price basis). Year-to-date it was the second best performer of the peer group (price basis, AGNC being the best performer):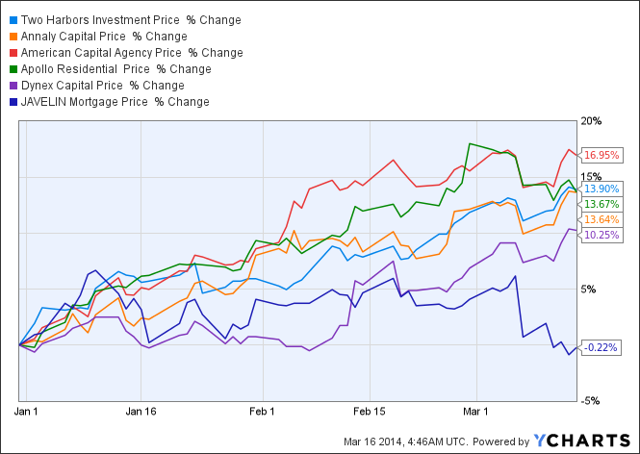 On a price basis, TWO has shown more resiliency than its peers. This resiliency comes at a cost, however. That cost is the dividend yield. TWO historically has had a lower dividend yield than many of its peers, and I would expect that it will going forward.
TWO Dividend Yield (TTM) data by YCharts
Looking forward, the dividend should hold at/near its current level as TWO has been managing its portfolio (rates and credit) with very low leverage and now the MSRs are unlevered. Should investment opportunities arise, I can see TWO increasing its leverage to take advantage of these opportunities. Quite frankly, I will take a lower dividend for additional prudence.
Errata:
In early 2013, TWO began acquiring credit sensitive loans ("CSL"), which are loans that are currently performing, but where the borrower has previously experienced payment delinquencies and is more likely to be underwater (i.e., the amount owed on a mortgage loan exceeds the current market value of the home). As a result, there is a higher probability of default on CSL than on newly originated mortgage loans.
It is important to realize that TWO is externally managed by PRCM Advisers LLC, a wholly-owned subsidiary of Pine River Capital Management L.P. Pine River is a global asset management firm providing investment vehicles to qualified clients across three actively managed platforms: hedge funds, managed accounts and listed investment vehicles. Some might ask why it is important to realize this fact and the potential implications. The answer is relatively straightforward: TWO pays PRCM Advisers a base management fee equal to 1.5% of stockholders' equity per year. This could influence capital decisions such as equity issuance and repurchase. Management has, however, proven that it is focused on shareholder returns first and foremost by the repurchase of 2.5 million shares of stock during 2013 (out of an authorized 25 million shares).
Bottom Line: Two Harbors Investment continues to be an innovative yet conservatively managed mortgage REIT. Whether it be from their conduit, the MSRs or its membership with the FHLB, TWO has shown progressive initiatives that are designed to add value without adding significant leverage. The book value has held in well over the last year as many mREITs have gotten taken to the woodshed. While its dividend is no longer in the double digits, the reduced dividend due to reduced leverage is palatable (at least to me). I believe that TWO currently provides a decent yield with upside potential and therefore should be considered for income investors. That said, one must always realize that this is a financial firm with credit and rate exposure and should not be an "all the eggs in one basket" holding. It has a place, but not the only place.
Sources used:
2/20/14 Analyst and Investor Day presentation
2/11/14 Credit Suisse Financial Services Forum presentation
A decent resource to come up the curve on mREITs can be found on Two Harbor's website (yes, contains a pitch for TWO, but has good information). Two Harbors Investment Corp. Webinar: Mortgage REIT Primer and Two Harbors Investment Corp. Fundamental Concepts in Hedging.
Disclosure: I am long TWO, NRF, AGNC. I wrote this article myself, and it expresses my own opinions. I am not receiving compensation for it (other than from Seeking Alpha). I have no business relationship with any company whose stock is mentioned in this article.
Additional disclosure: This article is for informational purposes only, it is not a recommendation to buy or sell any security and is strictly the opinion of Rubicon Associates LLC. Every investor is strongly encouraged to do their own research prior to investing.