Shares of Tesla Motor's (NASDAQ:TSLA) are taking a breather as they fell 6% last week. This pullback came after the company grew an astonishing 300% in 2013 and 53% YTD. While there is plenty of potential in alternative energy, this should not be the basis of whether you should trade TSLA. When people buy an idea instead of a strong business model, valuations can become very impractical. Tesla is a great example of a company where people are very attracted to the idea and the reason why many people trade it. However Tesla is also a company with a great business model as well as a CEO that has more than just personal capital invested. Electric vehicle sales are increasing in the United States. Only two years ago 17,735 electric vehicles were sold. In 2013, as of the end of October, that number jumped to 78,079 plug-in vehicles. Determine for yourself how the Tesla Model S (60kwh) compares to the competition. Chart 1 compares the Model S amongst other manufacturer's electric vehicles.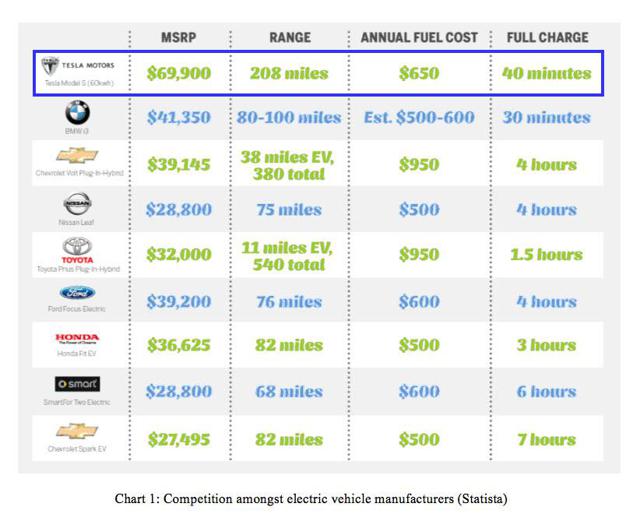 The Model S is the most expensive car on the list but anyone who is familiar with Tesla's business plan knows that the company started with a high-end car on purpose. The Model S has the longest range by far for a pure electric vehicle and is a close second in terms of charging time, both of which are huge competitive advantages. Annual fuel costs are in line with the competition. While some of the other companies offer similar services, Tesla offers new Model S customers free data connectivity and Internet radio for four years to further enhance the driver experience for the four-year period that
started on January 1, 2014.
Electric cars are also making headway in Europe. There were 52,729 electric vehicles sold on the continent in 2013. France had the most sales with 14,525 sales followed by Norway, Germany, the United Kingdom and the Netherlands respectively. In fact, electric cars have been the top selling cars in Norway for two months in a row. In the U.K., hybrid cars remain much more popular than plug-ins. China on the other hand has been lagging behind. In 2012, Chinese consumers purchased only 11,375 electric vehicles out of 19.3 million sold.
TSLA trades at a market capitalization of $28.5 billion, which is half of General Motor's (NYSE:GM) valuation. They only sold 22,500 vehicles in 2013, while GM sold 9.7 million vehicles during the same time frame. This is just one of the reasons this stock is so expensive. On the other hand, Tesla succeeded in reaching their goal of a gross profit of 25% during the last quarter. For 2014, the company raised their goal to 28%. Tesla expects to deliver over 35,000 Model S vehicles in 2014, representing an increase of 55% over 2013. Margins will feel pressure when Tesla's average selling price drifts downwards as the third generation vehicle is released. The new Tesla Gigafactory however, will provide the company with the infrastructure needed to sell electric cars as the mass-market alternative.
The Tesla Gigafactory
Tesla projects the company will sell 500,000 vehicles annually by 2020. A figure that is certainly attainable once the Tesla Gigafactory has been built. This project will become the world's largest lithium-ion battery factory for a price tag of $5 billion. Currently, Tesla is able to produce 600 vehicles per week. By the end of this year, the company expects to bump that figure up to a thousand vehicles per week. The limit in production results from lithium battery production. Since this process is expensive and time consuming, the Gigafactory will be able to increase capacity exponentially. This new plant will be able to produce sufficient lithium-ion batteries to power those 500,000 electric vehicles annually. The company stated, "The Gigafactory is designed to reduce cell costs much faster than the status quo and, by 2020, produce more lithium-ion batteries annually than were produced worldwide in 2013." Tesla is expected to release more details about this plant in the near future.
Third Generation Tesla - Model X Crossover SUV
Despite zero spending on advertising and a production bottleneck, the Model S was the top selling vehicle in 2013 among comparatively priced vehicles. This vehicle was awarded a 5-star safety rating last year by the National Highway Traffic Safety Administration (NHTSA). Not just overall but within every subcategory as well beating the safety score of all SUVs and Minivans. Approximately 1% of all cars tested by the federal government achieve five stars across the board. Consumer Reports conducts an annual survey of 1.1 million subscribers, factoring in quality, reliability and consumer satisfaction. Tesla's Model S scored 99 out of 100, the highest score any car has ever received and was the top overall pick of any vehicle in the world. Car enthusiasts and investors alike will take note of the next generation Tesla, the Model X.
This upcoming electric car will be a crossover SUV. The Model X will feature what they call "Falcon Wings" which are similar to the doors on a Lamborghini and some other super cars that have gull-wing doors where the doors are hinged at the roof as opposed to the sides. These doors are not only sleek but according to Tesla, they are intended to be functional by opening up and out of the way, in "the narrowest of parking spots." The Model X will be available with 65kwh battery and the performance model will have an 80kwh battery. In 4Q13, the company accelerated engineering work on the Model X. The new crossover SUV will likely be revealed at 2015 Detroit Auto Show. For $5,000, you can reserve a Model X and expect to receive the car in 2015. About 10,000 orders for the Model X have already been placed. Musk believes that Model X demand will surpass the current demand for the Model S. Comparing it to a fishing trip, he stated, "It's like the fish are jumping into the boat."
States Blocking Sales
For those of you residing in New Jersey and considering the purchase of a Model S, you have until March 31st to do so. Following the New Jersey Motor Vehicle Commission's ruling that automakers must sell through dealerships, Tesla announced last week that as of April 1st, the company would no longer be able to sell vehicles in New Jersey. Musk did however add vehicles could still be ordered "from New Jersey for delivery in New Jersey." The garden states have joined Virginia, Texas, Arizona and Maryland in this decision. The stores in these states act more as galleries since the representatives are not salespeople. They are not even allowed to tell you the price of the car nor can they facilitate the purchase of one. In Maryland, potential customers are at least allowed to take a test drive of the electric vehicles. Some other states across the nation have imposed some level of restrictions. Currently there are five states that have bans on selling, two with substantial constraints, and two more with pending legislation. If we were to look at the populations of these states, this would equate to 57 million bans, 15 million restrictions, and another 31 million pending. If the legislation does not favor Tesla in New York and Ohio, then the company will have issues with nine states representing more than 100 million people, which is almost a third of the U.S. population.
Tesla argues that auto dealerships have a "fundamental conflict of interest between promoting gasoline cars, which constitute virtually all of their revenue, and electric cars, which constitute virtually none" as dealerships make most of their money make profits from servicing vehicles. Electric cars such as Tesla's Model S require much less service and most "repairs" consist of software upgrades similar to a smartphone. Elon Musk explains why Tesla is taking the difficult route on the company blog.
Consumers across the country have also voiced their opinion on this issue and seemingly agree with Tesla. In North Carolina, a Triangle Business Journal poll found that 97% of respondents believe Tesla should be allowed to sell cars directly. A poll by the Austin Business Journal showed that 86% of respondents were in favor of direct sales as well and a Los Angeles Times poll found that 99% of respondents also agreed that Tesla should be able to sell cars directly. Musk told Automotive News he did not want to fight the states one by one and that he may consider a federal challenge stating "If we're seeing nonstop battles at the state level, rather than fight 20 different state battles, I'd rather fight one federal battle."
This is quite the predicament that Tesla is in but it is still a hurdle they can overcome. As of right now it is still too early to tell where this legal debacle will end but this "affront on the very concept of a free market" as Elon Musk puts it is not a good sign for investors. There may be some potential good news for Tesla supporters in the near future. Last Friday, White House Assistant Press Secretary Matt Lehrich confirmed to Business Insider that a petition to allow Tesla to sell vehicles directly in all 50 states would be "reviewed by the appropriate officials and receive a response." Lehrich did not confirm when the petition would be evaluated. It should also be noted that Tesla was not responsible for creating this petition, but instead created by someone from Stow, Massachusetts with the initials "K.S." and has currently garnered 131,190 signatures. As of right now Musk stated that Tesla is currently "evaluating judicial remedies to correct the situation."
Algorithmic Forecast
I Know First utilizes an advanced self-learning algorithm to forecast stock performance and to generate stock market forecasts. The algorithm distinguishes stocks trading in ranges that deviate drastically from the trends the algorithm deems rational. The machine utilizes 15 years of data and is updated daily as new information is presented in order to generate stock market forecasts from three days to one year. The system provides new forecast outputs every trading day. The algorithm's methodology is conferred in more detail in my previous article 2014 Market Forecast and Gold Prediction Based On Algorithms. There are also multiple strategies that can be utilized together or individually as an algorithmic trader employing daily forecasts. Chart 2 displays how the algorithm recognized the impending share performance of Tesla.
On December 10th, Tesla was one of the top 10 stock picks identified by the algorithm for the 3-month time-horizon. Tesla had the largest return of 68.67% in accordance with the algorithm. Currently Tesla still has a bullish signal from the algorithm, however Tesla is currently not in the I Know First Top 10 Stock Picks and S&P 500 forecast as there are better market opportunities identified by the algorithm. Chart 3 shows the 1-month, 3-month and 1-year forecast for TSLA. Click here for the basic instructions on how to read the forecast.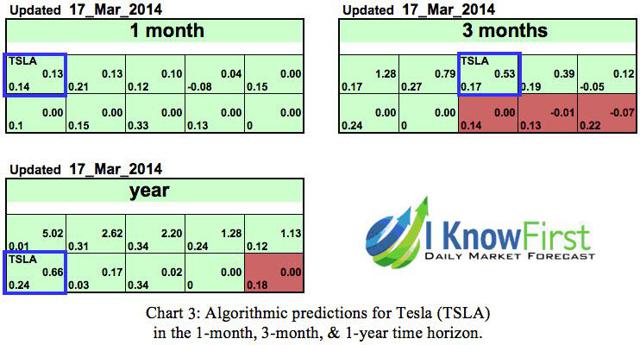 The ticker symbols for the other assets in this forecast have been removed however you can still see their signal and level of predictability. The signal, the number flush right in the middle of the box and the predicted direction (not a specific number or target price), is 0.13 for the 1-month time-horizon and 0.53 for the 3-month time-horizon. For the 1-year time horizon the signal strength increases to 0.66. The signal for the 3-month time horizon is weaker than it was on December 10th and the predictability is not as strong as well. This indicates that there will be somewhat less movement in a positive direction for the 3-month time-horizon and that the algorithm is reacting to the latest news on how the company will handle the problems it's having selling cars directly. The system becomes more confident as the predictability is stronger for the 1-year time horizon than it is for the shorter time frames. This is very typical for the algorithm as it tends to be much more accurate for longer-term time frames.
Conclusion
It would be best to trade TSLA when it becomes clear how Tesla will react to recent legislation banning direct sales. The company has a lot going for it, including a product they have not had to create an advertising campaign for, and still has more demand than they can currently produce. On the other hand, legislation impeding sales is a problem that cannot be ignored by investors. Perhaps, dealing with the issue in federal court will be a better strategy than battling state by state. For this reason, I would recommend to put this stock in a watch list until the algorithm recognizes a better buying opportunity.
Business disclosure: I Know First Research is the analytic branch of I Know First, a financial startup company that specializes in quantitatively predicting the stock market. Joshua Martin, one of our interns, wrote this article. We did not receive compensation for this article (other than from Seeking Alpha), and we have no business relationship with any company whose stock is mentioned in this article.
Disclosure: I have no positions in any stocks mentioned, and no plans to initiate any positions within the next 72 hours. I wrote this article myself, and it expresses my own opinions. I am not receiving compensation for it (other than from Seeking Alpha). I have no business relationship with any company whose stock is mentioned in this article.