Linn Energy (LINE) is a controversial high-growth oil- and gas exploration play that draws considerable attention for its high distribution yield. Most recently, Linn Energy became the focus of Jim Cramer, renowned for his hit show "Mad Money" on CNBC and co-founder of TheStreet.com. In his broadcast last week he recommended Kinder Morgan Energy Partners (NYSE:KMP) instead of Linn Energy (see the relevant video segment here).
His main rational for purchasing Kinder Morgan Energy Partners was based on Richard Kinder, Chief Executive Officer and Chairman of Kinder Morgan Energy Partners, who has build KMP into what it is today. However, he didn't go into detail as to why he doesn't like Linn Energy. This isn't too surprising because Cramer is a seller of constant activity -- a long-term perspective is almost irrelevant.
I still believe Linn Energy is a good growth/income play which could turn out to be very lucrative for shareholders who approach the investment with the right mindset. In particular, I see five reasons why Linn Energy has further upside potential:
1. The most important: Getting rid of the Jim Cramer groupies
The main problem with CNBC, Mad Money and Jim Cramer is, that many "speculators" follow them blindly -- I am reluctant to use the word 'investor' as many of them are only in to make a quick dollar and are not interested at all to be a long-term owner of the company. As a result, the "hot money" comes and leaves rather quickly adding to volatility and erratic price movements. In addition, speculators often delude themselves by believing they are superior market timers by listen to gurus such as Jim Cramer.
I would love to see a study that explicitly analyzes the long-term returns of Jim Cramer's stock picks. If you know about such study, or better yet, a study that shows the potential returns of doing the exact opposite of what Jim Cramer suggests, please message me. Of course, transaction costs from excessive trading and taxes need to be factored in as they will leave a nasty mark on performance. A point traders ignore too readily.
The best thing that can happen to long-term oriented investors in Linn Energy, is a complete absence of trading-focused Jim Cramer groupies and a more stable unitholder base. Now, that Cramer's followers are abandoning the units, Linn Energy makes for an even better long-term investment.
2. Lower unit prices=higher yields
One good thing that came from Jim Cramer's recommendation to sell Linn Energy: Lower prices. Lower prices immediately translate into higher distribution yields for investors taking opportunistic advantage of the minor sell-off following Jim Cramer's recommendation to swap Linn Energy for Kinder Morgan Energy Partners. Investors purchasing now benefit from a whopping distribution yield of 9.91%.
(Source: Yahoo Finance, click to enlarge)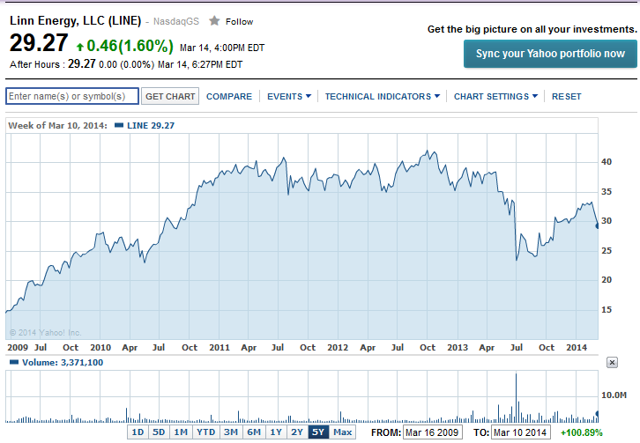 3. Capital discipline
A broader trend in the basic materials sector is to rationalize capital spending. While the shale oil- and gas bonanza in the United States over the last couple of years has led to a buoyant sentiment in the industry, capital spending discipline will only grow in importance. Linn Energy has announced a 2014 capital budget of $1.6 billion -- which is about 11% lower than the combined 2013 capital budgets of Linn Energy and Berry Petroleum (BRY). The market needs to see that Linn Energy allocates capital selectively to the most promising portfolio assets (that is, assets in the Permian Basin). Capital discipline also leads to stronger cash flow and, ultimately, backs shareholder distributions.
4. Monetization of Midland Basin assets
Linn Energy does the right things with respect to its 55,000 net acres in the Midland Basin. The company evaluates both strategic alternatives and pursues an active horizontal drilling program with respect to its Wolfcamp assets which also finds the positive feedback of analysts. Linn Energy's press release on February 27, 2014 read:
LINN Energy has retained RBC Richardson Barr to assist with evaluating multiple strategic alternatives to maximize value for the Midland Basin portion of its Permian position. Alternatives include potential asset trades, a cash sale of the position, pursuing an active drilling program and joint ventures. LINN's current position for prospective horizontal Wolfcamp consists of approximately 55,000 net acres with approximately 630 gross operated potential locations with a 95 percent working interest, 87 percent of which are held by production. Additionally, the Company has approximately 455 gross potential locations with approximately 50 percent working interest, which will require forming a unit. The number of prospective horizontal locations primarily includes the Wolfcamp A and B benches. The potential for future delineation of additional benches could provide further upside to the Company's estimated drilling locations. Of LINN's total current Permian production of approximately 26 MBoe/d, 17 MBoe/d is associated with 1,275 wells in the Midland Basin with an 88 percent working interest.

Trading some or all of LINN's Midland Basin position for long-life mature producing properties would potentially be accretive to cash available for distribution. Value could be realized by trading prospective acreage for current cash flow, trading current vertical production for lower declining production, or by reducing capital intensity in the Midland Basin. In order to facilitate multiple dialogues and ranges of trade size, the Company has divided its acreage and production for potential trades into several distinct geographic packages.
I think that the monetization of Linn Energy's Midland Basin assets could be a major catalyst for Linn Energy's unit price and even alleviate investor fears about the sustainability of its unitholder distributions.
5. Integration & consolidation
As I have said before, Linn Energy has been on fire over the last couple of years pursuing an aggressive acquisition strategy. Linn Energy should be given the time to prove that it can integrate its acquired assets and that it is able to capture operational synergies -- most notably with respect to the acquisition of Berry Petroleum.
Impatience is rarely good advice. Linn Energy should also be given the time to demonstrate that it can pursue select, complementary portfolio acquisitions while proving that it can achieve organic production growth rates higher than the 2014 estimate of 3-4%.
Conclusion
Now that the swarm of Jim Cramer followers is descending on another target, Linn Energy is an even more attractive investment candidate and might even prove to be less volatile going forward. As I have said before, I think Linn Energy's distributions are relatively safe in 2014 and downward adjustments are unlikely as long as the distribution coverage ratio remains in the proximity of 1.00x. Should Linn Energy find a way to monetize its Wolfcamp assets in the near-term, distribution increases could even be announced.
As a long-term investor I don't really care whether distributions stay flat for a year or two or even decrease marginally. I think Linn Energy is a top exploration company with high quality assets in the Permian-, Uinta- and Piceance Basins. The company has a solid, accretive acquisition- and integration record that creates confidence in management's ability to deliver value for unitholders. Linn Energy has a lot of potential to deliver value (asset sales, asset trades, joint ventures, organic production growth, distribution stream), especially now that the Jim Cramer crowd is on to the next big thing. Long-term BUY.
Disclosure: I am long LINE, KMP. I wrote this article myself, and it expresses my own opinions. I am not receiving compensation for it (other than from Seeking Alpha). I have no business relationship with any company whose stock is mentioned in this article.