Emerald Oil (NYSEMKT:EOX) has been transitioning from a non-operator to an operator. Although this is no easy feat, it has done it quickly and efficiently. It sold $113 million worth of non-operated properties and used this to purchase operated leaseholds.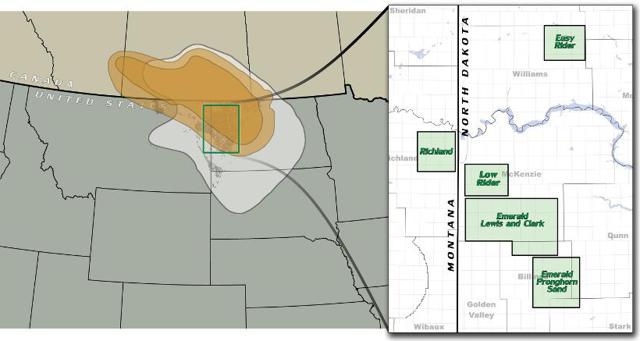 (Source: Emerald)
Emerald's 4Q13 was difficult, as it ended the year with a big bottom line miss. This was not surprising, as it has continued to use slickwater fracs, which are more expensive than a standard completion. The size of the miss is more important. It has been effective from a production standpoint in central to northwest McKenzie County. We are starting to see more operators discussing the use of this type of completion like Oasis (NYSE:OAS), but the expense has been an issue for operators. We know northeast McKenzie and southwest Mountrail counties are considered the best Bakken acreage. This does not mean it has the most upside, as we already have a good idea of how these areas will infill. The upside is in downspacing, and added locations in 2014. Emerald's acreage has some of the thickest shale in the Bakken. Whiting (NYSE:WLL) is currently testing downspacing this area with more than double what Emerald is. Continental Resources (NYSE:CLR) is even tighter with respect to its Wahpeton pad. Once proved, northwest McKenzie County could provide more locations per section than anywhere in North Dakota. Triangle Petroleum (NYSEMKT:TPLM) also operates in this area, and has had excellent results. It would seem Triangle knew about the geological advantages, and why this area was its focus during the operated Triangle land grab. If I am correct, the acreage values in this area could go up significantly. This area won't produce the IP rates of northeast McKenzie County, but it could produce significantly more resource.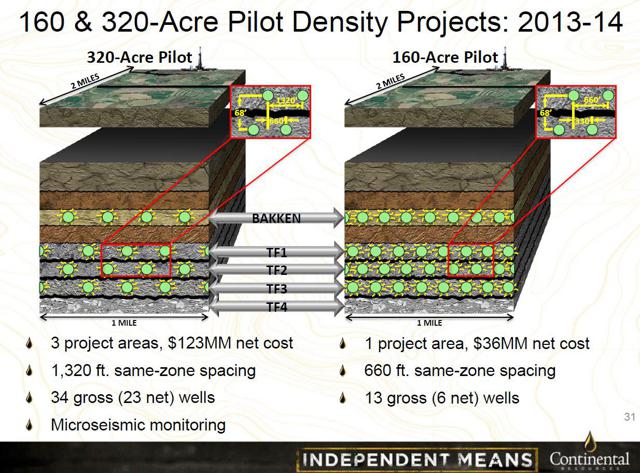 (Source: Continental Resources)
Revenues for 4Q13 were $17.9 million with year-end December 31, 2013 at $54.0 million. Emerald saw Q4 revenues increase 22% sequentially. Full year revenues increased 92% year over year. The increased costs associated with this quarter are workovers, artificial lift installations and the use of specific drilling equipment. This equipment has aided in improving recoveries, but the miss has more to do with weather. In the areas Emerald operates, there is little infrastructure. It is currently powering many of its systems through diesel. This has increased costs, but in Q2 and Q3 it plans to centralize this power usage. A local electrical utility has committed to build a substation in Low Rider. Emerald also plans to drill its saltwater disposal well in Q2, with pipelines to be added throughout the year. Emerald has guided its annual 2014 LOE per barrel of $11. In Q4, it had two non-recurring G&A expenses. One was a $2.8 million severance. The second was a $2.4 million cash charge related to fees and expenses. In Q4, Emerald had unrealized non-cash losses on its warrant liabilities. This was $2.5 million for the quarter and $7.1 million for FY13. This mark-to-market charge relates to White Deer Energy and warrants attached to preferred stock in February 2013. Emerald's realized oil price was hit hard in Q4. It is currently hedged with swaps at $92 to $97 per barrel.
Emerald's 2013 average annual production increased by 80% year-over-year. This was aided by its slickwater frac program, and I believe will continue to improve as Emerald gets more comfortable with the geology. Emerald completed its second Three Forks well, which had results twice as good as its first. It expects the Three Forks to perform slightly below the middle Bakken curve. Emerald believes the Three Forks to be a good interval, just not as good as the Bakken. The third rig is moving and will begin drilling at the end of March. The plan is to move the rig to the Pronghorn this summer after it completes drilling in Easy Rider. Emerald states it took a significant production hit due to cold weather in Q4, it believes the same to be true in 1Q14. A decent number of wells will be turned to sales in late March due to delayed fraccing. This could create a large increase in production for Q3. Emerald will be adding a second frac crew shortly, to catch up to the wells drilled in December and January. Low Rider production has been very good, and we should have a one-year model at Q1 earnings. This is important, as it could provide good depletion data. It looks like Low Rider wells have produced above Emerald's estimates. Emerald believes its Low Rider well design can be replicated in its Richland County acreage. It isn't the only operator to believe this. Whiting has been using its Hidden Bench Prospect design in Missouri Breaks. It has stated the geology has responded better than expected, but keep in mind all of Whiting's areas have responded well to its new completion design. A fourth rig will be utilized later this year for both Richland County and Emerald's Lewis & Clark Prospect.
Emerald has grown its acreage substantially, as it now has 85,000 net acres in the Williston Basin with approximately 64,000 net acres or 75% being operable. After a big Q4 miss, I would be wary of Emerald's liquidity. If 1Q14 is also a bottom line miss, Emerald could run low on cash towards the end of 2014. Given the difficult January and February, we could see earnings lag again. Emerald believes it can still finance its budget with its borrowing base and cash on hand. It also has additional non-op acreage is could sell. It wasn't long ago that Emerald was a non-op player only. Emerald has fared far better converting to an operator than expected. It ended 2013 with approximately $105 million in cash and $35 million drawn in its revolving credit facility. Emerald maintained its previously stated 2014 capital budget at $182 million to drill and complete approximately 18.2 net operated wells. It has a higher well cost, but this is expected with slickwater fracs. Below I have provided data on some of Emerald's wells.
| | |
| --- | --- |
| Well | IP 30 Bo/d |
| Pirate 1-2-11H | 1025 |
| Mongoose 1-8-5H | 862 |
| Slugger 1-16-21H | 782 |
| Caper 5-22-15H | 704 |
| Excalibur 4-25-36H* | 573 |
(Source: NDIC)
The table above only provides a few of Emerald's results. This data is measured in barrels of oil only as there is additional upside to high Btu gas. It is not a full comparison, but still gives us an idea as to how these wells produce over the first 30 days. The Pirate well is one of the best in the area. The Excalibur well targeted the Three Forks interval. It was just a 20-stage frac. This is probably why the result lagged. Its second Three Forks completion was much better. Emerald's current results are above its EUR model for the middle Bakken. The Three Forks is difficult to judge as it only has completed two wells to date. I am comfortable with Emerald's current EUR estimates. In 2014, it plans to drill 18.2 net wells. Aggressive downspacing is occurring in and around Low Rider. Some are testing twice as many locations as Emerald.
Emerald has increased its acreage position significantly over the past year. It continues to do so, adding small positions. There are no plans for any big acquisitions. Emerald has outperformed operators in its Low Rider area. Triangle and Liberty have fared well also.
| | | |
| --- | --- | --- |
| Well | Operator | IP 30 |
| Larsen 32-29 1H | Zavanna | 678 |
| Wahlstrom 18-1H | Hess (NYSE:HES) | 486 |
| Fritz 150-101-32-29-1H | Liberty | 655 |
| Larson 149-100-9-4-1H | Triangle | 824 |
| Slash Federal* | TRUE | 544 |
| Crystal 14X-34 | Exxon (NYSE:XOM) | 418 |
| Catapult 1-30H | Slawson | 418 |
(Source: NDIC)
As you can see, there is a wide range of results from one operator to the next. Even operators like Exxon could have had a poor result at its first well in this area. Each area can vary so much with respect to geology. This can differ from stage to stage, so it could take a dozen wells to feel real comfortable. Given what other operators are doing, drilling spacing units could more than double for Emerald. It has been conservative with respect to downspacing, but I believe that is important. It is always better to under promise. Emerald has increased 2013 year-end proved reserves 147% to 13.2 Mmboe. It also expects 2014 production guidance to increase to an average of 3,550 boe/d. Emerald's production guidance may be difficult to attain, due to a slow start from the weather. I believe it will still attain this based on initial production improvements to date. Emerald also believes it can still make guidance. The hard winters create a difficult environment in January and February, so operators have to work harder in Q2. This usually increases costs, and doesn't guarantee full year production estimates will be attained. But I believe the top line will be easier to make, while costs could go appreciably higher. The table below provides Emerald's production guidance.
Emerald's Quarterly and Exit Production Guidance
| | |
| --- | --- |
| | Guidance Boe/d |
| 2Q14 | 3250 |
| 3Q14 | 4000 |
| 4Q14 | 4150 |
| 2014E Exit Rate | 4250 |
(Source: Emerald's Current Presentation)
The cold weather has pushed Emerald's plan forward. The big jump in production will be in Q3 as completion crews try to catch up with the number of wells drilled in 4Q13 and 1Q14. Keep in mind last year in September, it sold 850 Boe/d in non-op production. This makes current production estimates even more impressive. The 2014 cap ex program totals $307 million. Of this, $125 million will be used to purchase more operated acreage. I wouldn't be surprised if it sold additional non-op acreage as well. This would provide additional liquidity to increase Bakken development. Its drilling cap ex is broken down by area in the table below.
2014E Drilling Cap Ex
| | |
| --- | --- |
| Prospect | Cap Ex MM |
| Low Rider | $122 |
| Richland | $20 |
| Easy Rider | $20 |
| Pronghorn Sand | $20 |
(Source: Emerald Presentation)
Emerald plans to drill about 12 wells in Low Rider. This leaves two wells for each remaining prospect. I am sure that Richland and Easy Rider will go well, but would be interested to see how Emerald develops the Pronghorn Sand. The Pronghorn Sand is a unique interval. Because of this, it may not respond well to slickwater. Emerald may be better served to use a cement casing, plug and perf, with multiple perf clusters. This has worked well for EOG Resources (NYSE:EOG) and Whiting in all areas it develops. Both of these operators have managed to do this with relatively little increase of costs.
In summary, Emerald has performed as I would have liked since I first covered the name back in August. It has been a good name to trade, as the stock price has ranged from $6 to $9 over that time frame. It will continue to be a name to trade through 2014. Emerald continues to complete good wells in its Low Rider Prospect. In 2014, I am not as concerned about the top line, but am wary of the bottom. Due to difficult weather conditions, Emerald has fallen behind on completion work. The winter lasted longer, so the main issue was February. Emerald believes it can catch up, but it is already behind and we are just beginning the year. I expect a large increase in production beginning in Q3, as Q2 production is pushed back. Long term the story is intact, but I am approaching this name conservatively in the short term.
Disclosure: I have no positions in any stocks mentioned, and no plans to initiate any positions within the next 72 hours. I wrote this article myself, and it expresses my own opinions. I am not receiving compensation for it (other than from Seeking Alpha). I have no business relationship with any company whose stock is mentioned in this article.
Additional disclosure: This is not a buy recommendation. The projections or other information regarding the likelihood of various investment outcomes are hypothetical in nature, are not guaranteed for accuracy or completeness, do not reflect actual investment results, do not take into consideration commissions, margin interest and other costs, and are not guarantees of future results. All investments involve risk, losses may exceed the principal invested, and the past performance of a security, industry, sector, market or financial product does not guarantee future results or returns.