Navistar International Corporation (NYSE:NAV) revealed a profit of $30 million or 42 cents per share for the second quarter of fiscal 2010, ended April 30. The profit more than doubled from last year's $12 million or 16 cents per share. It also reflected a marked improvement from the Zacks Consensus Estimate of a loss of 5 cents per share.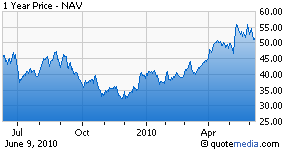 Navistar has attributed the improvement to a strong performance in its core business, as well as an improved cost structure that focused on reductions in material costs and rationalization of its North American plants to create cost efficiencies in its Class 8 heavy truck and school bus production lines.
Revenues in the quarter declined marginally by 2% to $2.7 billion. Total segment profit was $165 million, compared with $105 million in the year-ago quarter.
Segment Performance
Truck: Revenues in the segment scaled up 4% to $1.85 billion. Segment profit rose to $76 million from $56 million in the previous year. This was due to commercial performance and continued material and manufacturing cost improvements, offset partially by lower military sales.
Engine: Revenues in the segment escalated 14% to $677 million. The segment reported a profit of $15 million, which was in sharp contrast to a loss of $84 million in the year-ago quarter. This can be attributed to an increased demand and the value-added tax recovery of $12 million in Brazil, partially offset by decreased volumes in North America on the back of an expiration of the company's contract with Ford Motor Co. (NYSE:F) to supply diesel engines in the U.S. and Canada.
Parts: Revenues in the segment dropped 22.5% to $447 million. Segment profit declined to $58 million from $115 million due to weak U.S. military sales.
Financial Services: Revenues in the segment fell 14% to $76 million. Segment profit declined marginally to $16 million from $18 million a year ago as a result of declines in average receivable balances.
Financial Position
Navistar had cash and cash equivalents of $508 million as of April 30, 2010. Long-term debt amounted to $4.5 billion as of that date. The company had a shareholder deficit of $1.2 billion at the same period.
In the first six months of fiscal 2010 ended April 30, 2010, Navistar had a net cash flow of $266 million from operating activities, a decline from $487 million in the same period of the prior year, mainly due to a lower net income. Meanwhile, capital expenditure remained flat at $78 million during the above period.
Navistar International Corporation, based in Warrenville, Illinois, manufactures and markets commercial trucks, mid-range diesel engines, buses, military vehicles and chassis for motor homes and step-vans, and provides service parts for various trucks and trailers. The company is one of the largest truck producers after Daimler (OTCPK:DDAIF) and PACCAR (NASDAQ:PCAR).