Residential electricity prices continue to rise, but the rate of increase is leveling off, according to data from the U.S. Energy Information Administration.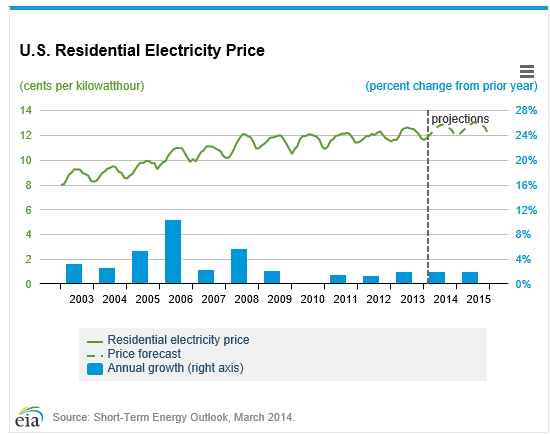 Source: link
Demand for electricity has flattened except for its typical seasonal patterns with residential usage forecast to actually decline despite growth in population and family formation.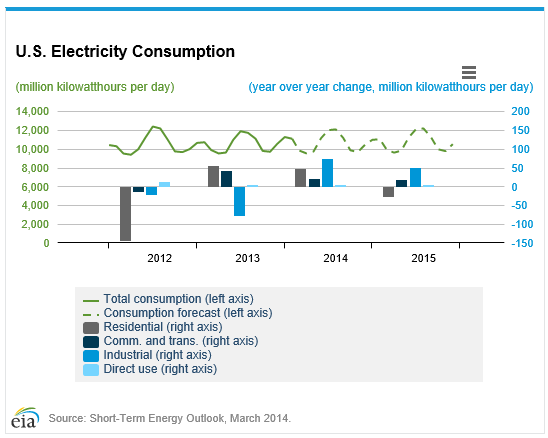 Growth in homeowners' conversion from incandescent to LED lighting has been a contributing factor to the slowing growth in demand.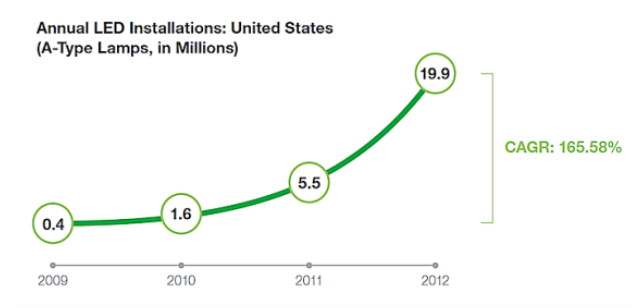 The rapid pace of adoption of LED installations is likely to continue with the January 1, 2014 implementation of what some call a ban on incandescent 40 and 60-watt light bulbs. The so-called ban really deals with conventional incandescent bulbs but not halogen incandescent bulbs, which, while more efficient, also cost more.
At the top of the efficiency curve are the LED bulbs, which consume much less electricity than either conventional incandescent or halogen. Compact fluorescent bulbs also offer substantial reductions in energy use, reducing the annual cost of a single bulb from an estimated $7.23 for an incandescent bulb to $1.57 for a compact fluorescent one.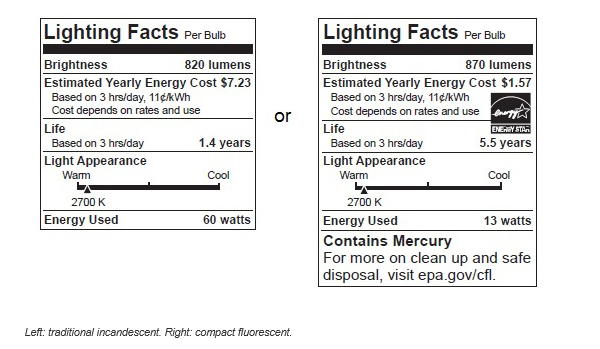 Source: The Verge
Many will do the arithmetic and conclude that a bulb that saves over $5.00 a year in energy and lasts four times as long may be worth paying double to purchase. Of course, once consumers get used to doing the arithmetic, they will add an analysis of the LED option to the mix.
LED bulbs last as long as 20-years and for a 60-watt equivalent bulb draws only 9.5 watts, about 30% less than that of the compact fluorescent. LED supplier CREE (NASDAQ:CREE) offers a 60-watt equivalent LED bulb for about $12.97 and its annual energy use will cost $1.14. Both the compact fluorescent and LED are slam dunk alternatives to incandescent even at $12.97 for each bulb. A 60-watt incandescent bulb costs between $2.49 and $3.47 at Lowes or Home Depot.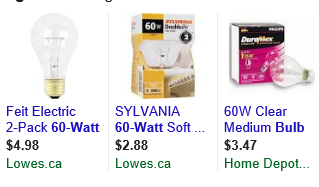 Changing an incandescent bulb that costs upwards of $2.50 every 1.4 years pretty well adds up to the $12.97 LED costs over 7 years and the annual saving per bulb of over $6.00 makes the payback less than 2 years. For the next 18 years or so, the consumer should pocket the $6 saving. If you have 100 bulbs in your home (I have 230 in mine but it is a big home), you save $600 a year - after tax of course.
The prices of LED bulbs are likely to come down as volume builds, so this trend has some legs.
About 425 million 60-watt bulbs are consumed in the United States each year, according to ASK.com. Savings of $6.00 for each replacement provides homeowners as a group a $25 billion pot to tap into by upgrading to LED. Total light bulb sales in all sizes and wattages amount to some 2 billion lamps, indicating the total market opportunity is even bigger and suggesting the 20 million LED bulbs sold in 2012 are the tip of the iceberg and the space should exhibit strong growth for quite a few years.
CREE is a good play on the trend. At $60 a share, more or less, it trades at close to 35 times this year's estimate of $1.68, which is at the high end of ratios I am comfortable owning. But with the strong likelihood of sustained profit growth for at least a decade, the stock is not overpriced.
Given CREE's market capitalization of about $7 billion and annual sales last year of $1.3 billion, CREE has quite a bit of leverage to growth in LED demand. Trefis has done a decent job of modeling the company with its interactive charts and investors can use the Trefis model to assess the potential.
My simple arithmetic on CREE is that every $100 million of added sales adds about $40 in incremental gross margin. With only 120 million shares outstanding, that provides plenty of torque as sales expand.
I am long the stock through options.
Disclosure: I am long CREE. I wrote this article myself, and it expresses my own opinions. I am not receiving compensation for it (other than from Seeking Alpha). I have no business relationship with any company whose stock is mentioned in this article.