While researching high-yielding investments for an experimental portfolio, I had largely ignored Mortgage REITs. This was due to my belief that rising interest rates would doom them to decreasing dividends in the years to come. Imagine my surprise when I stumbled across an mREIT who has not only positioned itself to survive rising interest rates, but who has also managed to keep its dividend stable. After further research, I strongly feel this company is the best mREIT in America and a worthy addition to a diversified high-income portfolio.
Industry Introduction:
A brief introduction to how mREITs operate. These companies borrow in the short term at cheap interest rates, and use the funds to purchase mortgage loans. The difference in the short-term interest rate and long-term interest rates (mortgage rate) is the net interest spread. This is what creates the company's profit. Through the use of leverage as high as 11-12x, mREITs are able to make enormous profits (at times), and must pay out 90% of their income as dividends.
In exchange for this 90% requirement, the company is not taxed. However, dividends are taxed as regular income, not as qualified dividends. This means that these securities work best in tax-deferred accounts, such as Roth IRAs.
There are several different kinds of mortgage loans, and different mREITs specialize in these.
Agency-Based RMBS (residential mortgage-based securities):
These are the safest variety of mortgage loans, as they are ensured by Freddie (OTCQB:FMCC), Fannie (OTCQB:FNMA) and Ginnie Mae. These can be thought of as government-backed loans. The yield on these is small, and so a large amount of leverage is used to create sufficient yields to support high dividend payouts.
These kinds of mortgage loans are the most sensitive to rising interest rates, and carry a risk of prepayment. If the holder of the mortgage refinances and pays it off early, then the mREIT receives its principal but a disruption in interest payments. It must reinvest the funds into a new loan.
During a time of falling interest rates, (such as during QE3), refinancing increases and prepayments result in decreased income for mREITs. This explains why the industry has struggled recently, with book value dropping sharply and dividends being cut quarterly at many mREITs.
Agency RMBS can come in fixed rate or adjustable rate varieties. Adjustable rate allows for increasing interest rates in the future, and is preferable in a rising interest rate environment.
Agency IOs:
Interest-only loans, where the holder of the mortgage pays only the interest for a fixed time. After that period, the mortgage must be either paid off or converted into a regular mortgage, where both interest and principal are paid.
CMBS Mortgages:
Commercial mortgage-based securities, which are typically multifamily assets, such as apartment buildings. The main benefit to these forms of loans is they are fixed-rate, means no risk of pre-payments.
Distressed Residential Loans:
These are underwater mortgages on which the borrower is having trouble with payments. Because of the increased risk of default, mREITs are able to purchase these loans for deep discounts, resulting in high yields. During a housing recovery, as we are now experiencing (Case-Shiller National Index up 11.1% this year), the risks of default decline and mREITs holding these loans make out exceptionally well.
Company Overview:
New York Mortgage Trust (NYMT) is an internally managed hybrid mREIT. The Company invests in mortgage related and financial assets and targets multi-family CMBS, distressed residential mortgage loans, Agency RMBS, and Agency IOs. RiverBanc, The Midway Group, and Headlands Asset Management provide investment management services to the Company for certain targeted asset classes.
Source: JMP Securities Financial Services and Real Estate Conference Oct 1, 2013 Investor Presentation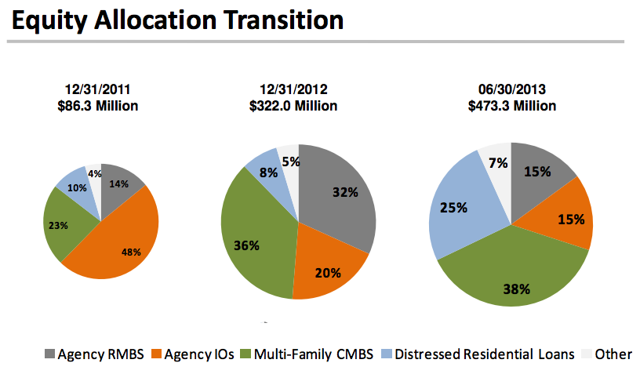 Source: JMP Securities Financial Services and Real Estate Conference Oct 1, 2013 Investor Presentation
Anticipating rising interest rates, management has wisely been transitioning away from the more rate-sensitive Agency RMBS and into more CMBS multifamily and distressed residential loans. In the last two years, the proportion of New York Mortgage's portfolio invested in agency debt has declined by 50%, from 60% to 30%. Inversely, the proportion in CMBS and distressed loans doubled from 33% to 63%. In the agency-based RMBS it does hold, it is focusing on increasing its ARM exposure. This will help the company grow income and secure the dividend as interest rates rise.
This change in portfolio allocation has resulted in New York Mortgage's standout performance relative to its peers.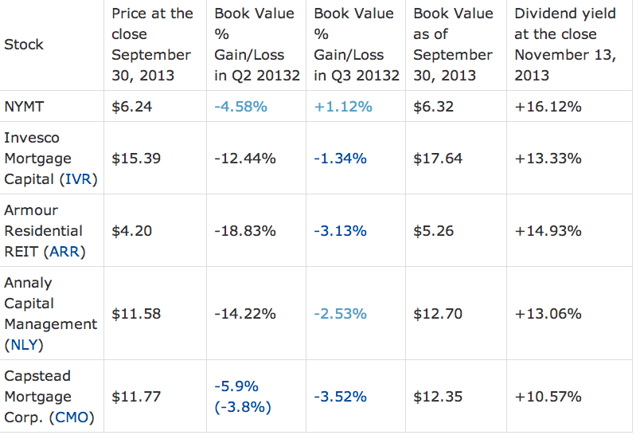 Source: New York Mortgage Turned In A Great Quarter-Clear Outperformance
As seen here, New York Mortgage suffered a 3.46% decline in book value during a very challenging 6-month period. Competitors such as Annaly Capital Management (NYSE:NLY) suffered a 17.5% decline, while Armour Real Estate's (NYSE:ARR) book value declined by 22%.
New York Mortgage's long-term ability to outperform on book value growth is also exceptional.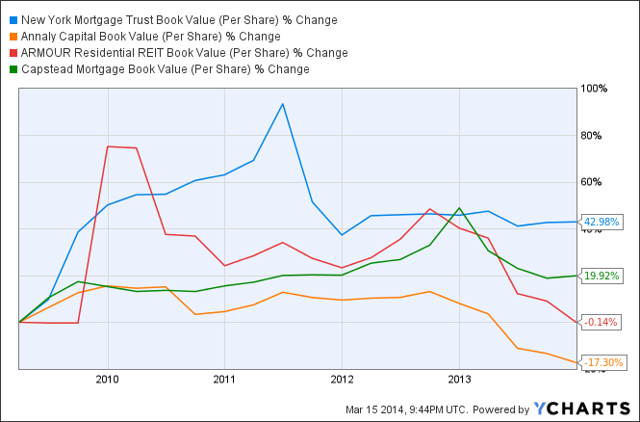 Meanwhile, New York Mortgage is able to offer income investors something they prize above all else, dividend security. For the last 7 consecutive quarters, New York Mortgage has not only maintained its dividend, but covered it as well. In 2013, New York Mortgage's dividend coverage ratio was 103%, and during Q4 2013, it was an outstanding 126%.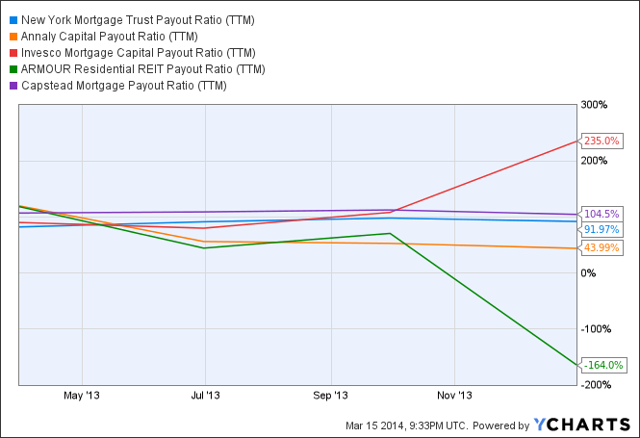 With mREITs and their sky-high dividends, the name of the game is dividend coverage and stability. If you're collecting 15% annually in income, you just need the dividend to not decline. For that to be the case, the payout ratio must be below 100%, which indicates a dividend coverage ratio of 1 or higher.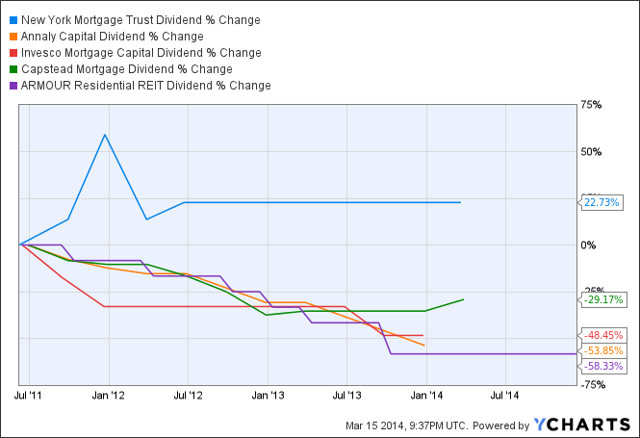 Without the ability to cover their dividends, New York Mortgage's competitors have had to slash their dividends, resulting in share price declines. In fact over the last 5 years, New York Mortgage has done an incredible job of enriching shareholders.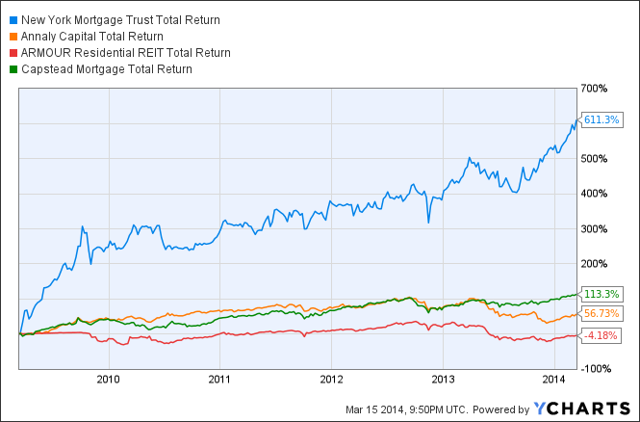 As seen in the above graph, New York has outperformed its peers in terms of 5-year total returns. With its most recent quarter's results, it seems this trend will continue.
Recent Results:
During the fourth quarter, New York Mortgage reported net income up 79%, from $.19/share to $.34/share. For the entire year, net income increased $.03, from $1.08 to $1.11. This last fact may not seem very impressive. However, it indicates that in both years, the dividend was covered, something New York Mortgage's peers have been unable to accomplish.
Valuation: New York Mortgage's Competitive Advantage
Right now, New York Mortgage is trading at a historically high 1.26x book value. Its competitors are trading at discounts to book value. So how can this be an advantage? Shouldn't investors crave a discount over a premium to book value? Well, not necessarily.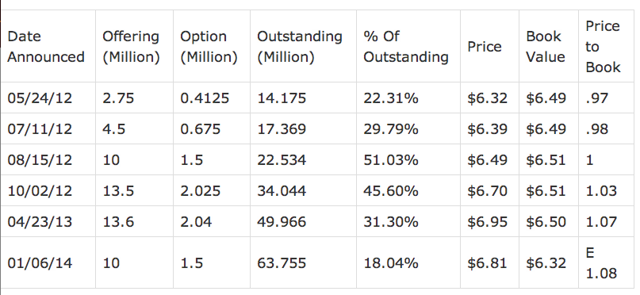 Source: Possible Trade Created By Public Offering
As seen in the above table, New York Mortgage does a lot of secondary offerings in order to grow. Normally, investors view secondary offerings as bad, because they can be dilutive. However, if done at a price above book value, they are actually accretive to existing shareholders.
For example, today's book value is $6.33, $1.56 below the current price. If New York Mortgage were to sell additional shares at today's price, the company would be selling $6.33 worth of value for $7.89. Each share sold would provide a $1.56 book value profit. In essence, this is free money that new investors are providing existing investors. Management would then take this book value profit and reinvest it and generate greater income. This would further increase dividend security and even allow for a potential increase.
Note from the table above that each secondary was at a higher premium to book value. In essence, management is getting better at raising cheap capital to further grow the company. The better it proves itself (by raising the dividend coverage ratio), the higher the premium to book will grow. The higher it grows, the cheaper the cost of new equity becomes. It is a potential virtuous cycle that allows a proven winner to keep winning, as seen in the BDC industry with Main Street Capital (NYSE:MAIN) and Triangle Capital (NYSE:TCAP). Both companies trade at increasing premiums to book value, and the higher the premium the better, the companies perform. Investors end up rewarded with both high income and capital gains.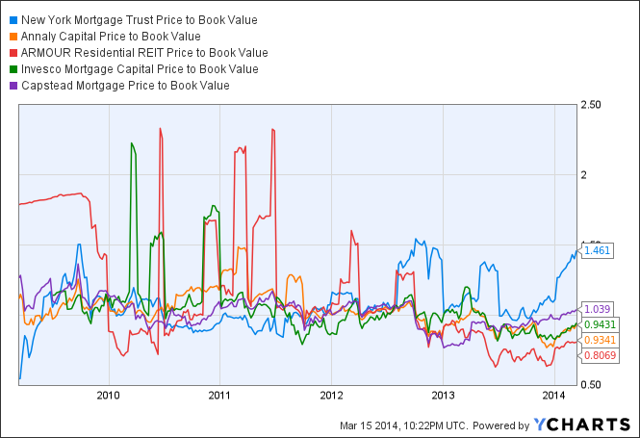 Because of their inability to cover and sustain their dividends, New York Mortgage's peers are unable to command a premium to book value. Should they have need of a secondary offering, then existing shareholders will be diluted.
Note that in the last two years, the longest period between secondary offerings has been 5 months. If we assume this trend continues, then there should be another secondary offering in April or May. This will provide valuable equity for management to grow the company. It will also provide relief for investors who wish to purchase shares of this wonderful, but ludicrously overvalued company.
The potential size of another secondary offering is likely to raise $75-$125 million. I base this estimate on the last two offerings. The most recent raised $70 million, the two before that raised $100 million each. Given the historical opportunity represented by the current massive premium to book value, I would expect management to take advantage of an opportunity for cheap capital. In addition, a large secondary offering at the current price would result in a large increase in book value. This would help offset the 3% decline in 2013 and help raise the share price in the future.
Technical Analysis: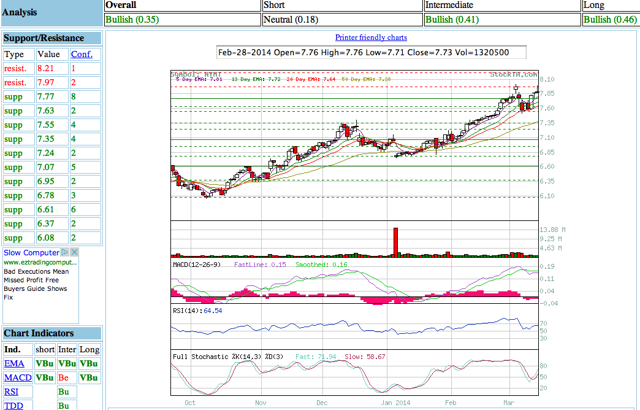 Source: stockta.com
The technical indicators show a continued bullish pattern, with minimal resistance above the current price and moderate support. However, the most recent candlestick pattern indicates that the stock may be about to correct to more historical valuations.
Conclusion:
When it comes to the world of income investments, mREITs have historically been the champions of high yield. The recent compression of interest rate spreads have hurt those mREITs that are excessively reliant on agency RMBS loans. For more diversified mREITs, such as New York Mortgage Trust, the ability to diversify and lower leverage has protected net income and the dividend coverage ratio. Management's continued ability to sustain one of the highest yields in the industry is a true testament to its skill and relationships with its partners. For long-term income investors interested in the mREIT industry, I feel that New York Mortgage Trust is the best choice. However, at the current valuation, I would recommend waiting for a likely secondary offering to reduce the price substantially before opening a position.
Disclosure: I have no positions in any stocks mentioned, and no plans to initiate any positions within the next 72 hours. I wrote this article myself, and it expresses my own opinions. I am not receiving compensation for it (other than from Seeking Alpha). I have no business relationship with any company whose stock is mentioned in this article.