It remains an exciting time for investors in renewable oil and bioproduct company, Solazyme (SZYM). Over the last 6 months, the company's stock has appreciated over 34% as the company further de-risked its profile with the opening of its first large-scale commercial facility. This was further met with optimism over the company's initial products sales that came in above expected average selling prices.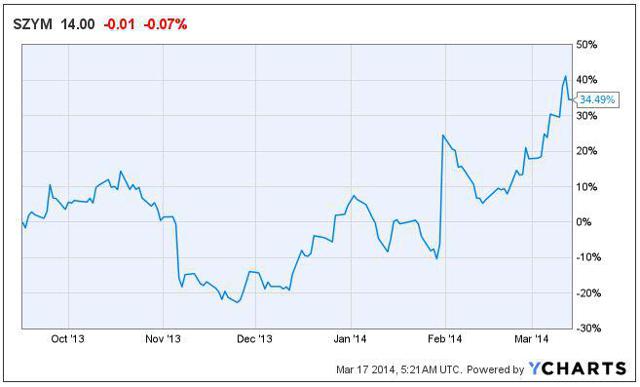 Yet for many investors, what continues to attract them to the company is simply the market potential that has yet to be realized. Solazyme has already begun to make headway into a diverse range of trending markets within chemicals, food, and personal care. For many investors, following the company simply comes down to guessing what new and innovative products Solazyme will explore next.
A Solution For Mud Service Companies
One recent clue of the latest product now underway can be found in a recent job description posted by the company as shown in the graphic below and in the link found here. The company has already established a trademark for "Encapso" as seen in the link found here. The company listed a sales position for the Encapso business, which is specifically targeting the major mud service companies such as Halliburton (NYSE:HAL) and Baker Hughes (NYSE:BHI).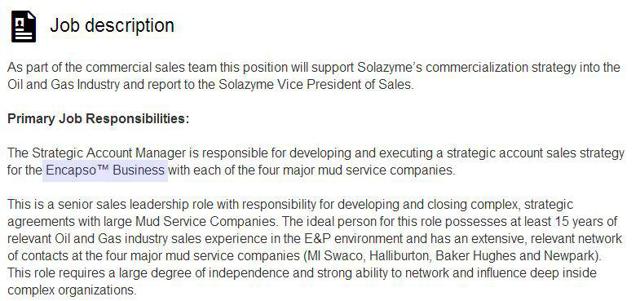 Mud service remains a vital part of drilling operations. This is particularly the case as hydraulic fracturing continues to gain momentum in the renewed energy boom now ongoing in North America. Mud has several vital functions. It prevents uncontrolled production of reservoir fluids, it helps lubricate and cool down the drill bit, it helps carry the drill cuttings up to the surface, it helps to form a filter cake on the borehole wall, and it helps in the actual drilling by fracturing the rock from jets inside the bit.
Based on the targeted sales to mud service companies for the Encapso business, the new product line appears to most likely revolve around an encapsulated oil product serving as a fluid loss control agent. Fluid loss control agents are used to control the filtration rates of drilling fluids and are primarily used to seal the pores found in the drilled formation by forming a filtering cake. This is necessary in order to control the lost circulation of oil based drilling fluids during operation.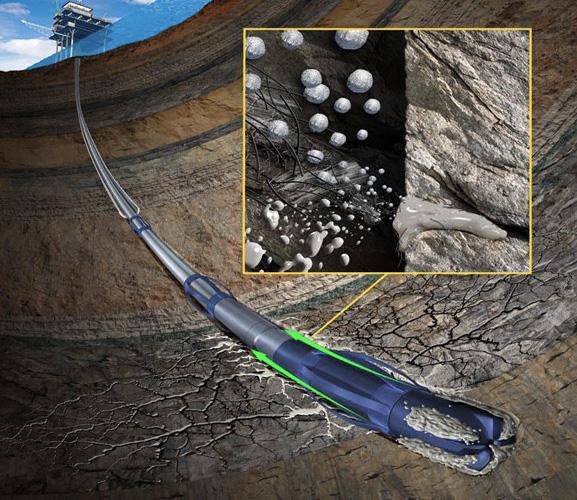 (Sample graphic of mitigating lost circulation while drilling)
A prior patent issued to Texaco in 1987 found here describes the problem of lost drilling fluids in more detail. The patent is titled "Encapsulated oil absorbent polymers as lost circulation additives for oil based drilling fluids." While the information found below may possibly be outdated in terms of the stated costs, the description helps to detail the expensive problem of an inadequately sealed drilling formation:
Although many additives of varying effectiveness exist to control lost circulation for aqueous muds, there are no effective lost circulation additives for oil based drilling fluids. Furthermore, lost circulation problems can be extremely expensive when oil based muds are involved. The cost of an oil based mud can range from $100.00 to $150.00 per barrel, depending on mud weight. A 13,000 foot well may use 1500 to 3000 barrels of oil based mud depending on the hole size. Deeper wells could, of course, use more mud. Because of the high cost of oil based muds, a loss of only 1000 barrels of mud in a well may cost $100,000 to $150,000.
We see here that the use of fluid loss control agents can help mitigate an otherwise costly drilling expense. For a drilling fluid to perform optimally, the fluid must stay in the borehole. However, it is quite frequent to encounter undesirable formation conditions in which some or practically all of the drilling fluid may be lost to the formation itself. These fluids can leave the borehole through large or small fissures or fractures in the formation.
How Solazyme Can Help Big Oil & Gas Go "Green"
In recent years, the drilling industry has sought to clean up its act. In a bid to avoid as much regulation as possible, companies have sought to use more environmentally-friendly fluids and other products in order to dismiss the contamination risks often associated with hydraulic fracturing. For instance, in late 2012, Chesapeake Energy Corp. (NYSE:CHK) stated that it planned to develop a 100% green mixture of fluids used to fracture gas and oil formations underground.
Moving along with the trend of "going green" in the drilling industry, Solazyme appears to have developed its own line of biodegradable additives used for this very purpose. According to U.S. Patent Application #20120247763, found here, Solazyme is exploring the potential production of biomass-based oil field chemicals. This consists of fluid loss control agents, viscosity modifiers, emulsifiers, lubricants, and density modifiers, which can be used for oil field drilling applications.
The microbial biomass is described within the patent application to be both a cost-efficient and biodegradable additive for use in well-related fluids. The idea of an encapsulated oil product can be found in the cited section found below:
[0138] While oleaginous microbial biomass, prepared as described above, can be directly used as a fluid loss control agent in accordance with the invention, spent microbial biomass can also be used a fluid loss control agent. Given the value of microbial oil, spent microbial biomass may be more commonly used as a fluid loss control agent, and methods of preparing such spent biomass are described below. [0139] For example, conditioned feedstock, optionally comprising a bulking agent, is subjected to pressure in a pressing step to extract oil, producing oil separated from the spent biomass. The pressing step involves subjecting pressure sufficient to extract oil from the conditioned feedstock. Thus, in some embodiments, the conditioned feedstock that is pressed in the pressing step comprises oil predominantly or completely encapsulated in cells of the biomass.
The Advantage Of Using Spent Biomass
Of particular interest in this cited section is the idea of using the spent microbial biomass. As the value of the algal oil can deliver much value, this patent application suggests that Solazyme may be using its leftover biomass in order to formulate Encapso. If Encapso is indeed a co-product, it serves as yet another means for the company to offset its production costs and further increase its potential margins.
One concern for many investors in Solazyme is the fact that the company uses sugars derived from sugarcane and corn in order to formulate its valuable oils. These feedstock costs make up "well over half the total cost" as stated by the company's CEO found here. Yet as I describe in my other article shown here, Solazyme intends to offset some of its production costs through to creation of biomass-derived products. These co-products can carry significant value that help mitigate some of the feedstock costs.
A Look At The Company Now
Solazyme now trades with a market capitalization of $958 million based on the last share price of $14.00 as of March 16. The company is currently in a ramping phase as it looks to bring online its first two large-scale commercial facilities. These two facilities will have a total nameplate capacity of 120,000 MT.
Previously, the company has stated that it expects to sell its oils at an average selling price of $2000/MT or greater. This suggests that within approximately 18 months the company may soon be able to produce more than $240 million in annual revenue from these two plants alone. Yet this too is before we even consider the sales of additional co-products.
For the last three years, Solazyme's revenue has stagnated, as the company continued to develop its technology platform. For the years 2011, 2012, and 2013, Solazyme took in total revenue of $38.97 million, $44.11 million, and $39.75 million respectively. The rapid growth of Solazyme's top line over the next two years should help in identifying the company as a growth play in the minds of investors.
While the company's margins will not be established until it reaches its nameplate capacity, management has reaffirmed that it expect its gross margins to eventually be over 30%. The most profitable of these business segments is expected to have gross margins in excess of 60%, based on the 2013 filed Form 10-K as shown in the graphic below.

Final Thoughts
The sheer market potential of Solazyme's product range should continue to impress investors looking for long-term growth. The company can address markets ranging from healthy nutritional oils, to fracking additives, to advanced biofuels, and even high-margin cosmetic ingredients.
For now, the company remains capacity-restrained as it vigorously looks to expand its manufacturing capability and reliably produce on a commercial scale. However, even as this plan gets put into motion, practical market development steps are being put into place. Rather than merely competing with Big Oil & Gas, Solazyme appears to be more than willing to address their needs in an environmentally-friendly manner. In doing so, it may potentially extract value out of an otherwise waste product while improving the margins behind its primary oil sales.
The recent extended run in Solazyme's share price may be pressing for a near-term pullback, but much of this will depend on the manner in which the market now views the company. Much of the risk once inherent to the company has now been mitigated. Will the company begin to steadily trade with a premium due to its long-term potential?
Solazyme now trades with a price-to-book ratio of 6.90 without considering the positive impact of consolidated financials. The premium now associated with the company remains forward-looking as it should be in light of the extended growth opportunity in front of the company. At this point, it remains advantageous for long-term investors to identify ideal entry points during future dips. The time for accumulation is far from over, but the use of discretionary purchases appears to be in order.
Disclosure: I am long SZYM. I wrote this article myself, and it expresses my own opinions. I am not receiving compensation for it (other than from Seeking Alpha). I have no business relationship with any company whose stock is mentioned in this article.