Brian Krzanich's new 2014 campaign is not entirely focused on tablets and smartphones. Intel (NASDAQ:INTC) is also committed to defending its profitable data center business. The company's new MXC optical connector technology strengthens its push to win more data center customers.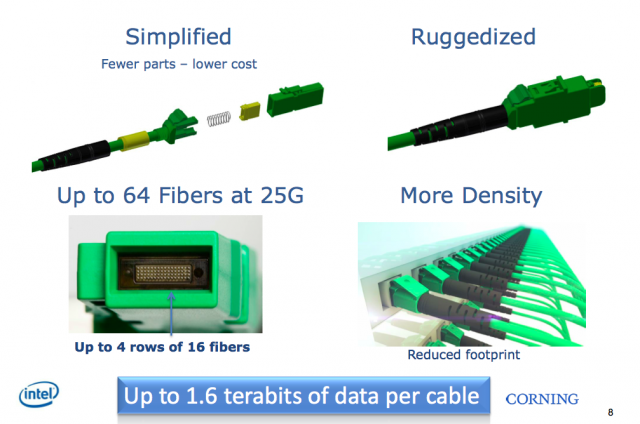 I know SA readers are more devoted to reading developments on Krzanich's grand mission to quadruple Intel's share in tablet chips this year. The market will also only likely move INTC beyond $26 if the company really makes a successful mobile x86 chip comparable to Qualcomm's Snapdragon.
On the other hand, I find it very important to write non-tablet or non-smartphone topics here to help readers learn more about Intel wins on other fronts. Let's face it - the Intel army is losing the war over mobile. Good propaganda on other areas where it is winning helps a lot in changing market perception.
Data Center Group Is Vulnerable To Attack
The sluggish performance of INTC may further deteriorate if Google (NASDAQ:GOOG) or Facebook (NASDAQ:FB) pushes through with their plans to create their own custom non-Intel server processors. My first article here at SA discussed just how ready and capable Google is in building a custom processor.
Ashraf did convince me that Intel has the low-power server chips which can address Google's need for energy-efficient server CPUs. I am also willing to believe that Intel will bend over and make custom CPU for Google so as not to lose it as a client. However, a reader of that particular article notified me that Google is still indeed serious about its custom CPU ambition.
This is just one example where Intel's success in data center sales is being threatened. Fortunately for us INTC believers, Krzanich is equally propping up the company's big data initiatives. Based on its latest earnings report, the Data Center Group is the company's star performer.
For fiscal year 2014, the PC Group revenue dropped by 4% and the Other Intel Architecture Group suffered a bigger 7% drop from 2012's numbers. The Data Center Group, on the other hand, posted $11.2 billion sales last year, which is a nice 7% increase from 2012's number.
I do not discount that INTC has a big chance of actually quadrupling its sales of tablet chips this year. However, a substantial decline in data center group revenue will grossly spoil such a sweet scenario.
It's therefore encouraging that Intel is giving equal emphasis to its data center division. The MXC connector update helps offset the gloomy rumor about Google's custom server chip efforts.
MXC Will Keep Big Companies Loyal to Intel
MXC promises to deliver unprecedented bandwidth speed increase for data center server infrastructures. Based on Intel's breakthrough Silicon Photonics technology, each of the 64 fibers in the MXC connector delivers 25Gbps - an aggregate of 1.6 Tbps bandwidth speed. The rise of big data requires companies to ultimately switch to optical technology. I'm happy that Intel's innovation is again leading this new industry shift.
As per Intel's own press release, 2.5 quintillion bytes of new data are being generated each day. There's a very urgent need for the whole data center industry to upgrade their hardware. MXC optical connector technology is ideal for firms to use on their entire system. The much slower copper cabling solution will become obsolete.
The MXC/Silicon Photonics standard will further improve to deliver up to 50Gbps speed for each fiber. If the worse happens and Google (and other big companies) abandon most of Intel server chips, Intel still has the revenue from MXC products to fall back on.
Aside from its impressive capability to produce up to 1.6 Tbps speed, Intel claims data center companies will also appreciate the energy efficiency of its MXC connector. Since MXC uses lensed connectors rather than physical contact between end faces of current connector technology, it has 10x the immunity to dust which is the leading cause of cable failures.
Corning helped Intel on this venture. The MXC uses Corning's ClearCurve LX multimode fiber product which allows 25 Gbps data transmission up to 300 meters distance. ClearCurve is also bend-insensitive, only 1/10 bend radius of older fibers. This flexibility is perfect for small-footprint micro servers that are now becoming a favorite among budget-conscious data center operators.
I'm hoping that Intel can use this product to lock-in its current customers. Microsoft (NASDAQ:MSFT) and Facebook are already testing MXC. I'd like to learn soon if Google also likes it. The Silicon Photonics technology has the potential to increase the MXC's current per-fiber 25 Gbps speed to 50 Gbps. If Google wants to really maintain optimal speed of its vast server infrastructure, Intel's MXC is a compelling buy.
Conclusion
Intel is wisely protecting its Data Center Group flank while simultaneously making an aggressive attack on the mobile front. Krzanich is no fool, his loud warmongering for tablet victory this year doesn't mean he is leaving Intel's profitable enterprise business unprotected.
The MXC/Silicon Photonics technology is a big stick to entice current and new corporate clients to use Intel-made data center solutions. If the high-margin Data Center Group delivers another 7% or higher year-to-year increase in sales next year, I predict a decent 20% upside for INTC.
Big data is set to breakout this year. IDG Enterprise's survey showed a lot of big and small companies are spending more money for big data projects.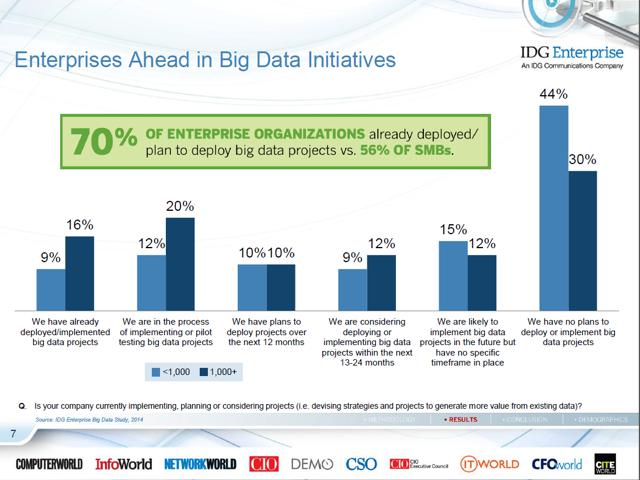 Quality and speed, which are MXC's strengths, are the main driving forces behind big data adaptation.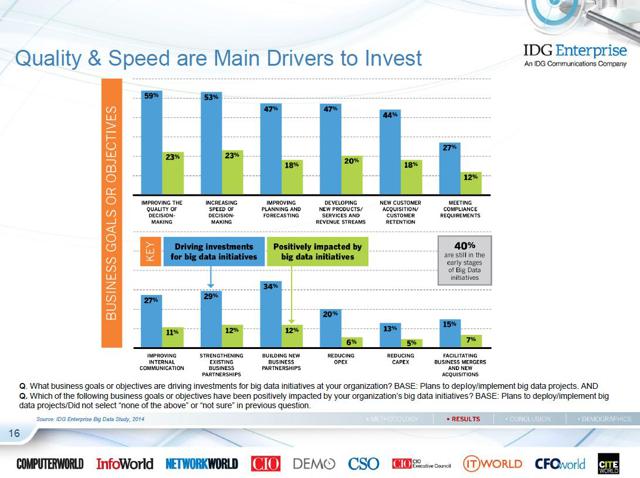 These charts inspire me to increase my INTC holdings. The company, unlike its precarious mobile front, is greatly-positioned to keep its leadership position in big data.
Disclosure: I am long INTC. I wrote this article myself, and it expresses my own opinions. I am not receiving compensation for it (other than from Seeking Alpha). I have no business relationship with any company whose stock is mentioned in this article.