General Electric (NYSE:GE) continues to be one of my favorite long-term investments in the industrial sector. General Electric is a true American icon: The industrial conglomerate was founded more than 120 years ago and its businesses offer everything from aviation systems to power plants and refrigerators. Given the diverse nature of its business mix, General Electric can be understood as market proxy. If the economy does well, so does General Electric.
Share price performance
General Electric's share price has corrected by approximately 9% since the beginning of the year and its 52-week high of $28.09 at the end of December. I believe the current pullback offers an interesting entry point for investors who are looking for long-term market exposure and have little desire to trade.
(Source: Yahoo Finance)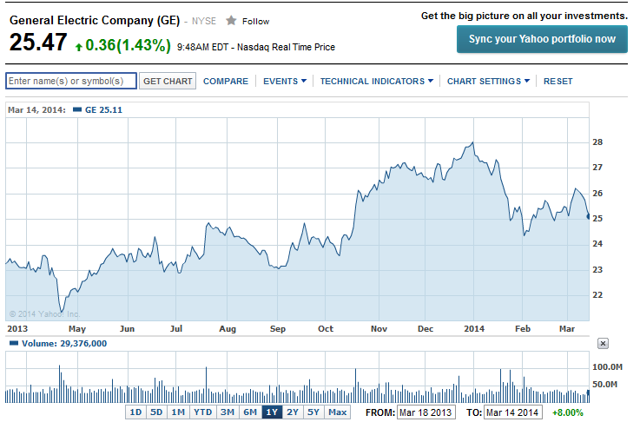 Click to enlarge
General Electric and other conglomerates have been doing well over the last five years as the global economy slowly worked its way back to normal after the financial crisis. I believe conglomerates have further rebound potential if unemployment in the United States and Europe continues to fall and the Chinese economy gains momentum. Going forward, emerging markets should play an increasingly important role for General Electric as well as other conglomerates.
(Source: Yahoo Finance)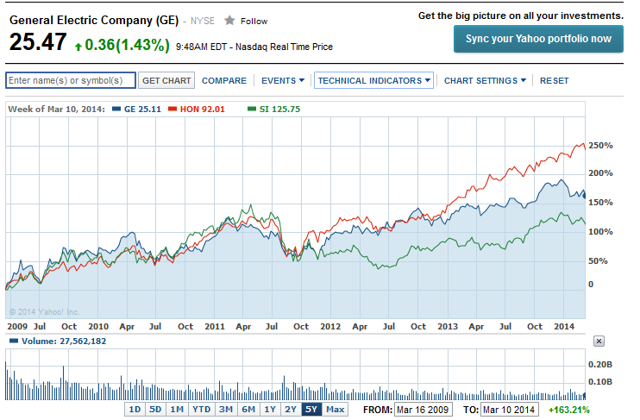 Click to enlarge
Intrinsic value estimate
From a free cash flow perspective, I think that General Electric trades substantially below its intrinsic value. I have previously estimated that General Electric has an intrinsic value of around $34-35 per share.
I have slightly adjusted my 2016/2017 estimate for General Electric's free cash flow to equity per share mainly because I estimate that the US economy will provide tailwinds for industrial conglomerates in the years ahead.
Correspondingly, I project, based on my free cash flow to equity estimates, that General Electric has an intrinsic value of slightly more than $36 per share (assuming end-of-year cash flows).
Since GE's share price also has consolidated since I last valued the conglomerate, General Electric now has even larger upside potential: Around 42%.
(Source: Achilles Research)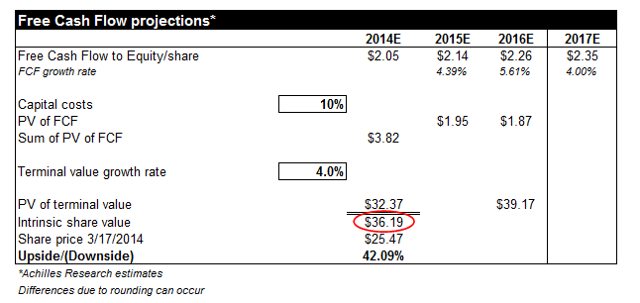 Click to enlarge
Market valuation
General Electric presently trades at less than fourteen times forward earnings -- which is equivalent to a solid earnings yield of 7.2%. General Electric trades at only a slight premium to the industrial conglomerate peer group average P/E ratio of 13.81.
(Source: Achilles Research, Finviz.com)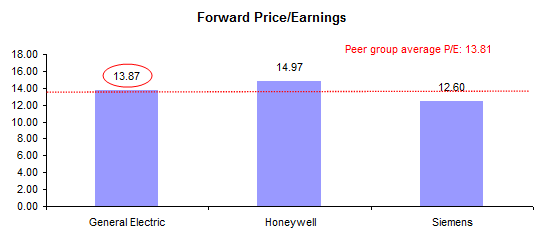 General Electric pays investors a quarterly dividend of $0.22 per share translating into an annualized dividend yield of 3.46%. I estimate that General Electric hikes its quarterly payout to $0.24 in 2014 which would bring the annualized forward dividend yield up to 3.77%. Although the yield looks appealing, investors need to realize that they are exposed to cyclical dividend adjustments -- meaning, General Electric is likely to hike dividends during good economic times, but is equally likely to cut dividends when the economic environment gets rougher. For instance, General Electric aggressively cut its dividend in 2000 (dotcom bust) and in 2009 (financial crisis).
(Source: Achilles Research, Finviz.com)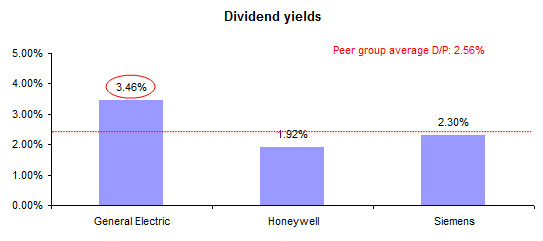 A summary table containing key valuation metrics is provided below:
(Source: Achilles Research, Finviz.com)

Click to enlarge
Conclusion
The consolidation of General Electric's share price offers an interesting entry point for long-term investors who seek exposure to an industrial conglomerate. General Electric, according to the indicative free cash flow valuation from above, has an intrinsic value of around $36 -- maybe $2/3 per share more or less if investors challenge my assumptions with respect to capital costs and growth rates. Nonetheless, the margin of safety is still sizable.
I also think that General Electric is a good bet on an economic recovery - both in the US and worldwide. Emerging markets will play a crucial role in driving incremental demand growth.
In addition to a decent margin of safety and cyclical tailwinds stemming from an economic recovery that could lift General Electric's share price, investors also benefit from a 3.46% dividend yield which is respectable. Long-term BUY.
Disclosure: I am long GE. I wrote this article myself, and it expresses my own opinions. I am not receiving compensation for it (other than from Seeking Alpha). I have no business relationship with any company whose stock is mentioned in this article.