If you owned Weyerhaeuser (NYSE:WY) stock at the end of the housing bubble, you had a rough ride. The stock, which was as high as $86 per share in early 2007, fell more than 80% to a mere $16 by July 2010. The stock now sits at $29, still well below previous highs. But the same factor that brought Weyerhaeuser's stock down so much six years ago is likely to bring it up again soon: the relationship between the housing market and the price of wood.
Company Description
Weyerhaeuser Company owns over six million acres of timberlands in the United States, making it one of the world's largest timberlands owners. It manages an additional 13.9 million acres in Canada through licensing agreements. The company is a leading manufacturer of wood and specialty cellulose fiber products. Structured as a real estate investment trust, it operates in four business segments:
Timberlands (16% of 2013 revenues): Consists of the company's operations growing and harvesting trees for lumber and other wood as well as building products, pulp, and paper.
Wood Products (47% of revenues): Includes the company's operations manufacturing a family of high-quality softwood lumber, engineered lumber, structural panels and other specialty products to the residential, multi-family and light commercial markets.
Cellulose Fibers (22% of revenues): Consists of the company's operations producing absorbent fluff pulp used in products such as diapers. The segment also includes the company's 50% interest in North Pacific Paper Corporation, a joint venture with Nippon Paper Industries that produces newsprint and high-brightness publication papers.
Real Estate (15% of revenues): Includes the company's wholly owned subsidiary Weyerhaeuser Real Estate Company (WRECO), which constructs single-family housing and develops lots for use or sale. In November, the company announced that WRECO would merge with a subsidiary of TRI Pointe Homes in a Reverse Morris transaction. Weyerhaeuser will receive $700 million in cash from TRI Pointe. After the deal, which is expected to close in the second quarter of 2014, WY shareholders will own 80.5% of the newly formed company.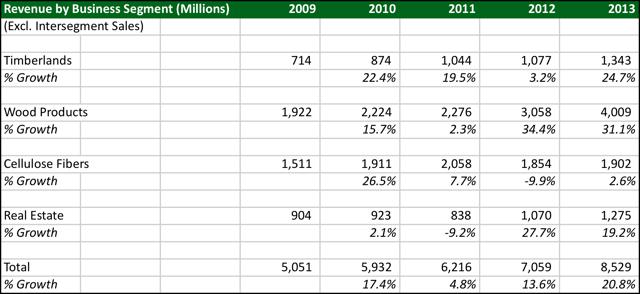 The table above shows the annual revenues (excluding intersegment sales) and the annual growth rate for each segment over the last five years.
The table above

shows the percentage of total revenue from each segment over the last five years.
Weyerhaeuser's wood products segment has been the most successful over the last five years, more than doubling from 2009 to 2013. At 47% of total revenue, it is now significantly larger than the other segments. Given the poor state of the housing market over the last five years, the poor performance of the real estate segment is not surprising. The company blames the struggles of the cellulose fibers segment on weak global economies, notably in Japan, and a weak Euro. As a result of the recent mix shift, Weyerhaeuser now earns 63% of its revenues from simply selling logs, lumber, and other forms of wood. It is more exposed to the price of wood than ever before.
Methodology
We use the Hanke-Guttridge discounted free cash flow model in our analysis. It uses the stock price to attempt to understand the expectations being discounted into the stock price and how they compare to the company's operational history. We usually normalize the entire cost structure as a percentage of revenue and use balance sheet growth to estimate capital expenditures.
To model Weyerhaeuser, we first stripped out the Real Estate segment, which will not be part of the company after the Tri Pointe deal. We also therefore had to include the compensation WY shareholders will receive from that deal in our model. It consists of $700 million in cash and an 80.5% stake in the WRECO/Tri Pointe combined company (which we valued by applying Tri Pointe's book value of 1.77 to the pro forma company).
In WY's new business model, all revenue will ultimately come from trees that the company cuts down and sells either as wood or as specialty fibers. So we looked at revenue using the basic relationship of revenue = price * quantity. WY revenue depends on the amount of wood they can cut down in a given year, and the aggregate price at which they can sell that wood (and related products). Our estimate for the historical aggregate price comes from dividing fee depletion into continuing (non-Real Estate) revenue.

We used a similar methodology to look at Weyerhaeuser's operating expenses. These are fairly stable; the amount of money required to grow, chop down, and process trees does not change much. Instead of looking at operating expenses as a percentage of revenue, we therefore modeled them per cubic meter of wood depletion. As with revenue, we stripped out the costs associated with the Real Estate segment.

DCF Sensitivity Analysis
We like to look for situations for which the market is ignoring any possibility of a return to some long-term average. These opportunities produce outsized returns because the market is focused on short-term noise, ignoring the fact that long-term averages are long term for a reason - they tend to stick around. We believe stock of Weyerhaeuser represents such an opportunity. As the sensitivity table below demonstrates, the price of WY does not fully reflect what an improving housing market will do for its revenue growth and margins.
The tricky part of this equity analysis was finding a way of illustrating the company's leverage to rising wood prices and the rate of wood depletion. By normalizing WY's value-drivers in terms of cubic meters of wood harvested, we are able to isolate the stock's sensitivity to changes in the quantity harvested and the price received.

The price of wood as described above averaged $0.47 between 2000 and 2013, a period that includes a mild recession and a housing boom/bust cycle. The market, in contrast, is discounting a "wood price" of less than $0.40 over the next ten years by pricing the company at $29 per share. But considering the diverse set of circumstances that has impacted the previous fourteen years, there is no reason why the average wood price should not be similar to $0.47 over the next ten years. The standard deviation of the price of wood over the last fourteen years is 0.14, putting 2013's results almost a full standard deviation below average. A reversion back to that average has in fact already started, largely thanks to an improved housing market.
Company management has begun to emphasize a stronger housing market in its most recent conference calls. Total United States housing starts were 923,000 in 2013, an improvement of 18% over 2012. Management expects this will be 1.1 million in 2014. Weyerhaeuser observed higher prices for Western logs, and that momentum has carried over to the first quarter of 2014, thanks to more robust Chinese demand. Pricing is also up for cellulose fibers.
Meanwhile, Weyerhaeuser has invested heavily in acquiring timberlands over the last year; it purchased Longview Timber for $2.65 billion in July. The deal gave WY an additional 645,000 acres of timberlands in Washington and Oregon. The timberlands in these areas are all over-mature, meaning they can be harvested immediately by the company. With 6.6 million total U.S. timberland acres, Weyerhaeuser is now better suited than ever to take advantage of better demand for wood by increasing fee depletion.
Executive Compensation
Another attractive feature of Weyerhaeuser is its extremely shareholder-friendly executive compensation plan. Short-term cash incentive awards are dependent on return on net assets (RONA), calculated as EBIT divided by average net assets. Long-term variable compensation is entirely equity, consisting of 50% performance share units (PSU), 25% stock options, and 25% restricted stock units (RSU). Size of the PSU is determined by the company's total shareholder return (TSR) over the last two years compared to that of the S&P 500 as well as free cash flow generation.
Compensation is very heavily skewed toward long-term equity incentives. The charts below, which break down compensation for Chief Executive Officer Doyle Simons and other key executives, show that between 55% and 70% of their compensation takes the form of equity incentives. Using RONA, TSR, and free cash flow generation to determine compensation makes management heavily incentivized to act in shareholders' best interests.

Return of Cash to Shareholders
Weyerhaeuser offers a dividend of $0.22 per share per quarter, which translates to a 2.9% annual yield. It has consistently increased its dividend since 2010, when its regular dividend was only $0.05. It did, however, pay a dividend of $26.61 per share as a result of its conversion to REIT status that year. That dividend was mainly in the form of common stock, and WY's shares outstanding increased from 211 million to 536 million that year as a result. Since then, the number of shares outstanding has increased slightly. In 2011, the company did approve a $250 million stock repurchase program. As of the end of 2013, the company had $233 million remaining in this program. As a REIT, Weyerhaeuser will pay low taxes but must pay out a very large dividend. The company is targeting a dividend equal to 75% of funds available for distribution in the future.

Conclusion
Weyerhaeuser stock presents an attractive opportunity. The market is discounting an average product pricing level into the stock that the company should easily exceed over the next ten years. In addition, management, which is incentivized to act in the best interest of shareholders, will not harm total shareholder return through poor uses of cash. For those who believe in a housing recovery, or just a recovery in wood prices, WY offers a compelling value with seemingly modest downside risk.
Disclosure: I am long WY.
Business relationship disclosure: Blue Jay Research is a team of financial industry professionals and students. This article was written by Ryan Guttridge, CFA, Bennett Rosenbach, and Daniel Elkin. Ryan is a Fellow at the Johns Hopkins Institute for Applied Economics, Global Health and Study of Business Enterprise. Bennett and Daniel are students at Johns Hopkins. We did not receive compensation for this article (other than from Seeking Alpha), and we have no business relationship with any company whose stock is mentioned in this article.