A stream of events is coming our way this month that can impact the financial sector especially the banks. First of all an anticipated rise in interest rates can act as a catalyst. Other than this, on March 20 the bank is expecting results for the Dodd/Frank stress tests that basically assess a bank's ability to deal with adverse economic conditions or a recession. Last but not least, the Comprehensive Capital Analysis and Review (CCAR) will be completed on March 26 and that will determine whether the Federal Reserve has approved or denied the bank's plan to return capital to shareholders. These events are capable of providing bullish tailwinds for many banks but in my article I will be focusing particularly on Bank of America Corporation (NYSE:BAC).
Rising Interest may Be A Favorable Impact For BAC
The 10-year Treasury yield has been lifted upwards by 13 basis points since the start of this month. LIBOR rate will also see a rising trend in the coming months that will eventually add to the bank's top line. Rising interest rates will surely enable Bank of America to make more money since it will widen the difference between payment on deposits and charges on the loans they make. The company has its liabilities with maturities longer than that of its assets and that indicates that it can reinvest its assets at higher interest rates sooner than paying higher rates for its liabilities. Hence net interest yield earned by the bank will continue to increase and bolster the net interest income for the company.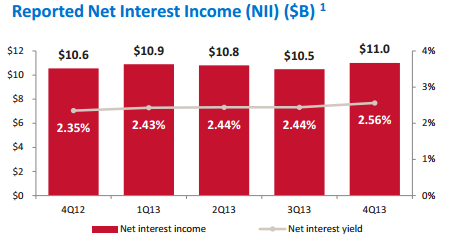 Source: BAC Quarter 4 Presentation
The market's vulnerability to rising interest rates will also be an important factor to consider. If consumers become reluctant to raise finance during high interest rate periods then this rosy picture will not materialize.
Expected Dividend Hike Is Good News
A study conducted by financial Information firm Markit anticipates a dividend hike coming soon from banks after the Federal Reserve announces the results of its CCAR (Comprehensive Capital Analysis and Review) program.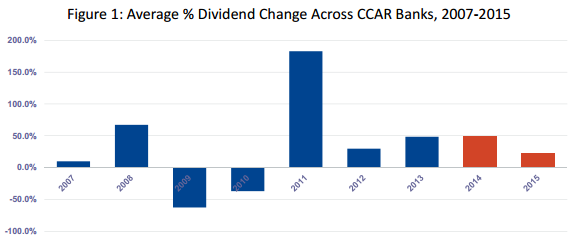 Source: Markit
It predicts that the Bank of America is going to increase its dividend by 400% to 5 cents per share that will take its dividend yield to 1.2%. Although 400% represents a huge increase it still lags behind its competitor JPMorgan (NYSE:JPM) that is expected to double its payout to 10 cents per share or a 1.45% yield.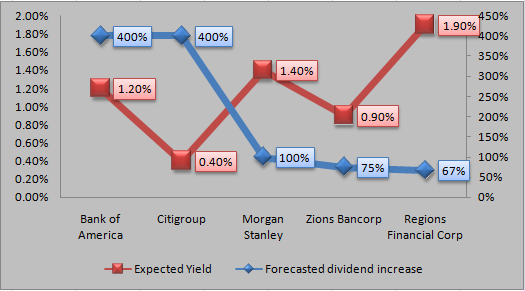 Source: Markit
On March 26 if the Federal Reserve approves the dividend request for 2014 it would be indicative of the fact that the Bank of America has been set to progress after the bank suffered badly during the financial crisis. The approval can lead the stock price to new heights. The bank is estimated to have a payout ratio of 12% in 2014 and the Federal Reserve discourages a payout of more than 30% which implies that Bank of America is far from worry. It has a lot room left to pay its shareholders back before its payout reaches 30%. To me it's highly likely that Bank of America will receive approval for its capital distribution for shareholders since it has adequate capital and exceeds minimum requirements as illustrated in the table below.

Source: BAC Quarter 4 presentation
The Road Ahead
Other than the short-term price impact of the above-mentioned events, Bank of America has made some moves that will make the bank resilient and allow it to propel forward into the future. Some moves have greatly been admired by the market since their initiation such as the New BAC plane that made the bank operationally efficient. Bank of America successfully managed to cut down its costs by closing branches and reducing headcount year over year since the plan was implemented back in 2011. However this approach may come with its demerits. Bank of America is moving towards branchless banking and emphasizing more and more on mobile banking and this raises the threat that one day Bank of America will become a bank that will be difficult to interact with. This scenario may cause the company to lose out a bit of its business. On the brighter side, there remains the undeniable fact that the Bank of America has undergone a transition in its focused services from consumer banking towards credit facilities, loans, asset and wealth management, and brokerage services. These kinds of services are more profitable than normal banking and are less time-consuming. Hence the smaller branch base will work in the favor of the bank by reducing costs in terms of personnel expenses as well as lease payments. Currently the Bank of America has an award winning online banking system with 30 million active users and more than 14 million mobile users highlighting the fact that the bank's operations are on the right path.
Moreover Bank of America has turned to a more efficient and safer bank as the quality of its assets continually improve. Throughout the year 2013 the bank provided lower credit losses and allowances for loans and leases quarter over quarter. This scenario communicates that this bank is once again a solid and robust financial institution.

Source: BAC Quarter 4 Presentation
Apart from the cost reduction approach Bank of America is seriously focusing on its options to bolster its top and bottom lines. Recently the bank came up with its "Safe Balance" initiative. This program is designed in a manner to secure a stream of long-term revenues for the bank along with reducing costs. This initiative is also admirable since under this the company will charge a monthly fee of $4.95 on low balance accounts to avoid over-drafting. The bank has waived the per transaction fee of $35 that will help it retain its customer base. It will also help lure young customers that can potentially move into a higher earnings bracket and thus can enhance the customer base for the bank when free checking accounts are rolled out nationwide later this year. Consistent revenue from the monthly charge of $4.95 per account may add a lot to the company's top line without being a burden to consumers' pockets.
Another bright spot for the bank is the UK economy that has started to recover after the 2008-09 financial crisis. It has flourished enormously and is going to regain its pre-recession heights this year almost 3 months earlier than expected. The economy in the region is expected to grow by 2-3% compared to 1.8% last year. Other economic indicators such as house prices, unemployment rates, and interest rates are also becoming favorable. Individuals and businesses have regained confidence and now they will need finances to expand their business enterprises. This is where the opportunity arises for financial institutions and Bank of America has the guts to take advantage of this opportunity. Lending out to SMEs (currently facing shortage of finances) will enhance its customer portfolio and add to both its top and bottom lines.
Over the previous year Bank of America's stock secured its highest price appreciation of 44.46% compared to its peers Citigroup (NYSE:C) and JP Morgan whose stock price moved up by 2.19% and 15.19%, respectively. Comparing the company's PEG ratio with its peers and the industry also supports the conclusion that BAC's stock is undervalued and signals a greater level of value inhibited in it.

Source: Yahoo Finance
Yahoo Finance has provided a median price target for Bank of America's stock of $18 and a high price target of $21. This identifies a 4% upward potential for the median and a 21.5% upward potential for the higher target.
Final Take
Bank of America is trading at a price of $17.28 that is at a discount to its book value per common share of $20.71 meaning the stock is undervalued. I would suggest entering the stock ahead of the upcoming events (mentioned previously) as I believe they will have a bullish impact on the stock price. In the long term, Bank of America is well positioned to act as a corner stone in a value investor's portfolio.
Disclosure: I have no positions in any stocks mentioned, and no plans to initiate any positions within the next 72 hours.
Business relationship disclosure: The article has been written by a Blackstone Equity Research research analyst. Blackstone Equity Research is not receiving compensation for it (other than from Seeking Alpha). Blackstone Equity Research has no business relationship with any company whose stock is mentioned in this article.