By Brian Nelson, CFA
Valuentum's equity research covers a lot of ground. Not only do we assess fundamental components such as revenue and earnings growth and technical considerations such as relative pricing strength in the 16-page stock reports, but the one-page supplemental dividend reports showcase each firms' dividend yield, strength and track record. In this article, let's assess the prospects of General Electric's (NYSE:GE) dividend.
As a partner for financial advisors, we rely on the weight and depth of our research and analysis, which goes well beyond historical data, to arrive at a pertinent and relevant fundamental free cash flow measure of dividend health, the Valuentum Dividend Cushion. We're one of the few independent companies that provide full financial statements and forecasts of free cash flow of a company long into the future to determine just how safe a cash dividend truly is. In-house research sometimes falls short.
The Valuentum Dividend Cushion tool, which is used by financial advisors far and wide, is based on a company's future fundamental cash-flow generation and the health of its balance sheet, helping avoid the two major factors that cause dividend cuts. The score is forward-looking and meaningful. For example, in the case where one of your dividend-growth holdings has a score of 2, an investor can confidently say the following:
Company XYZ can cover its future cash dividends and embedded growth rate in them (as shown in the dividend report) with traditional free cash flow (cash flow from operations less capital expenditures) and after considering the obligations of its balance sheet by 2 times during the next 5 years.
Financial advisors find this tool quite valuable as a supplement to their in-house research that they perform for their income clients. Nobody wants the call from the client that a company in their income portfolio cut its dividend. Ouch! We've invested a lot of our efforts to help financial advisors avoid that troubling message. The Valuentum Dividend Cushion score can easily be compared to those of other firms (as shown below) -- it offers a safety ranking system, to a degree. In finding a great dividend growth stock for their income clients, we help advisors look for firms that have an excellent combination of a high dividend yield and a Valuentum Dividend Cushion score comfortably above 1 (preferably above 1.25). The beauty about the assessment is that it is completely independent--you don't have to deal with others talking their books, for example.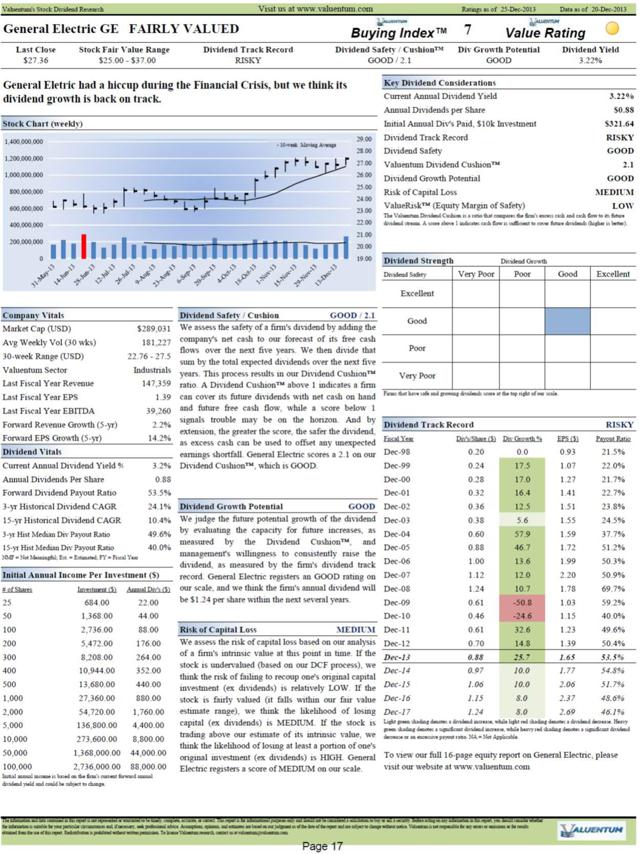 With that said, let's get started in the assessment. First, please take a look at the one-page tear sheet above. It addresses dividend safety, dividend growth, and a firm's dividend track record. What a handout to give to your clients. Under the framework, the safety of GE's dividend is good (please see the rating in the report above), as GE's Dividend Cushion score is north of 2. This indicates to us that the company can essentially double its dividend before we would even start growing concerned about the safety of it. Recent moves by GE such as the planned initial public offering of Synchrony Financial will also go a long way to filling its cash coffers for future dividend growth (and safety). GE's fourth-quarter performance was also fantastic, particularly with respect to its industrial operations:
General Electric reported excellent fourth-quarter results that showed robust order and backlog growth. The company's revenue nudged 3% higher in the period as industrial sales advanced 6% (5% organic) offset in part by an expected decline in revenue from its finance arm, GE Capital. Industrial segment profit jumped 12%, with six of seven segments growing earnings. The conglomerate's industrial segment margins during the period advanced an impressive 100 basis points, to 18.3%. Fourth-quarter operating earnings per share leapt 20%, to $0.53. GE's cash flow performance continues to be top-notch, with full-year cash from GE operating activities (CFOA) coming in at $17.4 billion.

GE's infrastructure orders for the fourth quarter leaped 8%, "growth market" orders increased 13%, and expansion in Europe showed resilience (orders were up 3% in the region). We continue to be impressed by the significant backlog expansion at GE (shown in image below) and believe it bodes well for future top and bottom-line expansion at the industrial conglomerate. GE hauled in $6.4 billion in "Power & Water" equipment orders and $4.1 billion in "Aviation" orders during the period. Services order expansion at these divisions was also robust, while orders from China surged 25%. Overall, the firm's equipment book-to-bill ratio was 1.3 (above 1 is good) during the period, and its services backlog reached a high of $180 billion (shown in blue below), revealing significant expansion on a sequential basis.
Image Source: GE
We're comfortable with GE's expected pace of top-line expansion in 2014 (industrial segment growth is expected to be 4-7%), and the company continues to look to enhance its profit profile. Having already removed $1.6 billion in structural costs in 2013 (ahead of plan), GE is targeting another $1+ billion in structural cost reductions this year. We expect the company's 'simplification' measures to result in strong consolidated earnings expansion in 2014, given order and backlog trends and in spite of shrinking GE Capital's book of business. GE's target for $14-$17 billion in cash from GE operating activities (CFOA) is roughly double the amount the company paid out in dividends to shareholders during 2013 (about $7.8 billion). We're expecting another big dividend increase at GE during 2014 as its cash flow can certainly support it.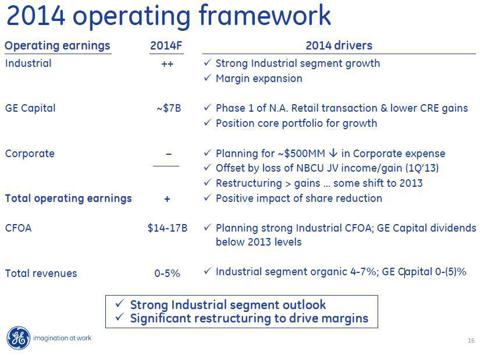 Image Source: GE
Now on to the potential growth of GE's dividend. As we mentioned above, we think the larger the "cushion" the larger capacity a company has to raise the dividend. However, such dividend growth analysis is not complete until after considering management's willingness to increase the dividend. Capacity and willingness are two key concepts for dividend growth to materialize -- you can't have one without the other. We evaluate the company's historical dividend track record. If there have been no dividend cuts in many years, the company has a nice growth rate, and a nice dividend cushion, its future potential dividend growth would be excellent, which unfortunately isn't the case for GE. But instead of being scared, we see opportunity.
Many investors know that GE's dividend track record has been spotty in recent years, as it cut its dividend during the Financial Crisis. However, its planned spin-off of Synchrony will significantly reduce the risk profile of its operations -- the risk related to its financial arm was largely responsibile for its dividend cut in the first place. So, while we rate GE's dividend track record as risky, we think we may be a bit punitive in this backward-looking assessment. After all, a dividend growth assessment should be forward-looking, and GE's forward-looking potential for dividend growth on the basis of its Dividend Cushion score is fantastic.
All things considered, General Electric has disappointed income investors in the past, but we think it's time to reconsider this dividend growth gem. We like shares quite a bit and would not be surprised to see both strong capital appreciation and dividend growth in coming years.
Disclosure: I have no positions in any stocks mentioned, and no plans to initiate any positions within the next 72 hours. I wrote this article myself, and it expresses my own opinions. I am not receiving compensation for it (other than from Seeking Alpha). I have no business relationship with any company whose stock is mentioned in this article.
Additional disclosure: GE is included in the actively-managed portfolios.