Investors in Document Security Systems (NYSEMKT:DSS) have undoubtedly been on a roller coaster ride over the last year or so. Not only has the company changed with its merger with Lexington Technology group ("LTG"), but shares have as well.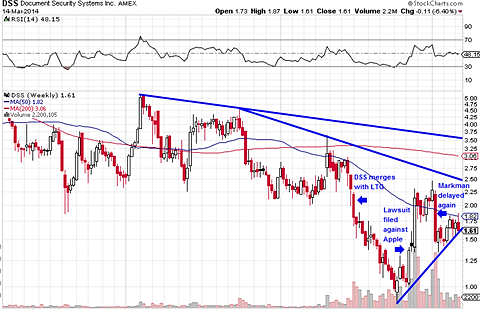 After DSS merged with LTG back in July, shares have been hard pressed to be able to gain the momentum they once had before the merger was completed.
In January, shares briefly touched levels not seen since the merger, but that was short-lived after it was announced that the US District Court of Northern California issued a stay of proceedings in the Bascom Research case (a wholly-owned subsidiary of DSS). This unfortunately meant another delay (the second time in five months) for investors in DSS with regards to the Bascom case against Facebook (NASDAQ:FB) and LinkedIn (NYSE:LNKD).
The reason for the stay was in light of Alice Corp. v. CLS Bank Int'l, a Supreme Court case covering the patentability of software. All eyes will now be on the Supreme Court's ruling in the case of Alice Corp. v. CLS Bank Int'l. It's anticipated that a ruling will likely be made in June and the Markman hearing for DSS will be rescheduled shortly thereafter.
Luckily for investors, the company has not put all of its eggs into one basket, as it operates in varies segments. First, the company licenses and monetizes its patents and intellectual property. Second, the company also develops anti-fraud, anti-counterfeiting, authentication and mass-serialization technologies for governments, corporations, etc. The bad news for investors is that the monetizing aspect of the company's patents and patent portfolio's looks to be harder than first thought.
VirtualAgility ("DSS") V. Salesforce Et Al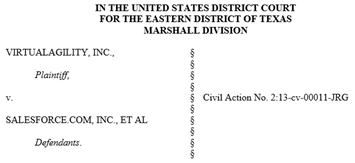 VirtualAgility Inc, is an enterprise software company that sells cloud-based and computer technology. Last year, the company filed a patent infringement lawsuit against Salesforce, Et Al last year. So what does this have to do with DSS you might be asking? For those that are not aware, DSS is an investor in VirtualAgility.
The alleged infringing products are cloud-based software, which includes the Sales Cloud and Service Cloud applications. On February 27, 2014, Judge Rodney Gilstrap denied the Defendants' Motion to Stay and issued the Markman hearing to take place on April 3, 2014.
Salesforce Under Review
Nobody can deny Salesforce's success over the years, as the company continues to grow into a multi-billion dollar business. However, things don't seem to be all that rosy as some investors might think. Let me explain.
Two weeks ago, fellow SA contributor James Ryans wrote a very interesting article on Salesforce titled; Salesforce.com Can't Tell You Where Its Revenues Come From. I would encourage all investors to read the article to get a better glimpse of what DSS and other companies are up against.
After major scandals (Enron, etc.), rocked the investment community during the early 2000s, new rules (Sarbanes-Oxley Act) were put into place to better protect investors. So what did the Securities and Exchange Commission ("SEC") find while reviewing the business of Salesforce? Below are some of the responses.
Salesforce responded to a multiple of SEC reviews and filings, saying that it could not tell what products were growing sales, or whether those sales are coming from new customers, upgrades, or additional subscriptions to existing customers. Not only that, but when asked to describe the growth of each of their four core service offerings, Salesforce could not provide the details.
When Salesforce was asked to identify the revenue growth separately due to new customers, upgrades, and additional subscriptions, Salesforce said that it does not have the data to do so. I'm not much of a conspiracy theorist, but perhaps it's not a coincidence that the CFO and other executives and directors have left the company.
Conclusion
Those in the Intellectual property industry know it takes a lot of time before one usually receives the fruits of their labor. Just ask companies such as VirnetX (NYSEMKT:VHC) and Vringo (VRNG) who are currently down this path. Both companies have been awarded favorable decisions in court (reaching upwards of one billion dollars), only to see the defendants continue to drag everything out and postpone judgment.
Of course there is some risk involved with IP companies. Without an underlying business model, many of these companies burn through a lot of cash. Secondary offerings then come into play which dilutes shareholder value. Not only that, but royalty payments are not always a given. Why? Simply because the defendants can work around the patents in question and thus avoid paying royalty payments to the plaintiffs. So what does this have to do with DSS and its investment in VirtualAgility?
Those investors who are counting on a huge windfall of money for DSS need to think about a couple of things for a moment. Even if things were to go DSS' way (The Markman hearing), there are still many possibilities and scenarios (Appeals, etc.) that could still play out and hurt DSS and VirtualAgility. It doesn't help either that Salesforce is showing a limited amount of visibility into its own business at the moment.
While I'm not here to point a bleak picture of DSS, I did want to point out that investors need to take a more realistic approach with the company. Those investors expecting a major run-up due to the Markman hearing in April, might be somewhat disappointed.
From what I understand and hear, DSS has a relatively small stake in VirtualAgility. Depending on how the winnings are divided up, a small award could have a very negative impact on shares. Why? Simply because investors have been lead to believe that a major windfall of cash is on the way, which in fact may not be the case. Because of this, I do not believe that shares will go on much of a pre-markman run considering DSS is just an investor in the case against Salesforce et al.
Luckily for investors, DSS has just recently filed a patent infringement lawsuit against Samsung Electronics Co. ("Samsung"), Taiwan Semiconductor Corporation ("TSMC"), and NEC Corporation of America ("NEC") in the United States District Court for the Eastern District of Texas, Tyler Division. This along with the Apple lawsuit that was filed last November, gives investors and the company a broader range of resources and revenue streams to tap into.
As always, I'm providing you with my track record and other particular stocks that I recommend. The link provided will show you all of my picks, how they have fared, and where I think they will be going in the near future. I think you will find my track record to be very impressive as well as useful.
Disclaimer: Investors are always reminded that before making any investment, you should do your own proper diligence on any stock mentioned in this article. Have a great day and as always, I look forward to hearing your thoughts or questions that you might have.
Disclosure: I am long VRNG. I wrote this article myself, and it expresses my own opinions. I am not receiving compensation for it (other than from Seeking Alpha). I have no business relationship with any company whose stock is mentioned in this article.
Editor's Note: This article covers one or more stocks trading at less than $1 per share and/or with less than a $100 million market cap. Please be aware of the risks associated with these stocks.