Sanderson Farms (NASDAQ:SAFM) is an integrated poultry processing company that produces, processes, markets and distributes fresh, frozen and prepared chicken products. For FY13, 50.5% of revenue was derived from fresh bulk pack, 34.4% from chill pack, 10.5% from frozen and 1% from the ice pack category. Geographically, the United States accounted for 89.1% of sales.
The company was founded in 1947 and is based in Laurel Mississippi. It started publicly trading on the Nasdaq in May 1987. Today, Sanderson Farms employs over 11,000 people. The company prides itself on its commitment to taking a fresh approach to everything they do and adhering to the values that have gotten them to where they are - value, honesty and integrity.
Outlook
In Q1FY14, Sanderson Farms reported net sales of $584.9 million, below the $595.8 million during the same period a year ago but ahead of the consensus estimate of $570.8 million. Meanwhile, net income surged to $28.9 million, or $1.25 per share compared with a loss of $0.31 per share for Q1FY13. This is also represented an impressive 47% surprise upside to the consensus estimate of $0.85.
The Company also revealed an extension to their stock repurchase program, to repurchase up to 1.0 million shares from time to time at prevailing prices in open market transactions or in negotiated purchases, subject to market conditions, share price and other considerations.
Although Sanderson Farms do not give quantitative guidance on their outlook, CEO John Sanderson did note that:
"While poultry markets were mixed compared to the same period a year ago, our grain costs were lower. Retail grocery store demand for chicken has remained steady. However, we continue to see weak food service demand, which remains under pressure as a result of macroeconomic conditions and was also affected by weather during our first fiscal quarter.

Weather also affected our first quarter results as we were forced to close several of our plants during the last week of January due to ice and snow. While we expect lower grain prices for the fiscal year and we experienced lower feed costs during the first quarter, grain prices have moved higher during February as a result of USDA's lower than expected corn carryout estimate reported earlier this month."
These weather related factors have resulted in lower expectations amongst analysts in the near term. Q2FY14 EPS expectations are $1.53 (Fig.1), 44% higher from a year ago but almost 12% down from expectations only 4 weeks prior. However, for the full year 2014, analysts have been slowly increasing their EOS forecasts with consensus now at $6.66, valuing the company at 11.6x forward P/E.
Fig.1 - Q2FY14 EPS Consensus Outlook for Sanderson Farms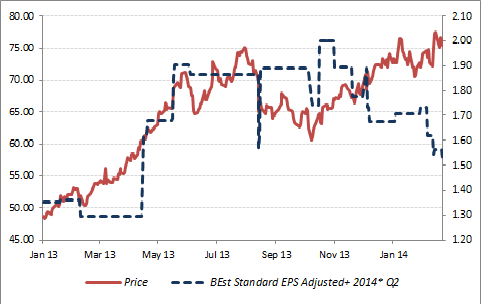 Source: Bloomberg
Fundamental Analysis
From a fundamental perspective, I break it down into two studies; Value and Quality.
Value
To determine value, I use the conventional approach of analyzing price multiples. I rank these into deciles with 1 being the cheapest 10% and 10 indicating the most expensive 10% of companies based on that specific multiple.
Then, I backtest the performance of each of these deciles going back over the past 14 years (end February 2000 to end February 2014) to determine whether the company is attractively positioned based on the historical returns. I conducted my tests across the Russell 3,000 Index.
Fig.2 - Sanderson Farms Value Analysis (lower rank = more attractive valuation)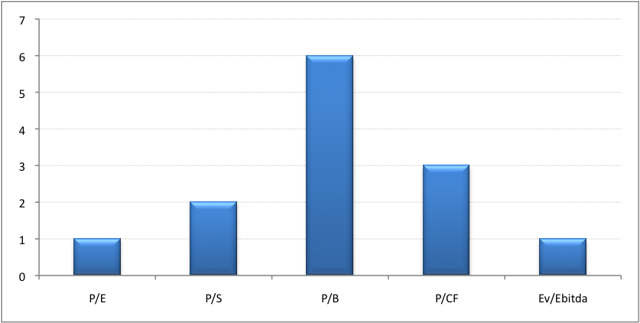 Click to enlarge Source: Bloomberg
Price/Earnings
The company's P/E of 10.7 puts it amongst the cheapest 10% of companies in the Russell 3,000. Over the past 10 years, companies in this decile have produced a CAGR of 18.3%, the best performing of the deciles.
Price/Sales
Sanderson Farms trades off a P/S of 0.7, ranking them amongst the cheapest 20% of stocks when measured on a P/S basis. Companies positioned in this 2nd decile have produced a CAGR of 13.7% since February 2000.
Price/Book
Unlike both P/E and P/S, when measured on a P/B basis, value is not as apparent. A P/B of 2.6 results in a decile rank of 6, meaning 60% of companies offer more compelling value. However, companies in this decile have produced a CAGR of 6.7% over the past 14 years.
Price/Cash Flow
The company trades off a P/CF of 7.1, which puts it in the 3rd decile. This has been the third best performing decile since February 2000, with a CAGR of 10.6%.
Ev/Ebitda
Ev/Ebitda of 5.4 ensures the company is ranked among the cheapest in the Russell 3,000. This has also been the best performing decile, producing a CAGR of 16.3%.
Quality
For quality purposes, I analyze profitability and break down the calculation of Return on Equity through DuPont analysis. Once again, I rank the components into deciles from 1-10. Then, I backtest the performance of each of these deciles on the Russell 3,000 going back over the past 14 years to determine whether the company is attractively positioned based on the historical returns.
Fig.3 - Sanderson Farms Quality Analysis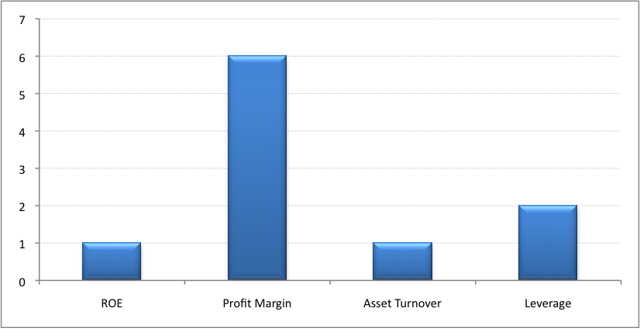 Click to enlarge Source: Bloomberg
Return on Equity
For investors who consider higher ROE to depict evidence of an economic moat and barriers to entry, Sanderson Farms appeals. The ROE of 26.5% puts it amongst the top companies in the Russell 3,000 with a CAGR of 8.2%. Although this is the second best performing decile, the results across ROE are quite mixed, with no clear evidence that the higher the ROE, the greater the returns. However, what I did find is that the volatility of those companies with higher ROE tends to be less volatile, reassuring for risk averse investors.
Profit Margin
Profit Margins are low at only 4.9% but historically, profits are mean reverting. Therefore, being ranked in the 6th decile is not a big concern because over the past 14 years, companies in this decile have produced a CAGR 9.3%, the third best performing decile.
Asset Turnover
With low profit margins, it is the asset turnover of 2.97 that has driven ROE. This puts the company in the top decile, which has also been the best performing decile, producing a CAGR of 11.9%. Leverage of 1.3. Rank 2. CAGR 4% = second worst performing decile
Leverage
Post the financial crisis in 2007-08, the use of leverage by companies has come under intense scrutiny. Sanderson Farms operates with leverage of only 1.3, putting it amongst the lowest 20% of companies. However, contrary to popular belief, companies in this decile have been the second worst performing, with a CAGR of only 4%. Incidentally, companies with the lowest levels of leverage have been the worst performing, being the only decile to produce a negative CAGR over the 14-year period.
Technical Analysis
The purpose of my technical analysis is all to do with trends. I examine the direction of the trend by simply analyzing price, the momentum of the trend through moving average convergence divergence (MACD) and the condition of the trend through the 14-day RSI.
Trend Direction
The share price has rallied almost 114% since the week ending 27th July 2012, easily taking out the 52-week high of $55.86. In recent weeks, the 52-week high of $75.53 was again taken out as the stock advanced to $78.53. Therefore, the trend is clearly up. Furthermore, there is support at the each of the 50, 100 and 200-week moving averages.
Fig.4 - New York and Company Weekly Price Trend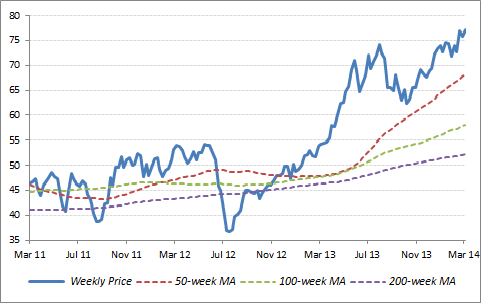 Source: Bloomberg
Trend Momentum
As the share price advanced to new highs in August 2013, there was some concern that momentum had not followed suit, suggesting a correction was forthcoming. Indeed, this is how things played out. Now, a similar situation is occurring on the weekly chart. Despite new highs in price, momentum is still lagging the momentum levels of 2013, which does raise some cause for a cautious approach. In saying that, momentum is still trending upwards at this moment in time.
Fig.5 - New York and Company Weekly Price Momentum using MACD (12,26)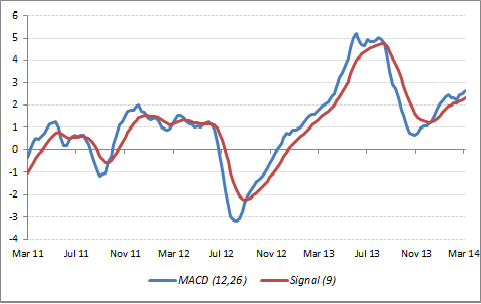 Source: Bloomberg
Trend Condition
The key levels to look out for on the RSI chart are 70 and above, which equates to an overbought condition. Meanwhile, a reading of 30 or below reflects an oversold condition. The RSI on the weekly chart for Sanderson Farms is 63.9. Therefore, it is approaching, but not quite yet reached, overbought territory.
Fig.6 - New York and Company Weekly Price Condition using RSI (14)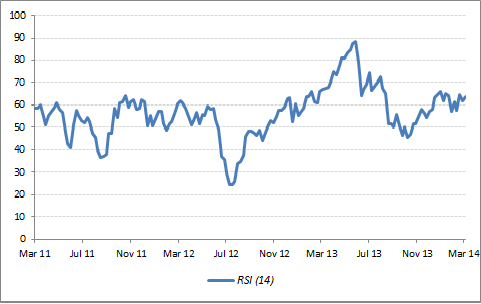 Source: Bloomberg
Looking at the three factors (direction, momentum, condition) on the weekly chart, there can be no denying the uptrend in place, which is well supported. Although the condition of the uptrend is nearing overbought, stocks in an uptrend can trade in an overbought condition for quite some time. My main concern is with regards to the divergence in momentum, which to me suggests a correction will ensue at some point. Therefore, the question is, does this correction offer an attractive entry point or signal that the uptrend in place since July 2012 has ended?
Conclusion
Sanderson Farms is a high quality, undervalued company, as evidenced from the results of my tests. On this basis alone, it is an attractive proposition for the long-term value investor. Furthermore, the trend in the share price is up, suggesting more upside in the coming months.
However, there are some concerns about the divergence of momentum from the price. It is also interesting to note that the price is now 40% higher than the 100-week moving average. When similar levels were reached 2007, 2008, 2009 and again in 2010, a correction typically followed. Therefore, while I think the price can continue its recent uptrend in the very near term, a 10-20% correction in the share price should be expected at some point this year.
I would treat any such corrections in price as an opportunity to add a position. I would be particularly interested in adding a position nearer the 50-week moving average at $68.24. I believe this area of support could hold barring a sizeable correction in the market itself. If such a market correction/crash were to occur, $58.09 and $52.15 mark the next areas of support for Sanderson Farms.
Disclosure: I have no positions in any stocks mentioned, and no plans to initiate any positions within the next 72 hours. I wrote this article myself, and it expresses my own opinions. I am not receiving compensation for it (other than from Seeking Alpha). I have no business relationship with any company whose stock is mentioned in this article.