A few days ago I was attending a REIT conference sponsored by Wells Fargo and while listening to a presentation by the bank's Chief Economist, John E. Silvia, a few things became obvious.
As Silvia was explaining his economic outlook for the US real estate recovery, he provided the slide below that suggests that the biggest improvement in housing is in the multifamily sector. Notably, Silvia presented a chart that illustrates that the number of renters has been accelerating steadily since 2007 while homeowners have been declining. This trend is likely to continue as the US population is becoming increasingly motivated to rent vs. own.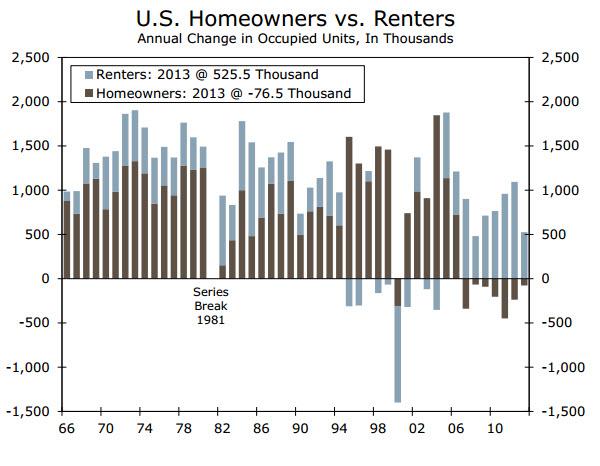 Silvia referred to the dynamics as a "secular shift" in which households are living in smaller homes with more people in them. Meanwhile, multifamily housing starts have seen a strong recovery and now the number of starts stands at levels comparable to before the Great Recession.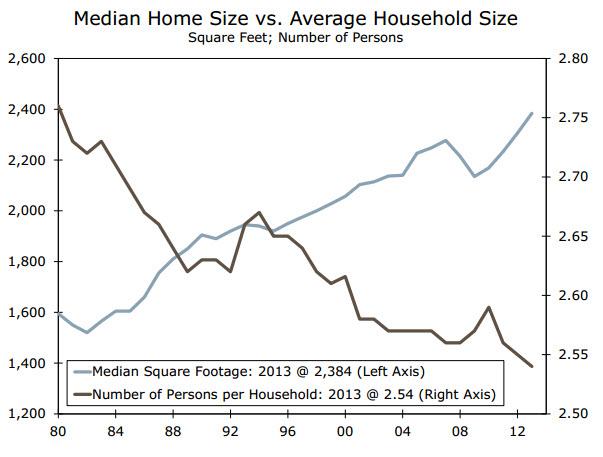 Although I believe Silvia's forecast is accurate (with regard to housing trends), I'm having a hard time investing in the apartment sector. With the exception of a few outlier REITs (like Home Properties), most of the Apartment REITs are trading at full price with little margin of safety.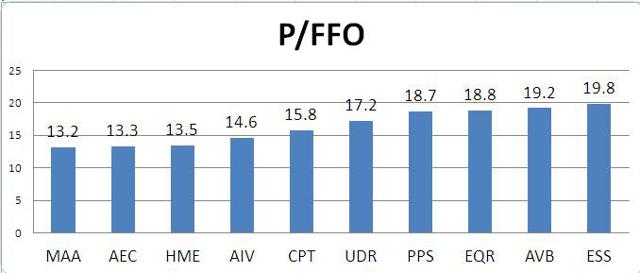 U.S. multifamily supply forecasts are expected to peak in 2014 at 161,640 total completions, or 1.6% of existing inventory; and by 2017 supply is expected to decline to 105,039 completions, or 1.0% of projected total forward inventory, and fall below the long-term average (source: SNL Financial).
It's plain to see that the affordability gap between renting and buying is largely in favor of renting, and that measure of predictability appears to be in favor of apartment owners. However, my biggest problem is where I can find a Multi-Family REIT that offers me the best of both worlds: predictability with a margin of safety.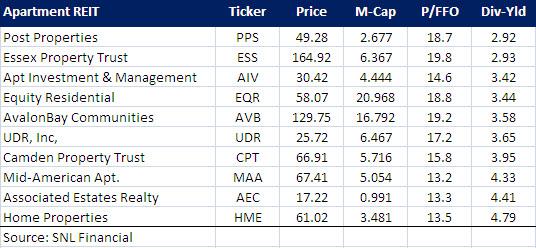 Equity LifeStyle Properties Could Be The Answer
Equity Lifestyle Properties (NYSE:ELS) is one of the nation's largest real estate networks with 379 "lifestyle" properties containing over 140,000 sites in 32 states and British Columbia. ELS has been a public company since 1993 and with over 40 years of experience, ELS has been a consolidator of highly fragmented manufactured housing properties. The majority of the properties are located in areas with lakes, rivers, or ocean frontage and more than 100 properties are within 10 miles of coastal US markets.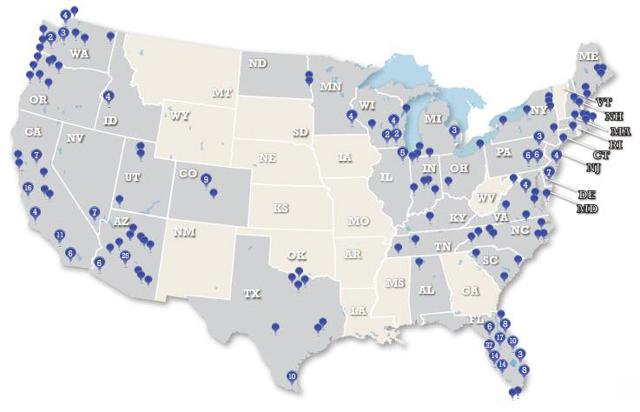 ELS's property portfolio consists of 201 manufactured/resort home communities and 178 RV resorts. This model provides the company with very steady and predictable revenue streams. Here is a snapshot of the company's property operating revenue buckets: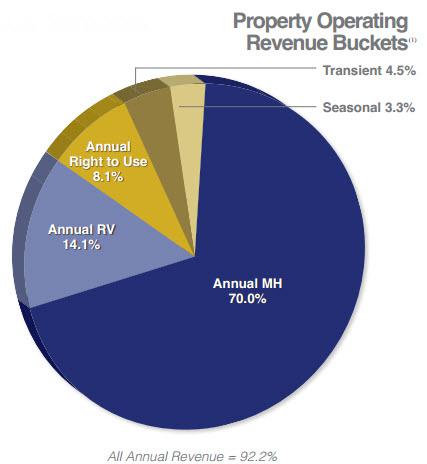 One of key demographic trends that favors ELS and the "lifestyle" investor is the increasing population of people age 55 and older, expected to grow by 26% from 2015 to 2030. There are approximately 8.5 million RV owners and there were over 230,000 RV sales in 2013 (source: ELS Presentation).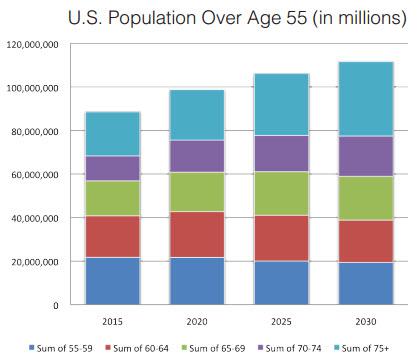 When compared with the broader Multifamily sector, ELS has outperformed the larger peer group based on historic Same Store NOI growth. Here is a snapshot that compares ELS with the REIT Multifamily industry since 1999.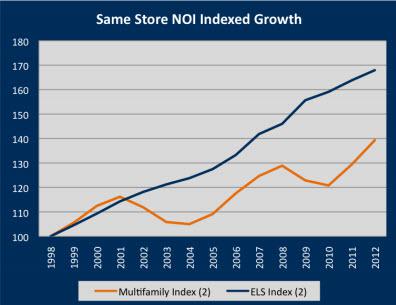 Over the last 15 years, ELS's Same Store NOI growth has averaged 3.7%, compared with 2.4% for all REITs, and 2.6% for the Multifamily sector. As illustrated below, ELS has maintained positive Same Store NOI growth in all quarters since at least Q3 1998.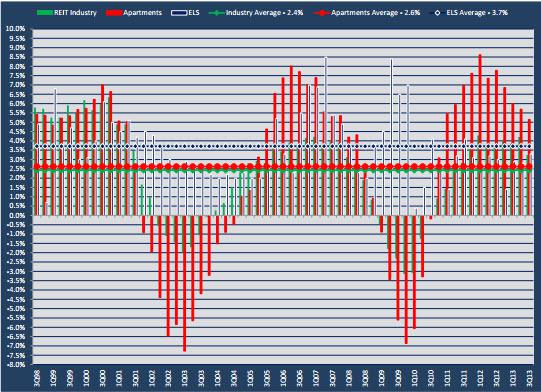 Equity LifeStyle's Capital Structure
During the fourth quarter, ELS's refinancing proceeds totaled $28.4 million and carry a weighted average rate of 4.35% for 25 years. These re-fi proceeds were used to retire $26.1 million with a weighted average rate of 5.81%.
At the end of the fourth quarter, ELS's unrestricted cash balance (net of January loan payoffs and the fourth quarter dividend paid earlier this month) was approximately $5 million. There is nothing drawn on the company's $380 million line of credit.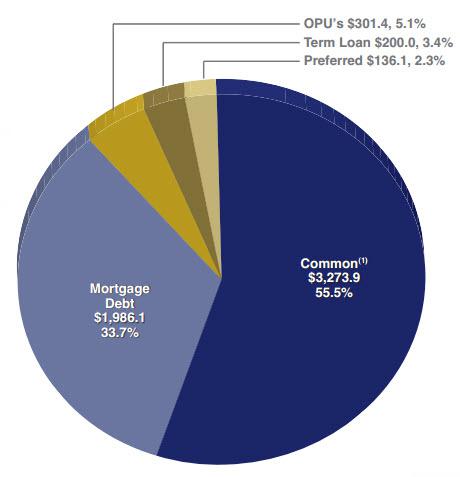 Current secured debt terms are 10 years of coupons in the 4.5% to 5% range, 60% to 75% loan to value and 1.4 to 1.6x debt service coverage. High quality, age-qualified, manufactured home assets continue to command the best financing terms. Here is a snapshot of ELS's Total Assets compared with the peer group: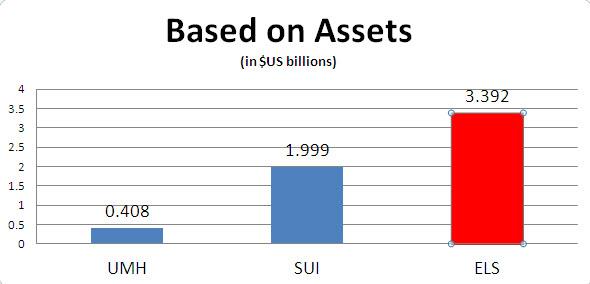 Here is a snapshot of ELS's percentage of secured debt compared with the peer group: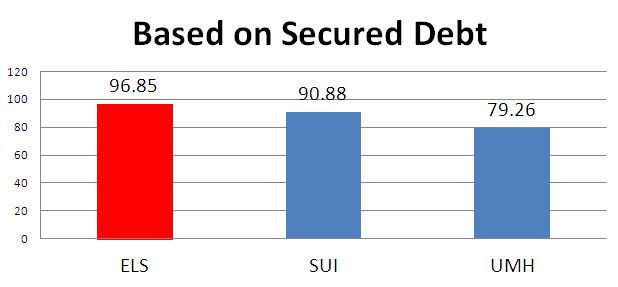 Here is a snapshot of ELS's Total Debt to Total Capitalization compared with the peer group: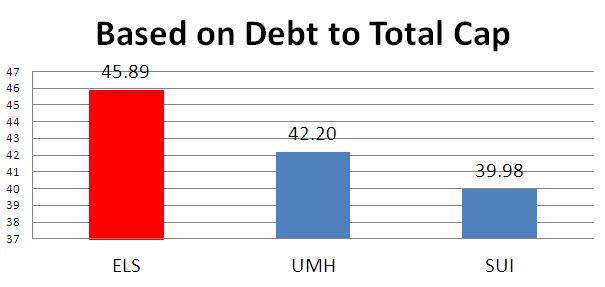 Equity LifeStyle's Performance Record
ELS's 197 manufactured home communities reported core occupancy of 92% and occupancy has grown for 17 consecutive quarters through 12/31/2013. The company's 177 RV Resorts reported core income growth (for the month ending 1/31/2014) of 7.8%. The company's annual growth rate for the same period was 5%.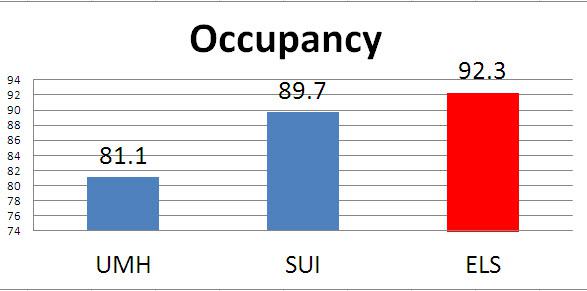 ELS's Normalized Funds From Operations (or FFO) per share for the fourth quarter was $0.62, $0.03 higher than guidance. Roughly half of the increase came from Core property operations, where the company saw strong revenue growth in the RV portfolio, and the other half comes from proceeds related to the settlement of hurricane litigation.
Core base rental income came in ahead of forecast, up 3% - with 2.6% coming from rate growth and 0.4% coming from increased occupancy. ELS increased occupancy at 88 sites this quarter, and the quality of occupancy continues to improve, as ELS gained 29 homeowners in the quarter.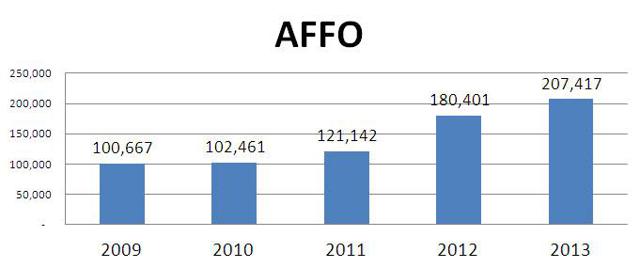 ELS's core RV revenue growth of 7% was driven by seasonal and transient revenue. Annuals performed in line with expectations, and revenues increased 4%, mainly due to occupancy gains in the North, Florida and the West. Revenues from seasonals were up 16%, and transient activity increased 16.5%. The growth in seasonal revenue was evenly split between rate and occupancy, with Florida and California generating most of the growth.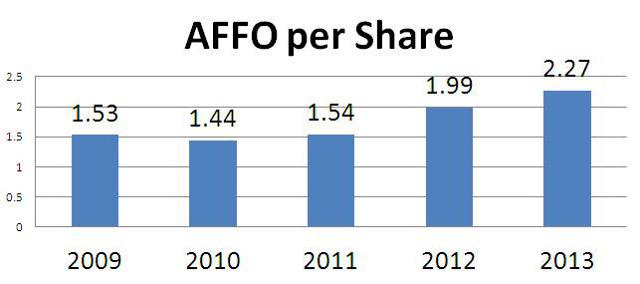 As evidenced by the FASTGraph below, ELS's earnings took a hit in 2004 and 2005 when the company's FFO fell hard; however, since that time the company has clawed back its earnings power and is building a highly repeatable trend of consistency.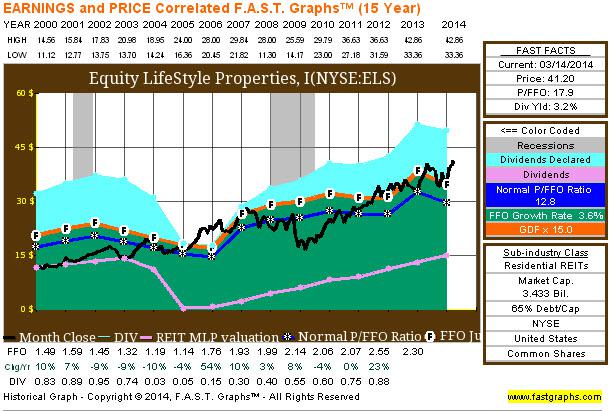 Here's a copy of the company's track record: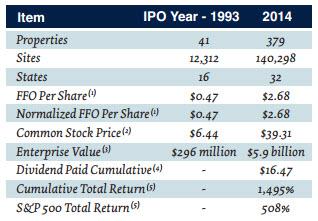 Does Owning Equity Lifestyle Help You Enjoy a Better Dividend Lifestyle?
Since 2004 ELS has built a trend of reliability and consistency. Here is a snapshot below comparing ELS's dividend record and the peer group:

As illustrated below, ELS has a much better dividend growth record with average 3-year dividend growth of 17% and average 5-year dividend growth of 24%.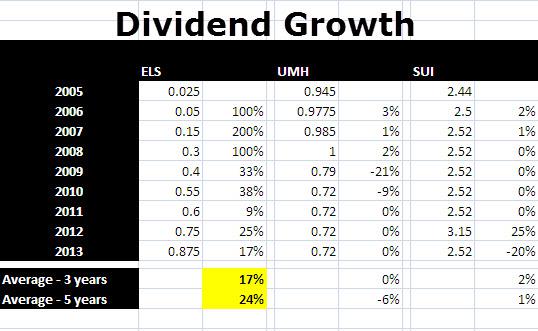 ELS is trading at $41.20 with a Price to Funds from Operations (P/FFO) multiple of 15.3x. This translates into a fairly valued price when compared to the peer group: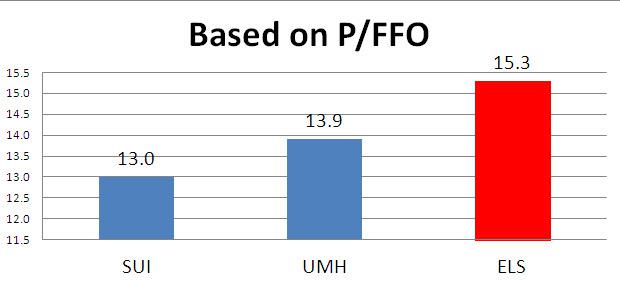 ELS's dividend yield is 3.16%, the lowest dividend yield in the peer group: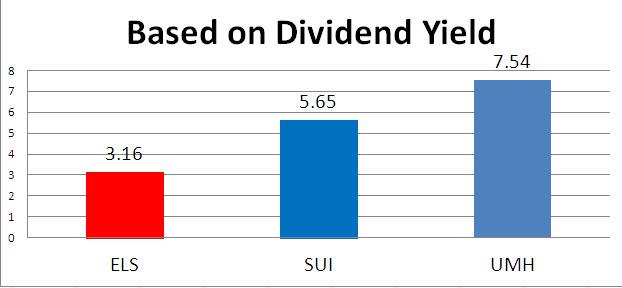 As illustrated below, ELS is not trading at a margin of safety that I would recommend. The shares appear rich and although I like the decade-long history of dividend increases, I cannot justify an entry price of $41.20. I will be waiting for a better entry point.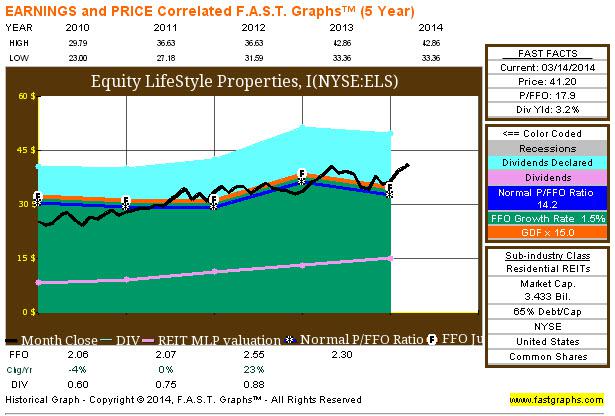 Sam Zell who owns 857,091 shares should be happy though since he has around $35.4 million invested in the RV giant (he is also Chairman and Founder). However, I would recommend the ELS-C 6.75% Preferred Issue that's trading at $23.62 with a current yield of 7.13%.

REIT Newsletter: The author is also the Editor of a monthly newsletter called The Intelligent REIT Investor. For more information or to subscribe click HERE.
Sources: SNL Financial and ELS Investor Presentation.
REITs mentioned: (NYSE:SUI) and (NYSEMKT:UMH).
Disclaimer: This article is intended to provide information to interested parties. As I have no knowledge of individual investor circumstances, goals, and/or portfolio concentration or diversification, readers are expected to complete their own due diligence before purchasing any stocks mentioned or recommended.
Disclosure: I am long O, DLR, VTR, HTA, STAG, UMH, CSG, GPT, ARCP, ROIC, MPW, HCN, OHI, LXP, KIM. I wrote this article myself, and it expresses my own opinions. I am not receiving compensation for it (other than from Seeking Alpha). I have no business relationship with any company whose stock is mentioned in this article.