When Amazon (NASDAQ:AMZN) fell after earnings in late January and early February, I thought investors were being presented with an opportunity. In recent years, Amazon has been known for issuing weak quarterly reports, having shares fall, and then rebound. Sometimes, the rebound came minutes after earnings, other times it took a couple of days or weeks. I thought Amazon under $350 provided an opportunity, and shares traded down to $337 and change. Amazon has bounced back, closing Monday at $375.04, close to the 50-day moving average. In a little over a month, the company will be reporting Q1 results.
However, there are some warning signs for Amazon that have appeared over the past few years. The company's revenue growth rate has declined, profitability continues to be lacking, and the balance sheet continues to get worse. Additionally, when Amazon fell post-earnings last year, the company seemed to always set a new high before the next report. Amazon has failed to do that so far this time. Today, I'll examine some of the warning signs, and tell why investors should start to worry a bit as we approach $400 again.
Estimates continue to fall:
When Amazon issues light guidance, like it has in a number of quarters recently, analysts take down their estimates. That seems rather obvious, but investors may not realize the pace at which these numbers are falling. In the table below, I've shown 2014 estimates for Amazon going back nearly 11 months.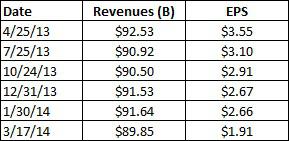 The current numbers are either at or close to the lowest numbers I've seen, but either way they are much lower than they were in the past. Amazon hasn't even reported Q1 yet, and revenue expectations are down by more than $2.5 billion for 2014. Earnings per share estimates have nearly been cut in half. I'll examine the troubling picture for revenue growth later on.
Q1 current forecasts and Q2 estimates:
In Amazon's fourth quarter report, the company guided to Q1 revenues of $18.2 billion to $19.9 billion, a midpoint of $19.05 billion. Current analyst estimates call for $19.41 billion, meaning analysts think Amazon will come in a bit above the midpoint. With so much bad weather in the US during Q1, perhaps online spending will be decent. Of course, most thought a shift towards online sales during the holiday season would mean a big Q4 for Amazon, and that did not happen. Amazon guided to a flat operating profit for Q1, although the company's guidance has been a bit conservative in this area recently. Analysts are looking for a $0.23 per share profit, so if the company's tax rate or equity investments hurt a bit, Amazon will probably miss. Last year, Amazon had an $0.18 per share profit in Q1, so analysts expect some improvement.
When it comes to Q2, analysts are expecting revenue growth to accelerate a little. That might be partially due to the Prime price hike, which I'll cover later on. Currently, analysts are looking for Q2 revenues of $19.01 billion. While that's slightly less than the Q1 dollar value, it does represent 21.1% growth year over year, higher than the 20.8% expectation for Q1 currently. Analysts are looking for a profit per share of $0.23, up from the two cent loss a year ago.
Under 20% yearly growth?
I showed above how revenue estimates for 2014 have continued to come down. The current revenue estimate of $89.85 billion represents 20.8% growth over the 2013 total. That is a nice growth rate, although it is very close to the 20% level. As you can see from the chart below, Amazon has been above 22% every year since 2002, except for last year which was 21.87%. The last time that Amazon saw yearly revenue growth of less than 20% was in 2001, when the company had a little over 13% revenue growth.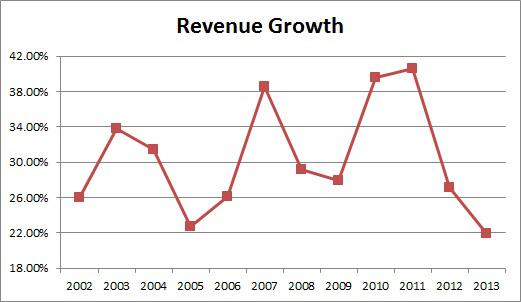 Amazon had strong revenue growth coming out of the US financial crisis, like many others. Those growth numbers have really started to fall. Should Amazon come in around 20.3%, the growth rate will have dropped in half in just three years. With many expecting Amazon's estimates to continue lower, it is possible that 2014 could see revenue growth of less than 20%. It's a key number to watch.
Prime price hike - good and bad:
Perhaps one way Amazon can get more revenues is to increase prices, and it recently did so on its Prime service. Consumers still have a few days to lock in the $79 annual rate, after which the yearly cost jumps to $99. Prime is a decent service, with free two-day shipping and a ton of other services. One of those is Prime Instant Video, Amazon's version of Netflix (NASDAQ:NFLX).
Raising the price of Prime should generate more revenues for the company, and one analyst thinks it could increase Amazon's bottom line by $0.55 per share on a yearly basis. Considering Amazon had EPS of just $0.59 last year, that would be a considerable increase. There probably won't be too much impact of Prime's price hike in Q1. Remember, this rate is locked in upfront so only new subs and those needing to renew soon will face the higher rate. For anyone that joined Prime during the holiday season or in early 2014, they don't have to worry about the raise for several months. It will be interesting to hear if there are any comments on the price raise during the next earnings call. While I am someone who does shop on Amazon, I am not a Prime customer since most of the items I buy are not time critical. I am not a Netflix subscriber either.
However, all is not well. A recent Brand Keys survey found that Amazon's rating fell from 93% to 83% following the price hike. Amazon has been ranked as the number one retailer for 16 years, but among Prime subs is now ranked just third. The combination of lower sub growth plus less renewals could put a dent into how much financial benefit the price raise has, especially if consumers are unhappy now.
Additionally, will Amazon now go on a content spending spree to boost Prime Instant Video? In the Q4 earnings release above, Amazon provided the following statement:
Prime Instant Video selection increased from 33,000 to more than 40,000 movies and TV episodes in 2013.
When Prime Instant Video started in early 2011, there were just over 5,000 titles available, so this growth appears strong. However, Amazon actually passed the 40,000 milestone with a deal announced back in May 2013. In most of Amazon's recent press releases, the company didn't provide a number of titles. It just said "tens of thousands". Other than a few original series and individual shows, I have not seen a major content deal announced in several months. Throughout 2011, 2012, and early 2013, Amazon seemed to be announcing at least one or two major deals a quarter.
Perhaps Amazon has realized that Netflix truly is the number one in this space, especially in the US. Netflix announced a spectacular Q4 and handed in strong guidance, which has since sent its shares to new all-time highs. Netflix even went out and raised another few hundred million dollars for future content purchases. Netflix is here to stay, and Amazon might be falling behind at this point.
The balance sheet:
One of the reasons I think Amazon is moving closer to the trouble zone is the balance sheet. With a severe lack of profitability, the company just isn't producing much cash. What the company does produce, it is mostly spending. At the end of 2009, Amazon's debt (liabilities to assets) ratio was 61.94%. That means that for every dollar of assets on the balance sheet, the company had just under 62 cents of liabilities. At the end of 2013, the number was up to 75.73%. It is getting worse each quarter when you look at the year over year numbers. The chart below shows a four-quarter rolling average of this number, evened out for seasonality.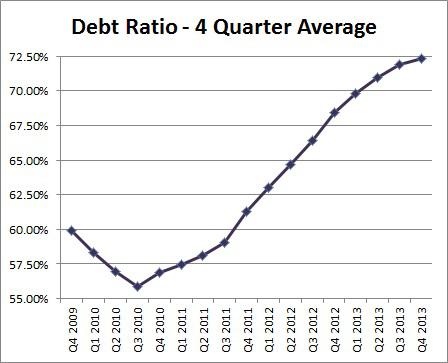 Amazon did have nearly $12.45 billion in cash and investments at the end of 2013, although that number will drop in Q1 when the company pays a bunch of bills. The company had nearly $3.2 billion of long term on the balance sheet as well. Additionally, according to the 10-K filing, $4.6 billion of that cash was held outside the US, including $2.5 billion of undistributed earnings of foreign subsidiaries indefinitely invested outside the US. To use those funds, Amazon would have to repatriate them to the US and face a large tax bill. Most US companies have decided against that.
As Amazon continues to build out its fulfillment centers, and most likely Prime Instant Video, it means that cash will be used up. If the balance sheet continues to get worse, Amazon probably could have a secondary offering and raise some money from equity. With shares at $375 and a market cap over $172 billion, it wouldn't take too much dilution to raise a couple of billion dollars. However, would that be a turning point for shares to go lower if Amazon is selling? That's an interesting debate, and not one for today until an equity offering appears more likely. But for now, the weakening balance sheet is definitely something to watch.
Valuation getting closer to my target:
When I detailed the potential upside for Amazon shares, I included the following statement on valuation:
In the past, I looked at Amazon being valued at 1.7 to 2.0 times expected sales for the current or forward looking year. At Friday's close, Amazon traded at 2.2 times trailing sales (2013 actual), and that was after shares fell 11%. I think you have to look at Amazon's 2014 at around 2.0 times sales, and 2015 sales at 1.8 times. This is using current analyst estimates, which are likely to change over time. If Amazon does hike the price of Prime, that could also change the discussion a bit. That gives market caps of about $180 billion and $193.55 billion, respectively. Amazon's market cap as of Friday was $164.64 billion.
Amazon's market cap was $172.24 billion as of Monday's close, reflecting the rise in shares since my last article. I still am looking at a 2.0 value for price to sales. While I think sales will be a bit weaker than I originally thought, I think the Prime price raise will help out the bottom line a bit. Those two should cancel out, so I'll stick with 2.0 for now. Based on current estimates, that gives me a value of $179.70 billion for the market cap. This valuation would be as of the day Amazon reports 2014's Q4, which will probably be in late January 2015. If Amazon misses Q1 revenues and/or issues light guidance, analyst estimates will fall further. If analyst estimates were to come down to $88 billion for the year, my valuation would be $176 billion. That's just a few percent above where we are now.
This is why I would worry if Amazon starts to approach $400 again, or even breaks above it. At $400, Amazon's market cap would be about $183.70 billion based on current share numbers. That's when the stock would start to get expensive in my opinion.
Final thoughts:
Amazon did rally after the post-earnings fall like I thought it would. However, another round of earnings is only a month or so away. Analyst estimates continue to drop, and if Amazon has another lackluster report, estimates will fall further. The company has raised the price of Prime, and consumers aren't happy. The financial impact is yet to be determined. Current projections have Amazon close to 20% revenue growth, a level the company has not been below in more than a decade. With revenue growth slowing, profitability being nearly zero, and a weakening balance sheet, I'd start to worry if this stock approaches $400. Right now, Amazon is close to fair value in my opinion, but it won't be if it continues higher thanks to a number of growing problems.
Disclosure: I have no positions in any stocks mentioned, and no plans to initiate any positions within the next 72 hours. I wrote this article myself, and it expresses my own opinions. I am not receiving compensation for it (other than from Seeking Alpha). I have no business relationship with any company whose stock is mentioned in this article.
Additional disclosure: Investors are always reminded that before making any investment, you should do your own proper due diligence on any name directly or indirectly mentioned in this article. Investors should also consider seeking advice from a broker or financial adviser before making any investment decisions. Any material in this article should be considered general information, and not relied on as a formal investment recommendation.