The top two gold predictors are bearish on the outlook of gold prices in the year 2014 so I thought of analyzing Goldcorp Inc. (NYSE:GG) the biggest gold miner by market value.
Goldcorp Inc. operates as a gold producer involved in the exploration, development, and acquisition of metal properties in Canada, the United States, Mexico, and Central and South America. The company generated 78.3% of its total revenues for FY 2013 from its operations related to gold as shown in the pie chart below. This makes the company's financial performance and position heavily dependent upon gold market.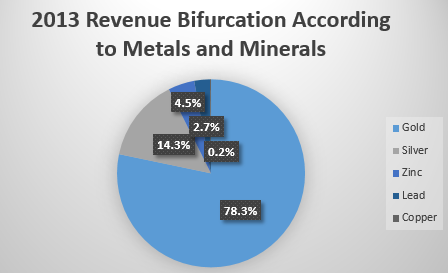 Source: GG Management Discussion and Analysis
Therefore, I will begin the analysis by giving an overview of the gold market and its outlook. Afterwards I will discuss Goldcorp Inc.'s initiatives to improve its performance and strengthen its position in the coming years.
The Gold Market and Its Outlook
Gold displayed its most preeminent start to a year in 2014 since 1983 as shown in the chart below.

Source: Y charts
You can see from the chart above that the gold price in USD increased 10.86% YTD and that also contributed to the increase of Goldcorp's YTD share price by 28.38%. But the question is whether or not these gains in gold price and the company's share price will continue till the end of 2014.
I will discuss the answer to the aforementioned question later on. The rise in gold price is expected to drop in the coming months according to forecasts by various analysts.
Morgan Stanley recently lowered its gold price forecasts for 2014 considering the effect of the U.S. Federal Reserve's reduction of its stimulus along with rising regulatory pressure on investment banks to reduce their commodity operations. Hence, the bank forecasted the average gold price to fall around $1160/oz in 2014.
Some support to the gold prices will come from physical demand. Gold stored at Comex, the prominent bullion storage house for futures traders, has reached a low level and there are now more than 112 owners per physical ounce of gold stored in Comex's vaults. This figure also accounts for paper claims to gold such as derivative contracts. This is a significant figure along with high physical gold demand from China. Additionally, investors appear more willing to consider precious metals as an investment option than they did in 2013 but this will minutely offset the decline in prices.
Other banks are also anticipating a decline in gold prices as shown in the table below.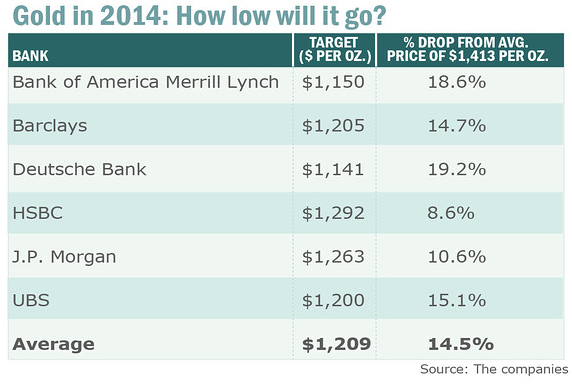 Source: Market Watch
As a result, a cost-efficient gold miner will survive in this lower price environment while others will encounter significant challenges. Therefore, I will discuss the key matrices of Goldcorp with respect to cost analysis under the following heading.
Cost Analysis, Saving Initiatives, and Targets
Over the past years Goldcorp has been altering its mine plans, cutting spending, and disposing assets in order to reduce costs and focus on the most profitable production. Now those efforts have begun paying off. The company reported a fall in all-in sustaining costs by an ounce in Q4 FY 2013 as shown in the chart below. The company has projected $950-$1000 in all-in sustaining costs for FY 2014 down from $1031 recorded in FY 2013.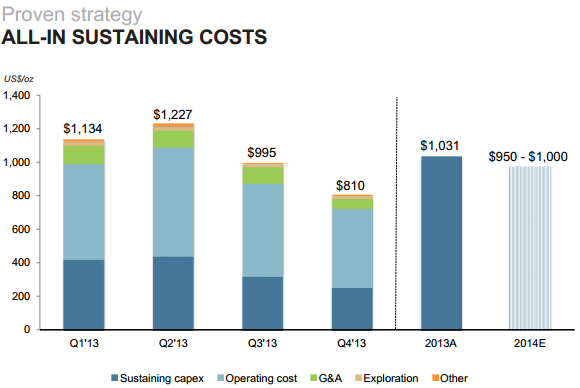 Source: BMO Metals and Mining Conference
The company will benefit from facility expansion, cost control, and productivity improvement measures and has guidance for cash cost $/oz decline in FY 2014 in comparison to FY 2013 as shown in the table below. The company has witnessed noteworthy capital costs in FY 2013 and the previous recent years to finance its growth projects. These capital costs are likely to decrease in the future, as growth projects start production. The decline in capital costs is likely to strengthen the company's free cash flows.

Source: CIBC 17th Annual Whistler Investor Conference
The company is continuing to deliver on its cost-cutting initiatives so it should be able to drive earnings growth even without an increase in metal prices.
Goldcorp's projects that are expected to start production in the upcoming years have lower costs and this will help the company to improve its costs structure and strengthen its cash flows. I will further discuss the project pipeline and production under the following heading.
Project Pipeline and Production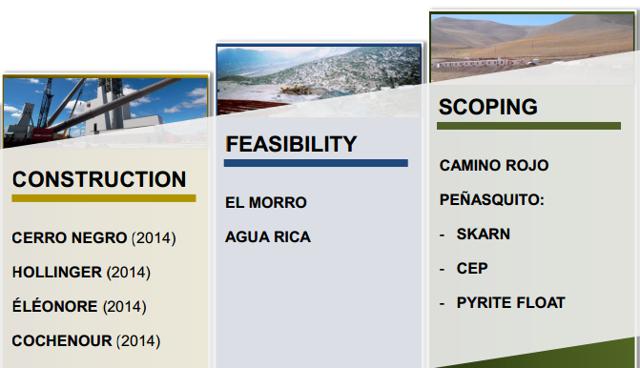 Source: CIBC 17th Annual Whistler Investor Conference
You can see from the diagram above that the company has a strong pipeline of projects and projects under construction in FY 2014. As a result, the company is moving ahead well with its development projects and is on-track to accomplishing its long-term production targets. Along with providing a positive production guidance for 2014 Goldcorp secured Zacks Rank #3 (NYSEARCA:HOLD) for its stock.
The company's growth drivers are linked to its array of development and exploration projects. The company has an impressive lineup of such projects and presumes its gold production will rise 13%-18% year-over-year from 3 million in 2013 to 3.15 million ounces in 2014.
The Cerro Negro project is anticipated to have its first production by mid-2014 with an estimated production of 130,000-180,000 ounces.
Cochenour is another project that is forecasted to commence production in 2014, six months ahead of schedule. Capital costs for Cochenour are also estimated to be $500 million, around $40 million below previous estimates.
The third project expected to begin production in 2014 is Éléonore that is planned to start production in Q4 2014. This will make a contribution of 40,000-60,000 ounces towards total production in 2014 as anticipated so far.
The following diagram states the company's production guidance for the coming years that is forecasted to increase until FY 2016.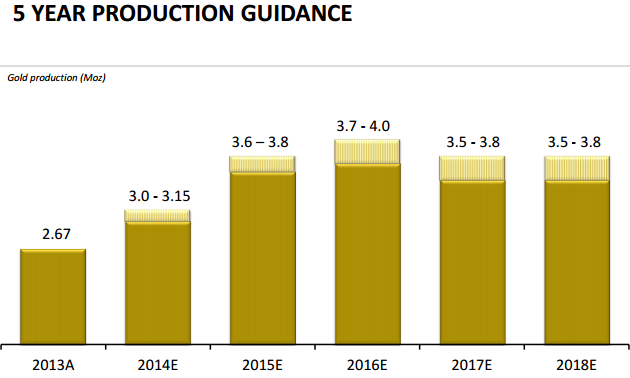 Source: CIBC 17th Annual Whistler Investor Conference
This forecast rise in the company's production is largely due to the Éléonore and Cerro Negro mines that will start production in FY 2014 along with the rise in production in the Peñasquito and Pueblo Viejo mines. This will put the company in a leading position with respect to production growth in comparison to its industry peers as shown in the chart below.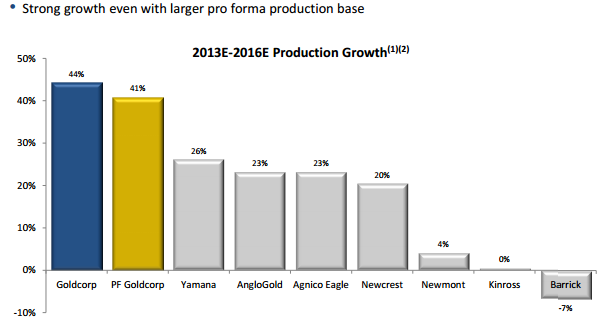 Source: Goldcorp Offer for Osisko
In addition to these low-cost projects in the pipeline that will boost the company's metal production and bottom line in the coming years, the company is also aiming for further strategic moves.
Further Strategic Moves
Mining companies are striving to optimize their asset holdings for the current price environment through asset sales as well as acquisitions. The declining gold price level represents huge opportunities and smart companies are taking advantage of them. You can anticipate these trends among miners to last at least until prices rebound more strongly. But until then, many companies will combat for their financial lives and investors who discover how to take advantage of their more susceptible peers will gain.
Goldcorp's ongoing effort to buy Osisko Mining reflects the company's strategy of acquiring promising long-term assets inexpensively. Osisko's key asset is the low-cost Canadian Malartic gold mine in northwest Quebec, one of the largest precious-metal mines in Canada, with 10.1 million ounces of gold reserves. Canadian Malartic is likely to turn into one of Goldcorp's prominent mines in terms of free cash flow, production, and net asset value as it has attributes to bring in solid returns even at low gold prices.
On the other hand, Goldcorp is selling its stake in Primero Mining Corp (NYSE:PPP), and this will allow the company to gather proceeds of about $202million (C$ 224 million). Goldcorp has recently entered into an agreement to dispose its total holdings of Primero Mining, a Canadian-based gold and silver producer. The sale of Primero's shares is seen as positive for Goldcorp. The sale will strengthen the company's balance sheet and can provide potential finance for its proposal on Osisko Mining (NYSE:OSK) or support the company's capex obligations. The sale will also help the company to reduce its net debt/EBITDA ratio that would decrease to 0.9x.
Goldcorp has three major projects approaching completion and although it has put its proposal to acquire Osisko Mining on hold for now with the potential completion of the Osisko Mining transaction Goldcorp would have a preeminent growth profile among its peers over the next couple of years.
Furthermore, Goldcorp has disposed its holding in the Marigold mine, jointly owned with Barrick Gold (NYSE:ABX). Goldcorp presumes that costs will decrease following this divestment and will inform the market once the deal is closed in April.
Return to Shareholders and My Take
Goldcorp remains dedicated to returning capital to its shareholders, leveraging a strong balance sheet, and solid cash flows. The company paid $486 million in dividends in 2013. This resulted in the company paying higher dividends as a percentage of its operating cash flow in comparison to its industry peers as shown in the chart below.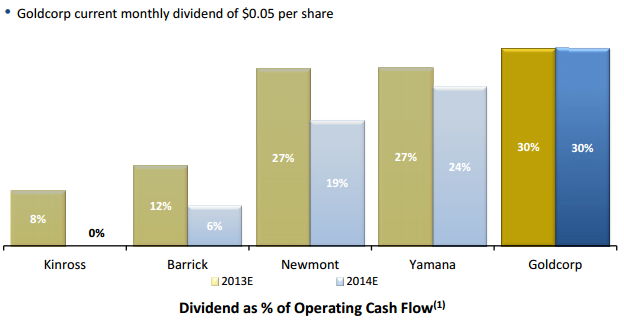 Source: January 2014 Goldcorp Offer For Osisko Presentation
Although analysts are forecasting a weak outlook for gold prices, the company has enhanced its strengths to mitigate the impact of adverse declining gold prices in FY 2014. Volume and price are the two major drivers for revenue earned by a company and Goldcorp will focus on the former in the coming years as the latter will show weak performance. The company's strategic moves and investments during the previous years will boost its production in FY 2014. Furthermore, the company is effectively reducing its costs by removing inefficiencies through strategic and operational initiatives. This will enhance the company's financial performance and position in FY 2014 resulting in gains for investors.
Disclosure: I have no positions in any stocks mentioned, and no plans to initiate any positions within the next 72 hours.
Business relationship disclosure: The article has been written by a Blackstone Equity Research research analyst. Blackstone Equity Research is not receiving compensation for it (other than from Seeking Alpha). Blackstone Equity Research has no business relationship with any company whose stock is mentioned in this article.