Introduction
Natural gas is one of the most popular commodities in the world, and often ranks among the CME Group's most traded futures contracts. It has a cyclical behavior on an annual basis, giving investors the chance to reap significant rewards if they time their bets correctly.
For instance, many investors enjoyed some eye-popping gains in Q1 2014, when the nat gas price exceeded $6/MMbtu. As a result, the bullish ETFs (NYSEARCA:UNG), (NYSEARCA:BOIL) and (NYSEARCA:UGAZ) hit new 12-month highs, as shown below: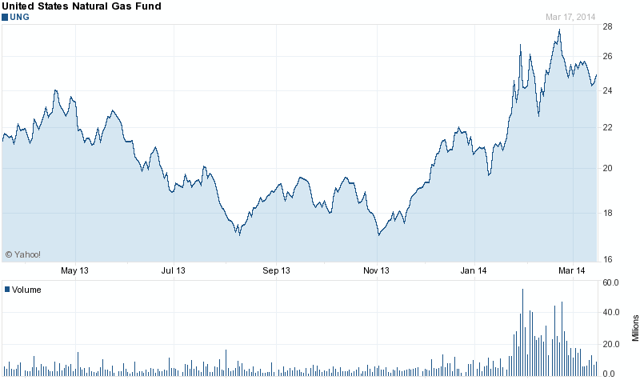 and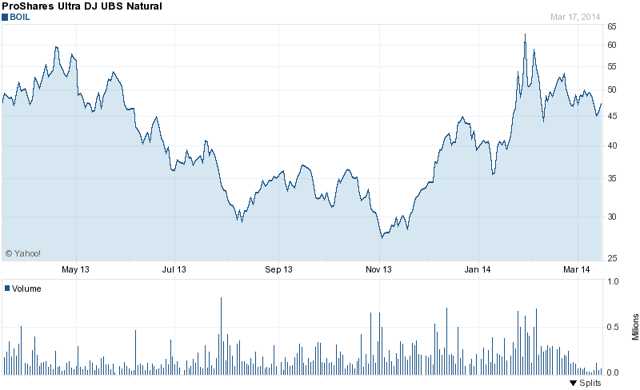 and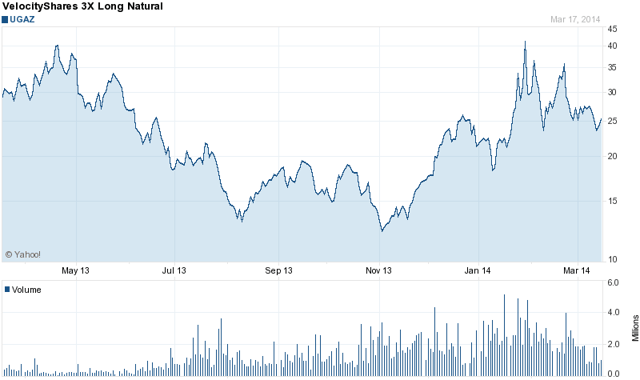 However, when the price surpassed $6/MMbtu, I was against that buying frenzy. To me, those wild moves were unsustainable, and there was not any rational explanation of those trading patterns. In fact, when the price exceeded $6/MMbtu, I warned buyers, presenting 12 reasons why that sky-high natural gas price was not here to stay.
I also shorted natural gas by buying the bearish ETFs (NYSEARCA:KOLD) and (NYSEARCA:DGAZ) at $39.5 and $2.93 respectively, as disclosed. I sold them about one week later, locking profits of ~20% and ~30% respectively, as disclosed. My article is here.
A Falling Wedge Or A Falling Knife?
The long-awaited warm-up begins this week. Spring and fall see the weakest demand for natural gas in the U.S, as the absence of extreme temperatures curbs the need for heating and air conditioning. This time is no different. Seasonably mild temperatures are expected to settle in the eastern U.S. in the coming days to mark spring's arrival. Updated weather-forecasting models call for above-normal temperatures across many densely populated areas in the U.S. in the next days.
Based on the latest report of March 2014, the Energy Information Administration (EIA) revised up its estimates for 2014, and predicts the nat gas price will reach an annual rate of $4.44/MMBtu, which is approximately 20% higher than in 2013. The Henry Hub natural gas spot price averaged $3.73/MMBtu in 2013. The EIA also estimates that the natural gas production will increase by 2.2% during 2014, and consumption is also projected to rise to 70.2 Bcf/day in 2014.
This increase in consumption is less than 5%, and coincides with the average annual increase of the last 5 years. As shown in my previous article about natural gas, natural gas consumption in the U.S. has been rising less than 5% on a year-over-year basis since 2008.
Based on these projections, the next million-dollar questions are: Should an investor buy the bullish ETFs and at the current levels? Is there any upside left? Is there any hope for the nat gas price to surpass $5/MMbtu by June 2014?
Or shall an investor buy the bearish ETFs and wait for the price to drop at or below $4/MMbtu? Will there be high volatility between now and June 2014, causing significant volatility decay to the leveraged ETFs? Can an investor stomach this volatility?
Well, picking the direction of gas prices comes down to figuring out the pace that we will build back storage to normal levels.
Under the bear case, where weather normalizes and oversupply sets in, storage normalizes by mid-August 2014. The bull case says Oct 2014, as we enter the shoulder season.
The fact is that the natural gas sector storage levels have dwindled to 10-year lows. At the time of writing, total U.S. natural gas storage stands at 1.001 TCF, the lowest for this time of year since 2004. Stocks were 958 BCF less than last year at this time and 858 BCF below the five-year average of 1.859 TCF for this time of year.
The withdrawals will most likely continue until the end of March 2014, and the net injections will begin the first week of April. This means that the natural gas storage will bottom out at approximately 900 BCF. This doesn't mean much, although it has not happened in nearly 10 years. It does not mean much because there is a big difference between now and 2004. Horizontal drilling and fracking have completely changed the pace of supply increase compared to 2004 levels. In fact, the pace of supply increase is bigger than the pace of demand increase on a year-over-year basis during the last 5-6 years, and this is why the nat gas price has dropped a lot from 2004 levels.
Now, I also need to show you the following two charts first before I proceed with my strategy. Here is the chart of the nat gas price in early 2012: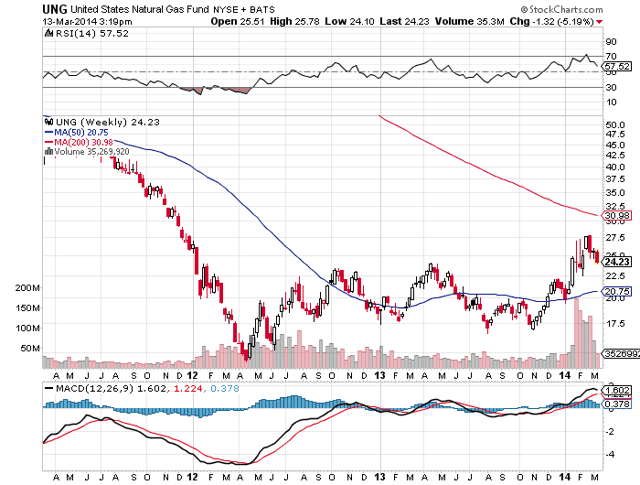 And here is the chart of the nat gas price in early 2013: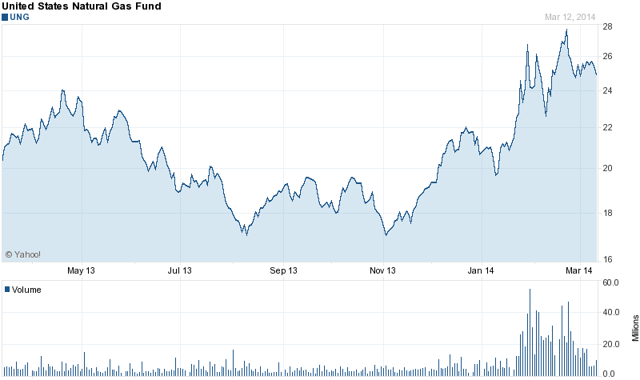 In both periods, fossil fuel declined a lot, as a number of factors weighed on the commodity. In early 2012, it fell like a falling knife. In early 2013, it fell gradually, and that drop reminded me of a falling wedge pattern.
After all, will the nat gas price drop like a falling knife this time? Based on the fundamental information presented above and in my two previous articles about natural gas, I forecast that natural gas will not take a major blow from the current levels overnight. To me, a sharp pullback from the current levels is not in the cards.
However, I believe that the nat gas price will continue to slip primarily amid high supplies from the main producing regions (i.e. Marcellus) and the addition of new ones (i.e. Utica). But the upcoming drop will be gradual and slow. This drop will most likely look a lot like the drop of 2013, and not the one of 2012.
As such, I am not going to follow the bargain hunters who run to snap up positions in the commodity any time some bearish supply data send prices falling to levels ripe for bottom fishing. I do not really care to get a 10% profit from the current levels in case the nat gas price re-challenges $5/MMbtu by May 2014. The risk/reward ratio of this scenario does not sound good to me.
Summer Weather And The Hurricane Season
As mentioned above, natural gas stores will be approximately 900 BCF below year-ago levels by the end of the withdrawal season. This spread will definitely narrow as temperature rises, production increases and some consumers switch to more cost-competitive fuels like coal. How quickly will this storage deficit be recouped? It is all dependent on the pace that we build storage back to its normal levels.
As shown below, the average domestic production in 2013 was approximately 65-66 Bcf/d, while the average daily domestic consumption in 2013 was approximately 67-68 Bcf/d: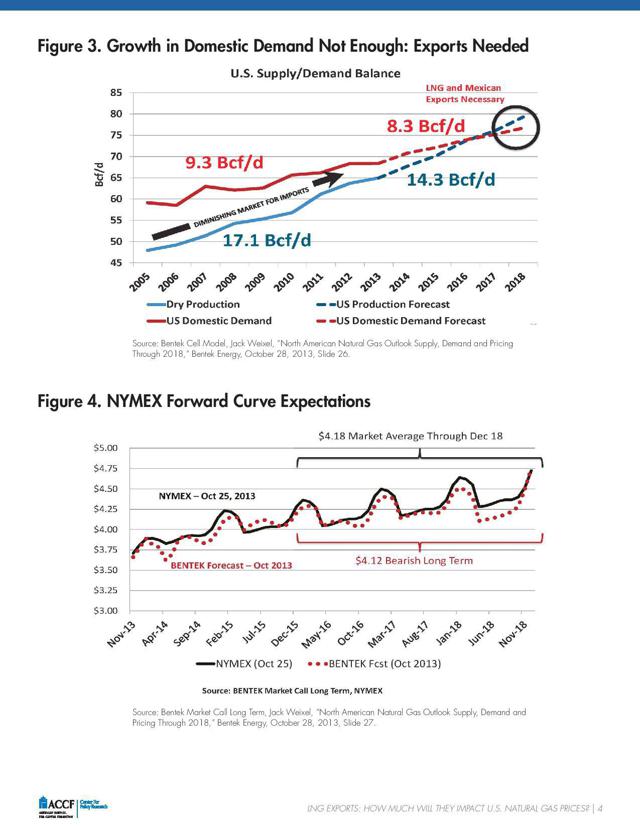 Source: ACCF Center for Policy Research
Since the injection season will most likely start from early April until late October, this period translates into 7 months, or 210 days. This means that we will need approximately 4.2 BCF/day more than last year's daily average injection rate to close the spread of ~900 BCF by the beginning of November 2014. Given that Utica has also been added to "the nat gas contributors" list, this 4.2 Bcf/d is a manageable increase, based on the two assumptions below:
1) We will not experience an extremely hot summer, so we will not see withdrawals during July and August.
2) We will not see a hurricane season such as 2005 that shut down the nat gas from the Gulf of Mexico. For instance, an El Niño cycle can occur every two to seven years, and it can send nat gas soaring. Some scientists believe that there is a 75% chance of an El Nino occurring this year. According to another report, the chance of an El Niño reemerging this year has increased. There's now a 50% chance that equatorial waters in the Pacific will warm sufficiently to meet the criteria for an El Niño. As a result, NOAA's Climate Prediction Center has issued an El Niño Watch for summer 2014.
So my thesis is clear. I expect the nat gas price to drop at or below $4/MMbtu gradually, following a falling wedge pattern by May-June 2014. However, I don't expect prices to crater this summer, as the storage deficit is large enough to be sustained below prior-year levels until the beginning of next winter. This is constructive for the nat gas producers, as they will de-lever while they will be able to maintain an active funded growth profile amidst the opportunity to hedge at reasonable prices.
Conclusion
It has been nothing short of a roller coaster ride for this commodity and its trade this winter. However, the withdrawal season is coming to an end and the production is set to rise quicker than expected, in my opinion. So I am pricing natural gas for a record injection season, and I believe that the nat gas price will suffer a pullback over the coming weeks.
Nevertheless, I am not willing to play the bounce all the way down to $4/MMbtu, but I will be a sideline observer instead. To me, buying the bullish or the bearish ETFs at the current levels is not a safe bet. To me, it is much safer to buy Zargon Oil and Gas (OTCPK:ZARFF) instead, because Zargon is a grossly undervalued and under-followed energy producer, as shown in my yesterday's article that was evaluated as a "Top Idea" by SA's PRO Editors.
Regarding nat gas, I want the volatility to ease first, because if the prices keep swinging by 1% or more for several days, the volatility decay will erode any potential gains.
And I will jump aboard to catch a run-up when the time is right. I will try to find when nat gas price is on the cusp of rising again, and I hope to time my position correctly. In fact, I will test the waters once the nat gas price hits $4/MMbtu, and I will keep cautiously adding to my position. I expect it to happen by June 2014. Stick around, because I will keep you posted on my strategy during the remainder of 2014.
Disclaimer: The opinions expressed here are solely my opinion and should not be construed in any way, shape, or form as a formal investment recommendation. Investors are reminded that before making any securities and/or derivatives transaction, you should perform your own due diligence. Investors should also consider consulting with their broker and/or a financial adviser before making any investment decisions.
Disclosure: I am long ZARFF. I wrote this article myself, and it expresses my own opinions. I am not receiving compensation for it (other than from Seeking Alpha). I have no business relationship with any company whose stock is mentioned in this article.