My earlier opinion last January called for a long term hold on 3D Systems (NYSE:DDD). I gave seven good reasons why 3D Systems was worth enduring near-term paper losses. Brave or impatient investors may accept my proposition that swing trading DDD during this volatile time is the better option.
3D Systems is now grossly portrayed as the poster boy for the alleged 3-D printing bubble. DDD is now 33.34% below its January high. Rival Stratasys (NASDAQ:SSYS) did not suffer the same angry treatment over the same period.
On the other hand, looking at the chart below, I realized aggressively trading DDD can be profitable due the explosive nature of DDD. Emotions can run high among supporters and detractors of 3D Systems. The rabid anti-DDD crowd has equally zealous opponents in the pro-DDD camp.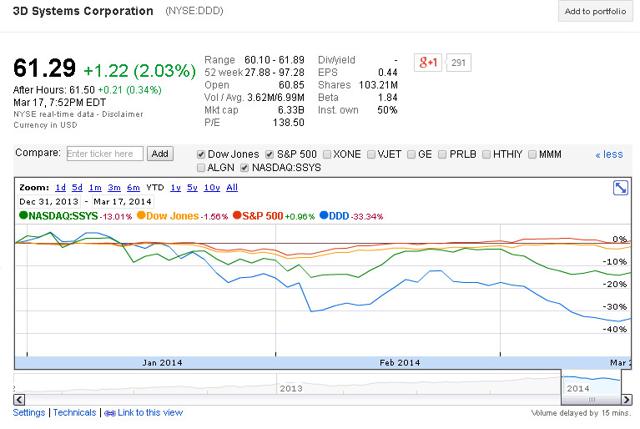 Swing To The Music, Profit From the Beat
DDD will likely continue to experience fluctuations in its price this year. Active trading favors this scenario. A buy now in the low 60s is a swing trade opportunity. Yes, there's a good chance that it can drop further to the 50s given the current pessimism over the 3-D printing industry.
However, I still foresee DDD going back to the $70-$80 price range in a month's time. Like I said, 3D Systems evokes bipolar market reactions. The share will shoot up again once critics stops pillorying 3D Systems. I also don't believe the share will crash to $26 anytime soon.
DDD has risky cycle of bad press/good press that traders can take advantage of. If you are well-versed in put and call options, I congratulate you in advance. DDD's news-driven volatility is ripe for options trading.
Good Press For 3D Systems
Since I'm on a buy mode, I would like to share some positive propaganda here at SA. It's up to you to decide whether my agenda is congruent to yours or not.
1. I like the fact that 3D Systems signed up for the government-led Digital Lab for Manufacturing initiative to revolutionize the American manufacturing sector. It's always good for a company to collaborate with the powers-that-be.
In my country, the Philippines, even the most inept company can win juicy government contracts. All it requires is a tight relationship with public officials. The same goes for any country, government contracts are won mostly through networking and lobbying.
2. DDD's diverse portfolio of 3-D printing technology makes it well-positioned for the future bonanza that additive manufacturing is destined to become. The slow adaptation of home based 3-D printing can be offset by medical requirements.
While replacement human organs is not yet viable, DDD is making inroads in the medical field. 3D Systems products helped doctors do quick and accurate surgical reconstruction of a man's face.
3D Systems' alleged bubble-level high P/S ratio is easy to forgive when people see that the company's products helped a wheelchair-bound girl walk again.
The medical benefits of 3-D printing technology is one reason why ardent supporters see a FUTURE gold mine in DDD. No matter how strong the bears are, the bulls will make repeated comebacks to keep DDD afloat.
Military application of additive manufactured gadgets is also on the table. The 3-D printed exoskeleton that helped the girl walk again can be upgraded for combat or police personnel.
3. Global expansion will further increase 3D Systems double-digit revenue growth rate. The market for additive manufacturing will quickly gain acceptance in emerging markets. The cost-savings from 3D printing should increase DDD products' appeal outside multinationals.
Time-sensitive and short-run manufacturing of replacement parts is quickly being adapted. DDD's Quickparts is a cost-efficient service for companies to get replacement components for expensive equipments or machines.
4. Aggressive acquisition is beneficial, not detrimental to DDD's bottom line. The fierce competition to lead the 3-D printing uprising requires companies to recruit the most number of allies. I am happy that President and CEO Avi Reichental has not caved in to criticism, 3D Systems' shopping spree still continues. The Digital PlaySpace acquisition is a great move to promote Cubify to mobile users.
Conclusion:
Swing trading DDD offers bold investors to profit nicely on the share's propaganda-fueled volatility. The current depressed price looks a good entry point for a "buy-low-sell-higher-next-month" gambit. The most recent financial report indicates 3D Systems is not losing steam.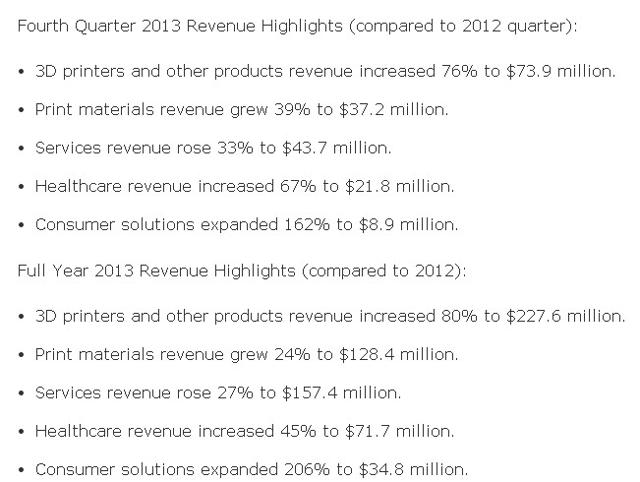 Stephens Inc. recently upgraded DDD to Overweight and Credit Suisse also increased its price target for 3D Systems to $79 two weeks ago. Piper Jaffray also raised its price target for DDD to $82 from $69 last March 3.
Here's a chart of the company's quarterly revenue trend and forecast for the next quarter. Avi's company enjoys healthy growth in the face of growing competition. Critics badmouthing DDD are best taken as opportunities to swing trade.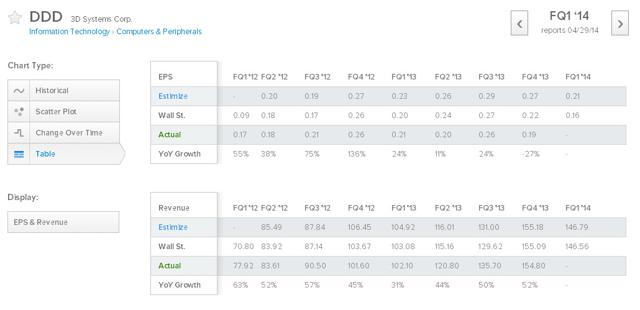 Finally, DDD has much a lower chance of going bust than SSYS. Defensive, long-term 3-D printing investors should appreciate the huge 1% vs. 75.8% disparity between the two.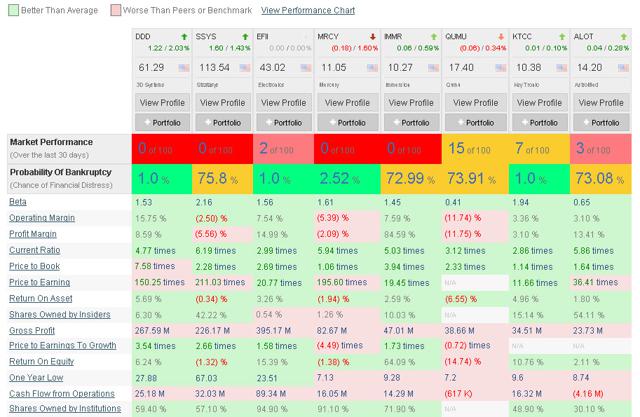 Disclosure: I am long DDD. I wrote this article myself, and it expresses my own opinions. I am not receiving compensation for it (other than from Seeking Alpha). I have no business relationship with any company whose stock is mentioned in this article.