Growlife - Dazed and Confused By The Nonsensical And Euphoric High. Shares Are Worth A Small Fraction Of Their Current Price.
Let's get straight to the point - Over the past month, Marijuana stocks have reached levels of pure insanity. At $0.77/sh, Growlife (OTCPK:PHOT) is more overhyped and overvalued than any stock/sector I've researched in my 20 year professional investment career. Shares currently trade at 103x 2014e revenues and 40x 2016e revenues. These multiples dwarf those of previous boom-bust sectors such as Dot Com (even at their 'irrationally exuberant' peak in 2000), Solar, and Fuel Cells despite extremely low-quality business models, weak operations, terrible capital structures, overly promotional managements, and wildly optimistic forecasts. When the euphoria fades (coming soon), I expect PHOT to lose 95% of its current value relatively quickly.
Over the past few months, PHOT has issued shares related to two of their announced joint ventures (RXNB & CANX), totaling 505m shares (at $0.03/sh). So as of today, their diluted shares stand around 1.36 billion (see below). It's hard to believe, but at the current share price of $0.77/sh, PHOT is being valued at an insane $1.04 billion. Heck, to justify that type of valuation you'd think PHOT's sales were surpassing $250m on their way to $1b. Nothing could be further from reality. Even when factoring in their ownership percentage of JVs, their 2014 revenues will be a measly $10m (100x revenues). I even made wildly optimistic assumptions for 2016 and could only get to sales of $27m (40x revenues). I even included revenues from CEN Biotech and did not include the 235m shares of additional dilution associated with that deal. For readers who don't know a lot about valuation - low-quality, high-growth, money losing companies are lucky to trade in the 3-5x revenue range based on next year's sales. It's clear that management is great at spinning off press releases, great at diluting shareholders, but not so great when it comes to generating revenues and profits. I have yet to hear an argument from anyone that can justify PHOT being valued at anything even close to $1b, and that doesn't even factor in the upcoming massive dilution which will boost their overall share count to 2.6 billion and market value to $1.95 billion (at $0.77/sh).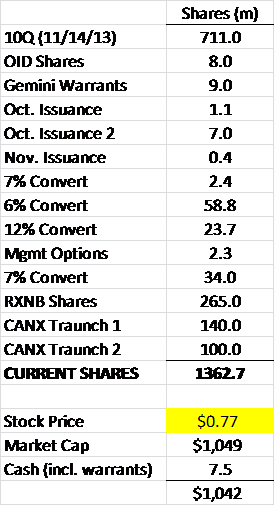 Investors went into a PHOT buying frenzy on Monday after management announced a coming joint venture with yet another valueless shell company - VAPE. Growlife's stock went up $0.19/sh, adding $259m of market cap. This makes absolutely no sense. We haven't seen the final terms of the deal, but I almost laughed out loud when looking into VAPE's financials and filings, not to mention the fact that VAPE and PHOT share the exact same headquarters address. How shady is that! This deal will create almost no value for PHOT shareholders. Why? Well, let's take a quick look at VAPE. They have $0.02m of cash, $0.19m of debt, and a $0.27m cash burn per quarter. Essentially the company would run out of cash in less than 1 quarter. They generate no revenues and hoped to launch their HIVE Ceramics product line in February, but missed their key product delivery deadline. Wow, that certainly gives me confidence in VAPE's ability to execute. They also failed to launch their website on-time, probably due to lack of funds. VAPE acquired HIVE for 500,000 preferred shares that can convert to common shares at a ratio of 1:1. In addition, if HIVE achieves sales of $4m by 2016, then they have to issue 2m additional shares to the HIVE founders. If they achieve $8m of sales by 2016, then they have to issue them an additional 4.5m shares. The point is that the internal earnout revenue targets for HIVE are only based on sales of $4-$8m over the next 2 years. To award PHOT shareholders $259m in market value based on the VAPE relationship is pure insanity. If some of you don't understand that, I'll be happy to explain it again anytime.
And just for the fun of it, let's reverse engineer PHOT's current share price of $0.77/sh, simply to prove how mispriced it is. What revenue run-rate would PHOT need to achieve to maintain a $0.77/sh stock price? Well, if we give the business a generous 20% operating margin and a mature P/E multiple of 15x, then PHOT would need to achieve a revenue run-rate of $1.1b vs their current $10m. Well, we're almost 1% of the way there guys - keep up the good work.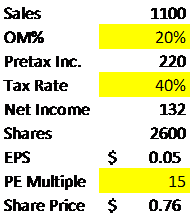 Growlife remains one of the highest risk and most overpriced stocks in the entire market. The valuation metrics are 'off the charts' and valuation does matter. Management's endless streak of dilution and joint ventures will soon end very badly for shareholders. If you take away anything from my article, be very careful trading the stock.
Disclosure: I am short PHOT. I wrote this article myself, and it expresses my own opinions. I am not receiving compensation for it. I have no business relationship with any company whose stock is mentioned in this article.
Editor's Note: This article covers one or more stocks trading at less than $1 per share and/or with less than a $100 million market cap. Please be aware of the risks associated with these stocks.