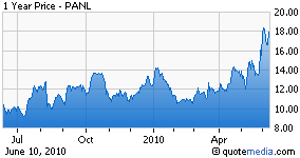 Click to enlargeWe are initiating a negative view on the shares of Universal Display (NASDAQ:PANL), a company that engages in the R&D and commercialization of organic light emitting diode ((NASDAQ:OLED)) technologies for use in flat panel display, solid-state lighting and other applications. Our view reflects several facets, including an extended valuation at a time when the light emitting diode (LED) industry both matures and accelerates, while OLEDs remain in their infancy. LED industry capacity is growing, as both more players enter the market and existing players add incremental capacity. That incremental capacity is noted in strong orders for MOCVD equipment from vendors like Aixtron (NASDAQ:AIXG) and Veeco Instruments (NASDAQ:VECO).
As we have witnessed in the past, periods of expanding industry capacity tend to lead to LED pricing pressure and subsequently, gross margin pressure amongst LED vendors. When that price and margin pressure has hit, it has proven to be a poor time to own those companies like Cree, Inc. (NASDAQ:CREE), AIXG, VECO and others that serve the LED industry.
Strategies Unlimited forecasts that the LED market will grow to $20.2 billion in 2014, up from $8.2 billion in 2010. While many can dispute the preciseness of such a long-term forecast, we subscribe to the positive slope of the forecast line, given growth prospects in lighting, displays, signage and other markets. Given the favorable prospects for growth, it is not surprising that MOCVD equipment vendors are looking to raise production levels.
In early February, VECO commented that its number one priority is to ramp its manufacturing capacity to 70 tools in 2Q CY10 and to 120 tools per quarter by the end of CY10, up from 45 tools in 4Q CY09. Underscoring this positive view was VECO's record backlog of $402 million exiting 2009, of which $317 million was in LED and solar. By comparison, backlog levels at Aixtron, which per Gartner Dataquest holds 68% share of the MOCVD market, exited 1Q 2010 at 220 million euros, up from 93.5 million euros at the end of 1Q CY09. The strong surge in compound semiconductor equipment backlog reflects strong order patterns for MOCVD reactors in the recent quarters.
In our view, this vast capacity expansion is underway in order to keep pace with LED market growth expectations. The risk associated with this capacity expansion, as we have seen in the past with LEDs and other technologies, is overcapacity that results in pricing pressure and subsequently vendor gross margin pressure. The other risk tied to this expansion is that growth for other competing next generation technologies is crimped or pushed out as prices for current ones become even more competitive. We have seen this before with CRT-TVs, LCD-TVs and other technologies in the past, and we believe the same will hold true with OLEDs as LEDs flourish further.
That is not to say that there will be no growth in the OLED market, but rather that we are skeptical of the forecast put forward by IntertechPira, which expects OLED display revenue to reach $4.7 billion by 2014 (or post a CAGR of 35% from 2009-2014). This skepticism is fueled by conflicting forecasts. Consider that Markets and Markets forecasts the OLED market to be worth $2.2 billion in 2014.
Market and Markets also puts forth a view that the global OLED market will reach nearly 350 million units in 2014, up from 102.3 million units in 2007. In our view, the LED industry offers not only better growth prospects and has a more mature ecosystem, but for the investor there are several ways to participate at the right part of the cycle, via companies that have a track record of revenue and earnings as well as strong balance sheets.
By comparison, Street expectations for PANL currently call for $19.6 million in CY10 revenue, up from $15.8 million in CY09. Despite that expected revenue improvement, the company is still expected to post bottom line losses in CY10 to the tune of -$0.42 per share, which we acknowledge is better than the -$0.56 the company lost in CY09. Breaking down the revenue stream, PANL's revenue is split into three camps – development revenue, commercial revenue and license revenue. In the recent March quarter, the split of the $4.2 million that PANL generated in revenue was 55% development, 43% commercial and 2% license. Customers for PANL's solutions include Samsung SMD (OTC:SSNLF) (31% of 2009 revenue), LG Display, Tohoku Pioneer and Showa Denko. While expectations are for continued YOY revenue growth in the coming quarters, which should lead to 80% revenue growth in CY11, the Street still expects PANL to deliver an EPS of -$0.10 in CY11.
Several investors will point to the long-term potential of the OLED market and say that expectations for the long term are conservative. This may be true, however the question that needs to be asked is – based on the expectations for the next several quarters, are PANL shares fairly valued at the 33x CY10 revenue on a market cap to revenue basis or 29.8x on an enterprise value to CY10 revenue basis. In a vacuum, those multiples would seem lofty, but viewed against several iterations of comps they seem even higher.
Compared to PANL shares, the shares of CREE and AIXG trade at 5.5x and 3.5x on an EV / CY10 revenue basis, respectively. We have chosen CREE given its position in the LED industry and the same holds true for AIXG, particularly since 98% of its revenues are derived from MOCVD equipment. Both CREE and AIXG are slated to deliver not only solid revenue growth in CY10 and CY11 but also strong EPS growth in CY09-CY11 as well.
Perhaps another way to compare PANL's current valuation is to measure it against Think 20/20's Intellectual Property & Licensing group of comparables. We would note that the average EV/CY10 revenue multiple is 3.7x on a range of 0.8x to 7.6x. Applying the upper end of that range to the Street's expectation of $19.6 million in CY10, and adding back its net cash position of $63.9 million at the end of March offers a share price of $5.65. Even if we were to hold multiples constant and apply that 7.6x to the Street's expectation of $35 million for PANL in CY11, the implied share value would be $8.76, compared to the current $17.17 share price.
In our view, particularly given the current market volatility, we would suggest investors looking to play the technology replacement cycle for lighting – be it general lighting, backlighting or another form of displays – favor those companies with a history not only of revenue growth, positive earnings and cash flow, but also ones that have experienced periods of overcapacity and pricing pressure.
Disclosure: Author short PANL