On Monday March 10, 2014, as the leading social network for meeting new people, MeetMe, Inc. (NASDAQ:MEET) was trading at its peak price in the last several months, $4.17, we witnessed a pullback, which in my opinion represents an attractive buying opportunity. Let me explain:
The Situation: After trading sideways for much of 2013, MEET saw the start of a new uptrend in January 2014. This was mostly due to Wall Street taking notice of the company's bright future, as CEO Geoff Cook pointed out the company's rapidly growing mobile business. However, on March 10, 2014 we saw a pullback after such a powerful rally. This pullback was likely caused by several reasons, such as short-term investors taking profits, bearish investors selling the stock in anticipation of the company's Q4 2013 earnings report, and investors selling their shares in fear of recent international tensions, to name a few.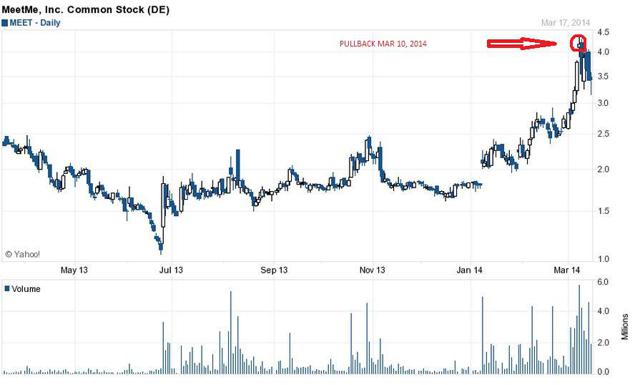 Click to enlarge
Source: Yahoo Finance
Pullbacks Could Set Up a Rally: Pullbacks often take place after a stock experiences a significant price increase, and do not last for too long (in the case of strong companies). However, pullbacks could also signal the start of a trend reversal. In the case of a growing company such as MEET, I would argue that this pullback is no more than a pause in the stock's continuing uptrend. This is because MEET is a growing company that has very real upside potential, and proof of this growth can be seen in the company's most recent earnings report. The company managed to grow its mobile revenue by 128% during the fourth quarter of 2013, allowing for a total fourth quarter revenue increase of 12% year-over-year. On March 14, 2014 Geoff Cook, CEO of MEET, said:
Our primary goal in 2014 is to drive significantly more mobile daily active users. The team is executing against an ambitious and exciting product pipeline aimed at increasing both viral spread and engagement among our users. Over the years, we have grown our audience from zero to over one million daily users primarily on the basis of our repeated success in creating new engaging products and then continually improving them.
As MEET recovers from the recent pullback, volume should pick up as more investors become more confident and start buying the stock, setting the stock up for another rally.
Impressive Growth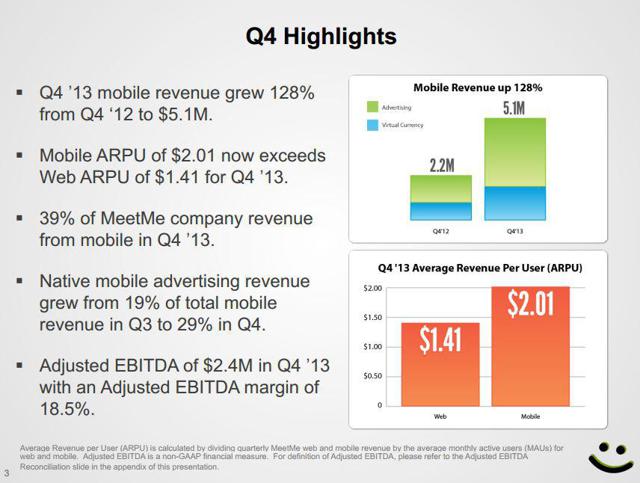 Click to enlarge
Source: meetme.com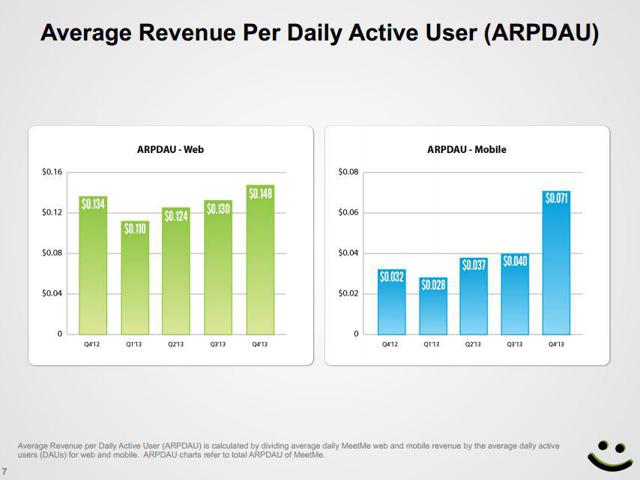 Click to enlarge
Source: meetme.com
As you can see above, MEET is growing at a very impressive rate. Which is why it was recently ranked number 1 fastest growing internet company in North America on Deloitte's 2013 Technology Fast 500, a ranking of the 500 fastest growing technology, media, telecommunications, life sciences, and clean technology companies in North America (the article can be seen here).
Bullish Trend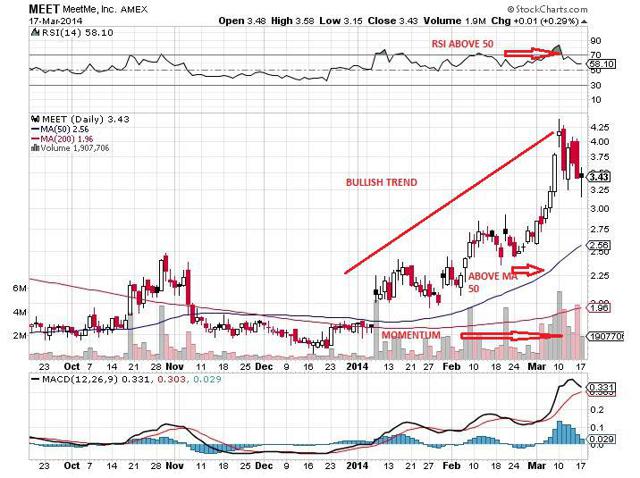 Click to enlarge
Source: stockcharts.com
As you can see above, MEET's chart possesses the key ingredients of a winning stock. You see, just like the every day investor, more savvy Wall Street investors/analysts also recognize that MEET has the ability to move higher in the future. One of them would be H.C. Wainwright & Co. analyst Amit Dayal, who recently upgraded MEET with a $5.00 price target (the article can be seen here). Therefore, at current price levels, $3.43 as of this writing, MEET could be on the radar of more savvy investors who may also want to buy the stock, but have been waiting for the best possible entry price. And this recent pullback may provide just that.
After the Pullback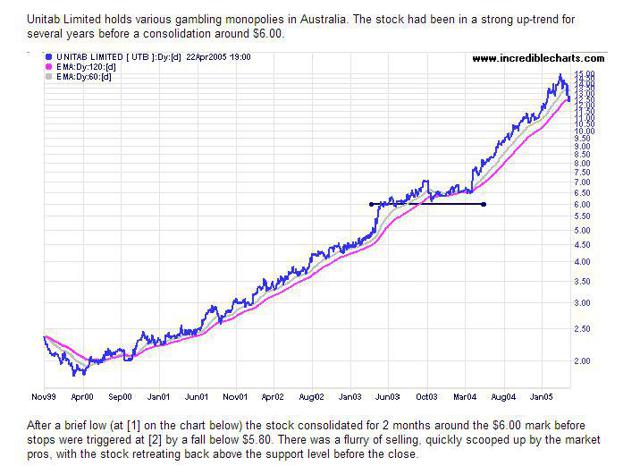 Click to enlarge
Source: incrediblecharts.com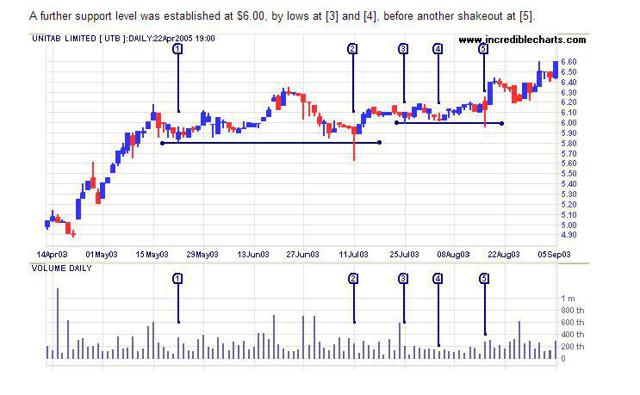 Click to enlarge
Source: incrediblecharts.com
As you can see in the example above in the case of Unitab Limited, after a wave of selling has occurred following a pullback, that's when more savvy investors usually come in and scoop up the shares at an attractive price (and that's what I suspect will happen next with MEET). Despite this selling pressure, I would hold on to MEET shares. It is clear, in my opinion, that this recent pullback is no more than a pause in MEET's continuing uptrend, and it represents a buying opportunity, which might not last for too long before the stock explodes to new 52 week highs.
Disclosure: I am long MEET. I wrote this article myself, and it expresses my own opinions. I am not receiving compensation for it. I have no business relationship with any company whose stock is mentioned in this article.