For those that have been following Galena Biopharma's (NASDAQ:GALE) drama, the recent troubles are all the more frustrating, because the company actually has, or had, depending on how you look at it, a future. The company has a good product with Abstral that has been commercialized, a recent acquisition of Mills Pharmaceuticals, and several good drugs in the pipeline, including Neuvax.
On March 13th, Richard Pearson released his article on his experience being solicited to promote both CytRx (NASDAQ:CYTR) and Galena. Through the stock promotion of DreamTeam Group, they were able to catapult the price of the stock from around $2.50 to almost $8, a climb of over 300%. The frustrating thing is that many analysts predicted the company would climb to those levels on its own, just not at that pace.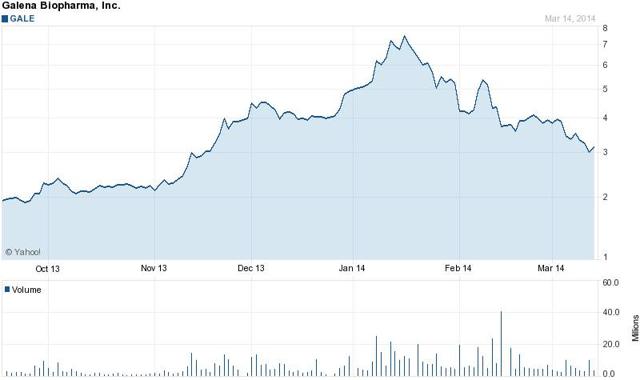 (Source: Yahoo Finance)
When I first started investing and researching companies, I was advised of two "Golden Rules":
Don't invest in a business or company you don't understand
Don't invest in a company with management you don't trust
In light of the recent developments, and based on the second rule, I've changed my opinion on GALE.
For me and many of the other analysts who have written about GALE, it feels like the carpet has been yanked out from under us. I still believe the products the company has will be successful, and I still believe that my previous articles about Abstral and Mills Pharmaceuticals were correct, but this has tainted the image that many have of the company.
I believe that Abstral will be a success for the company. It is a superior product over Subsys marketed by Insys (NASDAQ:INSY), because it is more convenient to carry. Just like consumers will continue to buy Ford Trucks over their competitors as long as they are a superior truck for the price, regardless of what happens at the corporate level of Ford.
The acquisition of GALE-401 from Mills Pharmaceuticals gave the company another potential revenue stream. This is still a few years off, but it still helped to map out a future for the company.
NeuVax has shown promise in the trial phase. This again is a long ways off from approval, however, it is progressing along the pipeline. Mohamed Farhat's recent article was a strong endorsement for the drug.
At first, I believed the lawsuits being filed would be frivolous, like an ambulance chaser, they were looking for a company in a weak position. After the latest Seeking Alpha article from Richard Pearson, I now believe there is merit to the accusations. While the majority of the evidence is concentrated on CYTR, the association that GALE has with CYTR makes the appearance that this is more than a misunderstanding or bad actions of a few, and instead, a culture that may border on criminal. We'll let the SEC decide on that, as I'm sure there will be an investigation.
My predictions for what will happen
There will be a change in management. Either with the corporate leadership, the Board of Directors, or both. In fact, if there wasn't a change, I would lose even more faith in the company.
There will be an SEC investigation. This will help to decide if there is any criminal actions, and if so, at what level. I was originally reluctant to believe the SEC would investigate, however at this point, I think it's inevitable.
The lawsuits will not go away. I'm not yet confident in a prediction here, as it is still too early in the process, but I believe the company will choose to fight the lawsuits and not settle. A judge will likely group the different lawsuits together prior to making a judgment.
Abstral will be a success. Like I said before, as long as Ford Trucks continue to be a superior product for the price, people will continue to buy them. Even if there is a corporate scandal. And so I think doctors will adopt Abstral, because it is a superior product.
So that being said, there are a few catalysts that will cause the price to move:
Announcements of Abstral sales
Information about NeuVax trials
Changes in the leadership in the company
Statements on an SEC investigation
Conclusion
I can't endorse or recommend this company as an investment at this time. For those looking for a good speculation company to trade, I believe they will be able to make some money as they trade the swings. The current price makes this company severely undervalued, however, the current management and their previous decisions makes this too much of a liability as an investment.
Disclosure: I have no positions in any stocks mentioned, and no plans to initiate any positions within the next 72 hours. I wrote this article myself, and it expresses my own opinions. I am not receiving compensation for it (other than from Seeking Alpha). I have no business relationship with any company whose stock is mentioned in this article.