In the first quarter of 2014, personal computers of one sort or another still comprise the internet. Phone? A computer in your pocket you use to make telephone calls. Tablet? A small computer without an external keyboard. (Though keyboards appear to be popular accessories.) And of course, the internet lives on your home or office desktop computer.
But Emily Adler at Business Insider reports the internet as a tool for checking up on friends, buying goods and finding your way will soon be dwarfed by the internet as a tool for the machines -- from home appliances to transportation to business to industry to the electrical grid itself -- to talk to each other.
The Internet of Things (IOT), that heterogeneous collection of man-made things empowered to talk to each other, will grow 374% in the next four years to over nine billion (with a "B") units implemented per year. That number is greater than all other smart devices (like phones, tablets, wearables and PCs) put together.
Investment ideas
The future of IoT is diverse. Many companies that cover a variety of sectors are developing products for this breakout technological development.
Manufacturing
The Milwaukee based Rockwell Automation (ROK) is in the eye of the coming IoT storm. Rockwell is already an industry leader in programmable logic controllers (PLC), human-machine interfaces, sensors, safety components, software and motor control centers. CEO Keith Nosbusch recently gave the keynote address at the 2013 Internet of Things Forum in Barcelona, in which he told representatives from leading IoT firms, like Qualcomm, Airbus, IBM, Oracle, Intel, Siemens and SAP that manufacturing, which used to be "a technology laggard," is once again on the cutting edge of innovation.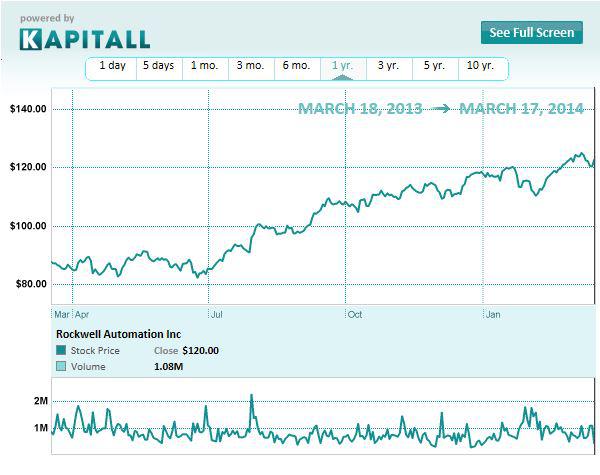 Click here to see more information on Rockwell Automation.
Manufacturing, he said, is "at an inflection point" driven by the convergence of integrated control and information technologies, accelerated by the arrival of the internet of things, and he predicts that one trillion dollars will need to be spent on resource productivity projects.
He should know because Rockwell is enjoying a sustained bull run, and the company's financials are very strong. Its receivables have increased year over year since 2010 and quarter over quarter during 2013. Moreover, its inventory turnover indicates business is brisk.
The connected home and office
Late last year ABB Group (ABB), Bosch, Cisco (CSCO), and LG (LSE:LGLD) announced a planned consortium, based on regulatory approval, for the development of a software platform to allow various devices to interoperate through an open architecture for data exchange. The most recognizable application for this architecture will be for household consumers, but this represents a small fraction of the possibilities for the IoT consumer.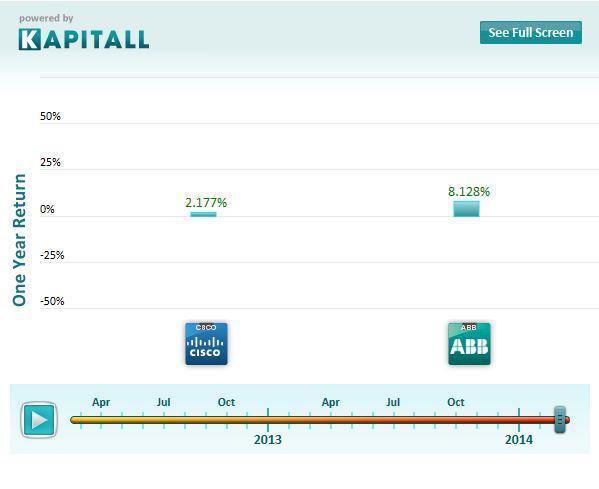 Click here to see more information on ABB and Cisco.
Cisco Systems founded its reputation on building the internet's hardware infrastructure. As the IoT infiltrates every niche of the production process, Cisco will connect formerly unconnected devices with an open standard, integrated architecture via the cloud. Their mission is to help business create and analyze formerly unrecognized data points that can will productivity and operational efficiency.
Cisco is noteworthy in the tech and internet world for 1) paying a dividend, and 2) for a dividend yield far and above that offered by most tech ventures. Cisco shares have taken a beating in the last seven months. Since they reached their 52-week high of $26.09 in August 2013, they are down almost 20%.
Smart power grids
The most exciting development in the IoT is the possibility of a "smart grid" that will optimize power use, saving consumers money and possibly also saving the planet. International Business Machines (IBM), once a digital dinosaur, is reinventing itself in this space with grid-improving software and services. Not only is IBM involved in power generation optimization and intelligent plant lifecycle management for energy and utilities, they also produce cyber security solutions for utilities to protect the grid from attack.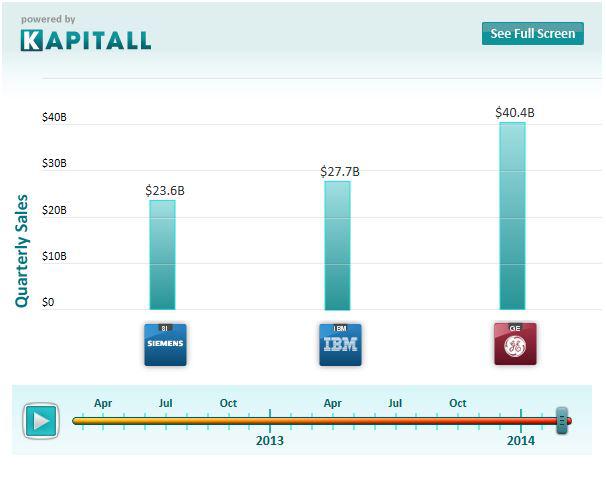 Click here for more information on Siemens, IBM and GE.
Companies like ABB, Siemens AG (SI) and General Electric (GE) are the biggest players in this space. ABB not only shows encouraging inventory trends, it has also recently seen in increase in insider buying. On the downside, ABB has financed recent growth by increasing its debt. While this doesn't impact its future profitability, it may retard share price growth.
Disclosure: I have no positions in any stocks mentioned, and no plans to initiate any positions within the next 72 hours.
Business relationship disclosure: Kapitall is a team of analysts. This article was written by Will Kenton, one of our writers. We did not receive compensation for this article (other than from Seeking Alpha), and we have no business relationship with any company whose stock is mentioned in this article.