Investors sure seemed to simply blow off the weekend progress of Russia's annexation of Crimea, but can the geopolitical crisis still crash stocks? To this point greed has trumped caution and investors seem willing to let a snake live in our garden. The snake has likewise promised not to bite anybody else. Many dangerous factors remain in play dear friends, but they are the same dangers that existed before the latest event. Therefore, risk is back on and hedges against stocks can be eased. You may reconsider ownership of the SPDR S&P 500 (NYSEARCA:SPY) again, but other risks threaten such a stand, including the China slowdown and questionable U.S. economic situation.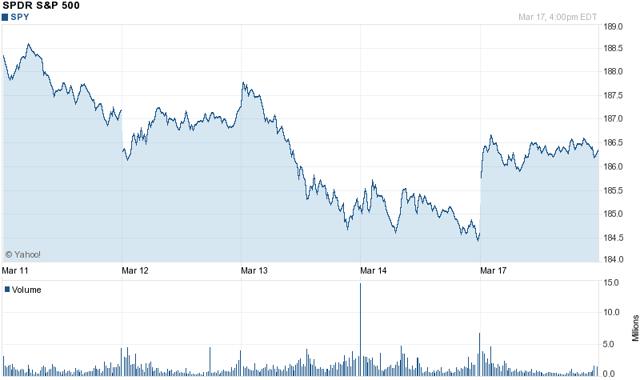 5-Day Chart of SPY at Yahoo Finance
The SPDR S&P 500 actually gapped open higher yesterday before closing up by 0.9%. This after a questionable referendum in Crimea resulted in a popular vote decision by the residents to leave Ukraine and join Russia. Then, later in the day, Russian President Putin signed a treaty to annex Crimea. So all is well then?
| | | | |
| --- | --- | --- | --- |
| Security | 03/17 | YTD | Last 12 Mos. |
| SPDR S&P 500 | +0.9% | +0.9% | +19.6% |
| SPDR Dow Jones (NYSEARCA:DIA) | +1.1% | -1.9% | +12.1% |
| PowerShares QQQ (NASDAQ:QQQ) | +0.9% | +1.7% | +30.6% |
| SPDR Gold Shares (NYSEARCA:GLD) | -1.1% | +13.4% | -14.5% |
| iPath S&P Crude Oil (NYSEARCA:OIL) | -1.3% | -0.5% | +4.8% |
| PIMCO Total Return (NYSEARCA:BOND) | -0.1% | +2.1% | -2.4% |
| PowerShares DB US$ Bull (NYSEARCA:UUP) | -0.1% | -1.2% | -5.1% |
| iShares US Real Estate (NYSEARCA:IYR) | +0.2% | +8.1% | -1.5% |
The broader stock market index ETFs beyond the SPY rose sharply higher. The SPDR Dow Jones and PowerShares QQQ each climbed at least as much as the SPY. Gold and the SPDR Gold Trust dropped 1.1% after a buildup of interests heading into the referendum. So is the GLD safe haven no longer needed then? Interests in U.S. Treasuries also eased, but the PowerShares DB US Dollar Bull ETF only eased fractionally. The iPath S&P Crude Oil ETF fell sharply on the so-called good news, but it was influenced by the overhanging economic question and the issue with China growth. Also, it seems investors believe that Russia will not retaliate against very weak western sanctions and shut off the gas to Europe. What do you think?
Am I the fool?
I'm the guy who said stocks would crash this week and that gold and the GLD would surge on the escalation of the Crimea crisis. Those calls sure look flawed this morning don't they? But am I the fool, or are the people bidding up stocks today foolhardy?
Greed was at least partly in play as stocks and securities seem to celebrate the criminal annexation of Crimea, a statement I based on the fact that the election occurred while the region was held at gunpoint, literally, and under the occupation of a foreign force.
Capital flows had pushed gold sharply higher and stocks a little lower (just a little mind you) through the progression of the crisis, and Monday investors saw reason to take back those tiny losses. Let's face it, they were tiny. The SPY was at breakeven for the year before Monday started, and it was just a couple percentage points off its all-time high. How can that be?
If greed and fear fuel excesses in securities markets, then greed is the culprit for this ignorance regarding Russia's aggression and the damage done to the global environment. It seems, though, that traders are willing to let a snake live in the garden and ignore the possibility of its potentially biting us again sometime in the future.
Dangers Ignored?
U.S. Secretary of State John Kerry and America's friends in Europe immediately enacted sanctions against Russia. Rather, the sanctions were imposed against 11 Russian and Ukrainian officials. The EU had imposed sanctions against 21 officials before this latest action and the same report linked to here indicates further action is coming from the European Commission. No wonder investors celebrated then, because how could these miniscule actions in any way hamper further aggression or even drive a response from the Russian government? Will Russia cut the gas off to Europe based on this action by the West? It's doubtful.
Still, remaining dangers have been ignored by the investment community and they continue to exist. The thing is that they are many of the same risks related to the aggressive nature of Russia that existed before this latest event. Therefore, they are less threatening. One very important threat was eased when Putin indicated Russia had no expansionist interests in other regions of the Ukraine or Europe. It seems Russian troops will parade into Crimea rather than sneak in overnight, and the entire crisis will be celebrated as an injustice corrected.
Risk is therefore back on for investors, and you can cut back on your gold, GLD and other hedges and own the SPY again. But beware, because serious bricks still litter the wall of worry, including slowing China growth and the U.S. economic question. And be warned, because Ukraine could still ignite if Russia fires up partisan interests in Eastern Ukraine and if conflicts erupt between the various residents of the nation. Russia has promised that it will defend Russian people living abroad and the snake still slithers freely within our garden.
Disclosure: I have no positions in any stocks mentioned, and no plans to initiate any positions within the next 72 hours. I wrote this article myself, and it expresses my own opinions. I am not receiving compensation for it (other than from Seeking Alpha). I have no business relationship with any company whose stock is mentioned in this article.