Retail Industry:
The market outperformed in 2013 to continue a five year bull market since the financial crisis. During these five years there has been a lot of negative sentiment about the market's quick recovery and that the actual economy isn't reflective of the stock market. Through 2012 the economy didn't have many outstanding achievements but has started to make a noticeable turnaround in 2013. The markets are still well ahead and are outpacing the economy, but the gap between the market and the economy is shrinking.
Retail is one industry that has made large gains in the past years with not much economic support. Valuations are high as consumer spending hasn't really improved at the same rate. However, new data from The Economic Report issued by The White House in March indicates the retail industry could again benefit in 2014 by a stronger economy. Due to lower unemployment, fewer debts and higher spending ability, consumers have more buying power in the coming years than they had since the financial crisis. Many retailers could be set up to make larger gains this year. Read more about the condition of the economy in the Macy's (NYSE:M) article: Macy's: A Positive Economic Outlook Equals Long-Term Investing Opportunity.
Under Armour:
Under Armour (NYSE:UA) has made large gains for investors over the past five years especially in 2013. Despite a disappointing shopping season, UA beat expectations when 4Q2013 earnings were reported on January 30, sending the stock to new highs as it jumped over 20%. Since then shares are up another 15% making the total YTD gain just shy of 40% and it's not even April. The recent surge in UA leaves many to believe the stock is too expensive at current levels and a pullback is eminent. However, with Under Armour's business model and consumer spending expectations, this stock may be a must have in your portfolio as a retail play.
Under Armour provides customers an omni-channel shopping experience which is required by retail consumers in today's business environment. UA offers products in a fast growing niche market at competitive prices. Athletic apparel sales are growing at faster rates as healthy living trends continue to increase. UA is a unique competitor offering consumers custom apparel for any athletic sport at competitive prices.
Data from The Economic Report issued by the White House of Economic Advisors suggests lower unemployment rates, higher GDP, fewer debts and higher consumer spending in the following years through 2017. This suggests the retail industry will have a growing economy to support the high valuations. Research suggests that retail makes up about 30% of consumer spending, so as that increases at noticeable rates, companies like Under Armour will continue to grow.
Under Armour is trading at a historic PE ratio of 78 in an industry that averages below 30. This concerns most analysts and leads many to believe the stock is overpriced. Under Armour, however, is increasing its growth every year as its population of consumers is increasing and it takes market share from competitors. UA's forward guidance reveals revenues and NI will increase by ~23% in 2014. This is a very conservative rate considering the growth UA saw in 2013 and the fact that more consumers will be spending more money in 2014. Along with a better economy, UA is taking market share from competitors and entering into new markets. I expect 28-32% growth rates based on new positive economic data reported after UA's earnings report. The following is a model based on expected growth rates and an increased margin. Margins are expected to increase since more consumer spending will spike demand and retailers will be able to minimize the use of discounts.
Note: Amounts in Millions except EPS and PE.
Note: PE calculated at current price to future end of year EPS (except 2013 is calculated at 2013 year end price to 2013 year end EPS).
| | | | | | |
| --- | --- | --- | --- | --- | --- |
| UA | 2013 | 2014 | 2015 | 2016 | 2017 |
| Total Sales | $2,332 | $3,008 | $3,881 | $5,006 | $6,458 |
| Net Income | $162.30 | $224.12 | $289.11 | $400.49 | $542.46 |
| EPS | $1.54 | $2.13 | $2.74 | $3.80 | $5.15 |
| PE | 57 | 56 | 44 | 31 | 23 |
Using this model, the stock does seem to be over priced when looking at future earnings estimates. However, UA is a growth stock continuing to make new highs as it consistently beats expectations. This stock will continue to beat expectations as it expands its customer base by offering new and unique apparel. A growing economy and consumer spending will also contribute to higher than expected returns in the next couple of years. This is a bull market being supported by a growing economy and momentum. Considering the overall bullish market environment, UA will continue to make investors money even though it is overvalued.
Further analysis of the company's balance sheet provide additional support for a financially sound company. Working capital is $702M which represents a 2.65 current ratio. Inventory turnovers are ~5.0 and UA only has $100M in long term debt.
That being said, I expect PE ratios to remain constant going forward meaning that a short term pull back may be in store but will be short lived as I expect a ER beat every quarter in 2013, especially during the second half. The following is an expected year end price target through 2017.
| | | | | |
| --- | --- | --- | --- | --- |
| UA | 2014 | 2015 | 2016 | 2017 |
| Stock Price Target | $130.00 | $164.50 | $228.00 | $283.25 |
This represents a 5 year gain of 90%.
Technicals: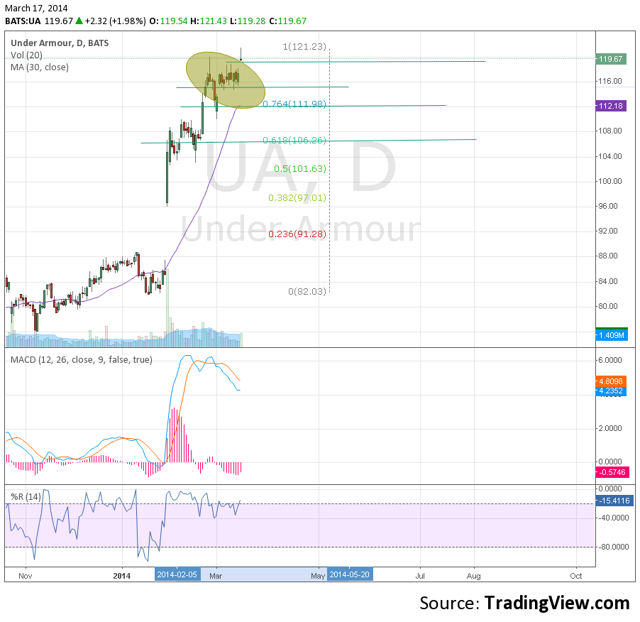 Click to enlarge
The stock has currently been consolidating nicely only to break out today above $120.00 but then close under. As mentioned the stock is overbought but when analyzing the MACD, UA could make a nice run at this level before allowing the moving averages to catch up. For me to buy at these levels I would like to see more consolidation. I missed out on a good opportunity to get in while the stock was consolidating around $116.00 before today's breakout. If I see consolidation again at current levels I will get in. However, if we see a pull back, my first entry point will be at ~$112.
Conclusion:
Just because a stock seems to be overvalued doesn't mean it has reached the end of its run or that it must be avoided. There are other things to consider especially with a growth stock like UA. As the bull market continues, momentum on earnings beats and positive economic data will push an overvalued stock even higher for more gains. However, the risk of loss is there and it is important to have a plan; know your entry levels and your timeline.
Disclosure: I have no positions in any stocks mentioned, and no plans to initiate any positions within the next 72 hours. I wrote this article myself, and it expresses my own opinions. I am not receiving compensation for it (other than from Seeking Alpha). I have no business relationship with any company whose stock is mentioned in this article.