Twenty years ago, chances are you didn't know anyone who was drinking soy milk or almond milk, or only eating organic foods. Today, that person is likely you, or a member of your direct family! And, what was once a tiny niche market is now producing over $2.5 billion of annual revenue for WhiteWave Foods Company (NYSE:WWAV), and rapidly growing annually at double-digits.
I'm invested in WhiteWave for many reasons that I'll outline in this article. While I love their growth prospects in the United States and Europe, I'm most excited by WhiteWave's new joint venture agreement with China Mengniu Dairy, the leading Chinese dairy company in terms of sales volume and sales value.
Company Overview
WhiteWave is a leading global food and beverage company focused on high-growth product categories that are aligned with emerging consumer trends. WhiteWave were pioneers in many healthy food product categories, with Silk, International Delight, Horizon Organic and Earthbound Farm having #1 or #2 brand positions based on retail sales in the United States, and Alpro having a #1 brand position based on retail sales in Europe.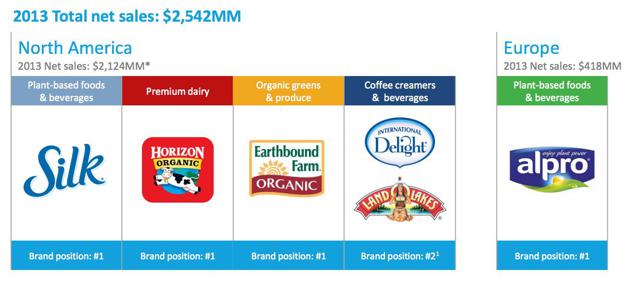 A Leading High-Growth Food & Beverage Company
Last month, WhiteWave reported impressive fourth-quarter 2013 earnings per share of $0.22, a 22% increase compared to fourth-quarter 2012. For full-year 2013, WhiteWave reported earnings per share of $0.74, representing a 23% increase compared to full-year 2012.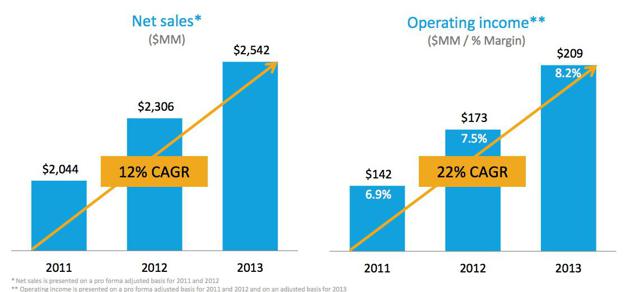 WhiteWave's growth rate is better than just about every other food company.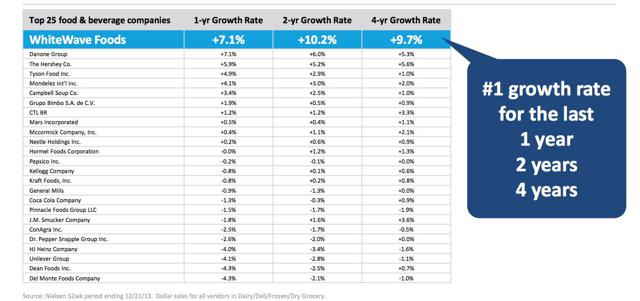 Experienced Leadership with Acquisition & Growth Expertise
Dean Foods (NYSE:DF) spun off WhiteWave in early 2013, and the company retained a proven and experienced management team from their former parent company. I am especially impressed by the chairman of the Board and chief executive officer, Gregg Engles, who has 24 years of management experience in the consumer packaged food and beverage industry.
Mr. Engles conceived the idea of a branded dairy alternative business within the Dean Foods portfolio, and under his direction, he led many of the successful acquisitions that now comprise the WhiteWave company. These include International Delight in 1997, Silk in 2002, Horizon Organic in 2004 and Alpro in 2009. You can view the full acquisition timeline below. With Mr. Engles at the helm of WhiteWave, I expect a lot of future growth through acquisitions and then greatly expanding the brands.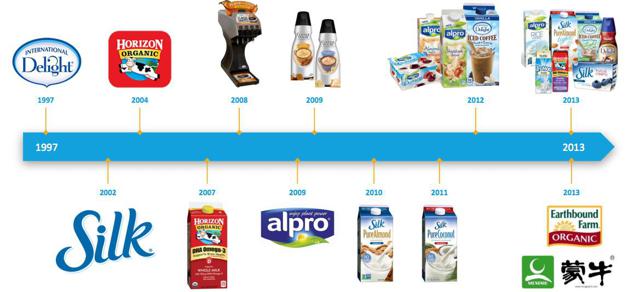 Most Recent Acquisition - Earthbound Farm
I really like the strategic actions that WhiteWave is taking that will drive future growth. Earlier this year, WhiteWave completed the acquisition of Earthbound Farm, one of the country's leading organic food brands, for approximately $600 million in cash. Earthbound Farm is the largest organic produce brand in North America and the recognized leader in the value-added organic packaged salad category. The acquisition will increase EPS by 0.07 EPS in 2014.
WhiteWave is now uniquely positioned with the two most popular gateways in the organic category: produce and dairy.
BIG Strategic Actions - Mengniu Joint Venture in China
WhiteWave recently announced that it had entered into a joint venture agreement with China Mengniu Dairy. The joint venture will be owned 49% by WhiteWave and 51% by Mengniu. The formation of the joint venture is subject to various governmental approvals in China, which are expected to be obtained in the first half of 2014. WhiteWave also announced another joint venture to build a production facility that is already currently under construction in China.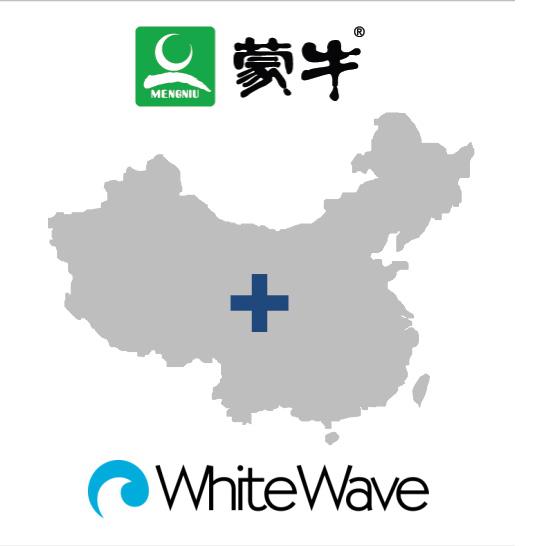 I think this expansion in China has great potential for a number of reasons:
An excellent JV partner who is already the leading Chinese dairy company.
Provides access to the world's largest consumer group that is shifting toward better, high-quality nutritious products.
The JV intends to manufacture, market and sell a range of nutritious products in China.
Consistent with WhiteWave's growth strategy into new markets.
The production facility under construction is expect to manufacture products by end of 2014.
Expansion of Current Brands
WhiteWave's Horizon brand is recognized as a leader in organic milk. Consumers recognize Horizon as a dairy product that is not produced from cows exposed to synthetic pesticides or growth hormones. The Horizon brand has recently been expanded into several new categories, and I believe that WhiteWave will immediately begin to take market share away from Kraft (KRFT) and compete well for shelf space against Annie's (NYSE:BNNY). Below are a few of the new products.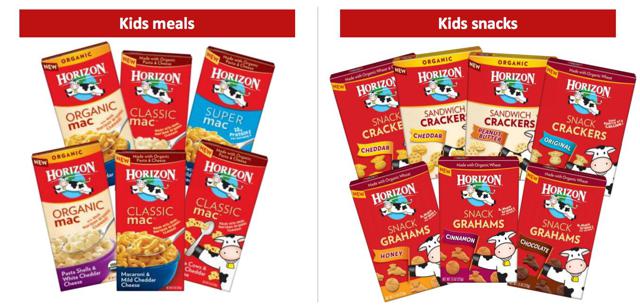 There is a clear reason why the older food companies, such as Kraft, Kellogg (NYSE:K), General Mills (NYSE:GIS) and even Mondelez (NASDAQ:MDLZ) are struggling to increase revenue and earnings. The consumer trend is toward organic healthy food, and WhiteWave is a clear leader in that sector. Another leading company and stock I own in this sector is Hain Celestial Group (NASDAQ:HAIN), and I will write a future article about this company.
Rapidly Expanding Shelf Space in the U.S.
Another reason I like both WhiteWave and Hain Celestial is because they control so much shelf space in Whole Foods Market (NASDAQ:WFM) and Sprouts Farmers Market (NASDAQ:SFM). Whole Foods recently said that they plan to build 1200 stores just in the U.S. - a significant increase from their 365 current stores. Sprouts currently has 170 stores, and could also open over 1000 stores. The growth potential for increased sales through the rapid expansion of grocery stores carrying organic foods is significant. Other major grocery stores, such as Kroger (K), who operates 2,640 stores, are also increasing shelf space for WhiteWave and Hain Celestial.
Conclusion
WhiteWave has clearly built a portfolio of large scale brands in highly attractive, fast-growing categories that are aligned with consumer trends. I'm very impressed by the company's management and recent strategic actions that will lead to continued growth.
As shown in the chart below, the 2014 estimates should follow an impressive trend.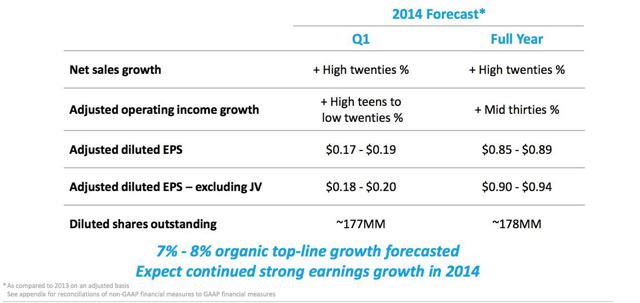 I expect 2014 sales growth and income growth across all brands, and the China JV will add significantly to future growth. Next year, WhiteWave's earnings per share can reach $1.15-$1.25, and the company can command a forward P/E around 30. The growth rates should not slow for the foreseeable future. I plan to hold WhiteWave for many years and will be adding on any pullbacks.
Please invest for growth and eat healthy!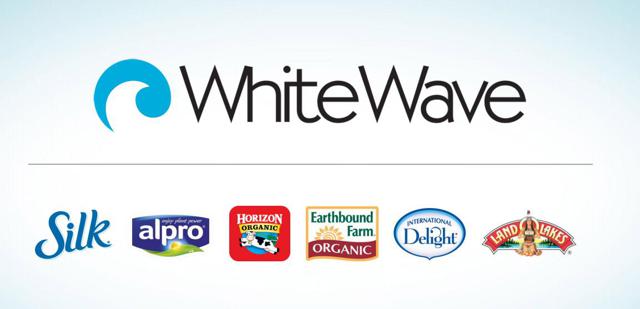 Sources: WhiteWave's financial filings and investor materials.
Disclosure: I am long WWAV, HAIN. I wrote this article myself, and it expresses my own opinions. I am not receiving compensation for it (other than from Seeking Alpha). I have no business relationship with any company whose stock is mentioned in this article.
Additional disclosure: This article is intended to provide information to interested individuals. As I have no knowledge of individual investor circumstances, goals, and/or portfolio concentration or diversification, readers are expected to complete their own due diligence before purchasing any stocks mentioned or recommended.