The share price of Suncor Energy (NYSE:SU) has traded off 11% since reaching its 52-week high of $34.90 in October 2013. I believe the price pullback has presented an attractive entry point for investors due to the current compressed valuation multiples which should expand as the company continues to deliver solid operating results.
Owing to the price weakness, Suncor now trades at just 4.6x 2015 estimated EBITDA, which is at 53% discount to S&P 500's level at 9.7x and 25% discount to its Canadian integrated O&G peers (see chart below). Based on the average net asset value per share ("NAVPS") estimate of C$43.7 from various brokers covering the stock, the current share price trades at just 0.83x NAVPS, representing 17% discount to the value of the company's net assets (see chart below).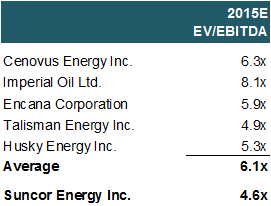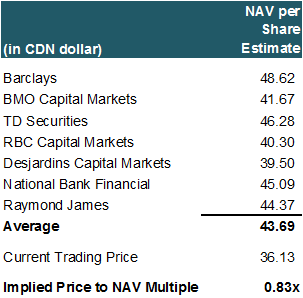 Looking forward, I believe a higher stock valuation should be warranted based on the following reasons/developments:
In 2013, Suncor generated approximately 40% of revenue from upstream operations including recovery of bitumen through oil sands mining and in-situ development as well as both onshore and offshore oil & gas production and exploration. The other 60% of revenue was derived from oil refinery and transportation. Suncor's integrated O&G operating model provides it a natural hedge against price differentials and this benefit has been reflected by the company's stable operating cash flow. Since Q1 2011, Suncor's operating cash flow has trended within a tight range from $2.2B to $2.8B even with significant volatility from Canadian crude oil prices (i.e. Western Canadian Select traded from ~C$60 to ~C$85 and Mixed Sweet Blend traded from ~C$87 to above C$100 in the same period). Going forward, it is believed that the relatively stable nature of Suncor's businesses should support a solid valuation level that is less sensitive to industry fluctuations (see chart below).
Management raised dividend per share twice in 2013 by 54% and 15%, respectively. Given Suncor's robust cash flow profile and that total dividend payment in 2013 of $1.0B only represented approximately 33% of total free cash flow generated, it is expected that the double-digit dividend growth would continue in 2014. Further, management also announced another $1.0B share buyback program, bringing up the total buyback plan to $1.7B for 2014. Owing to its very strong balance sheet with leverage of just 0.5x net debt to EBITDA, Suncor is expected to return a majority of the free cash flow to shareholders, and I believe the company to announce a further round of buyback plan in late 2014. This sizable return of capital will help buttress share price performance in 2014.
In Q4 2013, Suncor's oil sands daily production volume reached the highest level at 410K barrel per day. Management continues to invest in this core business. In the next 3 to 5 years, it is expected that the majority of production addition would come from expansions of existing facilities which are more capital efficient and therefore return on capital is expected to improve.
For the refinery and marketing segment, Suncor has been making investments to continue driving profitability. The company should see improved profitability at its refinery in Montreal in 2014 as it has recently completed an offloading terminal that would allow the company to capture better feedstock differentials. Management is currently evaluating the feasibility of boosting the refinery's handling capacity, and future progress update should be a positive catalyst given the better feedstock cost.
In summary, Suncor's low valuation but stable integrated operating model as well as solid prospects of business growth and capital return offer a unique proposition in the Canadian O&G space. These merits should substantiate a valuation that trades somewhat in line with peers and the company's net asset value. Hence, investors are thus recommended to accumulate shares before valuation picks up.
All charts are created by the author, and data used in the article and the charts is sourced from S&P Capital IQ, unless otherwise specified.
Disclosure: I am long SU. I wrote this article myself, and it expresses my own opinions. I am not receiving compensation for it (other than from Seeking Alpha). I have no business relationship with any company whose stock is mentioned in this article.