Yahoo (NASDAQ:YHOO) shareholders continue to be rewarded due to their company's stake in Alibaba (ABABA), the huge Chinese internet company which will come public in the US sometime this year. Everyone has been focusing on Alibaba for months now and trying to figure out how the company can continue to add services in their key markets while also fending off new competition and Chinese regulations which continue to pop up. Maintaining the growth rate and profit margins is key, but some are questioning which markets are next. We have no answer to that and anything at this time is pure speculation, but we do find it interesting that analysts are beginning to hint that large US internet companies are going to need to start teaming up in order to take Alibaba on.
Yahoo has run into some headwinds lately, but the gains of the past two years have been powered by Alibaba expectations.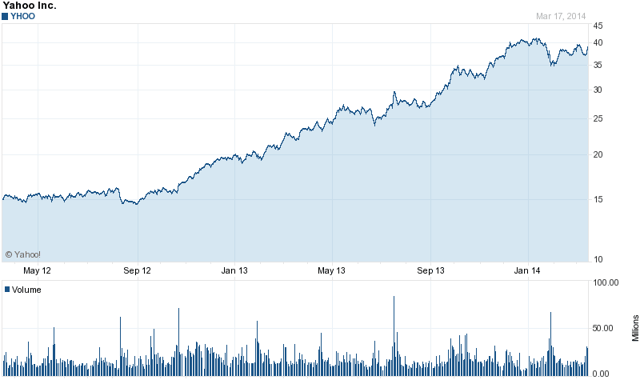 Source: Yahoo Finance
Also of importance is that many analysts are raising their price targets and outlooks on US internet companies, which we believe is caused more in anticipation of a solid IPO debut for Alibaba and less by improving fundamentals at the US companies.
Chart of the Day:
There has been an awful lot of volatility in the 10 Year, which speaks to the events of the last few weeks. The moves have also highlighted a recent range we are now stuck between. This might offer traders with an iron stomach an opportunity to trade. Our thinking is that rates head higher over the next month or two.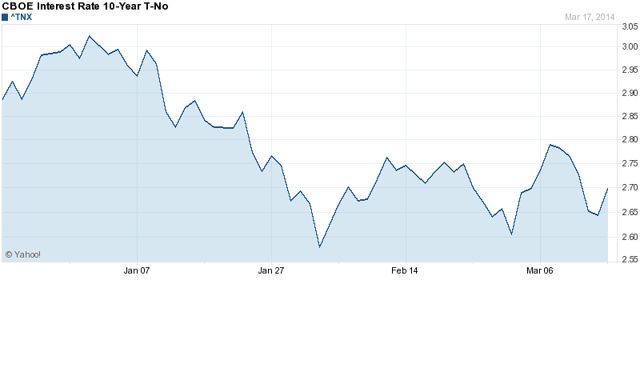 Source: Yahoo Finance
We have economic news today and it is as follows:
Housing Starts (8:30 a.m. EST): Est: 915k Act: 907k
Building Permits (8:30 a.m. EST): Est: 955k Act: 1018k
CPI (8:30 a.m. EST): Est: 0.2% Act: 0.1%
Core CPI (8:30 a.m. EST): Est: 0.1% Act: 0.1%
Net Long-Term TIC Flows (9:00 a.m. EST): Est: N/A Act: $7.3 B
Asian markets finished higher today:
All Ordinaries -- up 0.51%
Shanghai Composite -- up 0.08%
Nikkei 225 -- up 0.94%
NZSE 50 -- up 0.94%
Seoul Composite -- up 0.66%
In Europe, markets are trading higher this morning:
CAC 40 -- up 0.87%
DAX -- up 0.58%
FTSE 100 -- up 0.35%
OSE -- up 0.43%
Tech Mergers In Focus
Yesterday the big news was that Baird Equity Research analyst Colin Sebastian issued a report which said that Google (NASDAQ:GOOG) should buy eBay (NASDAQ:EBAY) instead of letting the company go further down this road of possibly having to spin-off the valuable PayPal payment processing unit. The argument behind Google purchasing eBay is that Google could create instant value for eBay shareholders while taking those assets and integrating them into Google in a manner to leverage their usefulness in the overall product offering much like eBay has done with PayPal. Mr. Sebastian believes that an eBay integrated into Google would beef up two trouble spots, Google Wallet and Google Checkout. PayPal would allow Google to scale its Wallet platform while eBay's vast marketplace would provide a nice boost to the Google Checkout initiative.
The deal makes some sense, however one has to wonder if Google would be able to integrate such a large acquisition successfully. When the pressure has not been on to display results on purchases right away the company has done quite well, however when it comes to acquisitions that the market has watched closely and desired instant results the track record is not as good. This is certainly an interesting idea, and now will probably be considered an option by some people, but at the end of the day it certainly appears to be an idea caused by the Alibaba IPO news and Alibaba envy among the finance crowd.
Alibaba's Social Media Investment
Some analysts believe that Sina is now fairly valued and that upside is limited in the near-term. The Weibo IPO will probably provide a pop for Sina shares, but there are better areas to be deploying capital when it comes to the Chinese internet companies.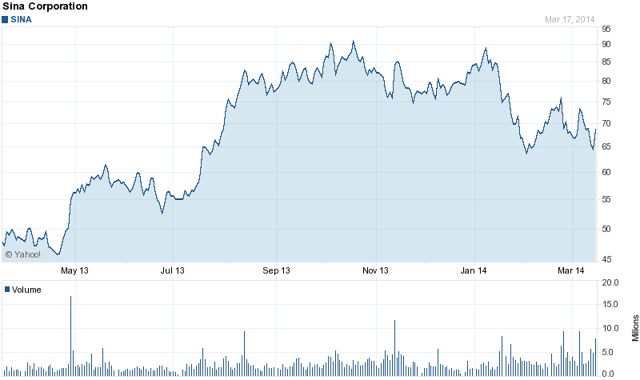 Source: Yahoo Finance
As Alibaba seeks to go public in the US, so too does Weibo, the Twitter (NYSE:TWTR) of China. Weibo, majority owned by Sina (NASDAQ:SINA), announced last week that they were seeking to raise $500 million. That indicated to many that Alibaba would have their IPO in the US as well because Alibaba is also a shareholder in Weibo and it would simplify matters. Alibaba already owns 18% of Weibo shares, but indicated that it would increase this stake to 30% per the agreement signed when they purchased their original position. Alibaba also gets a discount, of at least 15%, on the shares purchased from the IPO price.
Disclosure: I have no positions in any stocks mentioned, and no plans to initiate any positions within the next 72 hours. I wrote this article myself, and it expresses my own opinions. I am not receiving compensation for it (other than from Seeking Alpha). I have no business relationship with any company whose stock is mentioned in this article.